AW | 2020 10 21 11:24 | AIRLINES / GOVERNMENT
Trabajadores aerolíneas protestan contra Ministerio de Transporte
En una demostración de unidad, más de 200 trabajadores de la aviación en Canadá se manifestaron el Martes 20/10 en el Parliament Hill, pidiendo al Gobierno Federal que lanzara un plan para reiniciar con seguridad la industria de la aviación comercial.
Tras las consignas de señales "SOS" y "mayday", pilotos en tierra, asistentes de vuelo, personal aeroportuario y otros trabajadores de la aviación repitieron sus llamamientos de ayuda financiera para el sector de las aerolíneas, incluidos los préstamos a largo plazo de bajo costo para sus aerolíneas. Los trabajadores también quieren que Canadá alivie las restricciones de viaje mediante pruebas rápidas en los aeropuertos y termine el período de cuarentena de 14 días al entrar en el país.
La extensión de la pandemia ha paralizado la industria y ha recortado drásticamente las operaciones. Las principales aerolíneas han reducido las rutas regionales y han anunciado importantes despidos. Esta semana, Air Transat dijo que está cortando la mitad de sus asistentes de vuelo restantes.
Los trabajadores de la aviación que protestaban apuntaban a su ansiedad y enojo hacia el Ministerio de Transporte canadiense. El Piloto de Air Transsat, Jeffrey Daniels dijo que quiere saber dónde está el Ministro de Transporte Marc Garneau y cuál es el plan para ayudar a la industria aérea. El Capitán levantó una pancarta sobre su cabeza con una imagen de Garneau con un sombrero "Where's Garno?". Jeffrey Daniels dijo que ha estado volando jets por más de veinte años y recientemente fue despedido, traído de vuelta por tres meses y recibió otro aviso de despido esta semana. El piloto ha expresado que ha pasado más de seis meses y que Marc Garneau todavía está estudiando opciones de ayuda, pero no ha realizado públicamente las posibilidades. "Es sólo una terrible sensación de incertidumbre. No sabemos cuál es el plan. Muchos de nosotros estamos perdidos", dijo Jeffrey Daniels. Dwane Mightley, una azafata de Air Transat que no ha trabajado desde Marzo 2020, dijo que está harta de esperar. Dijo que ha sido doloroso y devastador vivir del subsidio salarial que cubre el cuidado de los niños de su familia. "Ha sido desmoralizador cuando piensas que se va a hacer algo, van a salir con noticias positivas. Siempre estamos esperando, estamos esperando, estamos hablando. Pero no ha habido ninguna acción", dijo Dwane Mightley.
Un grupo de Facebook formado con más de 11.000 pilotos, despachadores de vuelos, azafatas, personal del aeropuerto, agentes de viajes y operadores turísticos reclaman al Gobierno una pronta reapertura del transporte aéreo.
Acción Gobierno Canadá
Marc Garneau fue invitado a la manifestación, pero no asistió porque se encuentra en Montreal, una zona roja de contagios de Coronavirus, y está limitando su viaje, según una carta que envió al organizador. Su oficina dijo que el Ministro de Transporte está trabajando activamente para presentar soluciones: "Nuestro Gobierno está trabajando muy duro para lograrlo de manera oportuna, y lo que se decidirá será en el mejor interés de los canadienses", dijo la Secretaria de Prensa, Livia Belcea, en un comunicado.
El Primer Ministro Justin Trudeau dijo que ha habido acción y el Martes 20/10 ha señalado el programa de subsidios salariales, que "ha entregado más de mil millones de Dólares en apoyo a las principales aerolíneas de Canadá. Ha sido importante mantener estas aerolíneas en marcha", dijo Trudeau en una conferencia de prensa.
La Viceprimera Ministra y Ministra de Finanzas, Chrystia Freeland también dijo que habló con los jefes de las principales aerolíneas canadienses y con los sindicatos la semana pasada. "Definitivamente es un tema que estamos mirando de cerca y trabajando", dijo Freeland en la conferencia de prensa.
La Asociación de Pilotos de Líneas Aéreas (ALPA) ha comunicado que ha estado cabildeando respetuosamente para obtener apoyo específico para la industria durante más de medio año. "No recibimos ningún compromiso firme del gobierno con respecto al apoyo específico a la industria aérea, y en este momento las palabras simplemente no son suficientes. Cada semana estamos viendo recortes piloto, y los pilotos de Transat son las últimas víctimas de esta saga en curso y por qué se necesita asistencia federal aún más urgentemente", dijo Tim Perry, Presidente de ALPA Canadá.
Airlines claim in Canada
Airline workers protest against Ministry of Transport
In a demonstration of unity, more than 200 Canadian aviation workers demonstrated on Tuesday 10/20 on Parliament Hill, calling on the Federal Government to launch a plan to safely restart the commercial aviation industry.
Following the slogans of "SOS" and "mayday" signals, pilots on the ground, flight attendants, airport personnel and other aviation workers repeated their appeals for financial assistance to the airline sector, including long-term low-income loans. cost to your airlines. The workers also want Canada to ease travel restrictions through rapid tests at airports and end the 14-day quarantine period upon entering the country.
The spread of the pandemic has paralyzed the industry and slashed operations. Major airlines have cut regional routes and announced major layoffs. This week, Air Transat said it is cutting half of its remaining flight attendants.
The protesting aviation workers pointed to their anxiety and anger at the Canadian Ministry of Transportation. Air Transsat Pilot Jeffrey Daniels said he wants to know where Transportation Minister Marc Garneau is and what the plan is to help the airline industry. The Captain held up a banner over his head with an image of Garneau wearing a "Where's Garno?" Hat. Jeffrey Daniels said he has been flying jets for more than twenty years and was recently laid off, brought back for three months and received another layoff notice this week. The rider has expressed that more than six months have passed and that Marc Garneau is still studying help options, but has not publicly realized the possibilities. "It's just a terrible sense of uncertainty. We don't know what the plan is. A lot of us are lost", Jeffrey Daniels said. Dwane Mightley, an Air Transat stewardess who has not worked since March 2020, said she is sick of waiting. She said it has been painful and devastating to live on the wage subsidy that covers the care of her family's children. "It has been demoralizing when you think something is going to be done, they are going to come out with positive news. We are always waiting, we are waiting, we are talking. But there has been no action", said Dwane Mightley.
A Facebook group made up of more than 11,000 pilots, flight dispatchers, hostesses, airport personnel, travel agents and tour operators demand that the Government promptly reopen air transport.
Government Canada Action
Marc Garneau was invited to the demonstration, but did not attend because he is in Montreal, a red zone for Coronavirus infections, and is limiting his travel, according to a letter he sent to the organizer. His office said that the Minister of Transportation is actively working to present solutions: "Our Government is working very hard to achieve this in a timely manner, and what will be decided will be in the best interest of Canadians", said Press Secretary Livia. Belcea, in a statement.
Prime Minister Justin Trudeau said there has been action and on Tuesday 10/20 pointed to the wage subsidy program, which "has delivered more than US$ 1 billion in support of Canada's major airlines. It has been important to keep these airlines in business. march", Trudeau said at a news conference.
Deputy Prime Minister and Finance Minister Chrystia Freeland also said she spoke with the heads of major Canadian airlines and with unions last week. "It is definitely an issue that we are looking closely at and working on", Freeland said at the news conference.
The Airline Pilots Association (ALPA) has reported that it has been respectfully lobbying for industry-specific support for more than half a year. "We do not receive any firm commitments from the government regarding specific support to the airline industry, and at this time words are simply not enough. Every week we are seeing pilot cuts, and Transat pilots are the latest victims of this ongoing saga. and why federal assistance is needed even more urgently", said Tim Perry, President of ALPA Canada.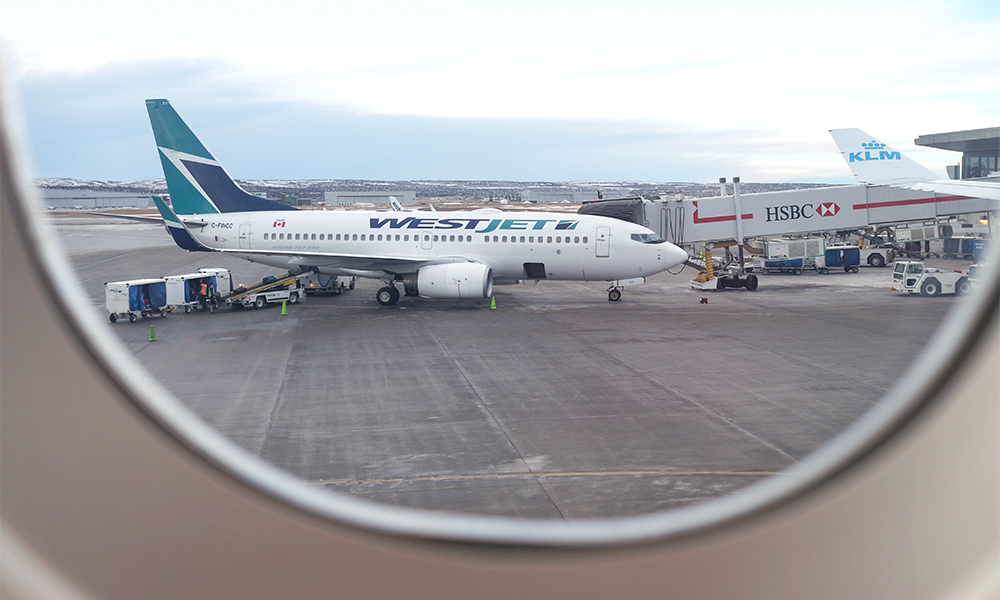 Réclamation des compagnies aériennes au Canada
Travailleurs compagnies aériennes protestent contre Transports
Dans une manifestation d'unité, plus de 200 travailleurs canadiens de l'aviation ont manifesté le mardi 10/20 sur la Colline du Parlement, appelant le gouvernement fédéral à lancer un plan pour redémarrer en toute sécurité l'industrie de l'aviation commerciale.
Après les slogans des signaux «SOS» et «mayday», les pilotes au sol, les agents de bord, le personnel de l'aéroport et d'autres travailleurs de l'aviation ont réitéré leurs appels à une aide financière au secteur aérien, y compris des prêts à long terme à faible revenu. coût pour vos compagnies aériennes. Les travailleurs veulent également que le Canada assouplisse les restrictions de voyage grâce à des tests rapides dans les aéroports et mette fin à la période de quarantaine de 14 jours à l'entrée dans le pays.
La propagation de la pandémie a paralysé l'industrie et réduit les opérations. Les grandes compagnies aériennes ont coupé les routes régionales et annoncé d'importantes mises à pied. Cette semaine, Air Transat a annoncé qu'elle réduisait la moitié de ses agents de bord restants.
Les travailleurs de l'aviation qui protestaient ont souligné leur anxiété et leur colère envers le ministère canadien des Transports. Le pilote d'Air Transsat, Jeffrey Daniels, a dit qu'il voulait savoir où se trouve le ministre des Transports, Marc Garneau, et quel est le plan pour aider l'industrie du transport aérien. Le capitaine a brandi une bannière au-dessus de sa tête avec une image de Garneau portant un chapeau «Où est Garno?». Jeffrey Daniels a déclaré qu'il pilotait des avions depuis plus de vingt ans et qu'il avait récemment été mis à pied, ramené pour trois mois et reçu un autre avis de mise à pied cette semaine. Le coureur a déclaré que plus de six mois se sont écoulés et que Marc Garneau étudie toujours les options d'aide, mais n'en a pas publiquement réalisé les possibilités. "C'est juste un terrible sentiment d'incertitude. Nous ne savons pas quel est le plan. Beaucoup d'entre nous sont perdus", a déclaré Jeffrey Daniels. Dwane Mightley, une hôtesse d'Air Transat qui n'a pas travaillé depuis mars 2020, a déclaré qu'elle en avait assez d'attendre. Il a dit qu'il était douloureux et dévastateur de vivre de la subvention salariale qui couvre la garde des enfants de sa famille. "Cela a été démoralisant de penser que quelque chose va être fait, ils vont sortir avec des nouvelles positives. Nous attendons toujours, nous attendons, nous parlons. Mais il n'y a eu aucune action", a déclaré Dwane Mightley.
Un groupe Facebook composé de plus de 11 000 pilotes, régulateurs de vol, hôtesses, personnel aéroportuaire, agents de voyages et voyagistes exige que le gouvernement rouvre rapidement le transport aérien.
Action Gouvernement Canada
Marc Garneau a été invité à la manifestation, mais n'y a pas assisté car il est à Montréal, zone rouge pour les infections à Coronavirus, et limite ses déplacements, selon une lettre qu'il a adressée à l'organisateur. Son bureau a déclaré que le ministre des Transports travaillait activement pour présenter des solutions: "Notre gouvernement travaille très fort pour y parvenir en temps opportun, et ce qui sera décidé sera dans le meilleur intérêt des Canadiens", a déclaré la porte-parole Livia Belcea, dans un communiqué.
Le premier ministre Justin Trudeau a déclaré qu'il y avait eu des mesures et, mardi 10/20, a souligné le programme de subventions salariales, qui "a fourni plus d'un milliard de dollars en soutien aux principales compagnies aériennes canadiennes. Il a été important de maintenir ces compagnies aériennes en affaires. mars", a déclaré Trudeau lors d'une conférence de presse.
La vice-première ministre et ministre des Finances Chrystia Freeland a également déclaré qu'elle s'était entretenue avec les dirigeants des principales compagnies aériennes canadiennes et avec les syndicats la semaine dernière. "C'est certainement une question que nous examinons de près et sur laquelle nous travaillons", a déclaré Freeland lors de la conférence de presse.
L'Association des pilotes de ligne (ALPA) a indiqué qu'elle faisait respectueusement pression pour obtenir un soutien spécifique à l'industrie depuis plus de six mois. "Nous ne recevons aucun engagement ferme du gouvernement concernant un soutien spécifique à l'industrie du transport aérien, et pour le moment, les mots ne suffisent tout simplement pas. Chaque semaine, nous assistons à des compressions de pilotes et les pilotes de Transat sont les dernières victimes de cette saga en cours. et pourquoi l'aide fédérale est encore plus urgente", a déclaré Tim Perry, président d'ALPA Canada.

PUBLISHER: Airgways.com
DBk: Cbc.ca / Alpa.org / Businessinsider.com / Theglobeandmail.com Skymag.com / Airgways.com
AW-POST: 202010211124AR
A\W A I R G W A Y S ®