AW | 2020 10 29 10:15 | AIRLINES / GOVERNMENT
Denuncian penalmente a funcionario por prohibir El Palomar
El Sindicato de trabajadores de la low-cost Flybondi Líneas Aéreas, la Asociación de Trabajadores de Aerolínea Flybondi (ATAF) ha presentado una demanda en representación de los empleados a Fernando Muriel, Vicepresidente del Organismo Regulador del Sistema Nacional de Aeropuertos (ORSNA), por abuso de autoridad e incumplimiento de los deberes de funcionario público. La denuncia penal de empleados de Flybondi a funcionario de la agrupación política La Cámpora que ha prohibido la reapertura del Aeropuerto El Palomar, sumando el incremento de la escalada de enfrentamiento entre el Gobierno y la aerolínea de presupuesto Flybondi.
El abogado del sindicato ATAF ha presentado este Miércoles 28/10 una demanda contra el Vicepresidente del ORSNA, Fernando Muriel, accionando penalmente por los delitos de abuso de autoridad e incumplimiento de los deberes de funcionario público. La causa que inició la ATAF ha sido tramitada en el Juzgado Federal Número 8, a cargo de Marcelo Martínez De Giorgi.
Fernando Muriel, abogado que milita en La Cámpora y responde políticamente al Senador Mariano Recalde, quien fuera Presidente de Aerolíneas Argentinas en la primera gestión del kirchnerismo, firmó la notificación que el Viernes 23/10 a última hora, el ORSNA remitió a la Administración Nacional de Aviación Civil (ANAC). La notificación establece la cancelación de las operaciones del Aeropuerto El Palomar en virtud del "Corredor Sanitario Seguro" definido en el Sistema Nacional de Aeropuertos (SNA) a raíz de la pandemia, y con el Aeropuerto Jorge Newbery cerrado hasta Febrero 2021 por obras, la única terminal aérea autorizada para operar en el área metropolitana de Buenos Aires (AMBA) es el Aeropuerto Internacional Ezeiza. De esta manera el ORSNA ha prohibido la reapertura para vuelos regulares del Aeropuerto El Palomar, la aeroestación donde operan las low cost Flybondi Líneas Aéreas y JetSmart Airlines Argentina.
Según fuentes del sector, el funcionario habría autorizado la firma impuesta por una facción del Gobierno que no simpatiza con la existencia de competencia en el mercado de cabotaje, que también perdió a Latam Airlines Argentina, tras la decisión de abandonar ese tipo de operaciones en el país, con una cuota de mercado de cabotaje correspondiente al 17%.
Posición de Flybondi
La compañía aérea Flybondi ha manifestado claramente que "volar desde Aeropuerto Ezeiza no es una opción comercial ni tampoco para nuestros pasajeros", dijo la low-cost en un comunicado. Según la denuncia del gremio ATAF, el funcionario del ORSNA, Fernando Muriel no dio fundamento razonable y suficiente para una decisión que, dicen, fue en abierta desobediencia a una sentencia judicial firme, en relación a un fallo de Martina Forns, Jueza Federal de San Martín, que en Septiembre 2019 había rechazado un pedido de cierre total del aeropuerto. "Conforme el Decreto 375/1997, son deberes del Orsna asegurar la igualdad, el libre acceso y la no discriminación en el uso de los servicios e instalaciones aeroportuarias (Art. 14, Inciso A), asegurar la continuidad de los servicios esenciales (Art. 17, 25) y asegurar la publicidad de las decisiones que adopte (Art. 17, 33)", planteó la presentación sindical bajo el paraguas de la Justicia. La resolución del ORSNA sólo había trascendido en los medios periodísticos, pues en la actualidad, Flybondi no ha recibido notificación oficial alguna del organismo ni de la ANAC; aun con una programación de reinicio de sus vuelos regulares para la semana próxima desde el Aeropuerto El Palomar.
En su comunicado la ATAF ha recordado que el 4 de Agosto de 2020 la Cámara en lo Contencioso Administrativo Federal le ordenó al ORSNA que se abstuviera de tomar cualquier medida sobre el Aeropuerto de El Palomar sin la intervención de las aerolíneas low cost que operan en él. "La decisión arbitraria e ilegítima de Fernando Muriel incurre en los delitos de abuso de autoridad e incumplimiento de los deberes de funcionario público, reprimidos por el Código Penal de la Nación (Artículos Nº 248 y Nº 249). Recordamos que no existen razones sanitarias, ni operativas, ni de seguridad o técnicas para cerrar El Palomar. El aeropuerto es inclusivo, popular y productivo. Es nuestra casa y vamos a defenderla. Los trabajadores de Flybondi decimos no al cierre de El Palomar", remarcó la asociación sindical.
Incongruencias operativas
Aunque Aeropuertos Argentina 2000 (AA2000), concesionaria de las terminales aéreas El Palomar y Ezeiza, han expresado que garantizan que respetarán los costos y tasas que las low cost pagan en El Palomar, hay otros gastos que deberían afrontar y hoy no poseen, como el servicio de rampa y el de carga. En Ezeiza, esta última prestación está a cargo de la empresa estatal Intercargo, en tanto que en el Aeropuerto El Palomar las operaciones en tierra las efectúa directamente la compañía Flybondi.
El Aeropuerto Internacional Ezeiza se encuentra localizado a 33,2 kilómetros de la Ciudad de Buenos Aires, mientras que el Aeropuerto El Palomar, está a sólo 7,1 kilómetros de Capital Federal, lo que afecta a los pasajeros por los incrementos de los costos de traslados donde pudieran alcanzar los mismos valores de los pasajes aéreos. Otra preocupación seria son los a empleados de la compañía donde el 80% reside en las áreas adyacentes al aeropuerto low cost donde estaría amenazado el traslado hacia el Aeropuerto Ezeiza por la falta de transporte público.
Las operaciones en el Aeropuerto Internacional Ezeiza agrega un condimento adicional que deberá compartir la terminal con Aerolíneas Argentinas, dueña de más del 70% del mercado doméstico contra el 19% de la participación que en 2019 consolidaron Flybondi 9% y JetSmart 10%. La principal aeroestación del país tiene un objetivo diferente que es la captación de un mercado internacional, donde las operaciones low cost para los vuelos domésticos no siempre generarían una ventaja competitiva para los usuarios del transporte aéreo.
Flybondi vs Gobierno
Desde la esfera política del Gobierno de Argentina insisten que Flybondi mantiene operativo una sola aeronave y que haría inviable las operaciones para el Aeropuerto El Palomar. La aerolínea de presupuesto antes de la crisis de la pandemia poseía cinco aeronaves, que tras la incursión de las prohibiciones de los vuelos la compañía devolvió tres Boeing 737-800 que estaban bajo leasing y aprovechó el parate obligado desde Marzo 2020 para enviar otra aeronave similar a los Estados Unidos para hacerle tareas de mantenimiento correspondiente. De esta manera la línea aérea buscaba reducir el impacto económico generado por la pandemia, mientras busca consolidar su posición actual donde existen actualmente mejores ofertas para adquirir aeronaves a un costo menor.
En cuanto a JetSmart Airlines Argentina, ha dado un paso al costado permitiendo las operaciones desde el Aeropuerto Internacional Ezeiza, reanudando sus operaciones a partir de Diciembre 2020. La compañía aérea había programado sus operaciones hacia finales de 11/2020, pero el Jueves 22/11 a última hora había cancelado las operaciones ante la falta de respuesta de la ANAC para habilitar el servicio. Tras la resolución del ORSNA, JetSmart suspendió los vuelos en Octubre 2020 proyectados desde el Aeropuerto El Palomar y los reprogramó para reiniciar operaciones desde Ezeiza a partir del 12/2020.
El Gobierno contraatacó esta semana bajo la propaganda de medios oficialistas que Flybondi Líneas Aéreas habría incumplido inversiones por valor de US$ 30 millones de Dólares prometidas en el Aeropuerto El Palomar. Fuentes de la empresa lo desmienten, recuerdan que cualquier desembolso en infraestructura de una terminal no es responsabilidad de las líneas aéreas, sino de la concesionaria del aeropuerto.
El cierre de esa terminal aérea del Aeropuerto El Palomar estuvo en la agenda política desde que el actual Gobierno asumió sus funciones. A principios de Octubre 2020, tanto los ministerios de Transporte, Turismo y la ANAC habían acordado en público y en privado que el aeropuerto low cost continuaría en operaciones, pero la puja política interna existente ha dado marcha atrás a tales autorizaciones.
Perspectivas aéreas
Flybondi Líneas Aéreas es la low cost que más resiste la mudanza de sus operaciones desde el Aeropuerto El Palomar. El CEO de la aerolínea, Esteban Tossutti expresó: "Volar desde Ezeiza no es una opción para Flybondi. Y las autoridades del Gobierno de los organismos reguladores conocen esta realidad". Sin embargo, Flybondi optó por dar pelea junto a sus empleados llevando otra vez el justo reclamo frente de la Casa Rosada.
Las actitudes y acciones del Gobierno contradicen la órbita de los derechos elementales de la Constitución Argentina ultrajándolos a su posición más baja. Los empleados y la compañía Flybondi continuarán la lucha en favor de un mercado aéreo con mayor participación, inclusión y federalismo, algo que el Gobierno pregona pero no cumple.
Flybondi employees denounce ORSNA
Official criminal denounced for banning El Palomar
The Union of workers of the low-cost Flybondi Líneas Aéreas, the Association of Workers of Airline Flybondi (ATAF) has presented a demand in representation of the employees to Fernando Muriel, Vice President of the Regulatory Body of the National Airport System (ORSNA), for abuse of authority and breach of the duties of a public official. The criminal complaint of Flybondi employees to an official of the political group La Cámpora that has prohibited the reopening of El Palomar Airport, adding the increase in the escalation of confrontation between the Government and the budget airline Flybondi.
The ATAF union lawyer filed a lawsuit against the ORSNA Vice President, Fernando Muriel, on Wednesday 10/28, prosecuting the crimes of abuse of authority and breach of the duties of a public official. The case that the ATAF initiated has been processed in Federal Court Number 8, in charge of Marcelo Martínez De Giorgi.
Fernando Muriel, a lawyer who is active in La Cámpora and responds politically to Senator Mariano Recalde, who was President of Aerolíneas Argentinas in the first Kirchner administration, signed the notification that on Friday 10/23 at the last minute, the ORSNA sent to the National Administration of Civil Aviation (ANAC). The notification establishes the cancellation of the operations of the El Palomar Airport under the "Safe Sanitary Corridor" defined in the National Airport System (SNA) as a result of the pandemic, and with the Jorge Newbery Airport closed until February 2021 for works, the The only air terminal authorized to operate in the Buenos Aires metropolitan area (AMBA) is the Ezeiza International Airport. In this way, the ORSNA has prohibited the reopening for regular flights of the El Palomar Airport, the airstation where the low cost Flybondi Líneas Aéreas and JetSmart Airlines Argentina operate.
According to industry sources, the official authorized the signature imposed by a faction of the Government that does not sympathize with the existence of competition in the cabotage market, which also lost Latam Airlines Argentina, after the decision to abandon this type of operations in the country, with a cabotage market share corresponding to 17%.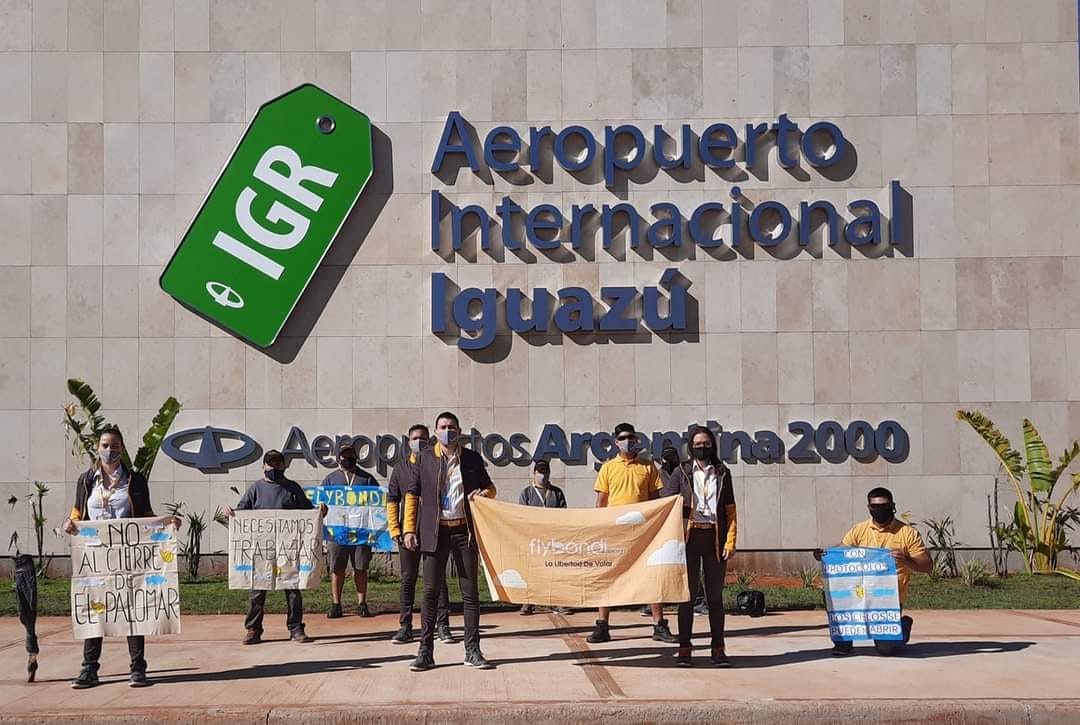 Flybondi position
The airline company Flybondi has clearly stated that "flying from Ezeiza Airport is not a commercial option or for our passengers", the low-cost company said in a statement. According to the ATAF union's complaint, the ORSNA official, Fernando Muriel, did not give a reasonable and sufficient basis for a decision that, they say, was in open disobedience to a final judicial sentence, in relation to a ruling by Martina Forns, Federal Judge of San Martín, who in September 2019 had rejected a request for the total closure of the airport. "According to Decree 375/1997, Orsna's duties are to ensure equality, free access and non-discrimination in the use of airport services and facilities (Art. 14, Subsection A), to ensure the continuity of essential services (Art. 17, 25) and ensure the publicity of the decisions that it adopts (Art. 17, 33)", raised the union presentation under the umbrella of Justice. The ORSNA resolution had only been publicized in the journalistic media, because at present, Flybondi has not received any official notification from the agency or the ANAC; even with a schedule to restart their regular flights for next week from El Palomar Airport.
In its statement, the ATAF recalled that on August 4, 2020, the Federal Administrative Litigation Chamber ordered the ORSNA to refrain from taking any measure on the El Palomar Airport without the intervention of the low cost airlines that operate there. "The arbitrary and illegitimate decision of Fernando Muriel incurs the crimes of abuse of authority and non-compliance with the duties of a public official, repressed by the National Penal Code (Articles No. 248 and No. 249). We remember that there are no health reasons, Neither operational, nor security nor technical to close El Palomar. The airport is inclusive, popular and productive. It is our home and we are going to defend it. Flybondi workers say no to the closure of El Palomar", remarked the union.
Operational inconsistencies
Although Airports Argentina 2000 (AA2000), concessionaire of the El Palomar and Ezeiza air terminals, have stated that they guarantee that they will respect the costs and rates that the low cost companies pay in El Palomar, there are other expenses that they should face and do not have today, such as ramp service and loading. In Ezeiza, this last provision is provided by the state company Intercargo, while at El Palomar Airport, ground operations are carried out directly by the Flybondi company.
The Ezeiza International Airport is located 33.2 kilometers from the City of Buenos Aires, while the El Palomar Airport is only 7.1 kilometers from the Federal Capital, which affects passengers due to the increases in transportation costs. transfers where they could achieve the same values ​​of air tickets. Another serious concern is the employees of the company where 80% reside in the areas adjacent to the low cost airport where the transfer to the Ezeiza Airport would be threatened due to the lack of public transport.
Operations at the Ezeiza International Airport add an additional condiment that the terminal must share with Aerolineas Argentinas, which owns more than 70% of the domestic market against the 19% share that Flybondi 9% and JetSmart 10% consolidated in 2019. The main air station in the country has a different objective, which is to attract an international market, where low cost operations for domestic flights would not always generate a competitive advantage for air transport users.
Flybondi vs Government
From the political sphere of the Government of Argentina they insist that Flybondi maintains a single aircraft operating and that it would make operations for the El Palomar Airport unviable. The budget airline before the pandemic crisis owned five aircraft, which after the incursion of the flight bans, the company returned three Boeing 737-800s that were under lease and took advantage of the forced stop since March 2020 to send another similar aircraft to the United States for corresponding maintenance. In this way, the airline sought to reduce the economic impact generated by the pandemic, while seeking to consolidate its current position where there are currently better offers to acquire aircraft at a lower cost.
As for JetSmart Airlines Argentina, it has taken a step aside allowing operations from the Ezeiza International Airport, resuming its operations from December 2020. The airline had scheduled its operations towards the end of 11/2020, but on Thursday 11/22 at the last minute it had canceled operations due to the lack of response from the ANAC to enable the service. Following the ORSNA resolution, JetSmart suspended flights in October 2020 projected from El Palomar Airport and rescheduled them to restart operations from Ezeiza as of 12/2020.
The Government counterattacked this week under the propaganda of the pro-government media that Flybondi Líneas Aéreas would have defaulted on investments worth US$ 30 million dollars promised at the El Palomar Airport. Company sources deny it, recalling that any infrastructure disbursement of a terminal is not the responsibility of the airlines, but of the airport concessionaire.
The closure of that air terminal at El Palomar Airport was on the political agenda since the current Government took office. At the beginning of October 2020, both the Ministries of Transport, Tourism and the ANAC had agreed in public and in private that the low cost airport would continue in operations, but the existing internal political bid has reversed such authorizations.
Aerial perspectives
Flybondi Líneas Aéreas is the low cost that most resists the move of its operations from El Palomar Airport. The CEO of the airline, Esteban Tossutti said: "Flying from Ezeiza is not an option for Flybondi. And the government authorities of the regulatory bodies are aware of this reality". However, Flybondi chose to fight alongside his employees, once again bringing the just claim in front of the Casa Rosada.
The attitudes and actions of the Government contradict the orbit of the elementary rights of the Argentine Constitution, outraging them to their lowest position. The employees and the Flybondi company will continue the fight in favor of an air market with greater participation, inclusion and federalism, something that the Government promotes but does not fulfill.

PUBLISHER: Airgways.com
DBk: Airgways.com / Flybondi.com / Twitter.com/TFlybondi / Aeronauticosapa.org.ar / Canalc.com.ar / Unmedioenmoron.com.ar / Lavozdemisiones.com / Viapais.com.ar / Juan Vargas
AW-POST: 202010291015AR
A\W A I R G W A Y S ®