AW | 2016 12 01 14:27 | INDUSTRY
Boeing trasladó dos principales secciones del fuselaje del primer Boeing 787-10 a su planta de ensamblaje final de North Charleston el miércoles, un acontecimiento de producción para el miembro más nuevo y más grande de la familia Dreamliner.
Durante una ceremonia para los empleados de Boeing, las estructuras mitad del cuerpo y de la cabina de popa se rodaron en el edificio. En la tercera sección, la parte delantera del fuselaje, se está haciendo en el Espíritu Aerosystems en Wichita, Kansas, Y será llevado a North Charleston.
Las tres piezas se ensamblan y el avión se trasladó a la línea de vuelo adyacentes para las pruebas en 2017. La entrega del primer 787-10 está previsto el año siguiente.
«Es un día muy emotivo en términos de ver esto vienen a la vida», dijo Joan Robinson-Berry, vicepresidente y gerente general de Boeing Carolina del Sur. «Me encanta aviones, así que esto es un gran día para mí.»
Mientras que las anteriores 787-8 y 787-9 modelos se construyen en North Charleston y un segundo campus de Boeing en Everett, Washington., El 787-10 será construido exclusivamente por Boeing Carolina del Sur porque la parte media del cuerpo es demasiado grande como para transportar a la costa oeste.
«Este es un día histórico para la empresa, el Estado y la región», dijo Darrel Larson, el líder de integración de construcción para el programa de Boeing 787-10. «Este avión sólo se construyó aquí en North Charleston. Piezas continuará siendo construido alrededor del globo en nuestra cadena de suministro, pero el 787-10 sólo volar fuera de North Charleston.»
Según los informes, Singapore Airlines obtendrá la primera 787-10, a pesar de que el primer avión que se entrega podría no ser el primero que se construye. La aerolínea asiática ya ha ordenado 30 de los aviones.
Nueve clientes han colocado 154 órdenes para el 787-10 que, a 224 pies, es una versión estirada del modelo 787-9 anterior y mejor vendido. Ambos modelos son aproximadamente 95 por ciento idénticos, lo que se espera simplifique el proceso de producción para la versión más reciente.
«Estamos introduciendo el Dash-10 en un sistema de producción que está construyendo 12 (chorros) al mes», dijo Larson. «Este avión se moverá directamente al sistema de producción».
El 787-10 puede transportar hasta 330 pasajeros y es el más caro Dreamliner a un precio de lista de $ 306.1 millones, aunque los compradores suelen negociar descuentos.
Uno de los mayores clientes potenciales del 787-10 es Emirates, con sede en Dubai, que ha anunciado que planea comprar hasta 100 aviones de fuselaje ancho de Boeing o su competidor con sede en Francia, Airbus. Ese anuncio está probablemente a un año de distancia porque Emirates ha dicho que no necesitará los aviones hasta después del comienzo de la próxima década.
Bert van Leeuwen, director de investigación de aviación en el banco DVB de Ámsterdam, dijo en un informe que el 787-10 podría impulsar el programa Dreamliner de Boeing. Las ventas de aviones de cuerpo ancho como el Dreamliner se han desacelerado en los últimos años, ya que las aerolíneas se aferran a las compras de billetes grandes, mientras que los precios del combustible siguen siendo bajos. El Dreamliner está hecho de materiales ligeros, compuestos y la eficiencia de combustible es uno de sus puntos de venta clave.
«Como el miembro más joven de la familia 787, debe haber un montón de potencial de ventas en los próximos años», dijo van Leeuwen en su revisión anual de la industria y las perspectivas.
En total, se han producido 1,208 órdenes hasta octubre para la familia Dreamliner de Boeing, con el 787-9 representando más de la mitad de esas ventas. Se espera que Boeing entregue su 500th Dreamliner antes de que finalice este año. 
Boeing's first 787-10 Dreamliner moves into final assembly
Boeing moved two major fuselage sections for the first Boeing 787-10 to its North Charleston final assembly plant on Wednesday, a production milestone for the newest and largest member of the Dreamliner family.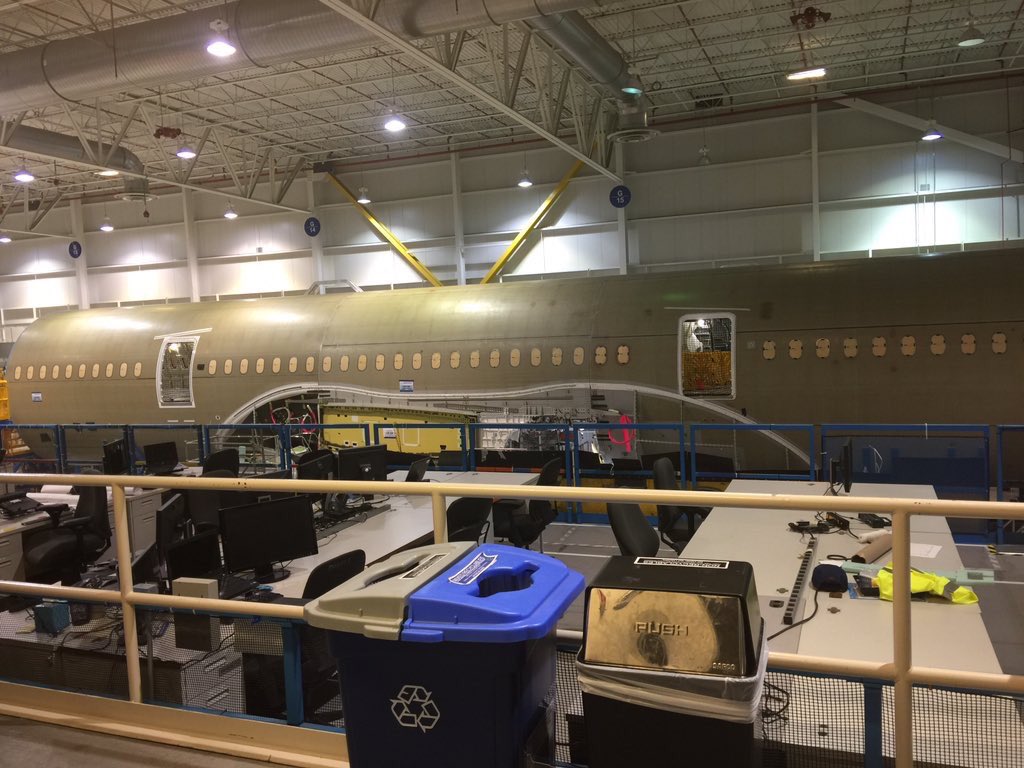 During a ceremony for Boeing employees, the mid-body and aft cabin structures were rolled into the building. The third section, the forward fuselage, is being made at Spirit Aerosystems in Wichita, Kan., and will be brought to North Charleston.
The three pieces will be assembled and the plane moved to the adjacent flightline for testing in 2017. Delivery of the first 787-10 is scheduled the following year.
«It's an emotional day in terms of seeing this come to life,» said Joan Robinson-Berry, vice president and general manager of Boeing South Carolina. «I love airplanes, so this is a big day for me.»
While the earlier 787-8 and 787-9 models are built in North Charleston and a second Boeing campus in Everett, Wash., the 787-10 will be built exclusively by Boeing South Carolina because the mid-body is too large to transport to the West Coast.
«This is a watershed day for the company, the state and the region,» said Darrel Larson, the build integration leader for Boeing's 787-10 program. «This airplane will only be built here in North Charleston. Pieces will continue to be built around the globe in our supply chain, but the 787-10 will only fly out of North Charleston.»
According to reports, Singapore Airlines will get the first 787-10, although the first plane that's delivered might not be the first one that's built. The Asian carrier has already ordered 30 of the planes.
Nine customers have placed 154 orders for the 787-10 which, at 224 feet, is a stretched version of the earlier and best-selling 787-9 model. Both models are about 95 percent identical, which is expected to simplify the production process for the newer version.
«We are introducing the Dash-10 into a production system that is building 12 (jets) a month,» Larson said. «This airplane will move right into the production system.»
The 787-10 can carry up to 330 passengers and is the most expensive Dreamliner at a list price of $306.1 million, although buyers typically negotiate discounts.
One of the 787-10's biggest potential customers is Dubai-based Emirates, which has said it plans to buy up to 100 wide-body planes from Boeing or its France-based competitor, Airbus. That announcement is probably a year away because Emirates has said it won't need the planes until after the start of the next decade.
Bert van Leeuwen, managing director of aviation research at Amsterdam-based DVB Bank, said in a report that the 787-10 could jumpstart Boeing's Dreamliner program. Sales of wide-body planes like the Dreamliner have slowed in recent years as airlines hold off on big-ticket purchases while fuel prices remain low. The Dreamliner is made of lightweight, composite materials and fuel efficiency is one of its key selling points.
«As the youngest member of the 787 family, there should be plenty of sales potential in years to come,» van Leeuwen said in his annual industry review and outlook.
All told, there have been 1,208 orders through October for Boeing's Dreamliner family, with the 787-9 accounting for more than half of those sales. Boeing is expected to deliver its 500th Dreamliner before the end of this year. A\W
Ξ A I R G W A Y S Ξ
SOURCE: postandcourier.com
DBk: Photographic © Brad Nettles
AW-POST: 201612011427AR
A\W A I R G W A Y S ®