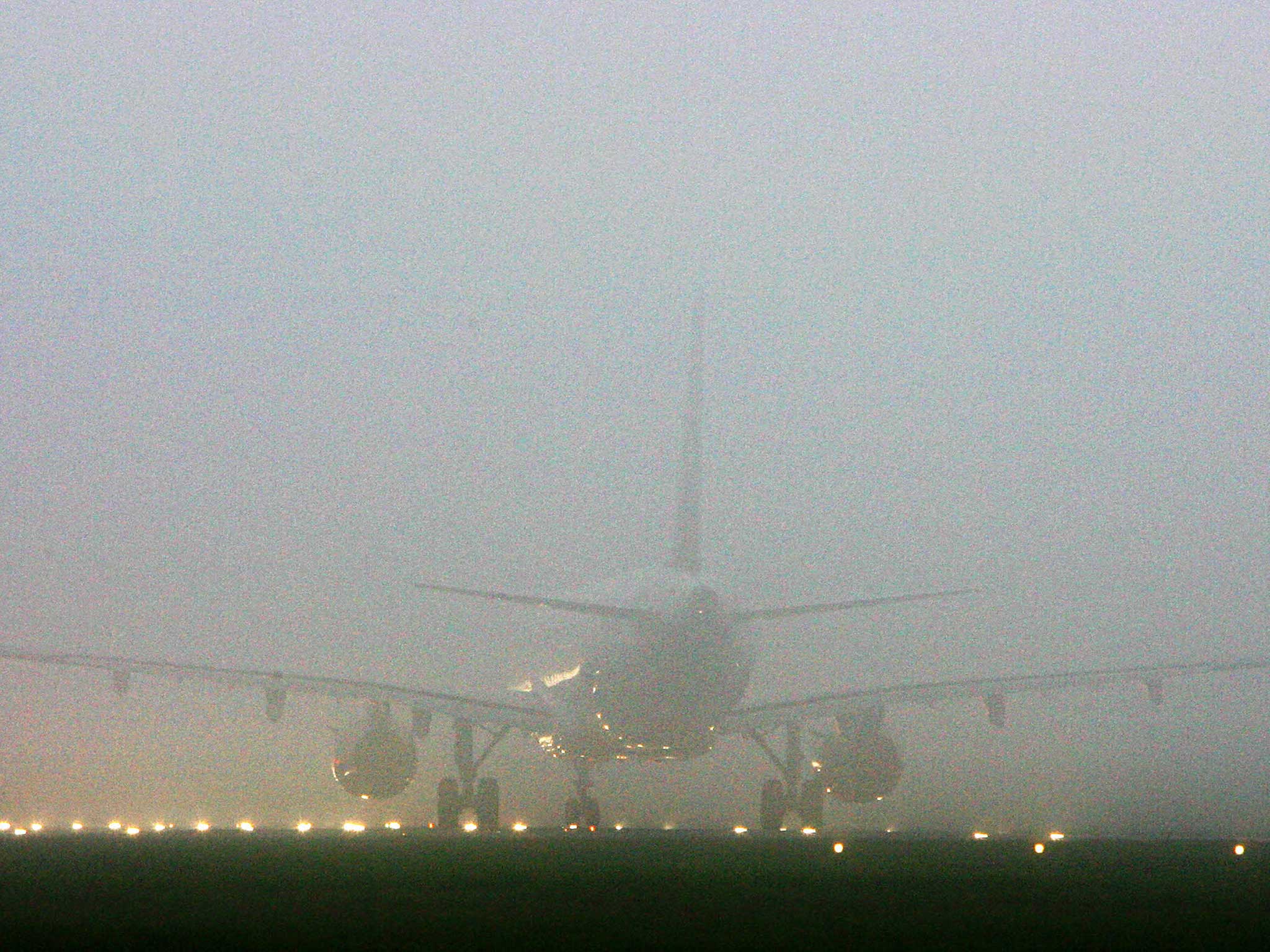 AW | 2016 12 18 14:30 | AIR TRAFFIC
La niebla en los aeropuertos de Londres causa el segundo día de interrupción
Fog está causando un segundo día de demoras y cancelaciones en los aeropuertos de Londres. Heathrow y Gatwick están experimentando problemas debido a la niebla pesada a través de Inglaterra y en otras partes de Europa. El aeropuerto de la ciudad de Londres se abrió el domingo por la tarde con un horario completo, pero, al igual que con los otros aeropuertos, aconsejó a los pasajeros contactar con su aerolínea antes de salir de casa.
Más niebla se prevé para el lunes que podría provocar una interrupción del viaje, de acuerdo con BBC Weather. Los viajeros también se enfrentan a más interrupciones durante la Navidad debido a las huelgas planificadas por la tripulación de cabina y los manipuladores de equipaje.
Un portavoz del aeropuerto de Heathrow dijo que unos 30 vuelos, seleccionados por las aerolíneas, habían sido "cancelados tácticamente" debido a la reducción de la capacidad de la pista, y los retrasos a otros vuelos probablemente continuarán durante todo el día.
British Airways también advirtió que habría retrasos en algunos de sus vuelos en otros aeropuertos debido a la interrupción en Heathrow. Un portavoz del aeropuerto de Gatwick dijo que 23 vuelos habían sido cancelados allí el domingo debido a problemas de "knock-on" causados por la niebla del sábado.
La oficina Met ha advertido el clima severo amarillo para la niebla en el lugar hasta las 10:00 GMT del lunes, diciendo que la visibilidad reducida continuaría en el sur de Inglaterra y el sur de Gales y se adentraría en las Midlands.
La niebla es probable que sea más gruesa al oeste de Londres potencialmente conduciendo peligroso en lugares pero la Oficina Met dijo que había cierta incertidumbre sobre cuánto tiempo duraría.
El pronostico de las condiciones del lunes por la mañana probablemente sean similares a las del día anterior, trayendo la amenaza de más trastornos.
Fog at London airports causes second day of disruption
Fog is causing a second day of delays and cancellations at London airports
Heathrow and Gatwick are both experiencing problems due to heavy fog across England and elsewhere in Europe. London City airport opened on Sunday afternoon with a full schedule but, as with the other airports, advised passengers to contact their airline before leaving home.
Further fog is predicted for Monday which could again cause travel disruption, according to BBC Weather. Travellers also face further disruption over Christmas due to planned strikes by cabin crew and baggage handlers.
A Heathrow airport spokesman said about 30 flights, selected by the airlines, had been "tactically cancelled" because of reduced runway capacity, and delays to other flights were likely to continue all day.
British Airways also warned there would be delays to some of its flights at other airports due to disruption at Heathrow. A Gatwick airport spokesman said 23 flights had been cancelled there on Sunday due to "knock-on" problems caused by Saturday's fog.
The Met Office has a yellow severe weather warning for fog in place until 10:00 GMT on Monday, saying reduced visibility would continue in southern England and south Wales and creep into the Midlands.
The fog is likely to be thickest to the west of London – potentially making driving hazardous in places, but the Met Office said there was some uncertainty about how long it would last.
The forecast conditions on Monday morning were likely to be similar to the previous day, bringing the threat of more disruption. A\W
Ξ A I R G W A Y S Ξ
SOURCE: BCC.com
DBk: Photographic © Reuters.com / independent.co.uk
AW-POST: 201612181630AR
A\W A I R G W A Y S ®