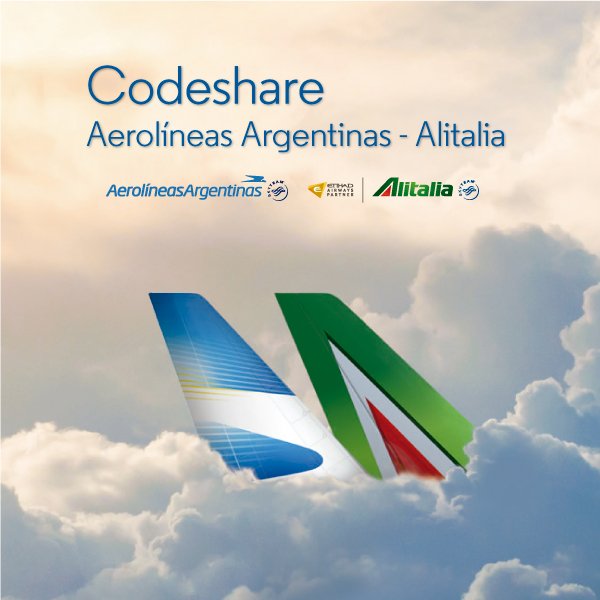 AW | 2017 04 29 11:40 | AIRLINES ALLIANCE
El acuerdo entra en vigencia para la venta a partir del 16 de mayo y para vuelos desde el 23 del mismo mes
Las compañías Aerolíneas Argentinas y Alitalia, miembros de la alianza aérea global SkyTeam, firmaron un acuerdo de códigos compartidos que permitirá a ambas
compañías ampliar la oferta de destinos en América, Europa y Asia, informaron este viernes fuentes institucionales.
Esta firma supondrá que las cinco frecuencias actuales de la aerolínea argentina a Roma serán también comercializadas por Alitalia y que Aerolíneas podrá sumar a su oferta internacional conexiones con 16 destinos en Italia, entre los que se incluyen Turín, Génova, Florencia, Bolonia o Venecia, anunció la empresa argentina en una nota de prensa.
A esos destinos se les suman otros 16 en 10 países de Europa y Asia, como Londres, Ginebra, Zúrich, Frankfurt, Berlín y Atenas, entre otros.
La compañía europea, por su parte, podrá ofrecer a sus pasajeros de Italia la posibilidad de conectar con las rutas operadas por Aerolíneas Argentinas y Austral, con 35 destinos en Argentina y a nivel regional como Montevideo, Asunción, Santa Cruz de la Sierra, Lima y Santiago de Chile.
"Esta es una oportunidad para consolidar la ruta a Roma y reforzar nuestra presencia en Italia y en el mercado europeo", dijo Diego García, director del área Comercial de Aerolíneas Argentinas, quien ve esta unión como una oportunidad para mejorar la ocupación, "optimizando la utilización de la flota y fortaleciendo la imagen de Aerolíneas" en Argentina y Europa, recogió la nota. El acuerdo entra en vigencia para la venta a partir del 16 de mayo y para vuelos desde el 23 del mismo mes.
Los pasajeros que contraten conexiones en el marco del acuerdo dispondrán de itinerarios con un único código de viaje, con tarjeta de embarque y envío de su equipaje a destino final en el aeropuerto de origen. También podrán acumular millas en los programas de viajero frecuente de ambas líneas aéreas. 
Aerolíneas Argentinas and Alitalia sign agreement to share destinations



The agreement enters into force for the sale from May 16 and for flights from the 23 of the same month




Aerolíneas Argentinas and Alitalia, members of SkyTeam's global airline alliance, have signed a code-sharing agreement that will allow both companies to expand the offer of destinations in the Americas, Europe and Asia, institutional sources said Friday.
The firm will assume that the five current frequencies of the Argentine airline to Rome will also be marketed by Alitalia and that Aerolíneas will be able to add to its international offer connections with 16 destinations in Italy, including Turin, Genoa, Florence, Bologna or Venice, The Argentine company announced in a press release.
To these destinations are added another 16 in 10 countries in Europe and Asia, such as London, Geneva, Zurich, Frankfurt, Berlin and Athens, among others.
The European company, for its part, will be able to offer its passengers from Italy the possibility of connecting with the routes operated by Aerolineas Argentinas and Austral, with 35 destinations in Argentina and at regional level such as Montevideo, Asunción, Santa Cruz de la Sierra, Lima and Santiago de Chile.
«This is an opportunity to consolidate the route to Rome and strengthen our presence in Italy and the European market,» said Diego Garcia, director of the Commercial area of ​​Aerolíneas Argentinas, who sees this union as an opportunity to improve the occupation, «optimizing The use of the fleet and strengthening the image of Aerolíneas» in Argentina and Europe, collected the note. The agreement enters into force for the sale from May 16 and for flights from the 23 of the same month.
Passengers who hire connections within the framework of the agreement will have itineraries with a single travel code, with boarding pass and sending their luggage to final destination at the airport of origin. They will also be able to earn miles in frequent flyer programs from both airlines. A \ W
Ξ A I R G W A Y S Ξ
SOURCE: Efe.com
DBk: Aerolineas.com
AW-POST: 201704291140AR
A \ W   A I R G W A Y S ®