AW | 2018 02 14 10:30 | INDUSTRY
Airbus efectuó pruebas de vuelo en el A321NEO LR para rutas transatlánticas
El Airbus A321NEO LR despegó el 13 Febrero 2018 en un vuelo de prueba entre París y Nueva York. Airbus está comprometida a conquistar las rutas transatlánticas con la nueva versión de largo alcance del avión de pasillo único actualizado.
Los A321NEO LR emplean nuevos motores LEAP-1A y tiene características de diseño destinadas a reducir el consumo de combustible, uno de los mayores costos para las aerolíneas.
Caballo alado para las low-cost
El sector de bajo costo aún no ha avanzado mucho en el segmento transatlántico, en parte debido a la falta de un avión adecuado. El único otro avión de pasillo único que realizó vuelos transatlánticos, el Boeing 757, ya no está en producción y en ocasiones es necesario detenerse para obtener combustible si los vientos eran fuertes.
Airbus cree que el avión ayudará a las aerolíneas a abrir nuevos segmentos de mercado y rutas. El A321NEO LR esencialmente está tomando un caballo de batalla del mercado de medio recorrido que es ampliamente utilizado por las aerolíneas de bajo costo y ampliando su alcance para que pueda manejar las rutas transatlánticas y similares.
"Puedes verlo como un paso hacia la democratización de los vuelos de larga distancia donde los estudiantes con un presupuesto podrían pagar un poco más por un billete de París a Nueva York que lo que pagan ahora para volar de París a Toulouse en el al sur de Francia", dijo Cedric Favrichon, ingeniero en el vuelo.
Pedidos de A321NEO's LR
La aerolínea Norwegian Air Shuttle que realiza vuelos transatlánticos con los Boeing 787 Dreamliner, ha efectuado órdenes por 30 aviones A321NEO LR. Airbus ha cursado más de 100 pedidos para el nuevo avión transatlántico.
El fabricante de aviones europeo cree que, además de los vuelos transatlánticos, también podría utilizarse para rutas como Dubai-Pekín, Kuala Lumpur-Tokio o Singapur-Sydney, donde actualmente se necesitan transportistas de largo recorrido.
Airbus espera obtener la certificación de los reguladores de EEUU y de la UE en los próximos meses para el avión, por lo que puede entrar en servicio antes de fin de 2018. 
Transatlantic test of the A321NEO LR
Airbus conducted flight tests on the A321NEO LR for transatlantic routes
The Airbus A321NEO LR took off on February 13, 2018 on a test flight between Paris and New York. Airbus is committed to conquering transatlantic routes with the new long-range version of the updated single-aisle aircraft.
The A321NEO LR employs new LEAP-1A engines and has design features designed to reduce fuel consumption, one of the biggest costs for airlines.
Winged horse for low-cost
The low-cost sector has not yet advanced much in the transatlantic segment, in part due to the lack of an adequate aircraft. The only other single-aisle aircraft that carried out transatlantic flights, the Boeing 757, is no longer in production and sometimes it is necessary to stop to get fuel if the winds were strong.
Airbus believes that the plane will help airlines open new market segments and routes. The A321NEO LR is essentially taking a workhorse from the mid-range market that is widely used by low-cost airlines and expanding its reach so that it can handle transatlantic and similar routes.
"You can see it as a step towards the democratization of long-haul flights where students on a budget could pay a little more for a ticket from Paris to New York than they pay now to fly from Paris to Toulouse" in the south from France", said Cedric Favrichon, flight engineer.
Orders from A321NEO's LR
The Norwegian Air Shuttle, which carries out transatlantic flights with the Boeing 787 Dreamliner, has placed orders for 30 A321NEO LR aircraft. Airbus has completed more than 100 orders for the new transatlantic aircraft.
The European aircraft manufacturer believes that, in addition to transatlantic flights, it could also be used for routes such as Dubai-Beijing, Kuala Lumpur-Tokyo or Singapore-Sydney, where long-haul transporters are currently needed.
Airbus expects to obtain certification from US and EU regulators in the coming months for the aircraft, so it can enter service before the end of 2018. A \ W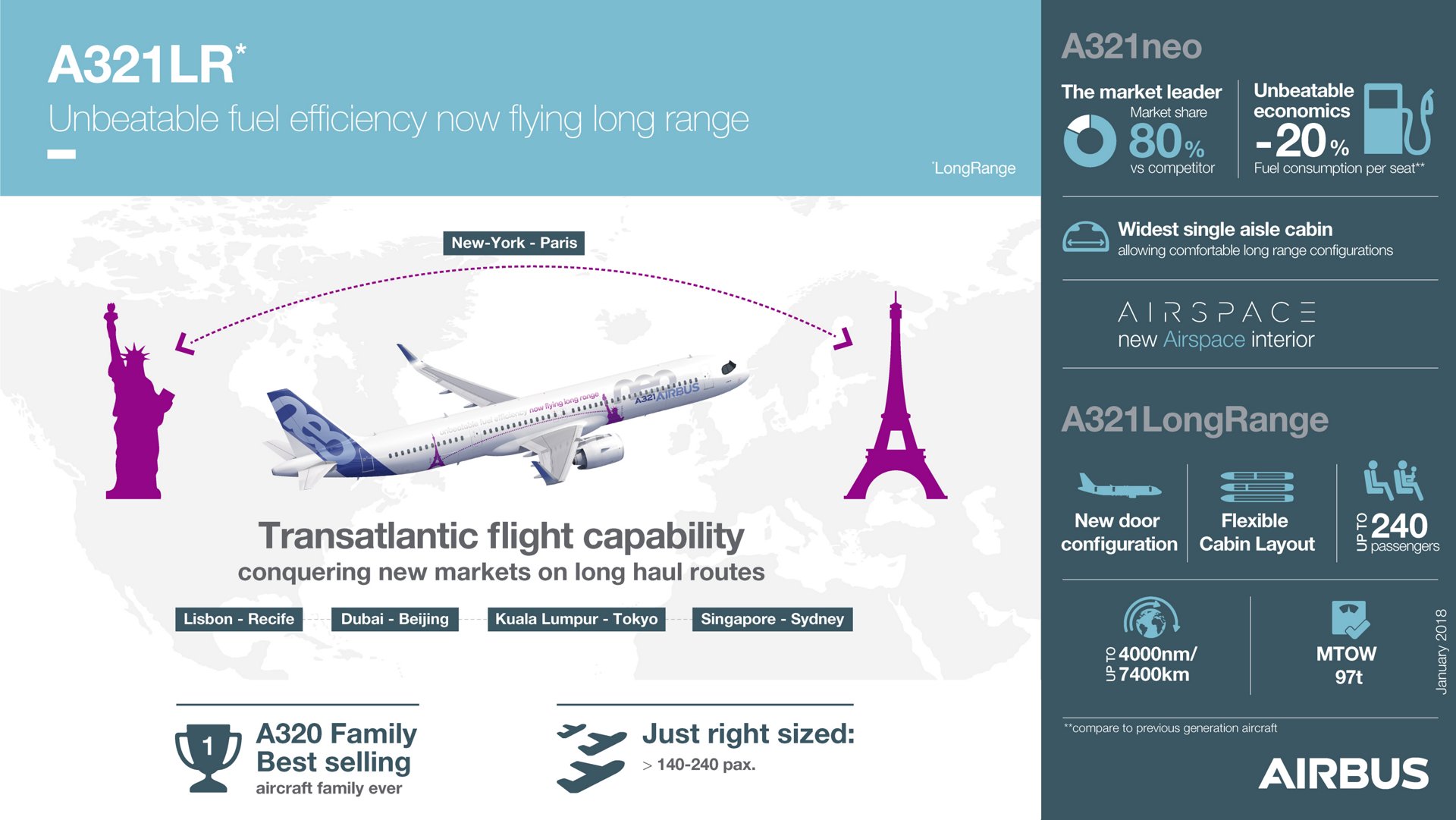 Test transatlantique de l'A321NEO LR
Airbus a effectué des essais en vol sur l'A321NEO LR pour les liaisons transatlantiques
L'Airbus A321NEO LR a décollé le 13 février 2018 lors d'un vol d'essai entre Paris et New York. Airbus s'engage à conquérir les routes transatlantiques avec la nouvelle version longue portée de l'avion monocouloir mis à jour.
L'A321NEO LR utilise de nouveaux moteurs LEAP-1A et dispose de caractéristiques de conception conçues pour réduire la consommation de carburant, l'un des coûts les plus importants pour les compagnies aériennes.
Cheval ailé pour low-cost
Le secteur low-cost n'a pas encore beaucoup progressé sur le segment transatlantique, en partie à cause du manque d'avions adéquats. Le seul autre avion monocouloir à avoir effectué des vols transatlantiques, le Boeing 757, n'est plus en production et il est parfois nécessaire de s'arrêter pour obtenir du carburant si les vents étaient forts.
Airbus estime que l'avion aidera les compagnies aériennes à ouvrir de nouveaux segments de marché et de nouvelles routes. L'A321NEO LR prend essentiellement un bourreau de travail du marché de milieu de gamme qui est largement utilisé par les compagnies aériennes à bas prix et élargit sa portée afin qu'il puisse gérer les liaisons transatlantiques et similaires.
"Vous pouvez le voir comme un pas vers la démocratisation des vols long-courriers où les étudiants à petit budget pourraient payer un peu plus pour un billet de Paris à New York qu'ils ne payent maintenant pour voyager de Paris à Toulouse" dans le sud de France", a déclaré Cedric Favrichon, ingénieur de vol.
Commandes de LR de A321NEO
La Norwegian Air Shuttle, qui effectue des vols transatlantiques avec le Boeing 787 Dreamliner, a passé commande de 30 avions A321NEO LR. Airbus a réalisé plus de 100 commandes pour le nouvel avion transatlantique.
Le constructeur aéronautique européen estime que, outre les vols transatlantiques, il pourrait également être utilisé pour des liaisons telles que Dubaï-Pékin, Kuala Lumpur-Tokyo ou Singapour-Sydney, où des transporteurs long-courrier sont actuellement nécessaires.
Airbus s'attend à obtenir la certification des régulateurs américains et européens dans les mois à venir pour l'avion, afin qu'il puisse entrer en service avant la fin de 2018. A\W
Ξ A I R G W A Y S Ξ
SOURCE:  Airgways.com
DBk: Airbus.com / Airgways.com
AW-POST: 201802141030AR
A\W   A I R G W A Y S ®