AW | 2018 02 21 11:19 | AIRLINES
Qatar Airways incorpora su primer A350-1000 a su flota
Airbus entregó el primer A350-1000, la variante más grande de la familia A350XWB, a su cliente de lanzamiento Qatar Airways el 20 de Febrero 2018 en Toulouse, Francia.

Qatar Airways incorpora en el flamante A350-1000 la nueva cabina de clase ejecutiva en configuración Club con cuatro asientos que pueden "unirse" bajando separaciones entre ellos para formar una cabina privada. Dos de ellos además formán una cama doble, la primera en clase business según la aerolínea.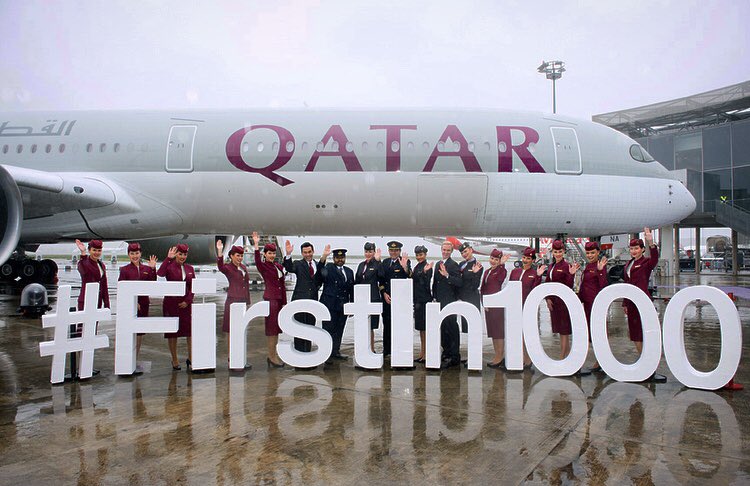 CENTRO DE ENTREGA DE AIRBUS EN TOULOUSE, FRANCIA. QATAR AIRWAYS TOMA ENTREGA DEL PRIMER A350-1000 CONVIRTIÉNDOSE EN EL PRIMER OPERADOR MUNDIAL
A350-1000 de Qatar Airways

El A350-1000 de Qatar Airways transportará 366 pasajeros en configuración de tres clases. El A350-1000 de Qatar Airways tiene una configuración de 44 asientos más que el A350-900 en servicio con la aerolínea. Ingresará oficialmente al servicio el 24 de Febrero 2018 en la ruta Doha-Heathrow, Reino Unido.
"Esta entrega es extremadamente importante para Airbus y Qatar Airways, ya que esta aerolínea fue el cliente de lanzamiento tanto del A350-900 como del -1000", dijo Fabrice Brégier, ex presidente de Airbus Commercial Aircraft. La compra del A350-1000 de Qatar fue el último proyecto oficial de Brégier antes de ser reemplazado por Guillaume Faury. Qatar Airways espera recibir cinco A350-1000 adicionales este año.
CONFERENCIA DE PRENSA DE ENTREGA DEL  PRIMER A350-1000 A QATAR AIRWAYS
Demoras en entrega del A350-1000
Esta entrega cayó desde diciembre de 2017 debido a un retraso en la entrega de sus nuevos asientos de clase ejecutiva Q-Suite fabricados por B / E Aerospace (ahora parte de Rockwell Collins). "El A350-1000 es un programa muy complejo, pero el problema se resolvió en un tiempo récord, y estoy encantado de tener este nuevo avión en mi flota", dijo Akbar Al-Baker, CEO de la aerolínea.
Certificación A350-1000
El A350-1000 se certificó en noviembre de 2017 después de realizar su primer vuelo en noviembre de 2016. Airbus ha registrado pedidos de 169 clientes de 11 clientes. Algunos de ellos también son -900 compradores, incluidos Latam Airlines Group, IAG, Cathay Pacific, Etihad Airways y Japan Airlines. "El A350-1000 quiere hacer el reemplazo ideal para el Boeing 777-300ER", dijo Fabrice Brégier, CEO de Airbus.
Según estadísticas de Airbus, el mercado de doble pasillo podría constituir un total de 8.700 nuevos aviones para 2037, de los cuales el A350-1000 podría representar más de 1.000. Airbus afirma que el A350-1000 ahorra un 25% en consumo de combustible y costos operativos totales, en comparación con el 777-300ER. "En comparación con el 777-9X más nuevo, el A350XWB ofrecerá un mejor consumo de combustible, ya que pesa 35 toneladas menos", dijo Marisa Lucas, Directora de Comercialización de Productos de A350.
El programa de prueba de vuelo implicó 1.600 horas de vuelo con tres aviones de prueba, en comparación con las 2.500 horas con cinco aviones para el A350-900. Está propulsado por una variante Rolls Royce Trent XWB, la Trent XWB-97 con 97,000 libras de empuje. 
Qatar Airways receives first A350-1000
Qatar Airways incorporates its first A350-1000 into its fleet

Airbus delivered the first A350-1000, the largest variant of the A350XWB family, to its launch customer Qatar Airways on February 20, 2018 in Toulouse, France.
Qatar Airways incorporates into the brand new A350-1000 the new executive class cabin in Club configuration with four seats that can be "joined" by lowering gaps between them to form a private cabin. Two of them also form a double bed, the first in business class according to the airline.
A350-1000 from Qatar Airways
The A350-1000 of Qatar Airways will transport 366 passengers in three class configuration. The A350-1000 of Qatar Airways has a configuration of 44 seats more than the A350-900 in service with the airline. It will officially enter the service on February 24, 2018 on the Doha-Heathrow route, United Kingdom.
"This delivery is extremely important for Airbus and Qatar Airways, as this airline was the launch customer for both the A350-900 and the -1000", said Fabrice Brégier, former president of Airbus Commercial Aircraft. The purchase of Qatar's A350-1000 was Brégier's last official project before being replaced by Guillaume Faury. Qatar Airways expects to receive five additional A350-1000 this year.
Delays in delivery of the A350-1000
This delivery fell since December 2017 due to a delay in the delivery of its new executive-class Q-Suite seats manufactured by B / E Aerospace (now part of Rockwell Collins). "The A350-1000 is a very complex program, but the problem was solved in record time, and I am delighted to have this new aircraft in my fleet", said Akbar Al-Baker, CEO of the airline.
Certification A350-1000
The A350-1000 was certified in November 2017 after making its first flight in November 2016. Airbus has registered orders from 169 customers of 11 customers. Some of them are also -900 buyers, including Latam Airlines Group, IAG, Cathay Pacific, Etihad Airways and Japan Airlines. "The A350-1000 wants to make the ideal replacement for the Boeing 777-300ER", said Fabrice Brégier, CEO of Airbus.
According to Airbus statistics, the double aisle market could constitute a total of 8,700 new aircraft by 2037, of which the A350-1000 could represent more than 1,000. Airbus claims that the A350-1000 saves 25% on fuel consumption and total operating costs, compared to the 777-300ER. "Compared to the newer 777-9X, the A350XWB will offer better fuel consumption, since it weighs 35 tons less", said Marisa Lucas, Director of Product Marketing at A350.
The flight test program involved 1,600 flight hours with three test aircraft, compared to 2,500 hours with five aircraft for the A350-900. It is powered by a Rolls Royce Trent XWB variant, the Trent XWB-97 with 97,000 pounds of thrust. A \ W
Ξ A I R G W A Y S Ξ
SOURCE:  Airgways.com
DBk: Airbus.com / Qatarairways.com / Airgways.com
AW-POST: 201802211119AR
A\W   A I R G W A Y S ®