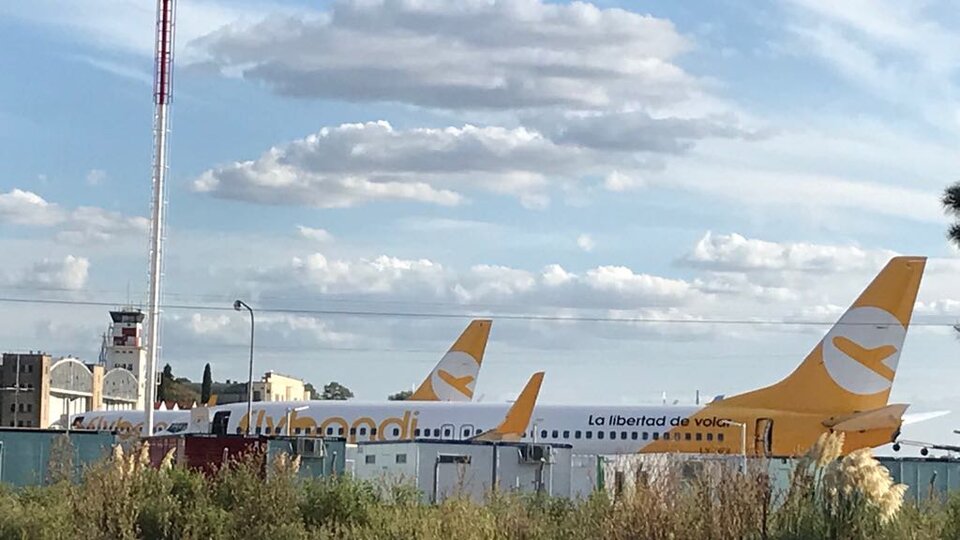 AW | 2018 02 23 17:47 | AIRLINES / AVIATION SAFETY
La ANAC paraliza aeronave Boeing 737-800 de la aerolínea lowcost Flybondi
La compañía aérea Flybondi de Argentina ha tenido una serie de inconvenientes con el primer Boeing 737-800 con registro LV-HKS. La aerolínea lowcost no puede hacer despegar a su segunda aeronave, que lleva una semana en el Aeropuerto El Palomar, informando desde la ANAC que está fuera de operaciones porque presentó una falla y la empresa la ingresó a mantenimiento para su verificación. Desde la aerolínea comunican que no tiene problemas técnicos.
Principiando incidentes
Tras la inauguración del inicio de operaciones de Flybondi, en su primer vuelo tuvieron inconvenientes con las valijas de 100 pasajeros las que tuvieron que transportar por tierra debido a un problema de pesos específicos con la aeronave.
El lunes el otro avión de la empresa no pudo realizar un aterrizaje por problemas de visibilidad a causa de la lluvia que se registró por la mañana y tuvo que desviarse hacia Aeroparque. Fue la segunda vez que Flybondi tuvo que desviar un vuelo a El Palomar a causa de una tormenta.
El viernes pasado fueron 625 pasajeros los que quedaron demorados por la falla en una rueda del Boeing 737 LV-HKS, su primer aeronave incorporada a la flota.
Ese mismo día el segundo avión de la low cost, el Boeing 737-800 con registro LV-HFR, arribó a Argentina para incorporarse rápidamente a las operaciones, pero solo 48 horas después quedó varado en el Aeropuerto El Palomar por supuestos inconvenientes. El vuelo FO-514 de Flybondi con el Boeing 737-800 debía despegar desde el cuestionado Aeropuerto El Palomar rumbo a Córdoba a las 20:45 hs. El estado del vuelo quedó cancelado. Los pasajeros tuvieron que ser reubicados a otros servicios de Flybondi, Andes Líneas Aéreas y Aerolíneas Argentinas, informó la empresa low cost.
Desde Flybondi no expresaron los motivos por el cual la segunda aeronave quedó estacionada en el Aeropuerto El Palomar. La Administración Nacional de Aviación Civil (ANAC) que autorizó al avión a volar el pasado 8 de Febrero 2018 informó que presentó una falla y la empresa lo ingresó a mantenimiento para su verificación y que por ahora está fuera de operaciones.
Desde el organismo oficial de la ANAC informaron que la aeronave Boeing 737-800 LV-HFR ingresó a los talleres para su correcta inspección. La ANAC ha confirmado la existencia de una falla del avión y su ingreso a mantenimiento para su verificación y posterior aprobación.
El titular de la Asociación de Pilotos de Líneas Aéreas (APLA), Pablo Biró, recordó que "en el expediente de la audiencia pública en la que solicitaron las rutas, la empresa dijo que iba a trabajar con aviones de entre 6 u 8 años de antigüedad y empezaron con uno de 12 años, incumpliendo con lo que habían prometido". También dijo que el Ministro de Transporte, Guillermo Dietrich, "en vez de enojarse con las denuncias hechas por los sindicatos, debería pedir que se cumplan con los estándares de aviación a nivel internacional".
El primer avión recibido, el Boeing 737-800 LV-HKS (SN:33821 LN:1698) salido de fábrica en el 2005, tiene una antigüedad de 12,7 años, mientras que la segunda aeronave LV-HFR fabricado en el año 1998 (SN:28071 LN:133) tiene una edad promedio de 19,4 años. Ambas aeronaves fueron traídas desde la República de Turquía.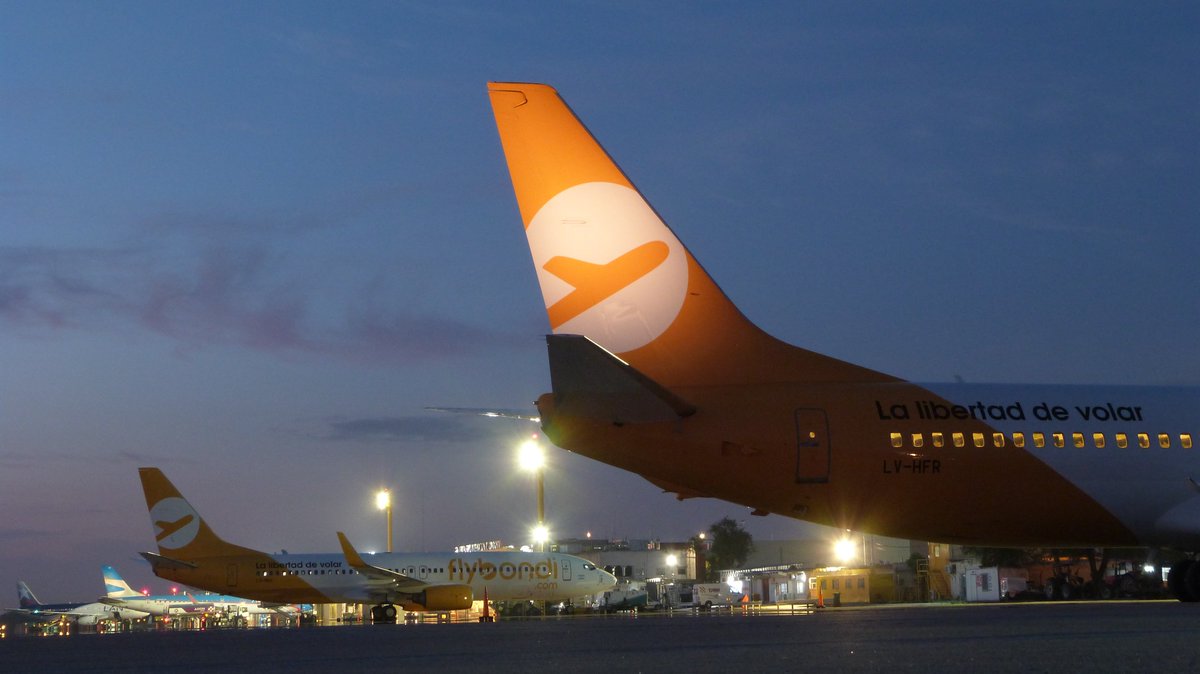 Flybondi aircraft under inspection
The ANAC paralyzes Boeing 737-800 aircraft of the lowcost airline Flybondi
The airline Flybondi of Argentina has had a series of problems with the first Boeing 737-800 with registration LV-HKS. The lowcost airline can not take off its second aircraft, which has been in El Palomar Airport for a week, reporting from the ANAC that it is out of operations because it presented a fault and the company entered it for maintenance for verification. From the airline communicate that has no technical problems.
Beginning incidents
After the opening of the start of operations of Flybondi, on their first flight they had problems with the 100-passenger suitcases that they had to transport by land due to a problem of specific weights with the aircraft.
On Monday, the company's other plane was unable to make a landing due to visibility problems due to the rain that occurred in the morning and had to be diverted to Aeroparque. It was the second time that Flybondi had to divert a flight to El Palomar because of a storm.
Last Friday there were 625 passengers who were delayed by the failure in a wheel of the Boeing 737 LV-HKS, its first aircraft incorporated into the fleet.
That same day the second low cost aircraft, the Boeing 737-800 with LV-HFR registration, arrived in Argentina to join the operations quickly, but only 48 hours later it was stranded at El Palomar Airport for alleged inconveniences. The FO-514 flight of Flybondi with the Boeing 737-800 was due to take off from the questioned El Palomar Airport heading to Córdoba at 8:45 p.m. The status of the flight was canceled. The passengers had to be relocated to other services of Flybondi, Andes Líneas Aéreas and Aerolíneas Argentinas, the low cost company reported.
Since Flybondi did not express the reasons why the second aircraft was stationed at El Palomar Airport. The National Civil Aviation Administration (ANAC), which authorized the plane to fly on February 8, 2018, reported that it presented a failure and the company entered it for maintenance for verification and that for now "it is out of operations.
From the official agency of the ANAC informed that the aircraft Boeing 737-800 LV-HFR entered the workshops for proper inspection. The ANAC has confirmed the existence of an aircraft failure and its entry into maintenance for verification and subsequent approval.
The head of the Association of Airline Pilots (APLA), Pablo Biró, recalled that "in the record of the public hearing in which they requested the routes, the company said that it would work with airplanes between 6 and 8 years of age. seniority and they started with a 12-year-old, not complying with what they had promised". He also said that the Minister of Transportation, Guillermo Dietrich, "instead of getting angry with the complaints made by the unions, should ask that they comply with aviation standards at the international level".
The first aircraft received, the Boeing 737-800 LV-HKS (SN: 33821 LN: 1698) left the factory in 2005, has an age of 12.7 years, while the second aircraft LV-HFR manufactured in 1998 (SN: 28071 LN: 133) has an average age of 19.4 years. Both aircraft were brought from the Republic of Turkey. A \ W
Ξ A I R G W A Y S Ξ
SOURCE:  Airgways.com
DBk: Anac.gov.ar / Flybondi.com / Airgways.com
AW-POST: 201802231747AR
A\W   A I R G W A Y S ®