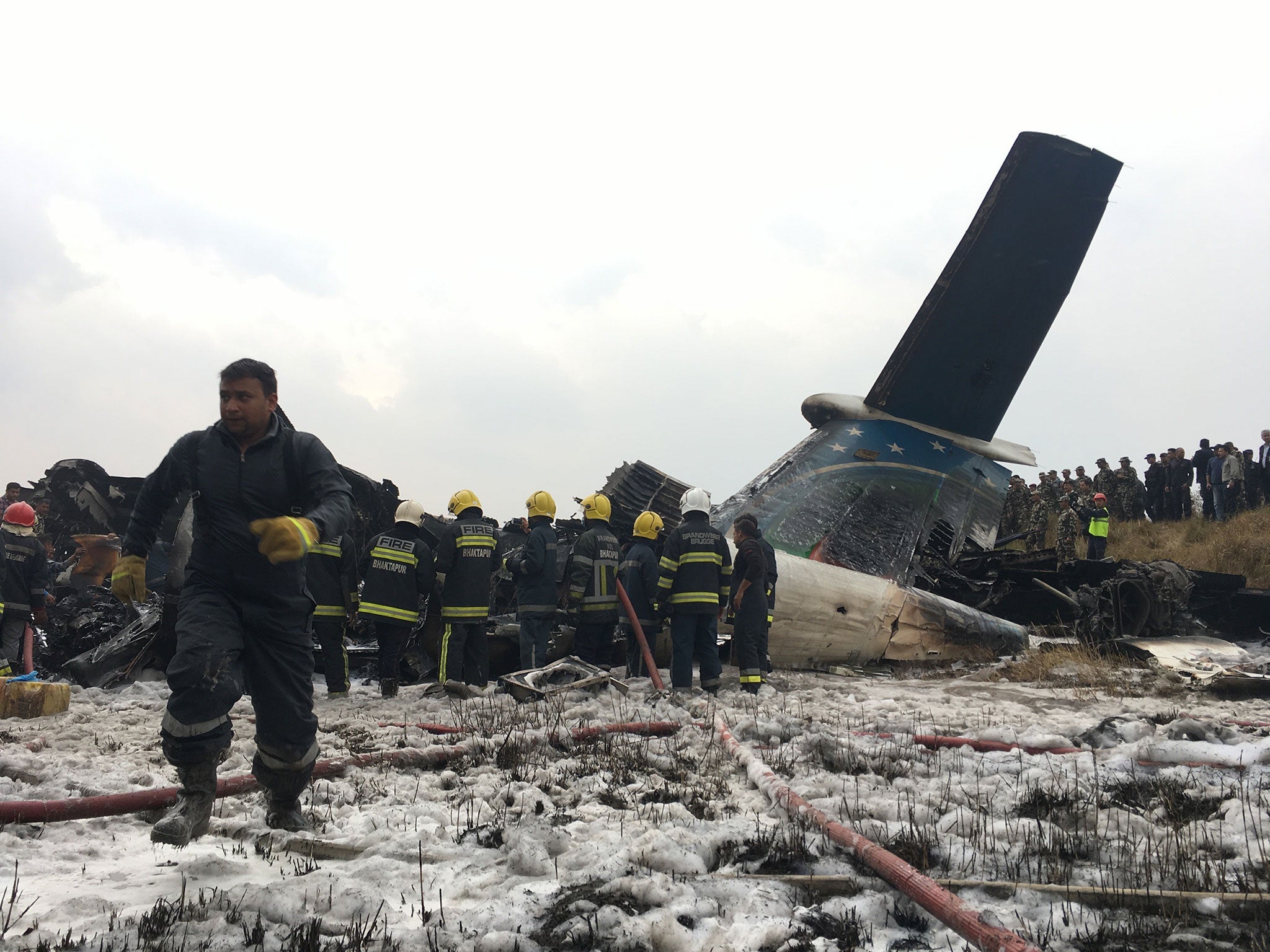 AW | 2018 03 12 10:57 | AIR INVESTIGATION
Un Bombardier Q400 de US-Bangla Airlines se estrella en Nepal
Un Bombardier Q8-400, de US-Bangla Airlines se accidenta en Katmandú, Nepal. La aeronave con registro S2-AGU había efectuado el vuelo BS-211 desde Dhaka (Bangladesh) a Katmandú (Nepal) con 67 pasajeros y 4 tripulantes. El Q400 se encontraba en fase de descenso y aproximación a la pista 02 de Katmandú despejada para aterrizar.
La tripulación solicitó aterrizar en la pista 20, la torre despejó el avión para aterrizar en la pista 20. Cuando la Torre preguntó al avión si tenían la pista a la vista, la tripulación respondió "negativo". La Torre de Control preguntó si tenían a la vista la pista 02, afirmó la tripulació de la aeronave Q400, la torre despejó el vuelo nuevamente para aterrizar en la pista 02. La aeronave colisionó contra el suelo y estalló en llamas a eso de las 14:25 L (0835Z), la torre detuvo todo el tráfico dentro y fuera de Katmandú.
Los servicios de rescate llevaron a 39 ocupantes a los hospitales, sin embargo, ocho de ellos fueron declarados muertos al llegar al hospital. 31 cuerpos fueron recuperados de los restos.
Los observadores terrestres informaron que el avión giró repentinamente a la izquierda, sobrevoló, llegó muy cerca de la torre de control y desapareció de la vista. Una gran nube de humo comenzó a levantarse segundos más tarde. El aeropuerto informó que el avión viró hacia la derecha de la pista y se deslizó por unos 300 metros hasta detenerse en un campo de fútbol y estallar en llamas.  
US-Bangla Q400 accident in Nepal
A Bombardier Q400 from US-Bangla Airlines crashes in Nepal
A Bombardier Q8-400 from US-Bangla Airlines crashes in Kathmandu, Nepal. The aircraft with registration S2-AGU had flown BS-211 from Dhaka (Bangladesh) to Kathmandu (Nepal) with 67 passengers and 4 crew members. The Q400 was in descent phase and approach to runway 02 of Kathmandu cleared to land.
The crew requested to land on runway 20, the tower cleared the plane to land on runway 20. When the Tower asked the plane if they had the runway in sight, the crew responded "negative". The Control Tower asked if they had track 02 in view, said the crew of aircraft Q400, the tower cleared the flight again to land on runway 02. The aircraft collided with the ground and burst into flames at about 14:25 L (0835Z), the tower stopped all traffic in and out of Kathmandu.
The rescue services took 39 occupants to hospitals, however, eight of them were declared dead upon arrival at the hospital. 31 bodies were recovered from the remains.
The ground observers reported that the plane suddenly turned to the left, flew over, came very close to the control tower and disappeared from sight. A large cloud of smoke began to rise seconds later. The airport reported that the plane veered to the right of the runway and slid for about 300 meters to stop at a football field and burst into flames. A\W
DATA: La información procesada puede actualizarse debido al tipo de datos cambiantes, por lo que le sugerimos consultar periódicamente esta información.
DATA: The processed information can be updated due to the type of changing data, so we suggest you consult this information periodically.
US-BANGLA AIRLINES BS-211

---

 UPDATES > 2018 03 12 11:33 -3UTC

El número de muertos en la caída de un avión hoy, durante las maniobras de aterrizaje, en el aeropuerto de Katmandú, subió a 49 y hay 22 personas heridas, según el último balance de las autoridades nepalesas.

El portavoz de la policía de Nepal, Manoj Neupane, declaró a la agencia de noticias EFE que todos los cuerpos ya fueron recuperados del avión desde la línea aérea US-Bengala, donde viajaban 67 pasajeros y cuatro tripulantes. A\W

The death toll in the fall of an airplane today, during the landing maneuvers, at Kathmandu airport, rose to 49 and there are 22 people injured, according to the latest balance of the Nepalese authorities.

Nepalese police spokesman Manoj Neupane told the EFE news agency that all bodies were recovered from the US-Bengal airline, where 67 passengers and four crew members were traveling. A\W

SOURCE: http://kathmandupost.ekantipur.com
Ξ A I R G W A Y S Ξ
SOURCE:  Airgways.com
DBk: Avherald.net / Narayan Amrit / Nytimes.com / Independent.co.uk
AW-POST: 2018030121057AR
A\W   A I R G W A Y S ®