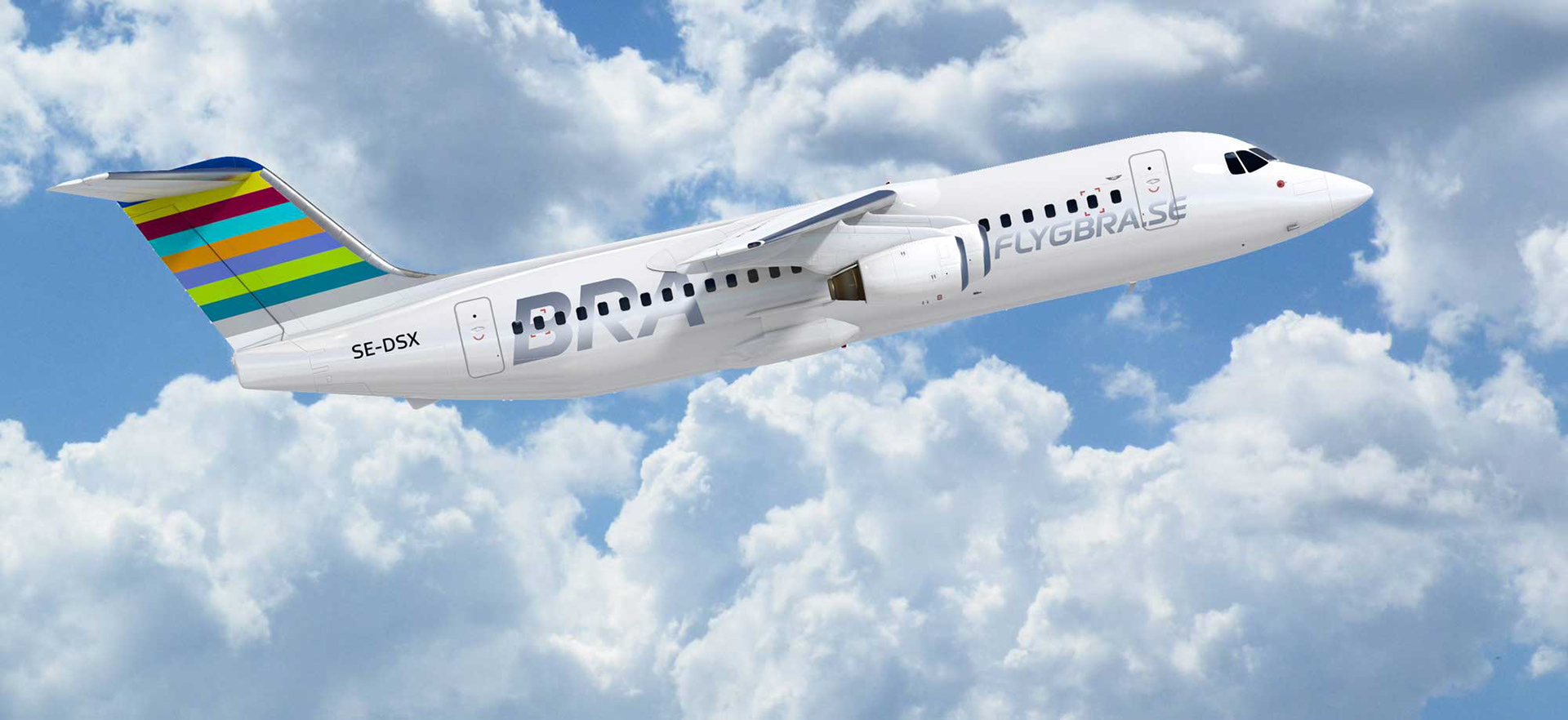 AW | 2018 0314 12:57 | AIRLINES
Braathens Regional Airlines es la primera compañía en el mundo que ofrece a todos los viajeros volar en biocombustible
La nueva oportunidad de biocombustibles con Braathens Regional Airlines hace que el vuelo sea casi libre de fósiles. "Para nosotros es importante facilitar el cambio climático. Y permitir el biocombustible para el vuelo es solo una de nuestras acciones para hacer las cosas más inteligentes para nuestros clientes. Desde 2017, hemos ofrecido posibilidades de biocombustibles solo a empresas, ahora es posible para todos. Este es un paso importante hacia nuestro objetivo de quedar libres de fósiles hasta el año 2030", dice Christian Clemens, CEO de Braathens Regional Airlines.
Normalización biocombustible en Braathens
El biocombustible es una opción para los viajeros al reservar boletos con Braathens Regional Airlines. Braathens Regional Airlines garantiza el reabastecimiento de combustible de sus aviones con biocombustible. El reabastecimiento de combustible se realiza con biocombustible durante todo el año, no para cada vuelo. Braathens Regional Airlines simplemente reemplaza el combustible de aviación convencional por biocombustible y aumenta el uso de biocombustibles dentro de la aviación. Afortunadamente, la mayor demanda acelerará la velocidad de producción y creará precios decrecientes de biocombustibles.
Braathens Regional Airlines no cobra ninguna tarifa adicional por biocombustible. El suplemento es solo la diferencia entre los costos de combustible. Como el vuelo promedio con Braathens Regional Airlines es de una hora. La aerolínea comenzará a ofrecer a todos los biocombustibles a un costo fijo equivalente a un vuelo promedio. Si la demanda es alta, Braathens Regional Airlines ya planea hacer la reserva más flexible debido a los horarios de vuelo y tipos de aviones.
En el año 2009, Braathens Regional Airlines fue la primera aerolínea comercial en el mundo certificada por ISO 14001, luego bajo las marcas Malmo Aviation y Sverigeflyg.
En Marzo de 2018, Braathens Regional Airlines obtuvo la membresía en el gobierno sueco Fossil Free Sweden Initiative. Air BP es el proveedor de biocombustibles para Braathens Regional Airlines y se produce principalmente con aceite de freír viejo y otros residuos biológicos.
Braathens Regional Airlines acaba de actualizar su flota de aviones con uno de los tipos de aviones más eficientes en función del clima disponibles para vuelos regionales: ATR 500/600 turbo propulsor. Los nuevos ATR / s operan actualmente 19 rutas de la red doméstica de Braathens Regional Airlines en Suecia. No hay efectos de emisión a gran altitud de los vuelos con la flota ATR de Braathens Regional Airlines. El avión no vuela en altitudes superiores a 6000-7000 metros (los efectos de las emisiones a gran altura comienzan en 8000-9000).
Braathens Regional Airlines comenzará un segundo cambio en la flota de aviones en 2020 e implementará una serie de Bombardier C-Series. La aerolínea al mismo tiempo enviará su flota actual de Avro RJ a la jubilación para siempre.
A través de esta nueva oportunidad de biocombustibles, Swedish Braathens Regional Airlines continúa liderando el desarrollo con soluciones para el cliente más amigables con el clima en la industria de la aviación.  
Braathens Airlines becomes the first airline to implement biofuel in the entire fleet
Braathens Regional Airlines is the first company in the world that offers all travelers biofuel
The new biofuel opportunity with Braathens Regional Airlines makes the flight almost fossil-free. "It is important for us to facilitate climate change and to allow biofuel for flight is just one of our actions to make things smarter for our customers Since 2017, we have offered biofuel possibilities only to companies, now it is possible for all This is an important step towards our goal of becoming fossil-free until the year 2030", says Christian Clemens, CEO of Braathens Regional Airlines.
Biofuel standardization in Braathens
Biofuel is an option for travelers when booking tickets with Braathens Regional Airlines. Braathens Regional Airlines guarantees the refueling of its aircraft with biofuel. The refueling is done with biofuel throughout the year, not for each flight. Braathens Regional Airlines simply replaces conventional aviation fuel with biofuel and increases the use of biofuels within aviation. Fortunately, the increased demand will accelerate production speed and create decreasing prices for biofuels.
Braathens Regional Airlines does not charge any additional fee for biofuel. The supplement is just the difference between fuel costs. As the average flight with Braathens Regional Airlines is one hour. The airline will start offering all biofuels at a fixed cost equivalent to an average flight. If the demand is high, Braathens Regional Airlines already plans to make the reservation more flexible due to flight schedules and aircraft types.
In 2009, Braathens Regional Airlines was the first commercial airline in the world certified by ISO 14001, then under the Malmo Aviation and Sverigeflyg brands.
In March 2018, Braathens Regional Airlines obtained membership in the Swedish government Fossil Free Sweden Initiative. Air BP is the biofuel supplier for Braathens Regional Airlines and is produced mainly with old frying oil and other biological waste.
Braathens Regional Airlines has just updated its aircraft fleet with one of the most efficient types of airplanes available for regional flights: ATR 500/600 turbo propeller. The new ATR / s currently operate 19 routes of the domestic network of Braathens Regional Airlines in Sweden. There are no high-emission effects of flights with the Braathens Regional Airlines ATR fleet. The plane does not fly at altitudes above 6000-7000 meters (the effects of high-altitude emissions begin at 8000-9000).
Braathens Regional Airlines will begin a second change in the aircraft fleet by 2020 and implement a series of Bombardier C-Series. The airline will at the same time send its current Avro RJ fleet to retirement forever.
Through this new biofuel opportunity, Swedish Braathens Regional Airlines continues to lead the development with the most climate-friendly customer solutions in the aviation industry. A \ W
Braathens Airlines blir det första flygbolaget som genomför biodrivmedel i hela flottan
Braathens Regional Airlines är det första företaget i världen som erbjuder alla resande biobränslen
Det nya biodrivmedelstillfället med Braathens Regional Airlines gör flygningen nästan fossilfri. "För oss är det viktigt att underlätta klimatförändringarna. Och tillåta flygning biobränsle är bara ett av våra åtgärder för att göra smartare för våra kunder saker. Sedan 2017 har vi erbjudit möjligheter biobränslen endast företag, är det nu möjligt för alla . Detta är ett viktigt steg mot vårt mål att bli fossilfritt år 2030 steg", säger Christian Clemens, VD för Braathens Regional Airlines.
Standardisering av biobränslen i Braathens
Biobränsle är ett alternativ för resenärer när du bokar biljetter med Braathens Regional Airlines. Braathens Regional Airlines garanterar tankning av sitt flygplan med biobränsle. Tankning sker med biobränsle under hela året, inte för varje flygning. Braathens Regional Airlines ersätter helt enkelt konventionellt flygbränsle med biobränsle och ökar användningen av biobränslen inom luftfarten. Lyckligtvis kommer den ökade efterfrågan att påskynda produktionshastigheten och skapa minskande priser på biobränslen.
Braathens Regional Airlines tar ingen extra avgift för biodrivmedel. Tillägget är bara skillnaden mellan bränslekostnaderna. Som genomsnittlig flygning med Braathens Regional Airlines är en timme. Flygbolaget kommer att börja erbjuda alla biobränslen till en fast kostnad som motsvarar en genomsnittlig flygning. Om efterfrågan är hög planerar Braathens Regional Airlines redan att göra reservationen mer flexibel på grund av flygplan och flygplanstyper.
Under 2009 Braathens Regional Airlines var den första kommersiella flygbolaget i världen certifierat enligt ISO 14001, då under varumärkena Malmö Aviation och Sverigeflyg.
I mars 2018 erhöll Braathens Regional Airlines medlemskap i Sveriges regering Fossil Free Sweden Initiative. Air BP är biobränsleleverantören för Braathens Regional Airlines och tillverkas huvudsakligen med gammal stekolja och annat biologiskt avfall.
Braathens Regional Airlines har uppdaterat sin flotta med en av de mest effektiva flygplanstyper beroende på det tillgängliga utrymmet för regionala flygningar väder: ATR turbo propeller 500/600. De nya ATR's opererar för närvarande 19 linjer i det inhemska nätverket av Braathens Regional Airlines i Sverige. Det finns inga högemissionseffekter av flyg med Braathens Regional Airlines ATR-flotta. Planet inte flygning över 6000-7000 meter (effekten av utsläppen på hög höjd start kl 8000-9000).
Braathens Regional Airlines kommer att börja en andra förändring i flygplansflottan senast 2020 och genomföra en serie Bombardier C-Series. Flygbolaget kommer samtidigt att skicka sin nuvarande Avro RJ-flotta till pension för alltid.
Genom denna nya möjlighet till biobränslen fortsätter Svenska Braathens Regional Airlines att leda utvecklingen lösningar för kunden vänligare klimat inom flygindustrin. A \ W
Ξ A I R G W A Y S Ξ
SOURCE:  Airgways.com
DBk: Flygbra.se / Behance.net
AW-POST: 201803141257AR
A\W   A I R G W A Y S ®