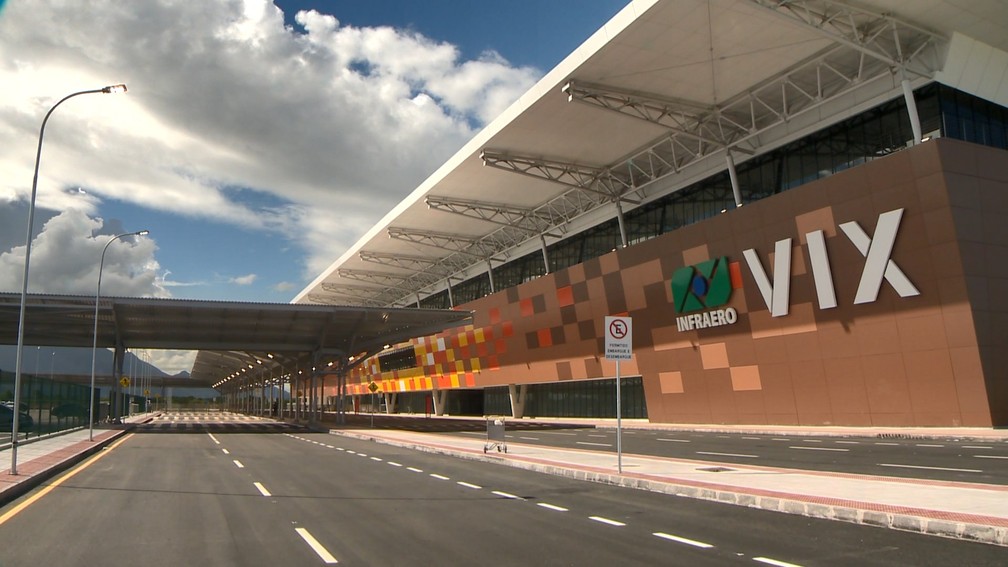 AW | 2018 03 30 13:21 | AIRPORTS
Nuevo Aeropuerto de Vitória fue estrenado en el Estado de Espírito Santo, Brasil
La inauguración se produjo el Jueves, 29 pero el primer vuelo para pasajeros se produjo a las 05:45 hs de este viernes, 30 (hora local). El nuevo Aeropuerto de Vitória fue abierto para pasajeros en la madrugada de este viernes, 30 y realizó sus primeros vuelos comerciales. A pesar de 16 años de espera para la nueva terminal, los vuelos se sigue llevando a cabo en la pista de edad, debido a la falta de un dispositivo. Según la Infraero, sólo en junio los aterrizajes y los despegues van a ocurrir en la pista nueva. A pesar de ello, el embarque y desembarque ocurren en la nueva terminal. Los dos primeros vuelos de pasajeros se produjeron alrededor de las 05:45 hs a Río de Janeiro y Sao Paulo.
Nuevo aeropuerto de Vitória
Son al menos 31 balcones de check in, que están llenos por las empresas que ya actuaban en Vitória. Sin embargo, otras empresas están llegando en las próximas semanas. "Es muy gratificante, ver que cuando resuelven querer hacer las cosas, logra. El capixaba necesitaba el aeropuerto", contó uno de los pasajeros que se estaba preparando para embarcar. El número de puntos comerciales también aumenta, pero de los 71 disponibles, sólo 33 se cumplen. La promesa es que otras empresas se instalen en los espacios aún vagos.
La obra finalizó costando BR$ 559 millones de reales, pero no todas las instalaciones son nuevas. Caminando por la terminal, fue posible encontrar algunas sillas rasgadas y arañadas. La explicación de Infraero es de haber sido reaprovechadas de otras terminales. La antigua terminal de pasajeros sólo funcionará para atender a las aviaciones generales (off-shore, aviación ejecutiva y taxi aéreo), militar y operaciones de carga aérea. La última operación comercial regular de la antigua terminal de pasajeros se produjo a las 23:15 hs del Jueves, 29 efectuando un vuelo a Confins.  
New Vitória Airport
New Vitória Aeroport was premiered in the State of Espírito Santo, Brazil
The inauguration took place on Thursday, 29 but the first flight for passengers occurred at 05:45 on this Friday, 30 (local time). The new Vitória Airport was opened for passengers at dawn on Friday, 30 and made its first commercial flights. Despite 16 years of waiting for the new terminal, flights are still taking place on the old track, due to the lack of a device. According to the Infraero, only in June the landings and takeoffs will happen on the new runway. In spite of this, boarding and disembarkation occurs in the new terminal. The first two passenger flights occurred around 05:45 a.m. to Rio de Janeiro and Sao Paulo.
New Vitória Airport
There are at least 31 check-in balconies, which are filled by the companies that already operated in Vitória. However, other companies are arriving in the coming weeks. "It is very rewarding, to see that when they resolve to want to do things, he succeeds." The capixaba needed the airport, "said one of the passengers who was preparing to embark. The number of commercial points also increases, but of the 71 available, only 33 are met. The promise is that other companies will be installed in spaces that are still lazy.
The work ended up costing BR$ 559 million reals, but not all the facilities are new. Walking through the terminal, it was possible to find some torn and scratched chairs. Infraero's explanation is that they have been reused from other terminals. The old passenger terminal will only work to serve general aviations (off-shore, executive aviation and air taxi), military and air cargo operations. The last regular commercial operation of the old passenger terminal occurred at 23:15 on Thursday, 29 making a flight to Confins. A \ W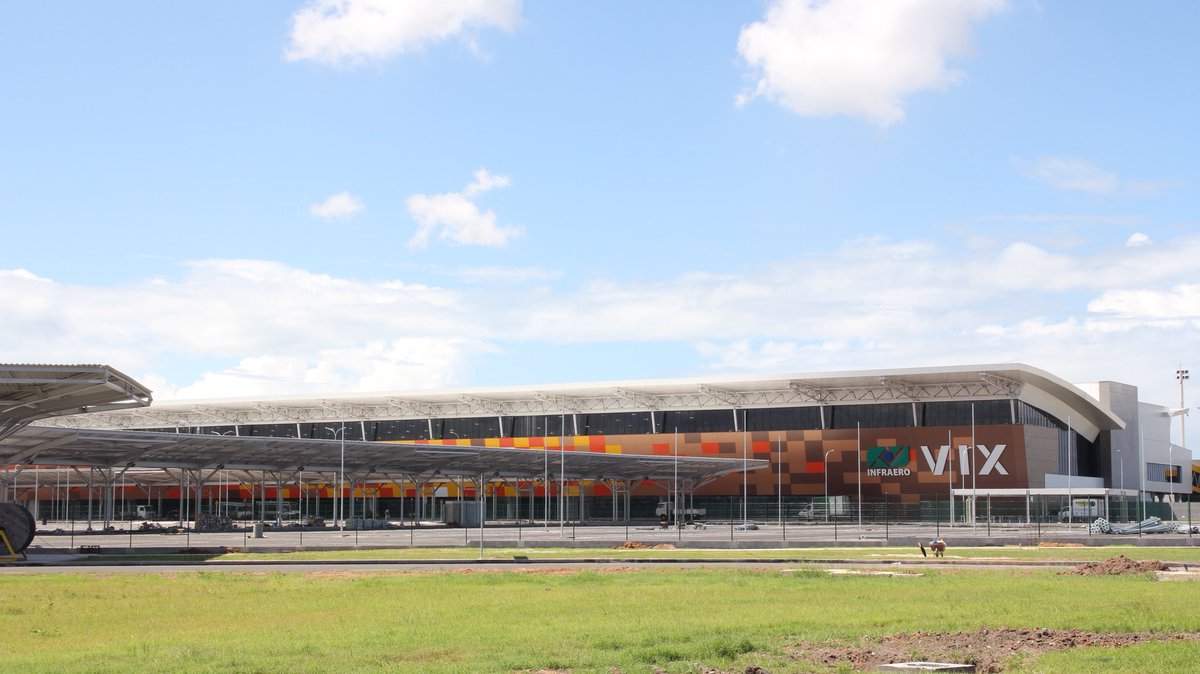 Novo Aeroporto de Vitória
New Vitória Aeroport foi estreada no Estado do Espírito Santo, Brasil
A inauguração aconteceu na quinta-feira, 29, mas o primeiro vôo para passageiros ocorreu às 05:45 desta sexta-feira, 30 (hora local). O novo Aeroporto de Vitória foi aberto para passageiros na madrugada desta sexta-feira, 30, e fez seus primeiros voos comerciais. Apesar dos 16 anos de espera pelo novo terminal, os vôos ainda estão ocorrendo na pista antiga, devido à falta de um dispositivo. Segundo a Infraero, somente em junho as aterrissagens e decolagens acontecerão na nova pista. Apesar disso, o embarque e desembarque ocorrem no novo terminal. Os dois primeiros vôos de passageiros ocorreram em torno de 05:45 hs para o Rio de Janeiro e São Paulo.
Aeroporto em New Vitória
Há pelo menos 31 varandas de check-in preenchidas pelas empresas que já operavam em Vitória. No entanto, outras empresas estão chegando nas próximas semanas. "É muito gratificante ver que quando resolver querem fazer as coisas alcança. O capixaba precisava do aeroporto", disse um dos passageiros estava se preparando para embarcar. O número de pontos comerciais também aumenta, mas dos 71 disponíveis, apenas 33 são atendidos. A promessa é que outras empresas serão instaladas em espaços ainda preguiçosos.
O trabalho acabou custando BR$ 559 milhões, mas nem todas as instalações são novas. Andando pelo terminal, foi possível encontrar algumas cadeiras rasgadas e arranhadas. A explicação da Infraero é que eles foram reutilizados de outros terminais. O antigo terminal de passageiros só funcionará para atender a aviação geral (off-shore, aviação executiva e táxi aéreo), operações militares e de carga aérea. A última operação comercial regular do antigo terminal de passageiros ocorreu às 23:15 de quinta-feira, 29, fazendo um voo para Confins. A \ W
Ξ A I R G W A Y S Ξ
SOURCE:  Airgways.com
DBk: Infrearo.gov.br / Globo.com / Folhavictoria.com.br
AW-POST: 201803301321AR
A\W   A I R G W A Y S ®