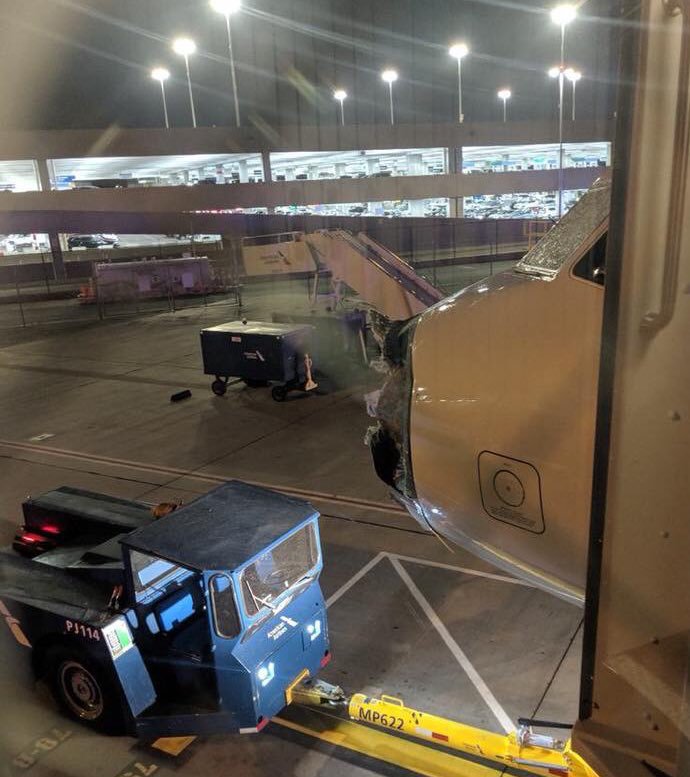 AW | 2018 06 05 19:33 | AVIATION SAFETY
El vuelo AA1897 de American Airlines sufre daños por granizo
Un Airbus Airbus A319 de American Airlines aterrizó poco después de las 8 pm hora local y el avión estaba siendo evaluado por personal de mantenimiento, dijo la aerolínea. Todos los pasajeros fueron llevados en otro avión a su destino.
Una tormenta de granizo agrietó el parabrisas de un avión de American Airlines que se dirigía a Phoenix y la obligó a desviarse a El Paso, Texas, la noche del domingo, dijeron las autoridades.
El vuelo AA1897 de San Antonio, Texas, a Phoenix se desvió «debido a daños sufridos por el clima en vuelo», dijo la aerolínea en un comunicado, pero dio pocos detalles más que el daño sufrido por el avión contra la nariz y el parabrisas. Ninguno de los 130 pasajeros y tripulantes de los cinco resultó herido y el avión fue capaz de tomar un taxi normalmente a la puerta, dice el comunicado.  
American's A319 suffers hail damage
American Airlines flight AA1897 suffers hail damage
An American Airlines Airbus A319 landed shortly after 8 pm local time and the aircraft was being evaluated by maintenance personnel, the airline said. All passengers were taken on another plane to their destination.
A hail storm cracked the windshield of an American Airlines plane bound for Phoenix and forced her to make a detour to El Paso, Texas, on Sunday night, authorities said.
Flight AA1897 from San Antonio, Texas, to Phoenix was diverted «due to weather damage in flight», the airline said in a statement, but gave few details more than the damage suffered by the plane to the nose and windshield. None of the 130 passengers and crew of the five was injured and the plane was able to take a taxi normally to the door, the statement said. A \ W
Ξ A I R G W A Y S Ξ
SOURCE:  Airgways.com
DBk: Brad Sowder / Aa.com
AW-POST: 201806051933AR
A\W   A I R G W A Y S ®