AW | 2018 07 09 16:07 | AIR TRAFFIC / AVIATION SAFETY
Taiwán y China se preparan para recibir al tifón Maria de categoría 5
Taiwán está en alerta por Tifón María al evacúa 4.000 personas. El Tifón María comienza a acercarse a Taiwán en sentido noroeste a 7 mph con vientos registrados de 155 mhp. Las autoridades han evacuado a más de 4.000 personas de la aledaña Isla de las Orquídeas. Se espera afecte a la isla a partir de esta noche, informó hoy el Centro Meteorológico Nacional. Se espera que el tifón de la categoría cinco azote al norte de Taiwán el 10 de julio, y se prevé que el norte y el centro de Taiwán vean fuertes vientos y fuertes lluvias.
El gobierno de Taiwán ha convocado un grupo especial de emergencia para enfrentar los posible daños provocados por el tifón, que según en centro meteorológico tiene fuertes probabilidades de atravesar la isla con su centro. Existe un 80 % de probabilidades de que María afecte a la zona más poblada de Taiwán, que incluye la capital Taipei, el Nuevo Taipei y zonas cercanas, agregó el centro meteorológico.
Aerolíneas en alerta
Los vuelos del Aeropuerto Internacional de Taiwán Taoyuan, el Aeropuerto Internacional de Kaohsiung y Japón el 10 Julio 2018 podrían cancelar todas las operaciones debido a las condiciones meteorológicas adversas del Supertifón María.
La aerolínea japonesa Peach ya ha anunciado la cancelación de numerosos vuelos a Taiwán para el martes y se espera que otras muchas líneas aéreas hagan lo mismo. Los meteorólogos isleños esperan que la mayor destrucción a causa del tifón ocurra desde el mediodía del martes hasta el mediodía del miércoles.  
Typhoon Mary threatens the East
Taiwan and China prepare to receive typhoon Maria of category 5
Taiwan is on alert for Typhoon Mary evacuates 4,000 people. Typhoon Maria begins approaching Taiwan northwestward at 7 mph with recorded winds of 155 mhp. Authorities have evacuated more than 4,000 people from the nearby Isla de las Orquídeas. It is expected to affect the island as of tonight, the National Meteorological Center reported today. The category five typhoon is expected to hit northern Taiwan on July 10, and northern and central Taiwan are expected to see strong winds and heavy rains.
The government of Taiwan has convened an emergency special group to deal with possible damage caused by the typhoon, which according to the metropolitan center has a strong chance of crossing the island with its center. There is an 80% chance that Maria will affect the most populated area of ​​Taiwan, which includes the capital Taipei, New Taipei and nearby areas, the weather center added.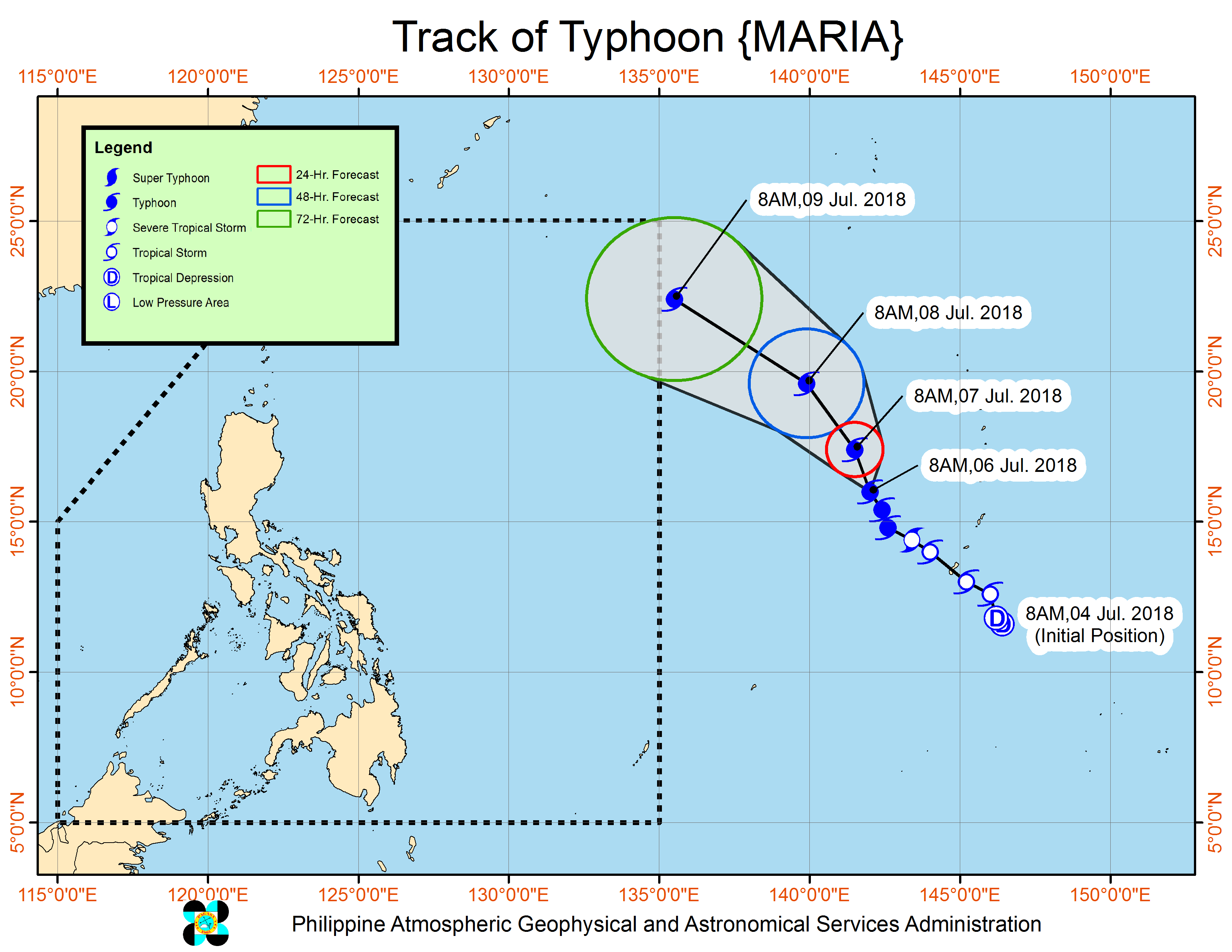 Airlines on alert
Flights from Taiwan Taoyuan International Airport, Kaohsiung International Airport and Japan on July 10, 2018 could cancel all operations due to adverse weather conditions of Super Typhoon Mary.
The Japanese airline Peach has already announced the cancellation of numerous flights to Taiwan on Tuesday and many other airlines are expected to do the same. Island meteorologists expect that the greatest destruction from the typhoon will occur from noon on Tuesday until noon on Wednesday. A \ W
Ξ A I R G W A Y S Ξ
SOURCE:  Airgways.com
DBk: Weather.com / Pagasa.dost.gov.ph
AW-POST: 201807091607AR
A\W   A I R G W A Y S ®