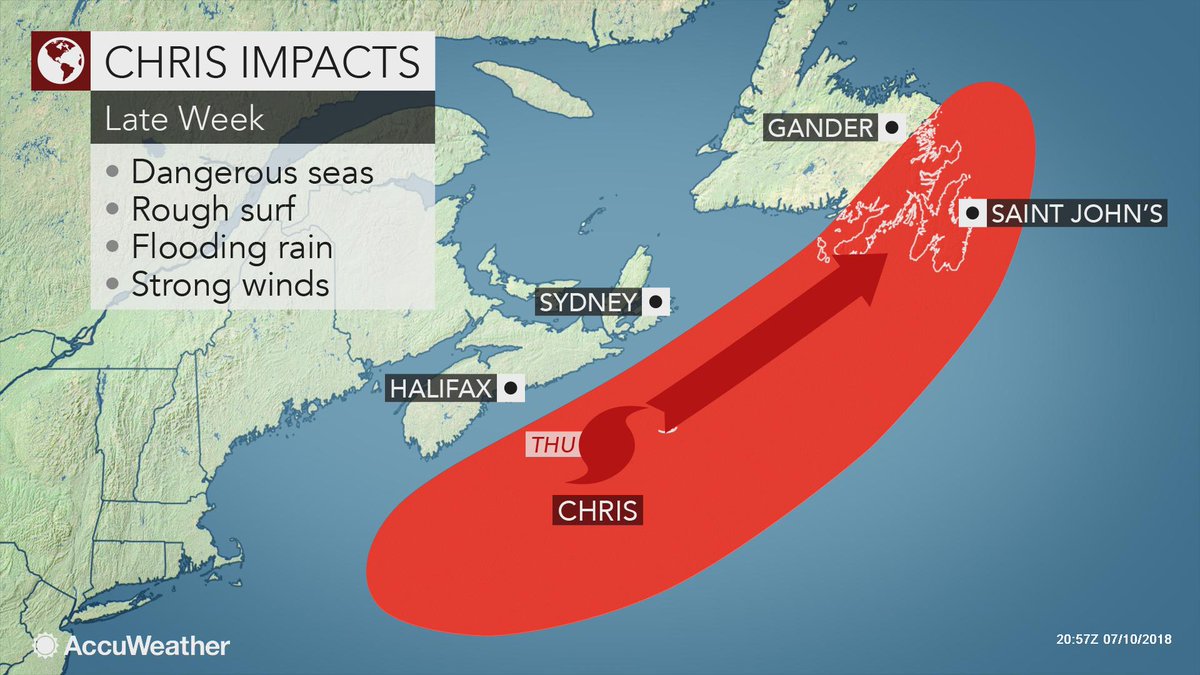 AW | 2018 07 11 14:24 | AVIATION SAFETY
El Huracán Chris atraviesa el Atlántico Norte golpeando con lluvias y vientos moderados
El Huracán Chris, actualmente un huracán de Categoría 2, está acelerando hacia el noreste unos cientos de millas al este de la costa central del Atlántico. Aunque el clima en las playas de la costa atlántica estará libre de lluvia este fin de semana, las aguas costeras y las olas representarán riesgos debido al Huracán Chris.
En promedio, el segundo huracán de la temporada del Atlántico no se produce hasta más tarde en el verano, o el 28 Agosto, según el Centro Nacional de Huracanes. Los mares de 10-20 pies o más pueden representar un peligro para embarcaciones pequeñas, barcos y cruceros en el noroeste del Atlántico a finales de esta semana y hasta este fin de semana.
«Esperamos que Chris rastree cerca o directamente sobre la península de Avalon, en el sudeste de Terranova. Poco antes, durante o poco después de pasar por las aguas de Terranova, se espera que Chris haga la transición a una poderosa tormenta no tropical», según el experto en huracanes de AccuWeather, Dan Kottlowski.
Impacto en Costa Este EEUU
Las tormentas y mares de esta intensidad son mucho menos comunes a mediados de Julio, en comparación con el pico de la temporada de huracanes en el otoño o durante las tormentas de invierno. Debido al movimiento rápido de Chris, los impactos costeros en los Estados Unidos generalmente serán de corta duración pero presentarán algunos riesgos. Los vientos que superan las 100 mph están creando grandes olas sobre el océano en las cercanías del centro de la tormenta. Estas olas se propagan hacia afuera. Las olas tienden a acumularse a medida que la tormenta se aproxima a un lugar y disminuye a medida que la tormenta se aleja. Las olas crearán olas grandes y ocasionales y fuertes corrientes de resaca en la zona de surf a lo largo de la costa por un tiempo.
Las condiciones más duras desde Carolina del Norte hasta el sur de Massachusetts se esperan hasta el miércoles por la noche. Desde el este de Massachusetts hasta Maine, las condiciones más duras probablemente sean el jueves. El miércoles se pueden observar corrientes rugosas y corrientes de resaca moderadas a lo largo de la costa superior de Nueva Inglaterra y persisten el jueves más al sur a lo largo de las costas sur de Nueva Inglaterra y el Atlántico medio.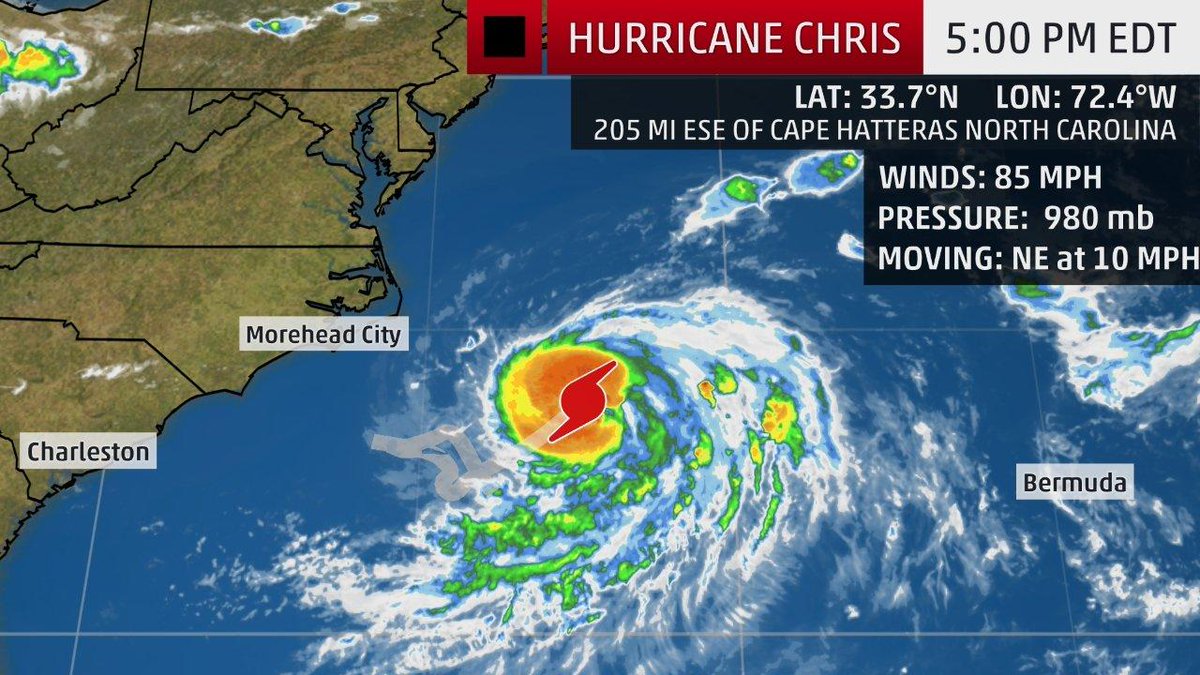 Hurricane Chris advances over the North Atlantic
Hurricane Chris crosses the North Atlantic hitting with rain and moderate winds
Hurricane Chris, currently a Category 2 hurricane, is accelerating northeastward a few hundred miles east of the central Atlantic coast. Although the weather on the beaches of the Atlantic coast will be free of rain this weekend, the coastal waters and waves will pose risks due to Hurricane Chris.
On average, the second hurricane of the Atlantic season does not occur until later in the summer, or on August 28, according to the National Hurricane Center. Seas of 10-20 feet or more can pose a danger to small boats, ships and cruisers in the northwest Atlantic by the end of this week and until this weekend.
«We expect Chris to crawl near or directly over the Avalon peninsula in southeastern Newfoundland, shortly before, during or shortly after passing through the waters of Newfoundland, Chris is expected to make the transition to a powerful non-tropical storm», according to the AccuWeather hurricane expert, Dan Kottlowski.
Impact in East Coast USA
Storms and seas of this intensity are much less common in mid-July, compared to the peak of the hurricane season in the fall or during winter storms. Due to Chris' rapid movement, coastal impacts in the United States will generally be short-lived but present some risks. Winds over 100 mph are creating large waves over the ocean near the center of the storm. These waves spread outward. Waves tend to accumulate as the storm approaches a place and decreases as the storm recedes. The waves will create large, occasional waves and strong surf currents in the surf area along the coast for a while.
The toughest conditions from North Carolina to southern Massachusetts are expected until Wednesday night. From eastern Massachusetts to Maine, the toughest conditions are likely to be Thursday. On Wednesday, rugged currents and moderate rip currents can be observed along the upper New England coast and persist further south on Thursday along the southern coasts of New England and the mid-Atlantic. A \ W
Ξ A I R G W A Y S Ξ
SOURCE:  Airgways.com
DBk: Express.co.uk / Accuweather.com  / Weather.com
AW-POST: 201807111424AR
A\W   A I R G W A Y S ®