AW | 2018 07 11 13:09 | AVIATION SAFETY / AIR TRAFFIC
El tifón María golpea a Taiwán y se dirige a China
El Tifón María golpea azotando Taiwán y Japón e hizo un camino para el continente dirigiéndose hacia China. María ha traído fuertes vientos a través de Taiwán y está en camino a causar estragos con el viento y la lluvia en China. Hasta ahora, el sistema de tormentas se ha estado desarrollando rápidamente, con vientos que alcanzan velocidades máximas de 190 km/h. [*]
Trayectoria de «María»
El huracán nombrado localmente «Gardo», actualmente se dirige hacia el noroeste sobre el mar de Filipinas, pero la tormenta se está debilitando a medida que avanza. La Administración de Servicios Geofísicos y Astronómicos de la Atmósfera de Filipinas (PAGASA) advirtió que se deberían esperar lluvias monzónicas como resultado. El Tifón María tocó tierra ayer, cruzando el Área de Responsabilidad de Filipinas (PAR) mientras sigue rastreando el mar de Filipinas.
Tanto la vida como la propiedad estaban en peligro cuando la tormenta cruzó las islas Ryukyu de Japón el martes antes de llegar a China. La isla más meridional de Ryukyu sintió toda la fuerza de María cuando recibieron un golpe directo del viento y la lluvia. Durante las últimas seis horas, el sistema de tormenta pudo seguir hacia el oeste a una velocidad de 19 nudos (35 km/h). El Joint Typhoon Warning Center advirtió que los vientos de superficie actuales están entre 95 y 115 nudos, lo que se traduce en 170 a 212 km/h.
El sistema de tormentas ahora ha logrado golpear a China, trayendo fuertes vientos que azotan la costa alrededor de la Provincia de Zhejiang. Cuando María tocó tierra esta mañana, se debilitó constantemente y lo que inicialmente fue un súper tifón fuerte se convirtió en una tormenta tropical.
Esta mañana, el tifón se encontraba aproximadamente a 109 millas náuticas (201 km) en las afueras de Taipei, Taiwán. También se registraron ráfagas de viento de alrededor de 94 mph en las comunidades costeras de la Provincia de Fujian. Las ciudades de Wenzhou, Fuzhou y Ningde estaban a merced de los vientos, la lluvia y las inundaciones, después de lo cual las peores condiciones pasaron al sur de Shanghai. Se espera que Jiangxi, el norte de Hunan y Hubei reciban lluvias torrenciales mientras María continúa su camino hacia el noroeste, a través del territorio continental de China.
Cancelaciones vuelos
Los vuelos fueron cancelados en Taiwán cuando el tifón María azotó el país con un clima feroz ayer en su camino de destrucción en el este. Cathay Pacific Airways Ltd., Air China Ltd. y EVA Airways Corp. cancelaron 161 vuelos internacionales y 117 en rutas nacionales a partir de las 10 a.m. del martes, informó la Administración de Aeronáutica Civil con sede en Taipei por mensaje de texto, informó Bloomberg. Sin embargo, lo peor de la tormenta ya pasó en Taiwán y no se interrumpirán más vuelos, según el sitio web del Aeropuerto Internacional de Taiwán Taoyuan. El Aeropuerto Internacional de Taoyuan está actualmente reportando en un 80% de vuelos cancelados y demorados al paso del Tifón María.
La tormenta María ahora se está moviendo hacia China, que se está preparando para la arremetida de las condiciones climáticas extremas, provocando masivas cancelaciones en el área de transporte, poniendo en alerta a las aerolíneas en el sureste de China.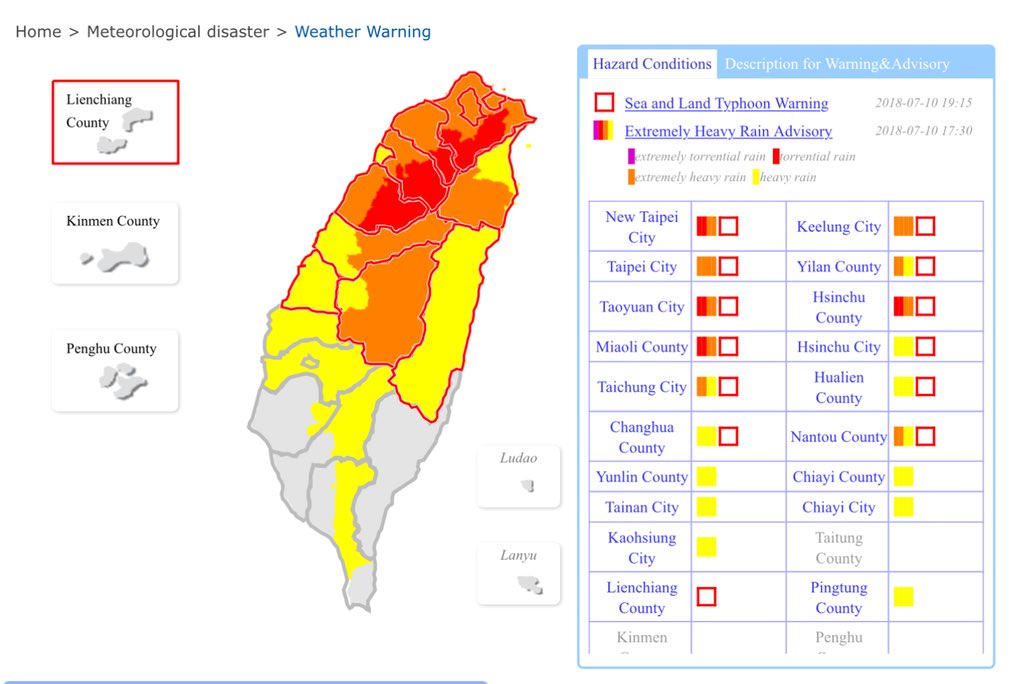 Typhoon Maria hits Taiwan and China
Typhoon Maria hits Taiwan and heads to China
Typhoon Maria hits hitting Taiwan and Japan and made a path for the continent heading towards China. Maria has brought strong winds through Taiwan and is on the way to wreaking havoc with the wind and rain in China. So far, the storm system has been developing rapidly, with winds reaching maximum speeds of 190 km/h. [*]
Trajectory of «María»
The locally named «Gardo» hurricane is currently heading northwest over the Philippine Sea, but the storm is weakening as it progresses. The Administration of Geophysical and Astronomical Services of the Atmosphere of the Philippines (PAGASA) warned that monsoon rains should be expected as a result. Typhoon Maria made landfall yesterday, crossing the Philippine Responsibility Area (PAR) while still tracking the Philippine Sea.
Both life and property were in danger when the storm crossed the Ryukyu islands of Japan on Tuesday before reaching China. The southernmost island of Ryukyu felt the full force of Mary when they were hit directly by the wind and rain. During the last six hours, the storm system was able to continue westward at a speed of 19 knots (35 km / h). The Joint Typhoon Warning Center warned that the current surface winds are between 95 and 115 knots, which translates to 170 to 212 km/h.
The storm system has now managed to hit China, bringing strong winds that hit the coast around Zhejiang Province. When Maria made landfall this morning, she was constantly weakened and what was initially a strong super typhoon turned into a tropical storm.
This morning, the typhoon was approximately 109 nautical miles (201 km) outside of Taipei, Taiwan. Wind gusts of around 94 mph were also recorded in the coastal communities of Fujian Province. The cities of Wenzhou, Fuzhou and Ningde were at the mercy of winds, rain and floods, after which the worst conditions passed south of Shanghai. It is expected that Jiangxi, northern Hunan and Hubei receive torrential rains while Maria continues her way to the northwest, through the mainland of China.
Cancellations flights
The flights were canceled in Taiwan when typhoon Maria hit the country with a fierce climate yesterday on its path of destruction in the east. Cathay Pacific Airways Ltd., Air China Ltd. and EVA Airways Corp. canceled 161 international flights and 117 on domestic routes starting at 10 a.m. Tuesday, reported the Civil Aviation Administration based in Taipei by text message, reported Bloomberg. However, the worst of the storm has already happened in Taiwan and no more flights will be interrupted, according to the Taoyuan International Airport website. The Taoyuan International Airport is currently reporting 80% of canceled and delayed flights to the passage of Typhoon Mary.
Storm Maria is now moving towards China, which is preparing for the onslaught of extreme weather conditions, causing major cancellations in the transport area, alerting airlines in Southeast China. A \ W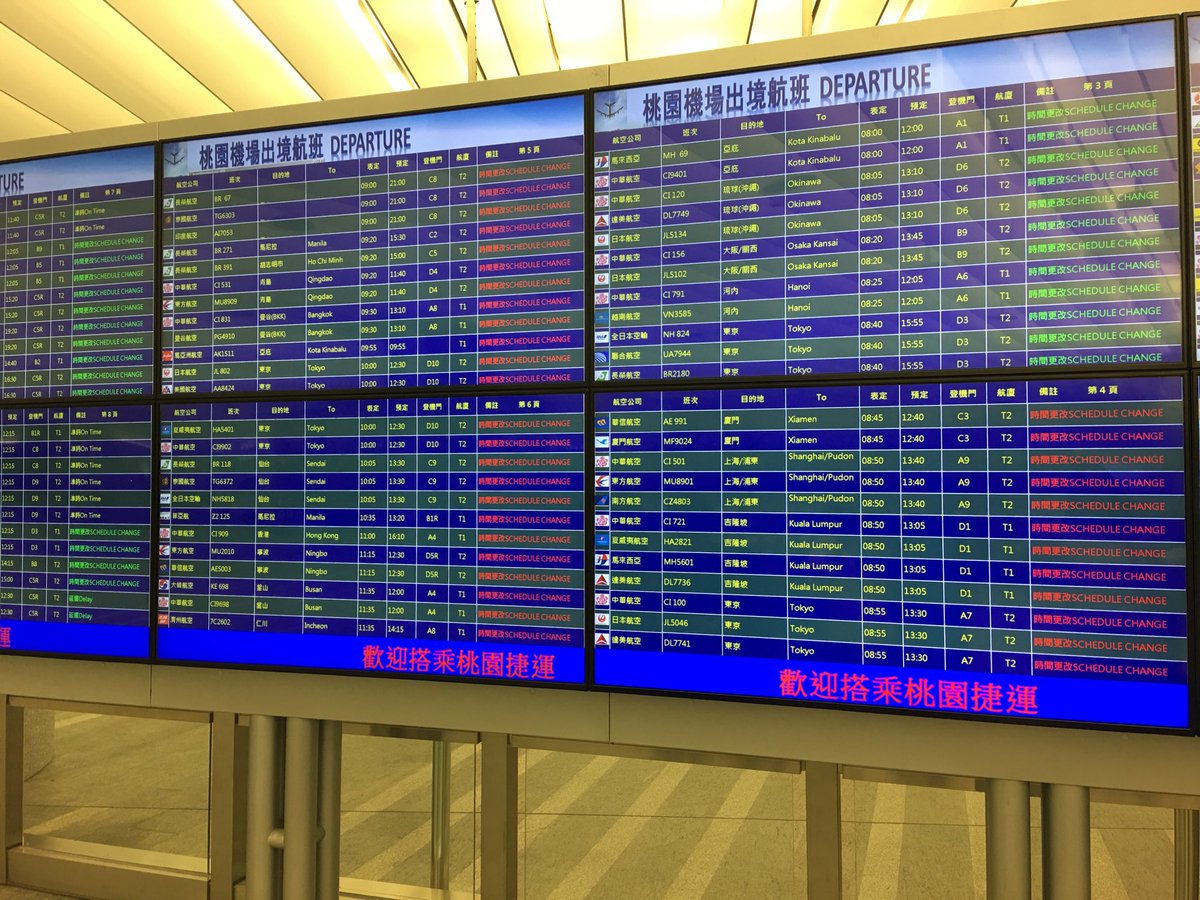 台风玛利亚袭击台湾和中国
台风玛丽亚袭击台湾并前往中国
台风玛丽亚袭击台湾和日本,并为该大陆前往中国开辟了道路。玛丽亚在台湾带来强风,正在为中国的风雨带来严重破坏。到目前为止,风暴系统发展迅速,风速达到最高时速190公里/小时。 [*]
"玛丽亚"的轨迹
当地名为"加尔多"的飓风目前正在菲律宾海西北方向上行驶,但随着风暴的进展,风暴正在减弱。菲律宾大气地球物理和天文服务管理局(PAGASA)警告说,应该预期季风降雨。台风玛丽亚昨天登陆,穿越菲律宾责任区(PAR,同时仍然追踪菲律宾海。
周二风暴越过日本琉球群岛,然后到达中国之前,生命和财产都处于危险之中。最南端的琉球岛在被风雨直接击中时感受到玛丽的全部力量。在过去的六个小时里,风暴系统能够以19节(35公里/小时)的速度向西继续。联合台风警报中心警告说,目前的地面风速在95至115节之间,相当于170至212公里/小时。
风暴系统现在已经成功袭击中国,带来了强风,袭击了浙江省沿海地区。当玛丽亚今天早上登陆时,她经常被削弱,最初强大的超级台风变成了热带风暴。
今天早上,台风在台湾台北以外大约109海里(201公里)。福建沿海社区也记录了大约94英里/小时的阵风。温州,福州和宁德的城市受到风,雨和洪水的影响,之后最糟糕的情况经过了上海南部。预计江西,湘北和湖北将遭遇暴雨,而玛丽亚继续通过中国大陆向西北方向前进。
取消航班
台风玛丽亚昨天在东部遭遇破坏的气候下袭击了这个国家。据彭博社报道,国泰航空有限公司,国航有限公司和长荣航空公司于周二上午10点取消了161个国际航班和117个国内航线,据台北民航总局报道。据桃园国际机场网站报道,台风已经发生了最严重的风暴,没有更多航班被打断。桃园国际机场目前报告80%的已取消和延误航班通过台风玛丽。
风暴玛丽亚现在正在向中国转移,中国正在为极端天气条件的冲击做准备,导致交通运输领域的重大取消,提醒中国东南部的航空公司。 A \ W.
[*] DATA: Huracanes, ciclones y tifones son el mismo fenómeno: un sistema tormentoso. Sin embargo, se denominan de manera diferente según el lugar donde se produzcan.
Hurricanes, cyclones and typhoons are the same phenomenon: a stormy system. However, they are named differently depending on where they are produced.
飓风,旋风和台风也是同一现象:暴风雨系统。 但是,它们的命名方式不同,具体取决于它们的生成位置。
Ξ A I R G W A Y S Ξ
SOURCE:  Airgways.com
DBk: Pagasa.dost.gov.ph / Accuweather.com / Express.co.uk / Taoyuan-airport.com / Nationalgeographic.com / Afp.com / Weather.com / Twitter.com/TyphoonMaria / Airgways.com
AW-POST: 201807111309AR
A\W   A I R G W A Y S ®