AW | 2018 07 22 20:52 | AIR INVESTIGATION / HISTORY
La historia más heroica del 11S del vuelo UA-093
Después de los atentados terroristas del 11 de Septiembre 2001, un monumento honrará a los valientes pasajeros del vuelo UA-093 de United Airlines que salvaron a cientos de una tragedia aún peor.
El atentado terrorista del 11S remarca una de las historias más extraordinarias y heroicas del 11 de Septiembre 2001 que se desarrolló, ya que los valientes pasajeros evitaron que una tragedia aún peor ocurriera en Estados Unidos en ese fatídico día, hace casi 17 años.
Secuestro del vuelo UA-093
Eran las 09:24 a.m. del 11 Septiembre 2001, cuando el piloto Jason Dahl recibió un aterrador mensaje en la cabina de mando: «Cuidado con cualquier intrusión en la cabina. Dos a/c (aviones) golpean el World Trade Center». Cuatro minutos más tarde, los secuestradores atacaron, con la grabadora de vuelo captando el sonido de una lucha y gritos de «¡Mayday!», «¡Salgan de aquí! ¡Sal de aquí!». El avión Boeing 757-200 de United Airlines descendió unos 200 metros. En una grabación escalofriante a las 09:31 a.m., se escucha al terrorista de Al Qaeda, Ziad Jarrah, que le dice a los pasajeros en un mal inglés: «Damas y caballeros. Aquí el capitán, siéntate, sigue sentado. Tenemos una bomba a bordo. Así que siéntate». Los otros secuestradores se pueden escuchar justo afuera de la cabina, ordenando a los copilotos: «Acuéstate. Abajo abajo abajo.» Un piloto responde: «Por favor, por favor … Por favor, por favor, no me lastimen». …Oh Dios.» Las siguientes palabras que se pueden distinguir son: «No quiero morir». Luego, no se escucha nada más de los pilotos del vuelo UA-093 de United Airlines.
LA «TOWER OF VOICES» CONMEMORA AL VUELO UNITED 93
Monumento al UA-093
Las últimas piezas de los restos del avión Boeing 757-200 serán devueltas al memorial en el lugar donde se estrelló en Pensilvania a finales de este año 2018, junto con los artículos finales recogidos de los escombros. Es un momento de reconocimiento para las familias de los 40 pasajeros y la tripulación que murieron en el avión cuando se estrelló contra un campo a solo 20 minutos del objetivo de los terroristas: el edificio del Capitolio en Washington, DC.
Vuelo UA-093
El vuelo UA-093 estaba en una posición diferente a los otros tres aviones secuestrados ese día. La aeronave despegó tarde de un atestado Aeropuerto de Newark en Nueva Jersey y se encontraba a 25 minutos de retraso en su camino a San Francisco. Solo cuatro terroristas estaban en el vuelo, a diferencia de los cinco en los otros aviones. Se cree que el quinto miembro previsto de la pandilla jihadista había sido detenido al ingresar a los EEUU en un aeropuerto de Florida unas semanas antes en agosto. Mientras que sus conspiradores habían secuestrado sus aviones en media hora, estos atacantes esperaron 46 minutos antes de lanzar su asalto. Significó que cuando los pasajeros comenzaron a telefonear a sus seres queridos para decirles que les habían cortado el cuello a los pilotos, se enteraron de la repugnante noticia de que el World Trade Center había sido alcanzado por dos aviones.
Al darse cuenta de la gravedad de su situación, un grupo de pasajeros decidió que su única esperanza era asaltar la cabina del piloto y comenzó a diseñar un plan. Entre el valiente grupo estaba Todd Beamer, que había dejado atrás a su esposa embarazada Lisa en Nueva Jersey, Mark Bingham de California, Jeremy Glick, cuya hija Emerson tenía solo tres meses y Tom Burnett, el primer pasajero en llamar a alguien, su esposa, la azafata Deena. Le dijo que el avión había sido secuestrado por personas que decían tener una bomba, pero que no creía que lo hicieran. Un pasajero fue apuñalado, agregó. En una segunda llamada, ella le contó sobre las Torres Gemelas, y él dijo que los secuestradores estaban «hablando de estrellar este avión: «Oh, Dios mío. Es una misión suicida». Sus últimas palabras fueron: «No te preocupes, vamos a hacer algo». El señor Beamer solo pudo contactarse con un operador de telefonía aérea. Él le pidió que le dijera a su familia que los amaba, y luego se dirigió a los demás con las ahora famosas palabras: «¿Estás listo? Vamos a rodar». El grupo se armó con cubiertos, agua hirviendo, extintores y carretillas de bebidas y comenzó a moverse rápidamente hacia la parte delantera del avión.
Grabaciones del Vuelo UA-093
En las siguientes grabaciones desde la cabina del piloto, reveladas en el Reporte Comisión del 11-S publicado hace 14 años este fin de semana, se puede escuchar a los pasajeros pelear para entrar en la cabina. Se escuchan fuertes golpes, choques y gritos mientras Jarrah comienza a inclinar el avión bruscamente de izquierda a derecha y adelante y atrás. «¡Ruede!» Se escucha al Sr. Burnett gritar, muy probablemente en referencia a un carrito de bebidas que estaban usando para embestir la puerta. «¡En la cabina!», grita alguien más. «¡Si no lo hacemos, moriremos!».
A las 10:01 a.m., Jarrah grita: «¡Alá es el más grande!» Y le pregunta a otro secuestrador en la cabina: «¿Eso es todo? Quiero decir, ¿debemos dejarlo?». Su compañero atacante dice que sí, con los pasajeros aparentemente a punto de romper la cabina del piloto. «¡Jálalo hacia abajo! ¡Jala hacia abajo!», grita, haciendo referencia a la aeronave. Con el sonido de los pasajeros aún atacando, el avión se dirige a un campo vacío en Shanksville, Pensilvania, a 933 km/h, a unos 20 minutos de vuelo desde Washington, DC.
Conmemoración del Vuelo UA-093
La semana pasada, la última pieza de la Torre de las Voces se puso en marcha en el Monumento Nacional del Vuelo 93 en ese remoto campo de Pensilvania. La última etapa de la construcción consistirá en colgar 40 campanadas individualmente sintonizadas dentro de la torre, que representan a cada uno de los 33 pasajeros y los siete miembros de la tripulación que murieron en el avión.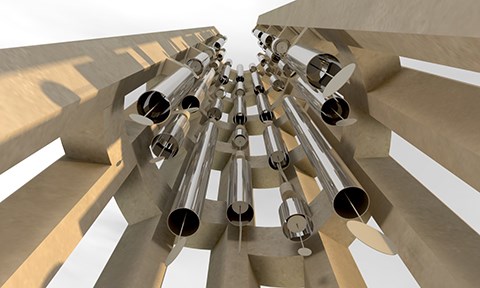 El monumento, que será uno de los instrumentos musicales más grandes del mundo, estará dedicado el 9 de septiembre, casi dos décadas después del ataque terrorista. Ha sido una larga espera para las familias de aquellos que murieron en el vuelo 93, con la plaza conmemorativa completada en 2011, 10 años después de los ataques.
El entonces Presidente George W. Bush y su predecesor Bill Clinton intervinieron para acelerar el proceso de completar el monumento a los pasajeros y la tripulación que cambiaron el curso de la historia estadounidense. Gordon Felt, cuyo hermano Edward fue asesinado ese día, le dijo al Washington Post en 2015: «Nuestros seres queridos dejaron un legado para todos nosotros. Si el edificio del Capitolio fue destruido ese día, solo piense cuánto más devastador hubiera sido ese día en nuestro país».
Podrían haberse relajado y dejar que otros dicten el final de sus vidas. Pero lucharon y se convirtieron en héroes en el proceso. La Secretaria del Interior Sally Jewell llamó a la gente del vuelo 93 «héroes modernos que representan lo mejor de nosotros». Citó el discurso de Abraham Lincoln en Gettysburg : «Hemos venido a dedicar una parte de ese campo como lugar de descanso final para aquellos que aquí dieron sus vidas para que esa nación pueda vivir».
En una de las muchas grabaciones de voz desgarradoras que se pueden escuchar en el Centro de Visitantes del Monumento Nacional Flight 93, Lauren Grandcolas le dice a su esposo: «Estamos teniendo un pequeño problema en el avión. Estoy totalmente bien. Simplemente te amo más que nada, solo sé eso». En un mensaje sobrenaturalmente tranquilo para su hermana, Linda Gonlund dice: «Elsa, soy Lin. Estoy en United 93. Ha sido secuestrado por terroristas que dicen tener una bomba. «Principalmente solo quiero decir que te amo y te extrañaré. No sé si tendré la oportunidad de decírtelo nuevamente o no».
El informe de la Comisión del 11S es el informe oficial de los eventos que condujeron a los ataques terroristas del 11 de Septiembre 2001. Fue lanzado hace 14 años, hoy Estados Unidos y el mundo conmemorará a los héroes del atentado del 11S que marcó un quiebre en la historia de la humanidad. 
Flight 93 «Tower of Voices Memorial»
The most heroic story of 9/11 of flight UA-093
After the terrorist attacks of September 11, 2001, a monument will honor the brave passengers of United Airlines flight UA-093 that saved hundreds of an even worse tragedy.
The terrorist attack of 11S highlights one of the most extraordinary and heroic stories of September 11, 2001 that took place, as the brave passengers prevented an even worse tragedy from happening in the United States on that fateful day, almost 17 years ago.
Flight hijacking UA-093
It was 09:24 a.m. from September 11, 2001, when the pilot Jason Dahl received a frightening message in the cockpit: «Beware of any intrusion in the cabin, two a/c (aircraft) hit the World Trade Center». Four minutes later, the hijackers attacked, with the flight recorder picking up the sound of a fight and shouts of «Mayday!», «Get out of here! Get out of here!» The Boeing 757-200 aircraft of United Airlines descended about 200 meters. In a chilling recording at 09:31 am, the al Qaeda terrorist, Ziad Jarrah, is heard saying to the passengers in bad English: «Ladies and gentlemen, here the captain, sit down, keep sitting. on board, so sit down». The other hijackers can be heard just outside the cockpit, ordering the co-pilots: «Lie down, down down down». A pilot responds: «Please, please … Please, please, do not hurt me.» … Oh God». The next words that can be distinguished are: «I do not want to die». Then, nothing more is heard from the pilots of United Airlines flight UA-093.

Monument to the UA-093
The last pieces of the wreckage of the Boeing 757-200 aircraft will be returned to the memorial at the site where it crashed in Pennsylvania at the end of this year 2018, along with the final items collected from the rubble. It is a time of recognition for the families of the 40 passengers and crew that died on the plane when it crashed into a field just 20 minutes from the terrorists' target: the Capitol building in Washington, DC.
Flight UA-093
Flight UA-093 was in a different position from the three other planes hijacked that day. The aircraft took off late from a crowded Newark Airport in New Jersey and was 25 minutes late on its way to San Francisco. Only four terrorists were on the flight, unlike the five on the other planes. It is believed that the fifth planned member of the jihadist gang had been arrested upon entering the US at a Florida airport a few weeks earlier in August. While their conspirators had hijacked their planes in half an hour, these attackers waited 46 minutes before launching their assault. It meant that when the passengers started phoning their loved ones to tell them that they had cut the drivers' necks, they learned of the disgusting news that the World Trade Center had been hit by two planes.
Realizing the seriousness of their situation, a group of passengers decided that their only hope was to assault the cockpit and began to design a plan. Among the brave group was Todd Beamer, who had left behind his pregnant wife Lisa in New Jersey, Mark Bingham of California, Jeremy Glick, whose daughter Emerson was only three months old and Tom Burnett, the first passenger to call someone, his wife, the stewardess Deena. He told him that the plane had been hijacked by people who said they had a bomb, but he did not think they did. A passenger was stabbed, he added. On a second call, she told him about the Twin Towers, and he said the kidnappers were «talking about crashing this plane: Oh, my God. It's a suicide mission». His last words were: «Do not worry, let's do something». Mr. Beamer could only contact an air phone operator, he asked him to tell his family he loved them, and then He addressed the others with the now famous words: «Are you ready? Let's roll». The group armed themselves with silverware, boiling water, fire extinguishers and drink carts and began to move quickly toward the front of the plane.
Recordings of Flight UA-093
In the following recordings from the cockpit, revealed in the 9/11 Commission Report published 14 years ago this weekend, passengers can be heard fighting to enter the cockpit. There are loud knocks, crashes and screams as Jarrah begins to tilt the plane sharply from left to right and back and forth. «Roll!» You hear Mr. Burnett scream, most likely in reference to a drink cart they were using to ram the door. «In the cabin!» Shout someone else. «If we do not, we will die!».
At 10:01 a.m., Jarrah shouts: «Allah is the greatest!» And he asks another kidnapper in the cabin: «Is that all? I mean, should we quit?» His fellow attacker says yes, with the passengers apparently about to break the cockpit. «Pull it down! Pull it down!» He shouts, referring to the aircraft. With the sound of the passengers still attacking, the plane heads to an empty field in Shanksville, Pennsylvania, at 933 km/h, about 20 minutes flight from Washington, DC.
PLACE OF THE IMPACT OF THE BOEING 757-200 OF THE FLIGHT UA-093 OF UNITED AIRLINES IN PENNSYLVANIA
Commemoration of Flight UA-093
Last week, the last piece of the Tower of Voices was launched at the National Monument of Flight 93 in that remote Pennsylvania countryside. The last stage of the construction will consist of hanging 40 bells individually tuned inside the tower, which represent each of the 33 passengers and the seven crew members who died on the plane.
The monument, which will be one of the largest musical instruments in the world, will be dedicated on September 9, almost two decades after the terrorist attack. It has been a long wait for the families of those who died on Flight 93, with the commemorative plaza completed in 2011, 10 years after the attacks.
Then President George W. Bush and his predecessor Bill Clinton intervened to accelerate the process of completing the memorial to passengers and crew that changed the course of American history. Gordon Felt, whose brother Edward was killed that day, told the Washington Post in 2015: «Our loved ones left a legacy for all of us.» If the Capitol Building was destroyed that day, just think how much more devastating that day would have been in our country».
They could have relaxed and let others dictate the end of their lives. But they fought and became heroes in the process. Secretary of the Interior Sally Jewell called the flight 93 people «modern heroes who represent the best of us». He quoted Abraham Lincoln's speech in Gettysburg: «We have come to dedicate a part of that field as a final resting place for those who gave their lives here so that that nation can live».
Lauren Grandcolas, in one of the many harrowing voice recordings that can be heard at the Flight 93 National Monument Visitor Center, says to her husband: «We are having a little problem on the plane, I am totally fine, I just love you more. that nothing, I only know that». In a supernaturally calm message for her sister, Linda Gonlund says: «Elsa, I'm Lin, I'm in United 93. He's been kidnapped by terrorists who claim to have a bomb. Mainly I just want to say that I love you and I'll miss you. I do not know if I'll have the opportunity to tell you again or not».
The report of the 9/11 Commission is the official report of the events that led to the terrorist attacks of September 11, 2001. It was launched 14 years ago, today the United States and the world will commemorate the heroes of the 9/11 attack that marked a breakdown in the history of mankind. A \ W
DATA > https://www.9-11commission.gov/report/911Report.pdf
Ξ A I R G W A Y S Ξ
SOURCE:  Airgways.com
DBk: News.com.au / 9-11commission.gov/report/911Report / Post-gazette.com / Npplan.com / Nps.com / Airlive.net / Fembyfilms.com 
AW-POST: 201807222052AR
A\W   A I R G W A Y S ®