AW | 2018 07 26 16:03 | AIRLINES
JetSmart Airlines domina el mercado doméstico en Chile
El impresionante aumento del crecimiento de la aerolínea JetSmart Airlines permite determinar la solidez de una línea aérea con características low cost bien respaldadas por Indigo Partners LLC de Estados Unidos, a un año del inicio de sus operaciones el 25 Julio 2017.
Mercado interno
El 50% de sus vuelos de cabotaje representan a conexiones inter-regionales de forma directas sin pasar por la capital, Santiago. Las nuevas rutas contemplan vuelos que conectan Concepción con La Serena, Temuco con Punta Arenas, Arica con Calama y Calama con Copiapó. Las cuatro nuevas rutas conectarán las ciudades de Concepción-La Serena, Temuco-Punta Arenas, Arica-Calama y Calama-Copiapó, comenzando a ser operativas desde Noviembre 2017.
En su primer aniversario de operaciones en el país, la aerolínea celebra lanzando cuatro nuevas rutas interregionales, impulsando la conectividad y descentralización del país, y se convierte en la aerolínea con mayor cantidad de rutas domésticas de Chile.
Con un positivo anuncio de aniversario, JetSmart abrió cuatro nuevas rutas interregionales, denominadas Smart, lo que aumenta la disponibilidad a 14 conexiones de este tipo. Tras esta buena noticia, JetSmart se convierte en la aerolínea con mayor cantidad de tramos domésticos de Chile, contabilizando 26 trayectos nacionales que conectan día a día a más chilenos, alcanzando un millón doscientos mil pasajeros transportados en lo que va desde el inicio de operación de la aerolínea, siendo 230 mil de ellos pasajeros que han volado por Chile sin pasar por la capital.
"JetSmart vuelve a demostrar con hechos concretos su promesa de descentralizar y conectar al país. Hoy con orgullo podemos decir que somos la línea aérea que conecta a los chilenos, con tarifas ultra bajas. Más de la mitad de nuestras rutas no pasan por Santiago, conectando a nuestras regiones de Arica a Punta Arenas a través de 14 rutas Smart, lo que nos convierte en la aerolínea con mayor cantidad de vuelos de este tipo", mencionó Estuardo Ortiz, CEO de la línea aérea.
Para conmemorar este gran hito y proveer de más beneficios a los clientes, el Gerente Comercial, Victor Mejía señaló: "Anunciamos hace un año que todos los chilenos podrían viajar en avión, y para ello estamos celebrando con una promoción desde 2.000 pesos por tramo más tasas y así seguir sumando a los más de 1.2 millones de pasajeros que volaron en un avión nuevo con JetSmart".
En un hecho que no tiene precedentes, las regiones han sido las grandes ganadoras con las nuevas conexiones, generando encadenamientos productivos, y beneficios sociales, al contar con un transporte aéreo de calidad, puntual y a precios bajos. Ejemplo de esto es que el dinamismo del tráfico de pasajeros que en Santiago ha crecido en torno al 14% en regiones ha sido mayor. Concepción hoy cuenta con seis destinos hacia otras regiones y el tráfico aéreo creció 39%; Calama, en tanto, también cuenta con seis destinos y su mercado creció 26%. O La Serena por ejemplo, hoy tiene un crecimiento de tráfico aéreo de 22%.
Flota de A320

JetSmart cuenta con una flota de Airbus A320CEO (5) y para finales del 2018 contará con una flota de 10 aviones, para alcanzar la flota de cien que obtendrán al año 2026. Desde su llegada, JetSmart ha impulsado la competencia, reduciendo en un 35% los precios de la industria, logrando convertirse en el tercer actor del mercado con un 12,7% de participación. En cuanto a puntualidad, según el último informe de la Junta Aeronáutica Civil (JAC), JetSmart fue reconocida, por segunda vez consecutiva, como la aerolínea chilena más puntual, con un 87,5%.
JetSmart cuenta con una oferta transparente y simple: el pasaje únicamente incluye traslado, lo que significa moverse de punto A al punto B al menor precio posible, a tiempo y de manera confiable y segura. De esta manera el pasajero paga sólo por lo que necesita para su viaje. Durante cada etapa del proceso de compra del pasaje se informa claramente sobre los costos de los elementos opcionales que, mientras antes se adquieran, más bajo es su precio y hoy contamos con los costos de equipajes más bajos de la industria.
Expansión internacional
JetSmart Airlines anunció oficialmente la compra de la aerolínea Alas del Sur S.A. con base en Córdoba, Argentina para establecer una filial informando a través del Boletín Oficial de Argentina. El pasado 18 Julio 2018 se resolvió modificar la denominación social a Alas del Sur S.A. por JetSmart Airlines S.A. Argentina, adoptando el nombre de la emprsa matriz de Chile.
JetSmart Airlines expande sus fronteras con la incorporación de una aerolínea de Argentina que todavía no inició su start-up pero que tenía las aprobaciones de rutas aéreas para el comienzo de sus operaciones.  
JetSmart dominates domestic routes in Chile
JetSmart Airlines dominates the domestic market in Chile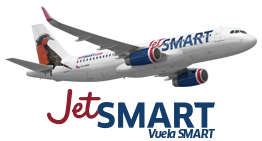 The impressive growth of the airline JetSmart Airlines makes it possible to determine the strength of an airline with low cost characteristics well supported by Indigo Partners LLC of the United States, one year after the start of operations on July 25, 2017.
Internal market
50% of its cabotage flights represent inter-regional connections directly without going through the capital, Santiago. The new routes include flights connecting Concepcion to La Serena, Temuco to Punta Arenas, Arica to Calama and Calama to Copiapó. The four new routes will connect the cities of Concepción-La Serena, Temuco-Punta Arenas, Arica-Calama and Calama-Copiapó, beginning to be operational since November 2017.
In its first anniversary of operations in the country, the airline celebrates launching four new interregional routes, boosting connectivity and decentralization of the country, and becomes the airline with the most domestic routes in Chile.
With a positive anniversary announcement, JetSmart opened four new interregional routes, called Smart, which increases availability to 14 connections of this type. After this good news, JetSmart becomes the airline with the largest number of domestic flights in Chile, accounting for 26 national journeys connecting more Chileans every day, reaching one million two hundred thousand passengers transported in what has been since the start of operation of the airline, being 230 thousand of them passengers who have flown through Chile without going through the capital.
«JetSmart once again demonstrates with concrete facts its promise to decentralize and connect the country. Today we can proudly say that we are the airline that connects Chileans, with ultra-low fares. More than half of our routes do not pass through Santiago, connecting our regions from Arica to Punta Arenas through 14 Smart routes, which makes us the airline with the most flights of this type», mentioned Estuardo Ortiz, CEO of the airline.
To commemorate this great milestone and provide more benefits to customers, the Commercial Manager, Victor Mejía said: «We announced a year ago that all Chileans could travel by plane, and for this we are celebrating with a promotion from 2,000 pesos per stretch more rates and so continue to add to the more than 1.2 million passengers who flew on a new plane with JetSmart».
In an unprecedented event, the regions have been the big winners with the new connections, generating productive linkages, and social benefits, by having quality, timely and low-cost air transport. An example of this is that the dynamism of passenger traffic that in Santiago has grown around 14% in regions has been greater. Concepción today has six destinations to other regions and air traffic grew 39%; Calama, meanwhile, also has six destinations and its market grew 26%. Or La Serena for example, today has an air traffic growth of 22%.
Fleet of A320
JetSmart has an Airbus A320CEO fleet (5) and by the end of 2018 it will have a fleet of 10 aircraft, to reach the fleet of one hundred that it will obtain by the year 2026. JetSmart operates the newest fleet in all of America.
Since its arrival, JetSmart has boosted competition, reducing industry prices by 35%, becoming the third market player with a 12.7% share. In terms of punctuality, according to the latest report of the Civil Aeronautical Board (JAC), JetSmart was recognized, for the second time in a row, as the most punctual Chilean airline, with 87.5%.
JetSmart has a transparent and simple offer: the ticket only includes transfer, which means moving from point A to point B at the lowest possible price, on time and reliably and safely. In this way the passenger pays only for what he needs for his trip. During each stage of the ticket purchase process, the costs of the optional items are clearly reported. The earlier they are purchased, the lower their price and today we have the lowest baggage costs in the industry.
International expantion
JetSmart Airlines officially announced the purchase of the airline Alas del Sur S.A. Based in Córdoba, Argentina to establish a subsidiary reporting through the Official Gazette of Argentina. On July 18, 2018 it was decided to change the corporate name to Alas del Sur S.A. by JetSmart Airlines S.A. Argentina, adopting the name of the parent company of Chile.
JetSmart Airlines expands its borders with the incorporation of an airline from Argentina that has not yet started its start-up but had air route approvals for the start of its operations. A \ W
Ξ A I R G W A Y S Ξ
SOURCE:  Airgways.com
DBk: Jetsmart.com / Anna.aero / Airgways.com
AW-POST: 201807261603AR
A\W   A I R G W A Y S ®