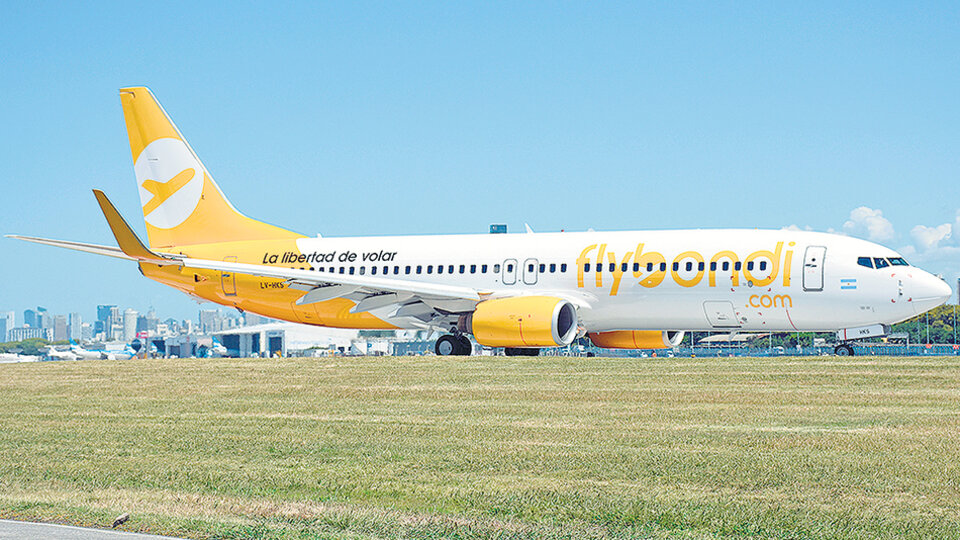 AW | 2018 07 31 18:52 | AIRLINES MARKET
Comienza la revolución de las tarifas aéreas en Argentina
La nueva Resolución Nº 656 del Ministerio de Transporte de Argentina quedó formalizada hoy a través de su publicación en el Boletín Oficial la nueva regulación de tarifas aéreas eliminando el piso del valor de los tickets aéreos en Argentina.
A partir de mañana 1 Julio 2018 las aerolíneas low-cost no tendrán piso para las tarifas aéreas. Las aerolíneas low cost como así las tradicionales podrán vender pasajes de cabotaje a precios por debajo de la establecida. Las aerolíneas ya no tendrán un precio mínimo de referencia para los pasajes de cabotaje, una medida clave para el mercado de las low cost.
El Ministerio de Transporte de Argentina ha eliminado el piso tarifario que regía para las compañía aéreas, una medida que tenía como principal propósito resguardar al mercado de los micros de larga distancia. Sin embargo, esto restringía a las nuevas aerolíneas low cost que prevén vender pasajes por debajo de ese tope mínimo. «Autorízase a los explotadores de servicios regulares de transporte aéreo interno de pasajeros, a partir de las cero (0) hora del día siguiente a la publicación de la presente resolución en el Boletín Oficial de la República Argentina, a aplicar tarifas inferiores a las tarifas de referencia vigentes para las ventas de pasajes aéreos de ida y vuelta que se realicen con más de Treinta (30) días de anticipación», informa el único artículo de la resolución.
Pasajes «low-fare»
En el mundo del mercado de la liberalización del techo tarifario promovido o impulsado por las aerolíneas low-cost, permite acercarnos con una mirada más optimista en los cambios profundos del mercado aerocomercial que está atravesando la industria aerocomercial en Argentina.
A partir de Agosto 2018, las líneas aéreas podrán iniciar ofreciendo pasajes por debajo de la tarifa mínima de referencia, que en los hechos se traducirá en pasajes mucho más baratos, según el tramo y la demanda estacional. La nueva reglamentación del cuadro tarifario por debajo de los precios mínimos que operaban las compañías aéreas están sujetas a variables como: rutas, tramos, demanda y tiempo de las promociones, por lo que una misma tarifa de bajo precio (low-fare) se pudiera ofrecer en forma limitada y estableciendo un período reducido. Por ejemplo, una aerolínea pudiera ofrecer en determinada ruta un pasaje a un valor ilógico de AR$ 1,00 estableciendo las variables antes enunciadas. En muchos casos las ofertas de los pasajes deberán adquirirse con 30 días de anticipación.
Mercado más competitivo
El Ministerio de Transporte de Argentina argumentó que el Estado «debe procurar el fortalecimiento y desarrollo en el sector aeronáutico, permitiendo la incorporación de nuevas empresas en el mercado, la conservación y creación de fuentes de empleo directo e indirecto a consecuencia del desarrollo de la actividad en el marco de la política aerocomercial vigente. En virtud de la naturaleza de transporte público y a los fines del cumplimiento de los objetivos en materia aeronáutica es preciso fijar las pautas necesarias que alienten la accesibilidad de mayor cantidad de usuarios y nuevos transportistas. De esta manera se propicia fomentar la actividad aerocomercial a través de un modo más dinámico de fijación de las tarifas a percibir por el servicio de transporte aéreo que tienda a evitar dificultades en el desarrollo de la actividad aerocomercial. Esta medida produce reducción de precios para que más argentinos puedan volar en el país. Los pasajeros encontrarán más ofertas con mejores precios y aumentarán las promociones en momentos de temporada y en vuelos con baja ocupación», consideró el Ministro de Transporte, Guillermo Dietrich.
Más actividad aerocomercial
En Diciembre 2015, sólo 10 millones de personas podían acceder a viajar en avión dentro del país debido a que había pocas aerolíneas, tarifas que se encontraban entre las más caras de la región y del mundo, con poca flexibilidad para incentivar promociones y una infraestructura deficiente.
El Ministerio de Transporte informó que desde 2015 en adelante se sumaron 59 nuevas rutas aéreas domésticas, de las cuales 33 no pasan por Buenos Aires. Este crecimiento generó un incremento del 36% de pasajeros de cabotaje en comparación a 2015 y, para cubrir las nuevas rutas, se han incorporado más aviones, que significará un crecimiento del 55% de la flota en el mercado a 2019, estimó el Ministerio. Además, indicó que en el último año han aumentado los asientos ofrecidos en un 12 % y subrayó que ésto representa un desafío para aumentar los niveles de ocupación hoy cercanos al 77% y la flexibilización de la tarifa de referencia se presenta como una oportunidad para seguir creciendo.
Inversiones en aviación
El Ministerio de Transporte enfatizó que en el período 2016-2019 se invertirán US$ 1.400 millones de dólares en aeropuertos y 175 millones de dólares en tecnología para la navegación aérea. Según los datos estadísticos elaborados por la Empresa Argentina de Navegación Aérea (EANA) a partir del Sistema Integrado de Aviación (SIAC), en lo que va del año los vuelos de cabotaje acumulan un crecimiento del 37% al comparar contra el mismo período de 2015, pasando de 4,78 a 6,56 millones de pasajeros. En cuanto a los vuelos al exterior, en la comparación contra el mismo período del 2015, cuando habían volado un total de 5,76 millones de personas, esta suba es del 37%. En el plano internacional, en lo que va del año un total de 1,27 millón de personas conectaron desde el interior con aeropuertos internacionales, cifra 170% superior a los 472 mil que lo hicieron en el 2015, de acuerdo con las estadísticas oficiales.
Aerolíneas se ajusta a la baja
Aerolíneas Argentinas ha comenzado a anunciar una agresiva campaña para atraer más usuarios a su red de vuelos reduciendo en un 50% sus tarifas más económicas para vuelos en toda Argentina. La aerolínea se adecuó a la decisión del Gobierno para la liberalización de las tarifas aéreas iniciando así un proceso de mayor competitividad en las rutas domésticas.
El Grupo Aerolíneas ha comenzado con el proceso de adecuación al nuevo régimen tarifario lanzando una promoción muy tentadora: por solo AR$499 de precio final por todo concepto se podrá volar a los principales puntos del país, aplicable a los vuelos que se compren con 30 días de anticipación, es decir que está vigente para vuelos en septiembre y octubre. Aerolíneas aplicará una promoción para adquirir pasajes que durará del 1-8 Agosto, lo que implica que podrán utilizarse desde el 1 Septiembre 2018. El precio promedio por tramo será de AR$ 499, aunque en varios casos será incluso inferior, como en el caso de Buenos Aires-Rosario, a AR$ 341 pesos. En todos los casos, la rebaja rondará el 50% del valor actual de los pasajes.Se trata de precios por tramo que, además, tendrán la ventaja de contar con financiación y a los que se podrá acceder a través del sitio web de Aerolíneas Argentinas y Austral Líneas Aéreas y por agencias de viajes. «Estamos dando inicio a un nuevo paradigma en el mercado aerocomercial de cabotaje, con una propuesta muy atractiva y completa, que abarca a todo el país», apuntó Alejandro Castignani, gerente de Distribución y Revenue Management de Aerolíneas.
El servicio Buenos Aires-Córdoba, que ahora cuesta AR$ 1.225, tendrá una reducción del 57 por ciento. En el caso de Buenos Aires-Bariloche, una frecuencia de alta demanda y, por lo tanto, costosa, tendrá una rebaja del 49%, de los actuales AR$ 1.811 a AR$ 929. Puntualmente, la tarifa de AR$ 499 o inferior estará disponible para los siguientes destinos (viceversa): Buenos Aires/Córdoba; Buenos Aires/Paraná; Mendoza/Córdoba; Bahía Blanca/Buenos Aires; Buenos Aires/Rosario; Buenos Aires/Santa Fe; Buenos Aires/Mar del Plata. De esta manera, Aerolíneas Argentinas se beneficia de las herramientas de las low cost, al permitir abordar con equipaje de mano de hasta 8 kilos, mientras que de haber equipaje extra se deberá despachar por bodega y tarifar aparte. En ese último caso, el costo de enviar equipaje por bodega será de AR$ 399 por tramo si la compra del pasaje es por el sitio web de Aerolíneas o de AR$ 650 en mostrador. Aerolíneas indicó que estos precios promocionales podrán ser abonados hasta en 12 cuotas a través de más de 30 bancos. A la vez, los socios de Aerolíneas Plus van a poder acceder a estas ofertas mediante el canje de millas o millas más pesos. Desde la compañía detallaron que estos valores incluyen selección de asiento, catering a bordo (en vuelos superiores a dos horas), y la posibilidad de llevar un bolso de mano de hasta ocho kilos en la cabina. El despacho de equipaje en bodega será facturado aparte, y con un descuento de 60% si se hace a través de la web.
"Estas ofertas van a marcar un antes y un después, ya que muchas personas que no viajaban van a poder elegir hacerlo con un servicio de calidad", explicó Constanza Correa, gerente de Marketing y Producto de la compañía aérea. La promoción será aplicable a 60 destinos de cabotaje de todo el país, siempre al adquirir pasaje de ida y vuelta, tanto de Aerolíneas como Austral, con un cupo limitado de asientos por avión, aunque suficientemente amplio como para satisfacer la nueva demanda.
La compañía aérea confía en duplicar o triplicar la demanda para este segmento, frente a la competencia de las low cost, con el objetivo de incorporar nuevos usuarios, que hoy optan por otros medios de transporte, antes que quitarle participación a las competidoras, habida cuenta de que Aerolíneas concentra más del 70% del mercado aerocomercial doméstico.
Las aerolíneas se alínean
El resto de las líneas aéreas en Argentina como Flybondi Líneas Aéreas, Andes Líneas Aéreas o Norwegian Air Argentina, aún no han publicado ofertas de este tipo en sus redes.
Desde Agosto 2018 nace una nueva forma de viajar en Argentina, un mercado que estuvo muy relegado y alejado por proteccionismos que no permitían ofrecer más posibilidades de volar con tarifas más conveniente.
Brasil inició un proceso de liberalización de las tarifas aéreas en el año 2001. La aerolínea Gol Linhas Aéreas se estableció en 2000 y comenzó a operar el 15 Enero de 2001 iniciando un proceso de transformación del transporte aéreo en el país sudamericano.
Argentina se introduce en una nueva etapa que permitirá fortalecer el transporte aéreo pero que deberá cumplimentarlo con reglas claras para beneficios de todos los pasajeros que deseen disfrutar del placer de volar.  
Revolution air fares in Argentina
The revolution of air fares begins in Argentina
The new Resolution No. 656 of the Ministry of Transport of Argentina was formalized today through its publication in the Official Gazette the new regulation of air fares eliminating the floor of the value of air tickets in Argentina.
Starting tomorrow, July 1, 2018, low-cost airlines will not have a flat for air fares. Low cost airlines, as well as traditional ones, will be able to sell cabotage tickets at prices below the established one. Airlines will no longer have a minimum reference price for cabotage tickets, a key measure for the low cost market.
The Ministry of Transportation of Argentina has eliminated the tariff floor that governed the airlines, a measure that had as its main purpose to protect the market of long distance buses. However, this restricted the new low cost airlines that foresee selling tickets below that minimum cap. «Operators of regular services of internal air transport of passengers are authorized, starting at zero (0) hour of the day following the publication of this resolution in the Official Gazette of the Argentine Republic, to apply rates lower than the rates of valid reference for sales of round-trip air tickets that are made more than thirty (30) days in advance», reports the only article of the resolution.
Passages «low-fare»
In the market world of the liberalization of the tariff ceiling promoted or promoted by low-cost airlines, it allows us to approach with a more optimistic look at the deep changes of the commercial market that the commercial airline industry is going through in Argentina.
As of August 2018, airlines can start offering tickets below the minimum reference rate, which in fact will result in much cheaper tickets, depending on the section and seasonal demand. The new regulation of the rate chart below the minimum prices operated by the airlines are subject to variables such as: routes, stretches, demand and time of the promotions, so that the same low-fare rate could be offer in limited form and establishing a reduced period. For example, an airline could offer a certain route a passage to an illogical value of AR$ 1.00, establishing the variables mentioned above. In many cases offers of ticket offers must be purchased 30 days in advance.
Most competitive market
The Ministry of Transport of Argentina argued that the State «should seek strengthening and development in the aeronautical sector, allowing the incorporation of new companies in the market, conservation and creation of direct and indirect employment sources as a result of the development of the activity In the framework of current commercial air traffic policy, it is necessary to establish the necessary guidelines to encourage the accessibility of a greater number of users and new transporters, in view of the nature of public transport and the fulfillment of aeronautical objectives. It encourages the commercial activity through a more dynamic way of fixing the tariffs to be charged for the air transport service that aims to avoid difficulties in the development of the commercial activity, which reduces prices so that more Argentines can fly in the country, passengers will find more ertas with better prices and will increase the promotions in moments of season and in flights with low occupation», considered the Minister of Transport, Guillermo Dietrich.
More air-commercial activity
In December 2015, only 10 million people could access air travel within the country because there were few airlines, rates that were among the most expensive in the region and the world, with little flexibility to encourage promotions and poor infrastructure.
The Ministry of Transportation reported that from 2015 onwards 59 new domestic air routes were added, of which 33 do not pass through Buenos Aires. This growth generated a 36% increase in cabotage passengers compared to 2015 and, to cover the new routes, more aircraft have been added, which will mean a 55% growth of the fleet in the market by 2019, the Ministry estimated. In addition, he indicated that in the last year have increased the seats offered by 12% and stressed that this represents a challenge to increase occupancy levels today close to 77% and the flexibilization of the reference rate is presented as an opportunity to continue growing.
Investments in aviation
The Ministry of Transportation emphasized that in the 2016-2019 period, US$ 1,400 million will be invested in airports and $ 175 million in technology for air navigation. According to statistical data prepared by the Argentine Air Navigation Company (EANA) from the Integrated Aviation System (SIAC), so far this year cabotage flights accumulate a growth of 37% compared to the same period of 2015 , going from 4.78 to 6.56 million passengers. As for the flights abroad, in the comparison against the same period of 2015, when they had flown a total of 5.76 million people, this rise is 37%. At the international level, so far this year a total of 1.27 million people connected from the interior with international airports, 170% higher than the 472 thousand who did in 2015, according to official statistics.
Aerolíneas adjusts to the low
Aerolíneas Argentinas has begun to announce an aggressive campaign to attract more users to its flight network by reducing its cheapest fares by 50% for flights throughout Argentina. The airline was adapted to the Government's decision to liberalize air fares, thus initiating a process of greater competitiveness in domestic routes.
The Aerolíneas Group has started with the process of adapting to the new tariff regime by launching a very attractive promotion: for only AR$ 499 of the final price for any concept it will be possible to fly to the main points of the country, applicable to flights that are bought with 30 days of anticipation, that is to say that it is valid for flights in September and October. Aerolíneas will apply a promotion to purchase tickets that will last from 1-8 August, which means that they can be used from September 1, 2018. The average price per section will be AR$ 499, although in several cases it will be even lower, as in the case from Buenos Aires-Rosario, to AR$ 341 pesos. In all cases, the discount will be around 50% of the current value of the tickets. These are prices per section that, in addition, will have the advantage of having financing and which can be accessed through the Aerolíneas Argentinas website and Austral Líneas Aéreas and by travel agencies.
«We are starting a new paradigm in the commercial aviation market, with a very attractive and comprehensive proposal, which covers the entire country», said Alejandro Castignani, manager of Distribution and Revenue Management of Airlines.
The Buenos Aires-Córdoba service, which now costs AR$ 1,225, will have a reduction of 57 percent. In the case of Buenos Aires-Bariloche, a frequency of high demand and, therefore, expensive, will have a reduction of 49%, from the current AR$ 1,811 to AR$ 929. Punctually, the rate of AR$ 499 or less will be available for the following destinations (vice versa): Buenos Aires/Córdoba; Buenos Aires/Paraná; Mendoza/Córdoba; Bahía Blanca/Buenos Aires; Buenos Aires/Rosario; Buenos Aires/Santa Fe; Buenos Aires/Mar del Plata In this way, Aerolíneas Argentinas benefits from the low cost tools, allowing boarding with hand luggage of up to 8 kilos, while having extra baggage must be dispatched by winery and separately priced. In the latter case, the cost of sending baggage per hold will be AR$ 399 per section if the purchase of the ticket is through the Airlines website or AR$ 650 at the counter. Airlines indicated that these promotional prices may be paid in up to 12 installments through more than 30 banks. At the same time, Aerolíneas Plus partners will be able to access these offers by exchanging miles or miles plus pesos. From the company detailed that these values ​​include seat selection, catering on board (on flights over two hours), and the possibility of carrying a hand bag of up to eight kilos in the cabin. The baggage hold in the warehouse will be invoiced separately, and with a discount of 60% if it is done through the web.
«These offers are going to mark a before and after, since many people who did not travel will be able to choose to do so with quality service», explained Constanza Correa, Marketing and Product Manager of the airline. The promotion will be applicable to 60 cabotage destinations throughout the country, always by acquiring round-trip tickets, both from Aerolíneas and Austral, with a limited number of seats per plane, although large enough to satisfy the new demand.
The airline expects to double or triple the demand for this segment, in the face of low-cost competition, with the aim of incorporating new users, who now opt for other means of transport, rather than taking away participation from competitors, taking into account that Airlines concentrates more than 70% of the domestic aviation market.
Airlines align
The rest of the airlines in Argentina such as Flybondi Líneas Aéreas, Andes Líneas Aéreas or Norwegian Air Argentina, have not yet published offers of this type in their networks.
Since August 2018 a new way of traveling has been born in Argentina, a market that was very relegated and removed by protectionism that did not allow to offer more possibilities to fly with more convenient rates.
Brazil initiated a process of liberalization of air fares in 2001. The airline Gol Linhas Aéreas was established in 2000 and began operations on January 15, 2001, initiating a process of transformation of air transport in the South American country.
Argentina is entering a new stage that will strengthen air transport but must comply with clear rules for the benefits of all passengers who wish to enjoy the pleasure of flying. A \ W
Ξ A I R G W A Y S Ξ
SOURCE:  Airgways.com
DBk: Argentina.gob.ar/transporte / Airgways.com / Elfueguino.com.ar
AW-POST: 201807311852AR
A\W   A I R G W A Y S ®