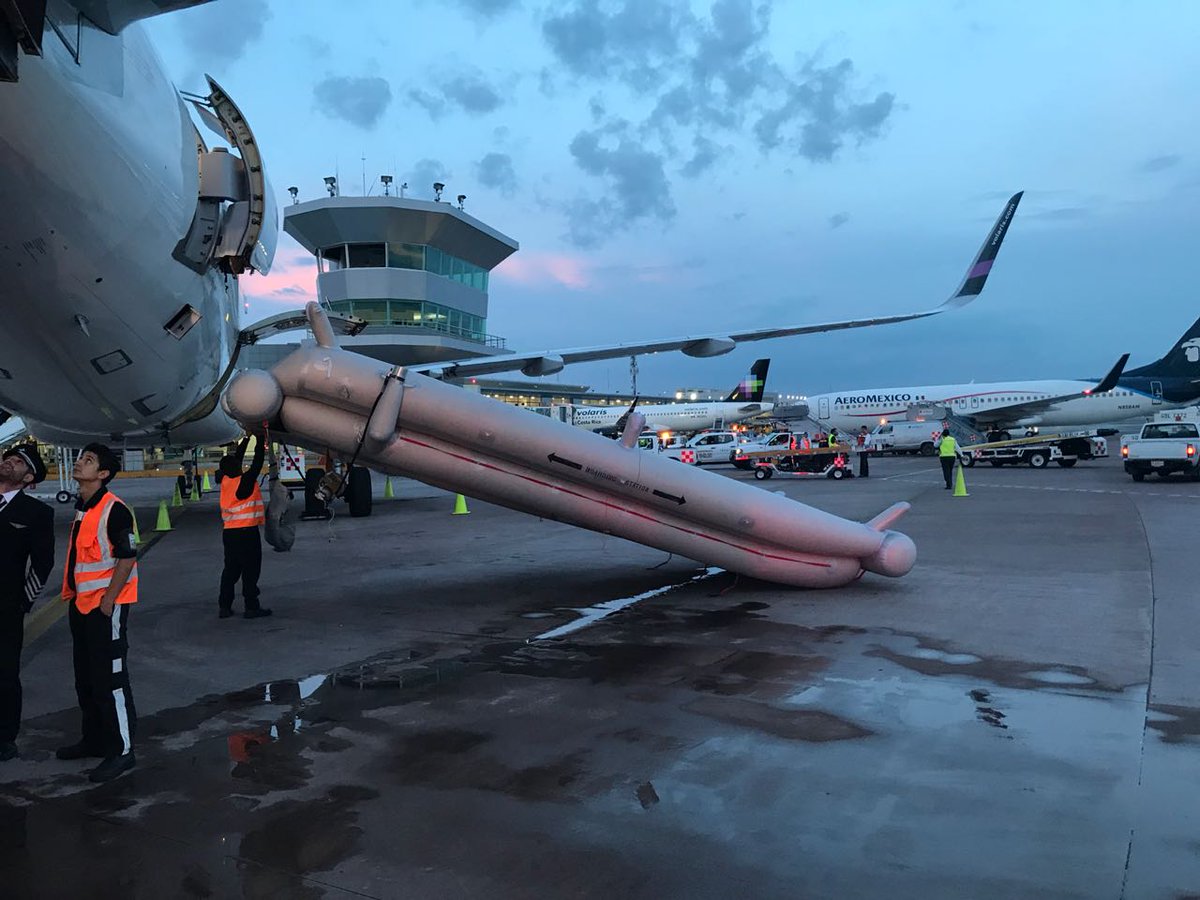 AW | 2018 08 12 15:24 | AVIATION SAFETY
Un A320-200 de Volaris Airlines sufre un incidente de incendio de APU
Volaris Airlines ha sufrido un incidente en un Airbus A320-200 con matrícula XA-VLF fue evacuado luego de un incidente en un principio de incendio de la Unidad de Potencia Auxiliar (APU) en el Aeropuerto de Guadalajara, México.
Después de la presencia de humo en la aeronave de Volaris de la unidad de energía auxiliar (APU), no se informaron heridos en el vuelo Y4961 que aterrizó proveniente de Las Vegas, Nevada. Luego del principio de incendio del Airbus A320-200, provocó la evacuación de los 60 pasajeros a bordo de la aeronave. La tripulación accionó los protocolos de seguridad y los pasajeros fueron evacuados en toboganes, sin que hubiera pasajeros lesionados, sólo una con crisis nerviosa.
Análisis incidente
El A320 había aterrizado minutos antes procedente del Aeropuerto Internacional Las Vegas, Estados Unidos. Reportes preliminares indican el problema de sobrecalentamiento que se dio en la Unidad Potencia Auxiliar (APU) que se encuentra en la parte trasera de la aeronave y que genera la energía eléctrica y sistema de aire acondicionado. Cuerpos de rescate de la terminal aérea atendieron el incidente. 
APU incident of an A320 of Volaris
An A320-200 of Volaris Airlines suffers an APU fire incident
Volaris Airlines has suffered an incident in an Airbus A320-200 with license plate XA-VLF was evacuated after an incident at the beginning of the fire of the Auxiliary Power Unit (APU) at the Guadalajara Airport, Mexico.
After the presence of smoke on the Volaris aircraft of the auxiliary power unit (APU), no injuries were reported on flight Y4961 that landed from Las Vegas, Nevada. After the fire start of the Airbus A320-200, it caused the evacuation of the 60 passengers on board the aircraft. The crew activated the safety protocols and the passengers were evacuated in slides, without injured passengers, only one with nervous breakdown.
Incident analysis
The A320 had landed minutes earlier from the Las Vegas International Airport, United States. Preliminary reports indicate the problem of overheating that occurred in the Auxiliary Power Unit (APU) that is located at the rear of the aircraft and that generates the electric power and air conditioning system. Rescuers from the air terminal attended the incident. A \ W
Ξ A I R G W A Y S Ξ
SOURCE:  Airgways.com
DBk: Jacdec.de
AW-POST: 201808121524AR
A\W   A I R G W A Y S ®