AW | 2018 08 14 15:38 | AIRLINES
La aerolínea holandesa podría entrar en paro por sobrecarga laboral de pilotos
Los pilotos de KLM están amenazando con dejar su trabajo en la época más ocupada del año, por enojo ante la ausencia de un nuevo acuerdo laboral colectivo. Incluso habría un ultimátum de la Asociación de Voladores de Tráfico Holandeses (VNV) a la gerencia de la aerolínea. Eso caducará el próximo viernes. La unión de pilotos expresa un acuerdo para el viernes.
Conflicto pilotos de KLM
El conflicto se centra en la carga de trabajo. Ha aumentado considerablemente en los últimos años. A KLM y VNV les apasiona esto, al igual que un plan que reducirá la carga de trabajo en un 4%. Pero un CLA en el que se registraron esas soluciones fue rechazado en junio por los miembros del VNV. El punto de ruptura: Los pilotos quieren que el KLM aquí y ahora atrape al toro por los cuernos, la aerolínea dice que solo puede ser a la mitad del próximo año. No volvieron a salir durante la reunión del acuerdo laboral colectivo el viernes pasado. KLM reconoce el problema: «Desafortunadamente, la consulta terminó en una fase difícil».
Reducción carga de trabajo
La respuesta más viable es incorporar más pilotos. El VNV quiere 110 pilotos, además del crecimiento necesario para reemplazar a los pilotos que se jubilan o transfieren. Esos 110 deben presentarse antes de que expire el nuevo acuerdo laboral colectivo. Eso está planeado para mediados del próximo año. KLM dice que necesita más tiempo; ella no puede simplemente abrir una lata de pilotos. Desde su propia capacitación, la Academia de vuelo en Eelde, solo 60 hombres y mujeres con un certificado vienen cada año.
KLM necesita pilotos de todos los tipos y tamaños, para diferentes tipos de aviones y vuelos (intercontinentales, por ejemplo). Estos no son tan fáciles de encontrar con las compañías charter o de presupuesto. KLM tiene que competir internacionalmente con mejores competidores que pagan. KLM emplea 2.800 pilotos. Son (casi) todos los miembros de la unión de pilotos de VNV.
La escasez de pilotos
En los Países Bajos no es tan grande como para que los aviones permanezcan en el suelo, porque KLM no puede encontrar a nadie que se pueda arrastrar detrás de la palanca de control. Sin embargo, la fuerza de trabajo es escasa. Los cometas tienen que posponer las vacaciones y días libres con más frecuencia para que la compañía pueda tejer alrededor de la red. El problema es que los pilotos son los empleados más caros de una compañía aérea, con salarios que pueden llegar hasta dos toneladas. Con los estrechos márgenes en la industria de la aviación, no puede tomar nada adicional para absorber los picos en las multitudes.
En todo el mundo, hay una escasez de pilotos, aunque esto varía mucho de una región a otra. En los Estados Unidos, muchos pilotos se retirarán en los próximos años. En Asia se necesitan más pilotos porque la creciente prosperidad permite que más consumidores vuelen. Pero en la antigua Unión Soviética y África, el número de vacantes es muy bajo.
En los próximos veinte años, 790 mil nuevos pilotos estarán operando en todo el mundo, dice el fabricante de aviones estadounidense Boeing. Eso es una duplicación del archivo piloto actual. Boeing y su competidor Airbus no ven esa inmensa pregunta como un problema. Comienzan sus propios cursos de capacitación piloto; el margen en una persona con una licencia es más alto que el de un avión.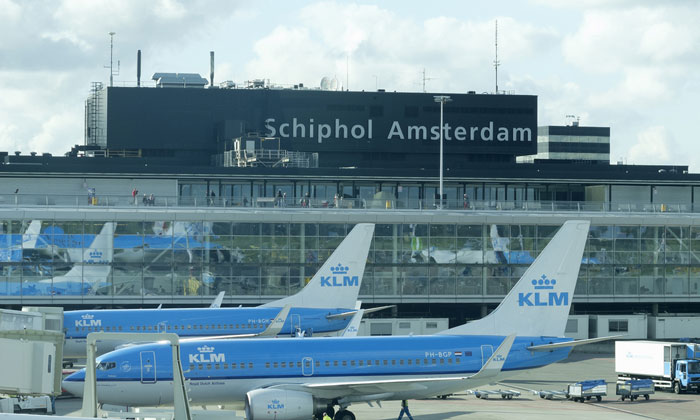 Conflict pilots of KLM
The Dutch airline could enter unemployment due to work overload of pilots
The KLM pilots are threatening to leave their job at the busiest time of the year, out of anger at the absence of a new collective labor agreement. There would even be an ultimatum from the Association of Dutch Traffic Flyers (VNV) to the management of the airline. That will expire next Friday. The union of pilots expresses an agreement for Friday.
Conflict pilots of KLM
The conflict focuses on the workload. It has increased considerably in recent years. KLM and VNV are passionate about this, as is a plan that will reduce the workload by 4 percent. But a CLA in which those solutions were registered was rejected in June by the members of the VNV. The breaking point: The pilots want the KLM here and now to catch the bull by the horns, the airline says it can only be in the middle of next year. They did not leave again during the collective labor agreement meeting last Friday. KLM recognizes the problem: «Unfortunately, the consultation ended in a difficult phase».
Reduction of workload
The most viable response is to incorporate more pilots. The VNV wants 110 pilots, in addition to the necessary growth to replace pilots who retire or transfer. Those 110 must be submitted before the expiration of the new collective labor agreement. That is planned for the middle of next year. KLM says it needs more time; she can not just open a can of pilots. From its own training, the Flight Academy in Eelde, only 60 men and women with a certificate come every year.
KLM needs pilots of all types and sizes, for different types of aircraft and flights (intercontinental, for example). These are not so easy to find with charter or budget companies. KLM has to compete internationally with better paying competitors. KLM employs 2,800 pilots. They are (almost) all members of the union of VNV pilots.
The shortage of pilots
In the Netherlands it is not so big that the planes remain on the ground, because KLM can not find anyone who can crawl behind the control lever. However, the work force is scarce. Comets have to postpone vacations and days off more frequently so that the company can weave around the net. The problem is that pilots are the most expensive employees of an airline, with salaries that can reach up to two tons. With the narrow margins in the aviation industry, you can not take anything extra to absorb the spikes in the crowds.
Throughout the world, there is a shortage of pilots, although this varies greatly from one region to another. In the United States, many pilots will retire in the coming years. In Asia more pilots are needed because the growing prosperity allows more consumers to fly. But in the former Soviet Union and Africa, the number of vacancies is very low.
In the next twenty years, 790 thousand new pilots will be operating worldwide, says the American aircraft manufacturer Boeing. That is a duplication of the current pilot file. Boeing and its competitor Airbus do not see that huge question as a problem. They start their own pilot training courses; the margin in a person with a license is higher than that of an airplane. A \ W
Conflict piloten van KLM
De Nederlandse luchtvaartmaatschappij zou werkloos kunnen worden door werkoverbelasting van piloten
De KLM-piloten dreigen hun baan te verlaten op de drukste tijd van het jaar, uit woede over het ontbreken van een nieuwe CAO. Er zou zelfs een ultimatum komen van de Vereniging van Nederlandse Verkeersvliegers (VNV) naar het management van de luchtvaartmaatschappij. Dat verloopt volgende vrijdag. De unie van piloten drukt een overeenkomst uit voor vrijdag.
Conflict piloten van KLM
Het conflict concentreert zich op de werklast. Het is de afgelopen jaren aanzienlijk toegenomen. KLM en VNV zijn hier gepassioneerd over, net als een plan dat de werklast met 4 procent zal verminderen. Maar een CAO waarin die oplossingen werden geregistreerd, werd in juni door de VNV-leden afgewezen. Het breekpunt: De piloten willen dat de KLM hier en nu de stier bij de horens vangt, de luchtvaartmaatschappij zegt dat het pas midden volgend jaar kan zijn. Ze zijn tijdens de vergadering van de collectieve arbeidsovereenkomst afgelopen vrijdag niet vertrokken. KLM erkent het probleem: ,,Helaas eindigde het overleg in een moeilijke fase».

Vermindering van de werkdruk
De meest haalbare reactie is om meer piloten op te nemen. De VNV wil 110 pilots, naast de noodzakelijke groei om piloten te vervangen die met pensioen gaan of overstappen. Die 110 moeten worden ingediend vóór het verstrijken van de nieuwe CAO. Dat is gepland voor het midden van volgend jaar. KLM zegt dat het meer tijd nodig heeft; ze kan niet zomaar een bus met piloten openen. Uit eigen training, de Flight Academy in Eelde, komen elk jaar slechts 60 mannen en vrouwen met een certificaat.
KLM heeft pilots nodig in alle soorten en maten, voor verschillende soorten vliegtuigen en vluchten (bijvoorbeeld intercontinentaal). Deze zijn niet zo gemakkelijk te vinden bij charter- of budgetbedrijven. KLM moet internationaal concurreren met beter betalende concurrenten. KLM heeft 2.800 piloten in dienst. Ze zijn (bijna) allemaal lid van de unie van VNV-pilots.
Het tekort aan piloten
In Nederland is het niet zo groot dat de vliegtuigen op de grond blijven, omdat KLM niemand kan vinden die achter de bedieningshendel kan kruipen. Het personeel is echter schaars. Kometen moeten vaker vakanties en vrije dagen uitstellen, zodat het bedrijf rond het net kan weven. Het probleem is dat piloten de duurste werknemers van een luchtvaartmaatschappij zijn, met salarissen die kunnen oplopen tot twee ton. Met de smalle marges in de luchtvaartindustrie, kunt u niets extra nemen om de pieken in de drukte te absorberen.
Over de hele wereld is er een tekort aan piloten, hoewel dit van regio tot regio sterk verschilt. In de Verenigde Staten gaan veel piloten de komende jaren met pensioen. In Azië zijn meer piloten nodig omdat de groeiende welvaart meer consumenten toestaat om te vliegen. Maar in de voormalige Sovjetunie en Afrika is het aantal vacatures erg laag.
In de komende twintig jaar zullen 790 duizend nieuwe piloten wereldwijd actief zijn, zegt de Amerikaanse vliegtuigfabrikant Boeing. Dat is een duplicatie van het huidige pilootbestand. Boeing en zijn concurrent Airbus zien die enorme vraag niet als een probleem. Ze starten hun eigen pilootopleidingen; de marge bij een persoon met een vergunning is hoger dan die van een vliegtuig. A \ W
Ξ A I R G W A Y S Ξ
SOURCE:  Airgways.com
DBk: Volkskrant.nl / Luchtvaartnieuws.nl / Vigilantekorsou.news / Airgways.com 
AW-POST: 201808141538AR
A\W   A I R G W A Y S ®