AW | 2018 08 17 12:58 | AIR INVESTIGATION / AVIATION SAFETY
Un Boeing 737-800 de la aerolínea china Xiamen Airlines aterriza en emergencia en Filipinas
El vuelo MF8667 de un Boeing 737-800 de la aerolínea china Xiamen Airlines derrapa en la pista del Aeropuerto Internacional de Manila, Filipinas durante un aterrizaje de emergencia.
El Aeropuerto Internacional Ninoy Aquino de Manila informó que el Boeing 737-800 realizó el aterrizaje a alrededor de las 00:05 hora local de hoy (16:05 GMT) cuando ocurrió el accidente. El vuelo MF8667 procedente de Xiamen, sobrevoló en círculos en Manila durante cerca de una hora antes del aterrizaje.
El 737-800 de Xiamen Airlines, el registro B-5498 que realizaba el vuelo MF-8667 desde Xiamen (China) a Manila (Filipinas) con 157 pasajeros y 8 tripulantes, había pasado de baja altura en el primer acercamiento final a la pista 24 de Manila debido a clima, posicionado para otro enfoque y continuó para aterrizar en la pista 24 a las 23:55L (15: 55Z), pero se salió del borde izquierdo de la pista y se detuvo en terreno blando con el tren principal izquierdo colapsado y el izquierdo motor separado del ala. El avión fue evacuado a través de toboganes. No se informaron heridos, pero la aeronave recibió daños considerables.
El aeropuerto de Manila informó que el vuelo MF-8667 salió de la pista a aproximadamente 23:55L durante un fuerte aguacero. Todos los ocupantes de la aeronave están seguros. Los investigadores de la CAA Philippines ya están en el sitio.
El 17 de agosto de 2018, la CAAC de China informó que el MF8667 (B738/B5498) salió de la pista en Manila. 157 pasajeros y 8 tripulantes permanecieron ilesos. En el momento del aterrizaje hubo una fuerte tormenta eléctrica, visibilidad de 2000 metros, vientos de 280 grados a 11 nudos, techo de nubes de 540 metros. La CAAC envió un equipo de investigadores a Manila para ayudar a la Investigación de Accidentes filipinos. La CAA y la Autoridad de Aviación del Este de China formaron un grupo de trabajo conjunto para revisar Xiamen Airlines. Se ha recordado a la industria tomar medidas resueltas para observar los márgenes de seguridad.
EL VUELO MF8667 DE XIAMEN AIRLINES ACCIDENTADO EN EL AEROPUERTO NINOY AQUINO DE MANILA
Informes preliminales
El avión aparentemente efectuó una aproximación errática en su primer intento de aterrizar, perdió contacto con la torre de control en el segundo intento y patinó al aterrizar, según Ed Monreal, el Gerente General del aeropuerto.
Las alas y los motores del avión resultaron muy dañados como resultado del accidente, según la fuente. Al parecer, el avión perdió la línea central de la pista al aterrizar, por lo que giró bruscamente hacia la zona segura con hierba. La fuente señaló que estaba lloviendo intensamente cuando el avión aterrizó y especuló en el sentido de que los fuertes vientos laterales y la baja visibilidad pudieron haber causado el accidente. No se han reportado heridos ni fallecidos durante el impacto de la aeronave.
Las autoridades aeroportuarias aún no emiten una declaración oficial sobre el accidente. "Se está realizando una evacuación de emergencia", dijo la fuente, la cual añadió que se vio a algunos pasajeros descalzos alrededor del avión dañado poco después del aterrizaje. El personal de emergencia del aeropuerto levantó tiendas de campaña alrededor del área del accidente, indicó la fuente. El aeropuerto seguirá abierto porque todavía se puede utilizar la otra pista, según la fuente.
La compañía Xiamen Airlines tiene una flota de 164 aviones y vuela a 70 destinaciones diferentes. Decenas de vuelos han sido cancelados en Manila debido al accidente.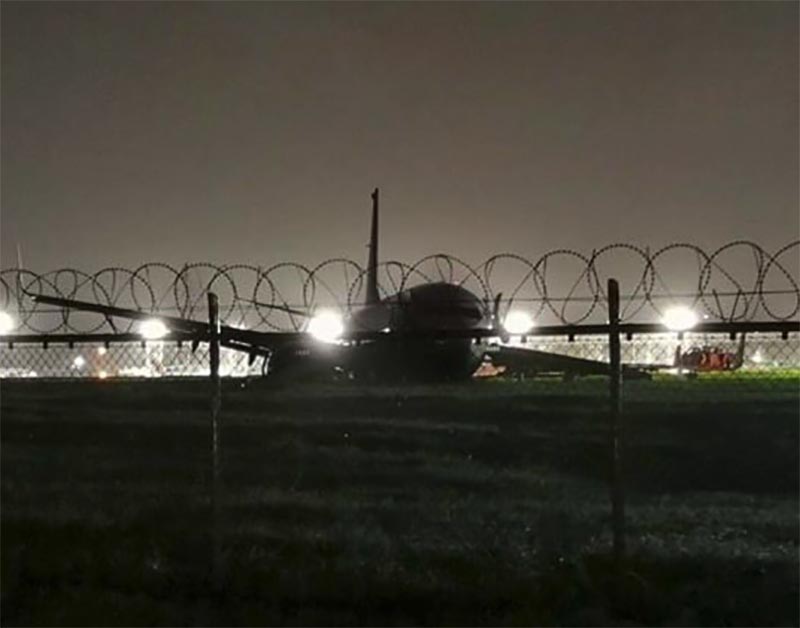 Boeing 737 Xiamen lands emergency
A Boeing 737-800 of the Chinese airline Xiamen Airlines lands in emergancia in the Philippines
The flight MF8667 of a Boeing 737-800 of the Chinese airline Xiamen Airlines drifts on the runway of Manila International Airport, Philippines during an emergency landing.
The Ninoy Aquino International Airport in Manila reported that the Boeing 737-800 landed at around 00:05 local time today (16:05 GMT) when the accident occurred. Flight MF8667 from Xiamen flew in circles in Manila for about an hour before landing.
The 737-800 of Xiamen Airlines, registration B-5498 that made the flight MF-8667 from Xiamen (China) to Manila (Philippines) with 157 passengers and 8 crew, had gone from low altitude in the first final approach to runway 24 from Manila due to weather, positioned for another approach and continued to land on runway 24 at 23: 55L (15: 55Z), but left the left edge of the runway and stopped on soft ground with the left main train collapsed and the left motor separated from the wing. The plane was evacuated through slides. No injuries were reported, but the aircraft received considerable damage.
Manila airport reported that flight MF-8667 left the runway at approximately 23: 55L during a heavy downpour. All occupants of the aircraft are safe. The researchers of the CAA Philipinnes are already on the site.
On August 17, 2018, the CAAC of China reported that the MF8667 (B738 / B5498) left the runway in Manila. 157 passengers and 8 crew remained unharmed. At the time of landing there was a strong thunderstorm, visibility of 2000 meters, winds of 280 degrees at 11 knots, cloud ceiling of 540 meters. The CAAC sent a team of investigators to Manila to help the Philippine Accident Investigation. The CAA and the East China Aviation Authority formed a joint working group to review Xiamen Airlines. The industry has been reminded to take resolute measures to observe safety margins.
Preliminary reports
The plane apparently made an erratic approach on its first attempt to land, lost contact with the control tower on the second attempt and skidded on landing, according to Ed Monreal, the airport's General Manager.
The aircraft's wings and engines were badly damaged as a result of the accident, according to the source. Apparently, the plane lost the centerline of the runway when it landed, so it swerved sharply towards the safe area with grass. The source said it was raining heavily when the plane landed and speculated that strong lateral winds and low visibility could have caused the accident. No injuries or deaths have been reported during the impact of the aircraft.
The airport authorities have not yet issued an official statement about the accident. "An emergency evacuation is under way", the source said, adding that some passengers were seen barefoot around the damaged plane shortly after landing. Emergency personnel at the airport erected tents around the area of ​​the accident, the source said. The airport will remain open because the other runway can still be used, according to the source.
The company Xiamen Airlines has a fleet of 164 aircraft and flies to 70 different destinations. Dozens of flights have been canceled in Manila due to the accident. A \ W
Ξ A I R G W A Y S Ξ
SOURCE:  Airgways.com
DBk: Avherald.com / Gmanetwork.com / Apf.com
AW-POST: 201808171258AR
A\W   A I R G W A Y S ®