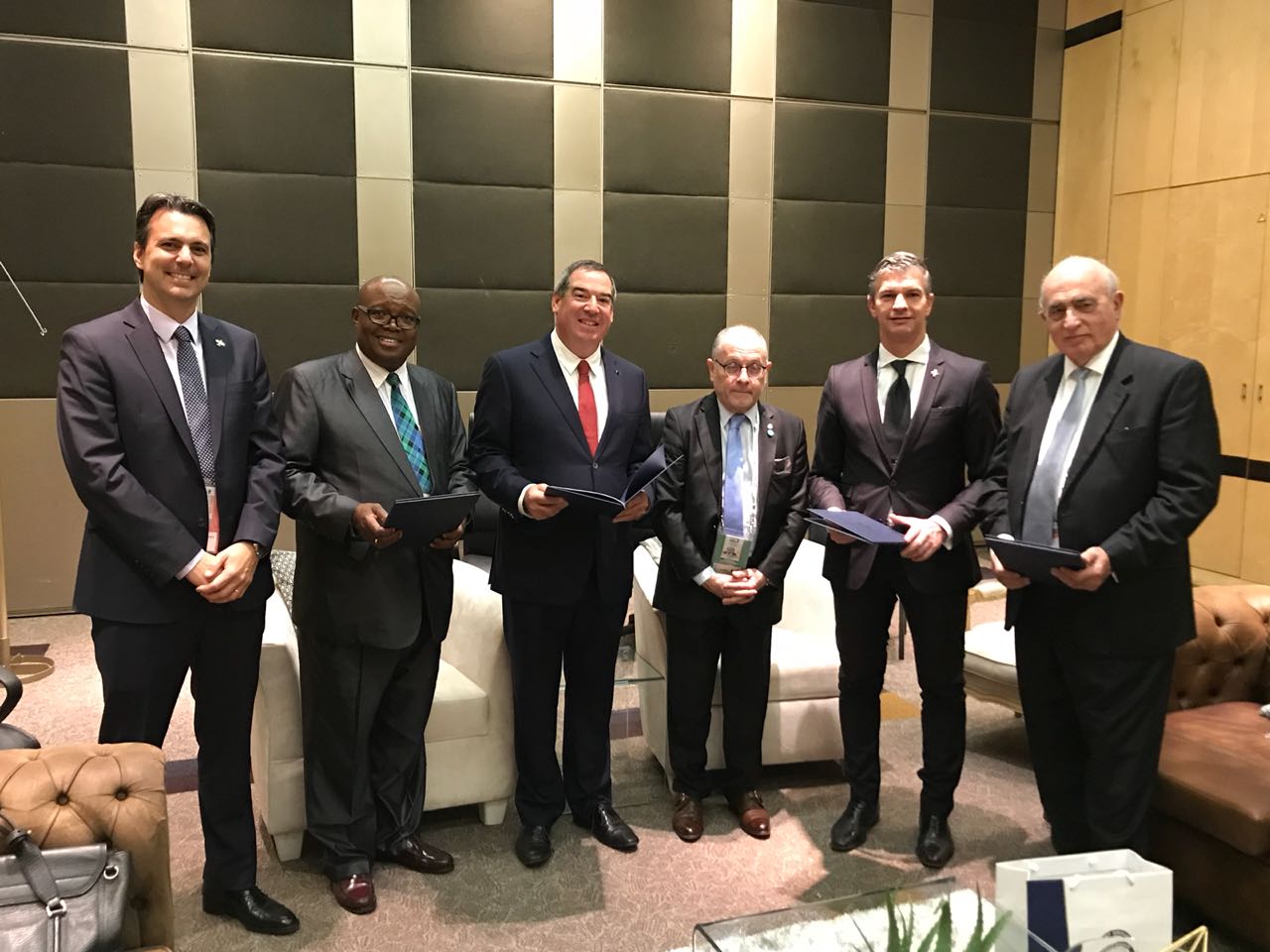 AW | 2018 08 29 19:11 | INDUSTRY
El constructor aeronáutico FAdeA de Argentina ha firmado acuerdos con Paramount y Boeing
La industria aeronáutica de Argentina de la mano de FAdeA está efectuando alianzas y convenios con diferentes industrias del mundo de la aviación. La
producción del avión Pampa III establece acuerdos con diferentes pares permitiendo incorporar experiencia en esta área como en otras. Este avión para entrenamiento avanzado y de combate liviano recibió a mediados del mes pasado la certificación por parte la Dirección General de Aeronavegabilidad Militar Conjunta (Digamac). Diferentes empresas exportan componentes desde Francia, Israel, Italia y Alemania. La certificación incluyó la aprobación de un componente, un actuador de cúpula, que antes se importaba desde Francia y que a partir de ahora lo hará la cordobesa AOG. En el mismo proceso están otras firmas como DTA, Hokum e Inmeba, todas de la Provincia de Córdoba, Argentina.
FAdeA & Paramount Group
FAdeA y la sudafricana Paramount Group firmaron un acuerdo aeroespacial y de defensa en Johannesburgo, Sudáfrica, 27 Julio 2018, firmando un Memorando de Entendimiento (MoU) que permitirá crear una base de cooperación mutua en el desarrollo de la industria aeroespacial y para la defensa.
La Cumbre del BRICS marca el primer proyecto comercial entre ambos países en esta materia y permitirá el intercambio de conocimientos y de ingeniería de alto nivel, la capacitación y desarrollo de recursos humanos apropiados y la transferencia de tecnología, dando un impulso al desarrollo industrial de los sectores de fabricación avanzada de ambos países. Esta alianza permitirá modernizar las Fuerzas Armadas y la seguridad, capacitarlas para adaptarse a las necesidades y amenazas en el siglo XXI, prepara el escenario para la inversión y la colaboración internacional en la industria aeroespacial y de defensa de Argentina y permitirá el fortalecimiento de la paz y la seguridad regionales.
FOKKER 28 MK-1000 DE LA PRESIDENCIA ARGENTINA EN REPARACIONES EN FAdeA
Fokker 28
A fines del mes de Julio fue entregado a la Presidencia de la Nación el avión Tango 02, un Fokker F-28 MK-1000 que había ingresado en los hangares de la Fábrica Argentina de Aviones para tareas de reparación y mantenimiento.
FAdeA, Embraer & Boeing
El plan en FAdeA es poder extender las unidades de negocias al mantenimientos de aeronaves comerciales de Embraer y Boeing. FAdeA y Boeing han firmado un entendimiento para la reparación de un Boeing 737-800 LV-HQY de Flybondi Líneas Aéreas. El Boeing 737-800 será sometido a un proceso de reparación de los daños ocasionados por la rotura del tail strike que sufrió el pasado 15 Julio 2018 en el Aeropuerto de Iguazú. La constructora Boeing efectuó la certificación de la firma ante la ANAC Argentina para poder realizar los trabajos estipulados con un equipo de 25 personas. El Boeing 737 de Flybondi estima salir de reparaciones en unos 15 días.
Los inicios de FAdeA
El 10 de octubre de 1927 bajo la presidencia del radical Marcelo Torcuato de Alvear y con la dirección de Francisco de Arteaga teniendo tal empresa estatal el nombre de Fábrica Militar de Aviones. La Fábrica Militar de Aviones de Córdoba, alrededor del año 1950 era por aquel entonces la principal fábrica de aviones de Latinoamérica. 
FAdeA signs agreement with Paramount and Boeing
The aeronautical constructor FAdeA of Argentina has signed agreements with Paramount and Boeing
The aeronautical industry of Argentina in the hands of FAdeA is making alliances and agreements with different industries in the world of aviation. The production of the Pampa III aircraft establishes agreements with different pairs allowing to incorporate experience in this area as in others. This aircraft for advanced training and light combat received the certification by the General Directorate of Joint Military Airworthiness (Digamac) in the middle of last month. Different companies export components from France, Israel, Italy and Germany. The certification included the approval of a component, a dome actuator, that was previously imported from France and that from now on the cordoban AOG. In the same process are other firms such as DTA, Hokum and Inmeba, all from the Province of Córdoba, Argentina.
FAdeA & Paramount Group
FAdeA and the South African Paramount Group signed an aerospace and defense agreement in Johannesburg, South Africa, July 27, 2018, signing a Memorandum of Understanding (MoU) that will create a basis for mutual cooperation in the development of the aerospace and defense industry.
The BRICS Summit marks the first commercial project between both countries in this matter and will allow the exchange of knowledge and high-level engineering, the training and development of appropriate human resources and the transfer of technology, giving a boost to the industrial development of the advanced manufacturing sectors of both countries. This alliance will modernize the Armed Forces and security, train them to adapt to the needs and threats in the 21st century, prepare the scenario for investment and international collaboration in the aerospace and defense industry of Argentina and allow the strengthening of peace and regional security.
Fokker 28
At the end of July, Tango 02, a Fokker F-28 MK-1000, that had entered the hangars of the Argentine Aircraft Factory for repair and maintenance tasks, was delivered to the Presidency of the Nation.
FAdeA, Embraer & Boeing
The plan in FAdeA is to be able to extend the business units to the maintenance of commercial aircraft of Embraer and Boeing. FAdeA and Boeing have signed an understanding for the repair of a Boeing 737-800 LV-HQY from Flybondi Líneas Aéreas. The Boeing 737-800 will undergo a process of repair of the damages caused by the break of the tail strike suffered on 15 July 2018 at the Iguazú Airport. The construction company Boeing carried out the certification of the firm before the ANAC Argentina to be able to carry out the stipulated works with a team of 25 people. The Boeing 737 of Flybondi estimates to leave repairs in about 15 days.
The beginnings of FAdeA
On October 10, 1927 under the presidency of the radical Marcelo Torcuato de Alvear and with the direction of Francisco de Arteaga having such a state company the name of Military Aircraft Factory. The Military Aircraft Factory of Córdoba, around the year 1950 was at that time the main aircraft factory in Latin America. A \ W
Ξ A I R G W A Y S Ξ
SOURCE:  Airgways.com
DBk: Fadeasa.com.ar / Argentina.gob.ar / Flybondi.com / Boeing.com / Airgways.com
AW-POST: 201808291911AR
A\W   A I R G W A Y S ®