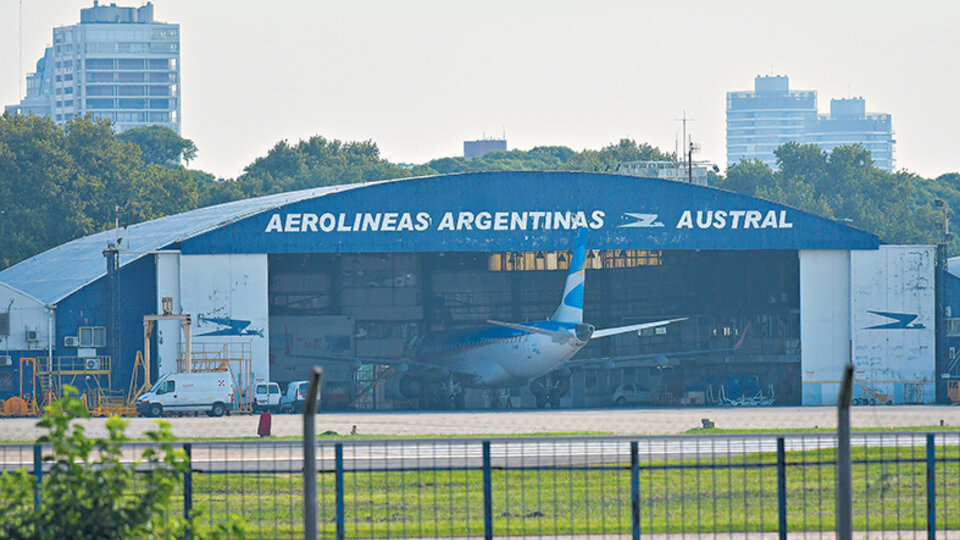 AW | 2018 08 29 13:51 | AIRLINES
Aerolíneas Aerolíneas invierte US$30 millones para renovar sus hangares en Aeroparque y Ezeiza
Aerolíneas Argentinas invertirá US$ 30 millones de dólares destinados a nuevas obras en sus hangares localizados en Aeroparque y Ezeiza. Esa inversión se suma a otros US$ 32 millones de dólares que serán destinados a infraestructura. También destinó US$ 2,4 millones para desplegar fibra óptica y Wi-Fi en esos espacios.
En un comunicado, detalló que un total de US$ 15 millones de dólares serán destinados a la instalación de sistemas anti-incendio en los hangares de Ezeiza y Aeroparque. Estas obras se sumarán a las que ya están en marcha para la modernización y ampliación de la infraestructura existente en diversos aeropuertos del país: Bariloche, Córdoba, Chapelco, Iguazú, Mendoza, Tucumán, Comodoro Rivadavia, Resistencia y La Rioja, entre otros. El plan incluye la adquisición de equipamiento para tareas de rampa, como así también una inversión en sistemas, que suman otros 32 millones de dólares.
La empresa recordó que este año se inauguró el Hangar 5, el mayor de la firma, en Ezeiza, donde se realiza el mantenimiento de los aviones mayores de la flota, y se invirtieron 2,4 millones de dólares para la instalación de fibra óptica y redes wifi en esos mismos espacios de trabajo. Los fondos necesarios para llevar adelante este plan de inversiones surgen de los aportes del Estado nacional, como así también de la venta de activos no operativos de la compañía. Como fuente de financiamiento adicional, la empresa evalúa llevar a cabo una operación denominada «Sale and Lease Back» con los dos aviones propios que integran la flota Boeing B737-700. En la práctica, esta modalidad implica su venta e inmediato alquiler, por lo cual seguirán estando operativos hasta que sean desprogramados de manera definitiva, lo cual está previsto para mayo-Junio 2021. Estas aeronaves están siendo reemplazadas por Boeing 737-8 MAX y se estima que la venta de estas dos aeronaves podría reportar ingresos adicionales por alrededor de US$ 32 millones de dólares. Por último, se llevará a cabo la venta de 50 mil ítems de repuestos desprogramados por un valor cercano a los US$ 3 millones de dólares, de acuerdo con información de la aerolínea. 
Aerolíneas will invest works in hangars
Aerolíneas Argentinas invests US $ 30 million to renovate its hangars in Aeroparque and Ezeiza
Aerolíneas Argentinas will invest US$ 30 million dollars for new works in its hangars located at Aeroparque and Ezeiza. This investment is added to another US$ 32 million dollars that will be allocated to infrastructure. It also allocated US$ 2.4 million to deploy fiber optics and Wi-Fi in those spaces.
In a statement, he explained that a total of US$ 15 million will be allocated to the installation of fire-fighting systems in the Ezeiza and Aeroparque hangars. These works will be added to those already underway for the modernization and expansion of existing infrastructure in various airports in the country: Bariloche, Córdoba, Chapelco, Iguazú, Mendoza, Tucumán, Comodoro Rivadavia, Resistencia and La Rioja, among others. The plan includes the acquisition of equipment for ramp tasks, as well as an investment in systems, which add another 32 million dollars.
The company recalled that this year the Hangar 5, the largest of the firm, was inaugurated in Ezeiza, where maintenance of the largest aircraft in the fleet is carried out, and US$ 2,4 million dollars were invested for the installation of fiber optics and wifi networks in those same workspaces. The funds necessary to carry out this investment plan arise from the contributions of the national State, as well as the sale of non-operating assets of the company. As a source of additional financing, the company evaluates carrying out an operation called «Sale and Lease Back» with the two own aircraft that make up the Boeing B737-700 fleet. In practice, this modality implies its sale and immediate rental, which will continue to be operative until they are definitively deprogrammed, which is scheduled for May-June 2021. These aircraft are being replaced by Boeing 737-8 MAX and will be estimates that the sale of these two aircraft could generate additional revenues of around US$ 32 million. Finally, the sale of 50 thousand items of spare parts deprogrammed for a value close to US$ 3 million, will be carried out, according to information from the airline. A \ W
Ξ A I R G W A Y S Ξ
SOURCE:  Airgways.com
DBk: Aerolineas.com / Airgways.com / Pagina12.com.ar
AW-POST: 201808291351AR
A\W   A I R G W A Y S ®