AW | 2018 11 03 20:37 | AVIATION SAFETY
Más detalles del accidente del vuelo JT-610 de Lion Air
Nuevos detalles sobre el penúltimo vuelo JT-610 realizado por el avión Boeing 737-8 MAX de Lion Air accidentado plantearon más dudas sobre la afirmación de la aerolínea indonesia de que solucionó los problemas técnicos. Cientos de personas seguían rastreando el mar por quinto día el viernes en busca de víctimas y del fuselaje de la aeronave.
El piloto de un vuelo realizado por el aparato el domingo, el último antes del siniestro, pidió permiso para regresar al aeropuerto de Bali poco después de despegar desde allí, pero luego reportó que el problema había sido solucionado, dijo Herson, jefe de la autoridad aeroportuaria de Bali-Nusa Tenggara. Varios pasajeros se refirieron al fallo como una aterradora pérdida de altitud.
Muere buzo rescatista
El 3 Noviembre de 2018, la Marina de Indonesia informó que un buzo voluntario que recuperaba partes del cuerpo murió, probablemente debido a la descompresión. El buceador había servido en el accidente de AirAsia Indonesia QZ-8501 hace cuatro años.
Víctimas vuelo JT-610
El 3 Noviembre de 2018, Basarnas informó que hasta el momento se habían llevado 73 bolsas de cadáveres al puesto de mando. Cuerpos de pasajeros que murieron en el accidente aéreo el pasado 29 Octubre 2018 del vuelo JT-610 de Lion Air fueron encontrados aún abrochados a sus asientos en el fondo del océano. Buzos indonesios revelaron que han encontrado cadáveres entre trozos de metal retorcidos y piezas de fuselaje del Boeing 737 estrellado en el lecho del mar de Java.
Restos del Boeing 737-8 MAX
La parte más grande recuperada hasta ahora, parte del tren de aterrizaje, así como otros escombros recolectados hasta ahora, fueron entregados a KNKT. La señal de ping del localizador, que se cree que se originó en el CVR, se había extinguido, posiblemente el CVR está cubierto por lodo o corrientes de agua en el área que mueve el pinger, se está trayendo un equipo especializado más sensible para encontrar los pings nuevamente. Las operaciones de búsqueda y recuperación continúan dentro de un radio de 500 metros alrededor de la ubicación donde se encontró la primera caja negra.
Como parte del operativo de rastrillaje, las autoridades indonesias desplegaron buzos, barcos de búsqueda y rescate, cuatro detectores de sonar y una baliza acústica submarina. Los equipos lograron encontrar una de las cajas negras entre los restos del Boeing 737, que podría resolver el misterio de lo que causó el accidente.
Cada avión cuenta con dos cajas negras, una de las cuales registra las voces en la cabina y la otra los datos de seguimiento del vuelo. No se sabe si la caja recuperada fue la grabadora del vuelo, que es mucho más útil para la investigación.
Haryo Satmiko, Subjefe del Comité de Seguridad de Transporte de Indonesia, afirmó que los expertos estaban descargando los datos almacenados en la caja negra. Mientras que la descarga generalmente toma algunas horas, los especialistas podrían tardar semanas para analizar la información extraída.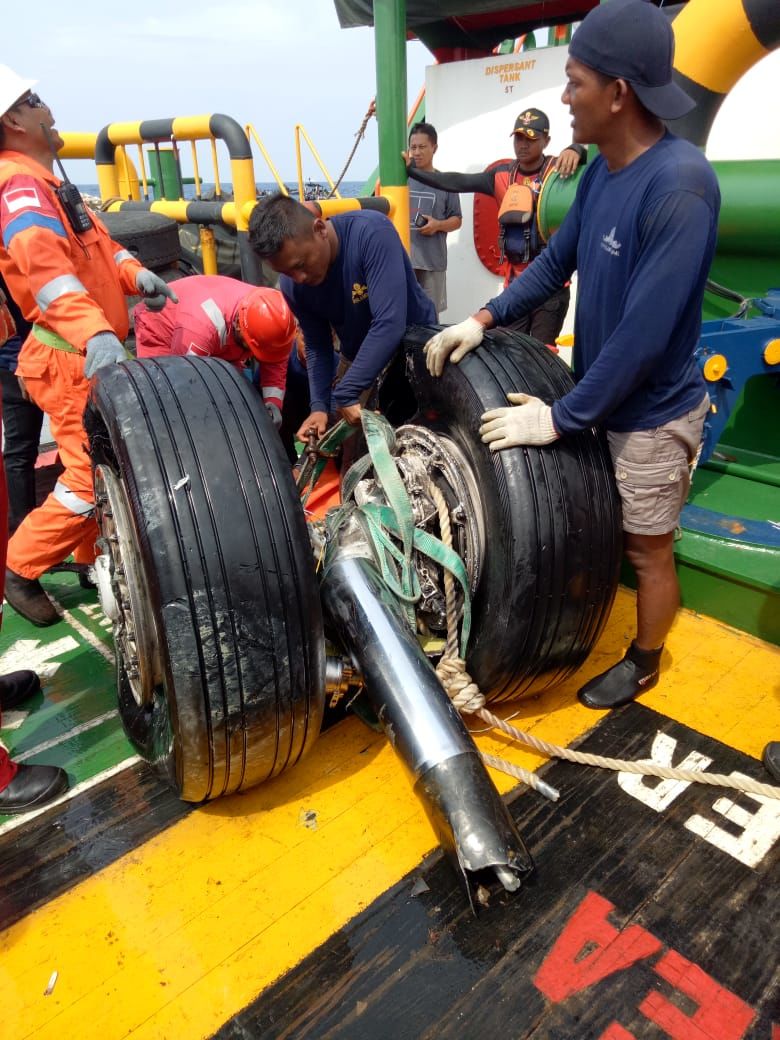 Fallas en Boeing 737 MAX
El Ministerio de Transportes de Indonesia dijo el Viernes, 2 Noviembre 2018 que habían encontrado fallas menores en otros dos aviones Boeing 737-8 MAX, incluido un problema en la pantalla del indicador de cabina que un analista dijo que podría ser similar a uno reportado en el estrellado Lion Air. El ministerio está inspeccionando 10 de los jets recién lanzados que son propiedad de Lion y la aerolínea principal Garuda, mientras las autoridades analizan los datos de una caja negra recuperada que puede ayudar a explicar por qué el vuelo JT-610 se estrelló en el Mar de Java, matando a 189 personas el Lunes, 29 Octubre 2018. Se publicaron pocos detalles, pero el ministerio dijo que había examinado más de media docena de aviones hasta el momento y descubrió que uno tenía un problema relacionado con la pantalla de su cabina, mientras que otro tenía una falla en un sistema de estabilización del avión. El analista de aviación Dudi Sudibyo dijo que el problema con la pantalla de la cabina podría incluir una falla de velocidad y altitud reportada en el avión condenado.
Stephen Wright, un experto en aviación de la Universidad de Leeds, dijo que las fallas identificadas por el Ministerio de Transporte eran muy menores. Añadió que cualquier problema con el sistema pitot-static del nuevo jet, que determina la velocidad y la altitud entre otras medidas, será clave para la sonda. La inspección se produce cuando surgen preguntas sobre por qué un avión que entró en servicio hace unos meses se estrelló en el mar minutos después del despegue. La caja negra podría ofrecer a los investigadores la mejor oportunidad de descubrir por qué se estrelló el avión. Según los expertos en aviación, los dispositivos ayudan a explicar casi el 90 por ciento de todos los accidentes. Boeing y funcionarios de la Junta Nacional de Seguridad del Transporte de EEUU participan en la investigación.
El Comité Nacional de Seguridad del Transporte de Indonesia dijo que estaba entrevistando a personas que volaron en el avión el día antes del accidente fatal. Algunos han informado de un viaje aterrador y errático, una afirmación que parece estar respaldada por datos de seguimiento de vuelo. La admisión de la aerolínea Lion Air de que el Boeing 737-8 MAX tenía un problema técnico en un vuelo anterior, así como el avión accidentado, ha planteado dudas sobre si tenía fallas mecánicas específicas del nuevo modelo.
Inseguridad aérea en Indonesia
El misterioso accidente de un nuevo avión Boeing en Indonesia ha llamado la atención sobre el pobre historial de seguridad aérea del país. Sin embargo, los expertos están advirtiendo contra sacar conclusiones especulativas.
A medida que los investigadores continúan recuperando los restos y analizando los datos de vuelo de la grabadora de caja negra recuperada del vuelo JT-610 de Lion Air, no hay una explicación obvia de lo que causó que el nuevo avión Boeing cayera de un cielo despejado y se hundiera en el mar de Java Minutos después de despegar de Yakarta.
El accidente del vuelo JT-610, que mató a las 189 personas a bordo, es el segundo peor desastre aéreo de Indonesia, después del accidente de Garuda Indonesia en 1997 cerca de Medan, que mató a 234 personas.
Aunque actualmente no hay indicios de que una infraestructura deficiente o estándares de seguridad rezagados en el terreno hayan causado el accidente, este último desastre aéreo en Indonesia arroja una luz desafortunada sobre el pobre historial de seguridad aérea del país.
Indonesia es uno de los mercados de aviación de más rápido crecimiento en el mundo, pero este rápido crecimiento ha ejercido mucha presión en la red de aviación del país. La agencia de noticias Reuters informó que entre 2012 y 2017, el panel de seguridad del transporte de Indonesia investigó 137 incidentes graves de aviación.
"Durante mucho tiempo, Indonesia tuvo un grave problema con respecto a la seguridad de la aviación. No es tanto la cantidad de pasajeros, sino el rápido crecimiento de las aerolíneas", dijo Harro Ratner, Director General de la organización de Vigilancia de la Seguridad Aérea, Aviation Safety Network.
Indonesia inhibida
Las aerolíneas indonesias han emergido recientemente del estado de paria internacional. En 2007, los Estados Unidos y la Unión Europea prohibieron a todas las líneas aéreas comerciales de Indonesia su espacio aéreo después de una serie de incidentes.
"En 2007, los Estados Unidos concluyeron que las autoridades indonesias no podían supervisar adecuadamente las actividades de aviación en el país. Dijeron que Indonesia no estaba cumpliendo con las normas internacionales OACI", dijo Ratner.
Indonesia, levantan restricciones
En 2016, la Administración Federal de Aviación de Estados Unidos (FAA), permitió una vez más a los aviones indonesios y en Junio 2018, la Unión Europea levantó su prohibición. "El país y las aerolíneas ahora, después de un largo período de tiempo, se consideran seguros según los estándares internacionales. Algunos incidentes recientes, sin incluir el accidente de Lion Air, indican que las operaciones aeroportuarias y el control del tráfico aéreo son un área donde hay que trabajar", expresa Harro Ratner.
"En los últimos dos años se han producido dos colisiones en la pista y recientemente un avión aterrizó en una pista y golpeó un equipo que quedó allí después de los trabajos de mantenimiento", dijo Ratner.
El Lunes, un portavoz de la Comisión Europea dijo que la UE no tiene planes inmediatos para renovar la prohibición de Lion Air. The Associated Press informó que el gobierno australiano les dijo a sus funcionarios y contratistas que no viajaran en la aerolínea en espera de los resultados de la investigación del accidente.
Problema de indonesia
Los recientes desastres aéreos mortales en Indonesia incluyen el accidente de AirAsia en 2014, que se hundió en el Mar de Java en ruta desde Surabaya a Singapur, matando a 162 personas. Se determinó que la causa era un timón que funcionaba mal, lo que supuestamente había causado problemas repetidos en la aeronave en los meses previos a su accidente.
El incidente de 2014 atrajo la atención internacional sobre las deficiencias en el sistema de navegación de la aviación de Indonesia. El Wall Street Journal informó en enero que los pilotos dijeron que la infraestructura en Indonesia era "poco sofisticada y no hace lo suficiente para ayudar a los aviones de pasajeros a enfrentar las malas condiciones de vuelo". En 2004, un jet de Lion Air se deslizó de una pista en 2004, matando a 25 pasajeros y tripulantes.
Boeing 737 MAX, en el foco
El avión condenado al accidente del Lunes, 29 Octubre 2018 fue un Boeing 737-8 MAX, que tuvo su primer vuelo en Agosto 2018. La serie MAX es el diseño más moderno de la familia 737. La primera entrega de un avión 737 MAX a una aerolínea fue en Mayo 2017, y Boeing dice que la serie 737 MAX es el avión más vendido en la historia de la compañía, con más de 4.700 pedidos ya realizados.
Boeing, junto con la Junta Nacional de Seguridad del Transporte de los Estados Unidos (NTSB), se unió a la investigación en Indonesia y, según informes, los funcionarios indonesios viajan a los Estados Unidos para reunirse con los diseñadores de Boeing.
El profesor Elmar Giemulla, un destacado especialista alemán en derecho aeronáutico, dijo que las aeronaves de nuevo diseño pueden algunas veces esconder problemas técnicos. "No es de extrañar que Boeing se encuentre en el lugar del accidente en Indonesia, y esto podría generar sospechas de que están tratando de influir en la investigación para que no atraigan ninguna falla a Boeing", dijo Giemulla.
Un fabricante no quiere que se detecten fallas de diseño mientras todo el mundo está mirando. La pregunta de responsabilidad surgirá muy pronto. Los familiares pronto preguntarán quién es responsable de la muerte de sus seres queridos. Solicitarán una compensación y, por supuesto, Boeing como fabricante es una posible parte responsable.
La noche anterior al accidente, el mismo avión había estado involucrado en un incidente de pérdida de altitud en un vuelo desde Bali a Jakarta. El piloto emitió una alerta, pero pudo corregir el problema y continuó el vuelo. Giemulla, que es un experto en clasificar incidentes de aviación, dijo que un avión que cae repentinamente unos cientos de metros no era un acontecimiento inusual.
El piloto del avión Lion Air que se estrelló el lunes supuestamente tenía más de 6.000 horas de vuelo. "Es bastante improbable que esto sea un problema de mantenimiento, porque los problemas de mantenimiento generalmente ocurren mucho más tarde. Hasta que se puedan analizar las cajas negras, todo es especulación", concluye Elmar Giemulla.  
Advances crash Lion Air JT-610
More details of the Lion Air flight JT-610 accident
New details about the penultimate JT-610 flight made by the injured Boeing 737-8 MAX airplane from Lion Air raised further doubts about the Indonesian airline's claim that it solved the technical problems. Hundreds of people continued to track the sea for the fifth day on Friday in search of victims and the fuselage of the aircraft.
The pilot of a flight made by the device on Sunday, the last before the incident, asked permission to return to Bali airport shortly after taking off from there, but then reported that the problem had been solved, said Herson, head of the authority Airport of Bali-Nusa Tenggara. Several passengers referred to the failure as a terrifying loss of altitude.
Dies Rescue Diver
On November 3, 2018, the Indonesian Navy reported that a volunteer diver recovering body parts died, probably due to decompression. The diver had served in the accident of AirAsia Indonesia QZ-8501 four years ago.
Victims flight JT-610
On November 3, 2018, Basarnas reported that 73 bags of corpses had been taken to the command post. Bodies of passengers who died in the plane crash on October 29, 2018 of Lion Air's JT-610 flight were still found fastened to their seats on the ocean floor.
Indonesian divers revealed that they have found bodies among twisted pieces of metal and fuselage parts of the Boeing 737 crashed into the bed of the Java Sea.
Remains of the Boeing 737-8 MAX
The largest part recovered so far, part of the landing gear, as well as other debris collected so far, were delivered to KNKT. The locator's ping signal, which is believed to have originated in the CVR, was extinguished, possibly the CVR is covered by mud or water currents in the area that moves the pinger, it is bringing a more sensitive specialized equipment to find the pings again. The search and recovery operations continue within a radius of 500 meters around the location where the first black box was found.
As part of the raking operation, the Indonesian authorities deployed divers, search and rescue boats, four sonar detectors and an underwater acoustic beacon. The teams managed to find one of the black boxes among the wreckage of the Boeing 737, which could solve the mystery of what caused the accident.
Each plane has two black boxes, one of which records the voices in the cabin and the other flight tracking data. It is not known if the recovered box was the flight recorder, which is much more useful for the investigation.
Haryo Satmiko, Deputy Chief of the Transport Security Committee of Indonesia, said experts were downloading the data stored in the black box. While the download usually takes a few hours, specialists may take weeks to analyze the information extracted.
Faults in Boeing 737 MAX
The Indonesian Ministry of Transportation said on Friday, November 2, 2018 that they had found minor faults in two other Boeing 737-8 MAX aircraft, including a problem on the cockpit indicator display that one analyst said could be similar to one reported in the starry Lion Air. The ministry is inspecting 10 of the newly launched jets owned by Lion and the main airline Garuda, as authorities analyze the data from a recovered black box that may help explain why the JT-610 flight crashed into the Sea of Java, killing 189 people on Monday, October 29, 2018. Few details were published, but the ministry said it had examined more than half a dozen planes so far and discovered that one had a problem related to the screen of its cabin, while that another had a failure in an aircraft stabilization system. Aviation analyst Dudi Sudibyo said the problem with the cockpit display could include a failure in speed and altitude reported on the doomed plane.
Stephen Wright, an aviation expert at the University of Leeds, said the faults identified by the Ministry of Transportation were very minor. He added that any problem with the pitot-static system of the new jet, which determines speed and altitude among other measures, will be key to the probe. The inspection occurs when questions arise about why a plane that entered service a few months ago crashed into the sea minutes after takeoff. The black box could offer researchers the best chance to discover why the plane crashed. According to aviation experts, the devices help explain almost 90 percent of all accidents. Boeing and officials from the US National Transportation Safety Board are participating in the investigation.
The National Transport Security Committee of Indonesia said it was interviewing people who flew on the plane the day before the fatal accident. Some have reported a frightening and erratic journey, an assertion that seems to be supported by flight tracking data. The admission of the Lion Air airline that the Boeing 737-8 MAX had a technical problem on a previous flight, as well as the crashed plane, has raised doubts about whether it had specific mechanical failures of the new model.
Insecurity in Indonesia
The mysterious accident of a new Boeing aircraft in Indonesia has drawn attention to the country's poor aviation safety record. However, experts are cautioning against drawing speculative conclusions.
As researchers continue to recover the remains and analyze the flight data of the black box recorder recovered from Lion Air flight JT-610, there is no obvious explanation for what caused the new Boeing aircraft to fall from a clear sky and I plunged into the Java Sea Minutes after taking off from Jakarta.
The accident of flight JT-610, which killed the 189 people on board, is the second worst air disaster in Indonesia, after the Garuda Indonesia accident in 1997 near Medan, which killed 234 people.
Although there are currently no indications that poor infrastructure or lagging safety standards on the ground have caused the accident, this latest air disaster in Indonesia sheds an unfortunate light on the country's poor aviation safety record.
Indonesia is one of the fastest growing aviation markets in the world, but this rapid growth has put a lot of pressure on the country's aviation network. The Reuters news agency reported that between 2012 and 2017, the Indonesian transport safety panel investigated 137 serious aviation incidents.
"Indonesia has had a serious problem with aviation security for a long time, it's not so much the number of passengers, but the rapid growth of airlines", said Harro Ratner, General Director of the Security Surveillance organization. Aerial, Aviation Safety Network.
Indonesia inhibited
Indonesian airlines have recently emerged from the international pariah state. In 2007, the United States and the European Union banned all of Indonesia's commercial airlines from airspace after a series of incidents.
"In 2007, the United States concluded that the Indonesian authorities could not adequately monitor aviation activities in the country, saying that Indonesia was not complying with ICAO international standards", Ratner said.
Indonesia, lift restrictions
In 2016, the Federal Aviation Administration of the United States (FAA) once again allowed Indonesian aircraft and in June 2018, the European Union lifted its ban. "The country and the airlines now, after a long period of time, are considered safe according to international standards. Some recent incidents, not including the Lion Air accident, indicate that airport operations and air traffic control are an area where you have to work", says Harro Ratner.
"In the last two years there have been two collisions on the runway and recently a plane landed on a runway and hit a team that was left there after the maintenance work", Ratner said.
On Monday, a spokesman for the European Commission said the EU has no immediate plans to renew the Lion Air ban. The Associated Press reported that the Australian government told its officials and contractors not to travel on the airline pending the results of the accident investigation.
Problem of indonesia
The recent deadly air disasters in Indonesia include the AirAsia crash in 2014, which sank in the Java Sea en route from Surabaya to Singapore, killing 162 people. It was determined that the cause was a rudder that malfunctioned, which allegedly caused repeated problems on the aircraft in the months leading up to its accident.
The 2014 incident attracted international attention about deficiencies in Indonesia's aviation navigation system. The Wall Street Journal reported in January that pilots said the infrastructure in Indonesia was "unsophisticated and does not do enough to help passenger aircraft to cope with poor flight conditions". In 2004, a Lion Air jet slid off a runway in 2004, killing 25 passengers and crew.
Boeing 737 MAX, in focus
The plane condemned to the accident on Monday, 29 October 2018 was a Boeing 737-8 MAX, which had its first flight in August 2018. The MAX series is the most modern design of the 737 family. The first delivery of a 737 MAX aircraft to an airline was in May 2017, and Boeing says that the 737 MAX series is the best-selling aircraft in the company's history, with more than 4,700 orders already made.
Boeing, along with the National Transportation Safety Board of the United States (NTSB), joined the investigation in Indonesia and, according to reports, Indonesian officials travel to the United States to meet with Boeing designers.
Professor Elmar Giemulla, a leading German specialist in aeronautical law, said that newly designed aircraft can sometimes hide technical problems. "It is not surprising that Boeing is at the scene of the accident in Indonesia, and this could raise suspicions that they are trying to influence the investigation so that they do not attract any failure to Boeing", said Giemulla.
A manufacturer does not want design flaws detected while everyone is watching. The question of responsibility will arise very soon. Family members will soon ask who is responsible for the death of their loved ones. They will request compensation and, of course, Boeing as a manufacturer is a possible responsible party.
The night before the accident, the same plane had been involved in an incident of altitude loss on a flight from Bali to Jakarta. The pilot issued an alert, but he was able to correct the problem and the flight continued. Giemulla, who is an expert in classifying aviation incidents, said that a plane that suddenly falls a few hundred meters was not an unusual event.
The pilot of the Lion Air plane that crashed on Monday allegedly had more than 6,000 flight hours. "It is very unlikely that this is a maintenance problem, because maintenance problems usually occur much later, until the black boxes can be analyzed, everything is speculation", concludes Elmar Giemulla. A \ W
Ξ A I R G W A Y S Ξ
SOURCE: Airgways.com
DBk: Dephub.go.id / Faa.gov / Ntsb.gov / Dw.com / News.com.au / Sbs.com.au / Basarnas.go.id / Airgways.com / Gettyimages.com / Afp.com / Atimes.com / Idntimes.com / Dailytelegraph.com.au
AW-POST: 201811032037AR
A\W   A I R G W A Y S ®