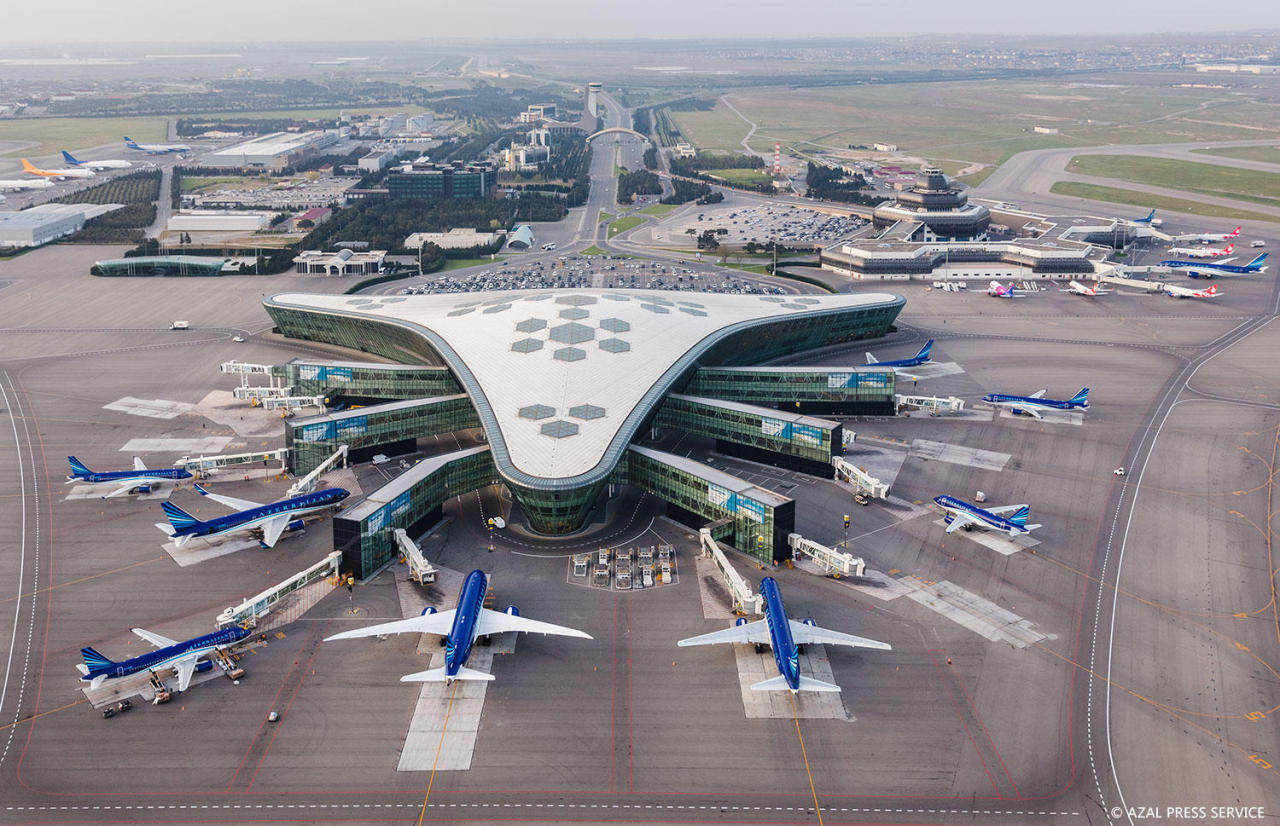 AW | 2018 11 03 17:24 | AIRPORTS
El Aeropuerto Internacional Heydar Aliyev de la capital de Azerbaiyán ha sido incluido entre los tres aeropuertos más singulares del mundo
El principal aeropuerto de Azerbaiyán, Aeropuerto Heydar Aliyev, que es uno de los más grandes de la CEI, debido a su forma inusual, se compara a menudo con un ave con las alas extendidas, le ha sido otorgado como el tercer aeropuerto más singular del mundo según Hi-Tech Mail.ru. En mayo 2018, los premios Skytrax World Airport Awards honraron al aeropuerto con cinco estrellas de prestigio. Todas las cosas pequeñas y agradables crean comodidad. Además de los estantes para recargar a través de USB y tomas, máquinas expendedoras de bebidas y medicamentos, hay cabinas para dormir con una cama plegable en el interior.
Las innovaciones científicas y técnicas disponibles se han aplicado en la creación del aeropuerto. Por ejemplo, se emplean puentes telescópicos fuera del edificio, que pueden servir a doce aviones al mismo tiempo. El Aeropuerto Changi de Singapur ocupó el primer lugar en la clasificación, y el segundo lugar lo ocupó el Aeropuerto UAE de Dubai.  
The unique Heydar Aliyev Airport
Heydar Aliyev International Airport in the capital of Azerbaijan has been included among the three most unique airports in the world
The main airport of Azerbaijan, Heydar Aliyev Airport, which is one of the largest in the CIS, due to its unusual shape, is often compared to a bird with outstretched wings, it has been awarded as the third most unique airport in the world according to Hi- Tech Mail.ru. In May 2018, the Skytrax World Airport Awards honored the airport with five prestigious stars. All small and nice things create comfort. In addition to the shelves for recharging via USB and sockets, vending machines for drinks and medicines, there are sleeping cabins with a folding bed inside.
The scientific and technical innovations available have been applied in the creation of the airport. For example, telescopic bridges are used outside the building, which can serve twelve aircraft at the same time. Singapore's Changi Airport was first in the standings, and Dubai UAE Airport occupied the second place. A \ W
Ξ A I R G W A Y S Ξ
SOURCE: Airgways.com
DBk: Hi-Tech Mail.ru / Azal.az
AW-POST: 201811031724AR
A\W   A I R G W A Y S ®