AW | 2018 11 28 14:41 | AIRLINES
Flybondi Lineas Aéreas está en sintonía con el ajuste del Estado Argentino
Flybondi Líneas Aéreas ha lanzado una campaña publicitaria hacia la elite política de Argentina para que los diputados y senadores vuelen por la compañía con pasajes ultra low cost con el propósito del ahorro nacional. La nueva apertura aérea está generando cambios en los consumidores argentinos y en la clase dirigente. Con el arribo de empresas aéreas low cost/low fare estos cambios se profundizan y generan una mayor competitividad en el mercado de Argentina.
A diferencia con Brasil, un país con mayor dinamismo y mercado, Gol Linhas Aéreas y Azul Linhas Aéreas compiten fuertemente en el segmento low cost, siendo las aerolíneas de mayor envergadura. En el caso de Argentina las principales líneas aéreas de bajo costo como Flybondi Líneas Aéreas y Norwegian Air Argentina recién están adquiriendo protagonismo frente a la hegemonía de Aerolíneas/Austral.
Política low cost
En ese marco de alta competencia que se está generando, Flybondi lanzó una campaña para proponer a los legisladores nacionales a que utilicen sus vuelos de ultra low cost, como se los denomina a los que ofrece tickets a precio de oferta. La propuesta se vincula con la situación de ajuste que atraviesa la Argentina y se incorpora al área política proponiendo un cupo anual de 20 pasajes aéreos por mes, que la mayoría usa a través de la aerolínea de bandera, Aerolíneas Argentinas/Austral Líneas Aéreas a un costo mayor.
Flybondi ha aprovechado el contexto de crisis económica para tomar la iniciativa de proponer a los políticos a reducir los gastos de transporte utilizando los pasajes ultra low cost de la aerolínea. La campaña integral incluyó una activación en vía pública en la que una cartelera móvil recorrió las inmediaciones del Congreso de la Nación proyectando los costos de los pasajes a las distintas provincias argentinas y lo que se ahorraría en cada caso. Además, mediante una carta, convocó a todos los legisladores, de todos los signos políticos, a sumarse al proyecto a través de las redes: "Al país le cuesta mucho que los legisladores viajen como lo vienen haciendo hasta ahora. Pero nunca se propuso hacer algo diferente. Por este motivo es que los queremos invitar a volar con nuestra aerolínea cada vez que necesiten ir a cualquiera de nuestros destinos y de esa manera gastar mucho menos".
La nueva campaña publicitaria de Flybondi inicia una etapa que deberá hacer frente a Aerolíneas Argentinas y Austral Líneas Aéreas que dominan el mercado aéreo y donde existe el compromiso lógico del Estado Argentino para que los representantes del pueblo viajen en la aerolínea de bandera, la que es sostenida con los impuestos que pagan los argentinos, donde llega a destinos que no brinda otra aerolínea.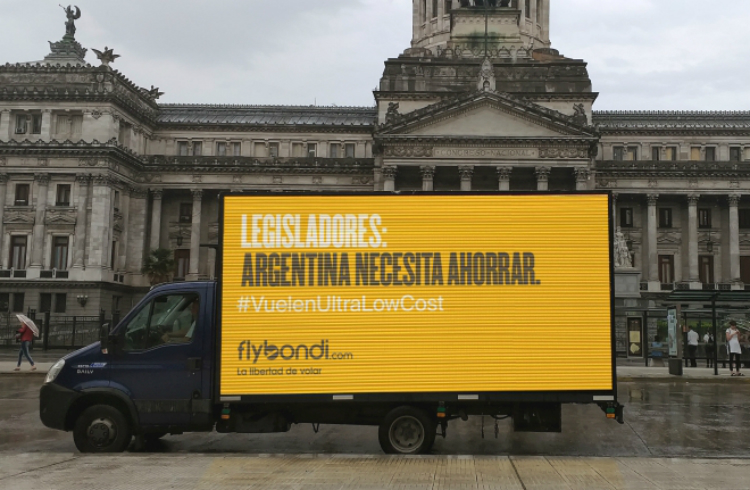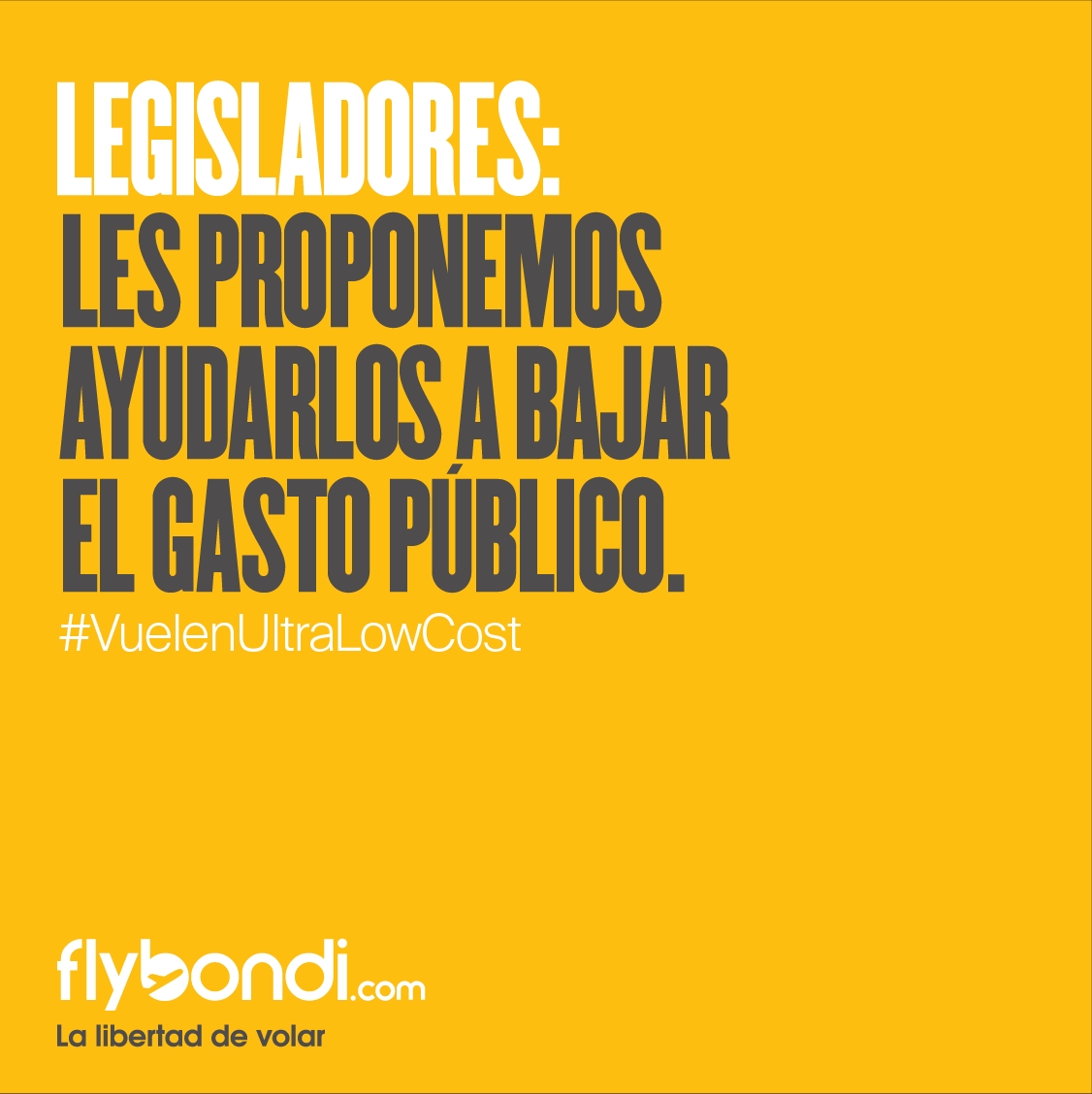 Flybondi, low cost for politics
Flybondi Lineas Aéreas is in tune with the adjustment of the Argentine State
Flybondi Líneas Aéreas has launched an advertising campaign for the political elite of Argentina for deputies and senators to fly through the company with ultra low cost tickets for the purpose of national savings. The new air opening is generating changes in the Argentine consumers and in the ruling class. With the arrival of low cost/low fare airlines, these changes deepen and generate greater competitiveness in the Argentine market.
Unlike Brazil, a country with greater dynamism and market, Gol Linhas Aéreas and Azul Linhas Aéreas compete strongly in the low cost segment, being the airlines of greater importance. In the case of Argentina, the main low-cost airlines such as Flybondi Líneas Aéreas and Norwegian Air Argentina are just gaining prominence before the hegemony of Aerolíneas/Austral.
Low cost policy
In this framework of high competition that is being generated, Flybondi launched a campaign to propose national legislators to use their ultra low cost flights, as they are called to those offering tickets at the offer price. The proposal is linked to the adjustment situation that Argentina is going through and is incorporated into the political area by proposing an annual quota of 20 air tickets per month, which most use through the flag carrier Aerolíneas Argentinas/Austral Líneas Aéreas to a higher cost
Flybondi has taken advantage of the context of economic crisis to take the initiative to propose to politicians to reduce transportation costs by using the ultra low cost tickets of the airline. The comprehensive campaign included an activation on public roads in which a mobile billboard toured the vicinity of the Congress of the Nation projecting the costs of the tickets to the different provinces of Argentina and what would be saved in each case. In addition, through a letter, called all legislators, of all political signs, to join the project through networks: «The country has a hard time legislators travel as they have done so far. But he never set out to do something different. For this reason, we want to invite them to fly with our airline whenever they need to go to any of our destinations and thus spend much less».
The new advertising campaign of Flybondi begins a stage that must face Aerolineas Argentinas and Austral Líneas Aéreas that dominate the air market and where there is the logical commitment of the Argentine State so that the representatives of the people travel in the flag airline, which is supported by the taxes paid by Argentines, where it arrives at destinations not offered by another airline. A\W
Ξ A I R G W A Y S Ξ
SOURCE: Airgways.com
DBk: Flybondi.com / Airgways.com
AW-POST: 201811281441AR
A\W   A I R G W A Y S ®