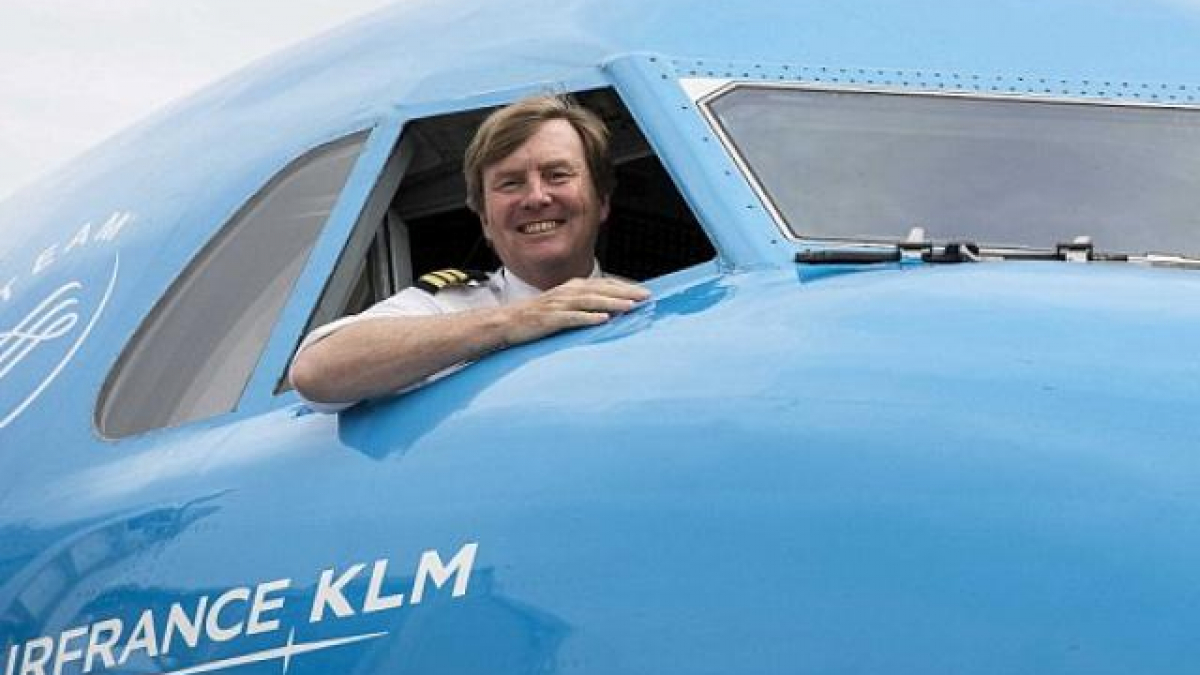 AW | 2018 11 29 17:43 | AIRLINES / GOVERNMENT
El rey Willem-Alexander voló un vuelo comercial de Amsterdam a Turquía
El sábado pasado, Su Majestad el Rey Willem Alexander voló un vuelo comercial desde Amsterdam a Estambul en Turquía. Su Majestad fue copiloto en un vuelo de KLM con un Boeing 737 que transportaba 131 pasajeros. El monarca holandés ha revelado previamente su gran afición e interés por volar.
Solo la tripulación fue informada sobre la presencia del rey antes del vuelo. Unos pocos pasajeros observadores en el frente reconocieron al rey, y se informó a los medios de comunicación cuando el avión aterrizó en Turquía.
"No todos los días eres pilotado por un rey. Será un recuerdo inolvidable para mí. Al principio, estaba un poco preocupado, sabiendo que él era un piloto a tiempo parcial. Sin embargo, fue un buen despegue y aterrizaje. Le escribí una carta, agradeciéndole y pidiendo una foto de dos de nosotros. Le entregué la carta a su guardaespaldas. Me comunicó que no quería que le tomen una fotografía y que quería que se le conociera como piloto, no como rey en un avión», dijo uno de los pasajeros a la prensa holandesa.
Al aterrizar, los pasajeros fueron informados de que el copiloto era el Rey de los Países Bajos. Algunos pasajeros expresaron conmoción. Muchos pasajeros dijeron que tenían el honor de haber sido volados por un rey. Wilma Elles, una actriz alemana conocida por sus papeles en los jabones turcos, dijo: «Un rey me trajo a Estambul». Fue en junio del año pasado cuando Su Majestad el Rey recibió permiso para volar un Boeing 737. En 2017 se informó que el Rey Willem-Alexander continuaría volando aviones Fokker 70 para KLM hasta 2019, esto ahora se ha demostrado incorrecto.
Fue a mediados de mayo de 2017 cuando se reveló que Su Majestad ha trabajado en secreto como piloto para KLM durante los últimos 21 años. El King voló dos veces al mes como copiloto en vuelos comerciales de KLM, mientras que los pasajeros no tenían idea de quién era el piloto. Se sabía públicamente que ocasionalmente volaba para mantenerse al día, pero nadie sabía cuánto volaba el rey.
«Me parece que volar es simplemente fantástico», dijo el rey a la prensa, y explicó que volar para él era una de las formas más grandes de relajarse. El Rey Willem-Alexander también pudo revelar que nunca usó su nombre cuando se dirigía a los pasajeros y rara vez se lo reconoció con su uniforme KLM.
FOKKER 70
King Holland pilots commercial flight on Boeing 737
King Willem-Alexander flew a commercial flight from Amsterdam to Turkey
Last Saturday, His Majesty King Willem Alexander flew a commercial flight from Amsterdam to Istanbul in Turkey. His Majesty was a co-pilot on a KLM flight with a Boeing 737 carrying 131 passengers. The Dutch monarch has previously revealed his great love and interest in flying.
Only the crew was informed about the presence of the king before the flight. A few observant passengers on the front recognized the king, and the media was reported when the plane landed in Turkey.
«Not every day you are piloted by a king. It will be an unforgettable memory for me. At first, I was a bit worried, knowing he was a part-time pilot. However, it was a good takeoff and landing. I wrote him a letter, thanking him and asking for a photo of two of us. I handed the letter to his bodyguard. He told me that he did not want to be photographed and wanted to be known as a pilot, not as a king on a plane», one of the passengers told the Dutch press.
Upon landing, passengers were informed that the co-pilot was the King of the Netherlands. Some passengers expressed commotion. Many passengers said they had the honor of having been flown by a king. Wilma Elles, a German actress known for her roles in Turkish soaps, said: «A king brought me to Istanbul». It was in June of last year when His Majesty the King received permission to fly a Boeing 737. In 2017 it was reported that King Willem-Alexander would continue flying Fokker 70 aircraft for KLM until 2019, this has now been proven incorrect.
It was mid-May 2017 when it was revealed that His Majesty has worked secretly as a pilot for KLM for the past 21 years. The King flew twice a month as a co-pilot on KLM commercial flights, while the passengers had no idea who the pilot was. It was publicly known that he occasionally flew to keep up, but no one knew how much the king was flying.
«I think flying is just fantastic», the king told reporters, and explained that flying for him was one of the greatest ways to relax. King Willem-Alexander could also reveal that he never used his name when addressing passengers and was rarely recognized in his KLM uniform. A\ W
King Holland loodst commerciële vlucht op Boeing 737
Koning Willem-Alexander vloog met een commerciële vlucht van Amsterdam naar Turkije
Afgelopen zaterdag vloog Zijne Majesteit Koning Willem Alexander een commerciële vlucht van Amsterdam naar Istanbul in Turkije. Zijne Majesteit was een co-piloot op een KLM-vlucht met een Boeing 737 met 131 passagiers. De Nederlandse monarch heeft eerder zijn grote liefde en interesse in vliegen geopenbaard.
Alleen de bemanning werd geïnformeerd over de aanwezigheid van de koning vóór de vlucht. Een paar oplettende passagiers aan het front herkenden de koning en de media werd gemeld toen het vliegtuig in Turkije landde.
,,Niet elke dag wordt je bestuurd door een koning. Het zal voor mij een onvergetelijke herinnering zijn. In het begin was ik een beetje ongerust, wetende dat hij een part-time piloot was. Het was echter een goede start en landing. Ik schreef hem een ​​brief, bedankte hem en vroeg om een ​​foto van twee van ons. Ik gaf de brief aan zijn lijfwacht. Hij vertelde me dat hij niet gefotografeerd wilde worden en bekend wilde staan ​​als piloot, niet als een koning in een vliegtuig», vertelde een van de passagiers aan de Nederlandse pers.
Bij de landing kregen de passagiers te horen dat de co-piloot de koning van Nederland was. Sommige passagiers uitten commotie. Veel passagiers zeiden dat ze de eer hadden door een koning te zijn ingevlogen. Wilma Elles, een Duitse actrice bekend om haar rollen in Turkse zepen, zei: ,,Een koning bracht me naar Istanbul». Het was in juni vorig jaar toen Zijne Majesteit de Koning toestemming kreeg om met een Boeing 737 te vliegen. In 2017 werd gemeld dat Koning Willem-Alexander tot 2019 Fokker 70-vliegtuigen zou blijven besturen voor de KLM, dit is nu bewezen onjuist.
Het was medio mei 2017 toen bekend werd dat Zijne Majesteit de afgelopen 21 jaar heimelijk heeft gewerkt als piloot voor KLM. De koning vloog twee keer per maand als co-piloot op commerciële KLM-vluchten, terwijl de passagiers geen idee hadden wie de piloot was. Het was publiekelijk bekend dat hij af en toe vloog om bij te blijven, maar niemand wist hoeveel de koning vloog.
,,Ik denk dat vliegen gewoon fantastisch is», vertelde de koning aan verslaggevers en legde uit dat vliegen voor hem een ​​van de beste manieren was om te ontspannen. Koning Willem-Alexander kon ook onthullen dat hij zijn naam nooit gebruikte bij het toespreken van passagiers en werd zelden herkend in zijn KLM-uniform. A \ W
Ξ A I R G W A Y S Ξ
SOURCE: Airgways.com
DBk: Frank Van Beek / Royalcentral.co.uk
AW-POST: 201811291743AR
A\W   A I R G W A Y S ®