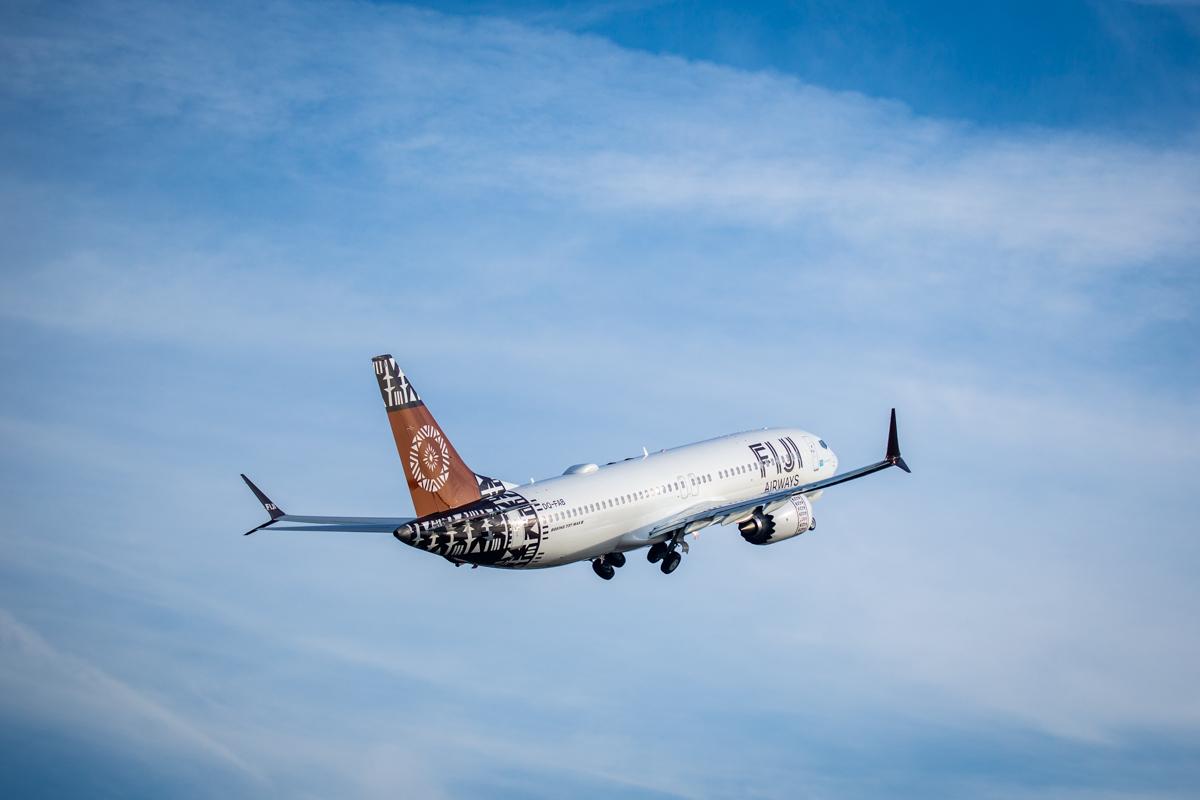 AW | 2018 12 01 05:22 | AIRLINES
Fiji airways comienza la modernización de la flota de aviones de pasillo único con el primero de cinco Boeing 737-8 MAX
Boeing entregó el primer Boeing 737-8 MAX para Fiji Airways, que planea usar la versión de mayor alcance de combustible del popular 737 jet para expandir y modernizar su Flota de un solo pasillo. Fiji Airways será la primera aerolínea en las islas del Pacífico en volar el 737 más eficiente en combustible.
«Estamos encantados de recibir nuestro primer 737 MAX 8, llamado Isla de Kadavu. La introducción del 737 MAX es el comienzo de un nuevo capítulo para Fiji Airways y esperamos aprovechar el rendimiento y la economía superior del avión. Estos nuevos aviones nos permitirán ofrecer una experiencia de clase mundial para el cliente a través del nuevo Boeing. Cabinas de Sky Interior con entretenimiento en el asiento para todos los huéspedes», dijo Andre Viljoen, Director Ejecutivo y Director Ejecutivo de Fiji Airways.
Fiji Airways planea recibir cinco aviones MAX 8, que se basarán en el éxito de su flota de Next-Generations 737. El MAX incorpora la última tecnología CFM International LEAP-1B, los winglets de tecnología avanzada y otras mejoras de fuselaje para mejorar el rendimiento y reducir los costos operativos. En comparación con el modelo 737 anterior, el MAX 8 puede volar 600 millas náuticas más lejos, a la vez que proporciona un 14% más de eficiencia de combustible. El MAX 8 puede acomodar hasta 178 pasajeros en una configuración estándar de dos clases y volar 3,550 millas náuticas (6,570 kilómetros).
«Estamos encantados de dar la bienvenida a Fiji Airways a la familia de operadores MAX y estamos encantados de que sean los primeros 737 operadores MAX en las Islas del Pacífico. Nos sentimos honrados por su continua colaboración y confianza en los productos de Boeing. La eficiencia líder del mercado del MAX pagará dividendos inmediatos para Fiji Airways y los ayudará a mejorar su operación y red de rutas», dijo Ihssane Mounir, vicepresidente senior de Ventas y Mercadeo Comercial de The Boeing Company.
Con base en el Aeropuerto Internacional de Nadi, Fiji Airways sirve a 13 países y 31 destinos/ciudades, incluyendo Fiji, Australia, Nueva Zelanda, Samoa, Tonga, Tuvalu, Kiribati, Vanuatu y las Islas Salomón (Oceanía), los Estados Unidos, Hong Kong, Japón y Singapur. También tiene una red extendida de 108 destinos internacionales a través de sus socios de código compartido.
Además de modernizar su flota, Fiji Airways utilizará los servicios globales de Boeing para mejorar sus operaciones. Estos servicios incluyen Airplane Health Management, que genera alertas de servicio predictivo en tiempo real, y Software Distribution Tools, que permite a las aerolíneas administrar de forma segura datos digitales basados ​​en tierra y administrar de manera eficiente las partes de software.
La familia 737 MAX es el avión más vendido en la historia de Boeing, acumulando alrededor de 4.800 pedidos de más de 100 clientes en todo el mundo. Boeing ha entregado más de 200 737 MAX desde Mayo 2017.
Fiji Airways receives 1st Boeing 737-8 MAX
Fiji airways begins the modernization of the single aisle aircraft fleet with the first of five Boeing 737-8 MAX
Boeing delivered the first Boeing 737-8 MAX to Fiji Airways, which plans to use the longer-range version of the popular 737 jet fuel to expand and modernize its single-aisle fleet. Fiji Airways will be the first airline in the Pacific Islands to fly the most fuel efficient 737.
«We are delighted to receive our first 737 MAX 8, called the Island of Kadavu, the introduction of the 737 MAX is the beginning of a new chapter for Fiji Airways and we hope to take advantage of the superior economy and performance of the aircraft. World class experience for the customer through the new Boeing.Interior Sky Cabins with in-seat entertainment for all guests», said Andre Viljoen, Executive Director and CEO of Fiji Airways.
Fiji Airways plans to receive five MAX 8 aircraft, which will build on the success of its Next-Generations 737 fleet. The MAX incorporates the latest CFM International LEAP-1B technology, advanced technology winglets and other fuselage improvements to improve performance. and reduce operating costs. Compared to the previous Model 737, the MAX 8 can fly 600 nautical miles farther, while providing 14% more fuel efficiency. The MAX 8 can accommodate up to 178 passengers in a standard two-class configuration and fly 3,550 nautical miles (6,570 kilometers).
«We are delighted to welcome Fiji Airways to the MAX family of operators and we are delighted that they are the first 737 MAX operators in the Pacific Islands, and we are honored for their continued collaboration and confidence in Boeing products. MAX's market leader will pay immediate dividends to Fiji Airways and help them improve their operation and route network», said Ihssane Mounir, Senior Vice President of Sales and Commercial Marketing at The Boeing Company.
Based at the Nadi International Airport, Fiji Airways serves 13 countries and 31 destinations/cities, including Fiji, Australia, New Zealand, Samoa, Tonga, Tuvalu, Kiribati, Vanuatu and the Solomon Islands (Oceania), the United States, Hong Kong, Japan and Singapore. It also has an extended network of 108 international destinations through its code-share partners.
In addition to modernizing its fleet, Fiji Airways will use Boeing's global services to improve its operations. These services include Airplane Health Management, which generates real-time predictive service alerts, and Software Distribution Tools, which allow airlines to securely manage land-based digital data and efficiently manage software parts.
The 737 MAX family is the most sold aircraft in the history of Boeing, accumulating around 4,800 orders from more than 100 customers worldwide. Boeing has delivered more than 200 737 MAX since May 2017. A \ W
Ξ A I R G W A Y S Ξ
SOURCE: Airgways.com
DBk: Boeing.com / Fijiairways.com
AW-POST: 201812010522AR
A\W   A I R G W A Y S ®