AW | 2018 12 15 16:15 | INDUSTRY
Boeing a finalizado acabado general del primer Boeing 737-8 MAX en la Planta del Centro Zhoushan, China
Boeing entrega primer Boeing 737-8 MAX a Air China que fue finalizado en el nuevo Centro de Finalización y Entrega 737, en Zhoushan, República de China. El nuevo centro de finalización de aviones de Boeing localizado en la Provincia de Zhejiang garantiza el suministro de aviones a China.
El Boeing y COMAC (Corporación de Aviones Comercial de China , Ltd.) entregaron hoy a Air China el primer avión Boeing 737-8 MAX que se completó en el nuevo Centro de finalización y entrega 737 en la Isla de Zhoushan. Esta entrega marca una nueva era en la asociación de Boeing con la industria de la aviación china.
La entrega del primer Boeing 737-8 MAX, que fue montado en Renton, Washington, Estados Unidos, y concluido en China, se produce 20 meses después del inicio de la construcción en un área de 404 mil metros cuadrados. El Centro de Finalización y Entrega para los Boeing 737 es la primera instalación de Boeing fuera de Estados Unidos. La instalación fue construida en asociación con los Gobiernos Provinciales de Zhejiang y Municipal de Zhoushan y se convertirá totalmente operativo a medida que la capacidad de la unidad se vaya expandiendo a lo largo del tiempo.
ROLLOUT, CEREMONIA  Y PRIMER VUELO DEL PRIMER BOEING 737 MAX EN ZHOUSHAN CHINA
Kevin McAllister, presidente y CEO de Boeing Commercial Airplanes, dijo: "Este momento significa nuestra creciente asociación con China, que se extiende ya a casi medio siglo, y por eso estamos orgullosos de nuestra larga relación con el gobierno chino, compañías aéreas y socios del sector y de la confianza que depositan en Boeing".
Los Boeing 737 MAXs para las compañías aéreas chinas serán transportados desde Seattle a Zhoushan, donde se realizan los trabajos de interior de los aviones. Estos trabajos van gradualmente a incluir la pintura. Una vez concluidos los trabajos de finalización, los aviones van al centro adyacente de entregas operado por Boeing para las actividades de aceptación del cliente y formalidades de entrega.
"Enhorabuena a Boeing por hacer la entrega del primer 737 MAX de Zhoushan. Este es un hito importante de los esfuerzos de Boeing en profundizar en China, así como al apoyar el crecimiento del país el sector de las compañías aéreas de China, abriendo una era de colaboración entre los dos fabricantes de aviones", dijo Zhao Yuerang, presidente de la COMAC.
La instalación está diseñada para soportar toda la familia de aviones Boeing 737 MAX, desde los de largo alcance MAX 7 hasta el MAX 10 de alta capacidad. Cerca de un tercio de todas las entregas de los 737 van a clientes chinos, la instalación de Zhoushan permitirá a los clientes de compañías aéreas chinas actualizar y expandir sus flotas con los aviones Boeing de un solo corredor tecnológicamente más avanzados hasta ahora.
China está en camino de convertirse en el mayor mercado de la aviación comercial del mundo. Boeing predice que China necesita 7.680 nuevos aviones por valor de 1,2 billones de dólares en los próximos 20 años. Boeing está desarrollando una alianza en China que es esencial para agregar capacidad y empleos aeroespaciales en Estados Unidos.
Boeing ha invertido $ 33 millones en 2017 por una participación mayoritaria en una empresa conjunta con la estatal COMAC (Commercial Aircraft Corp. de China) para construir el centro de la finalización de montaje.
Tensiones EEUU-China
Las tensiones entre las dos mayores economías del mundo Estados Unidos y China, están en medio de una contundente guerra arancelaria, han establecido un período de 90 días para negociar un acuerdo comercial. "Estoy nervioso con la situación, sí, por supuesto, es un ambiente desafiante", dijo John Bruns, Presidente de Boeing China.
Aunque los aranceles comerciales han perjudicado a empresas como los productores de soja de Estados Unidos y los fabricantes chinos, su impacto en Boeing aún no está claro. Las aeronaves fabricadas en Estados Unidos hasta ahora escaparon de las tarifas de Pekín. Boeing planea lograr el objetivo de la entrega de 100 aviones al año en Zhoushan, aunque Bruns ha reflexionado sobre la rapidez va a llegar a ese nivel y no tiene un plan para ampliar el trabajo a otros tipos de aeronaves. Boeing también espera aumentar la producción en la factoría de Seattle, Estados Unidos, en 2019 de la línea Boeing 737, la aeronave más vendida pero con problemas de producción.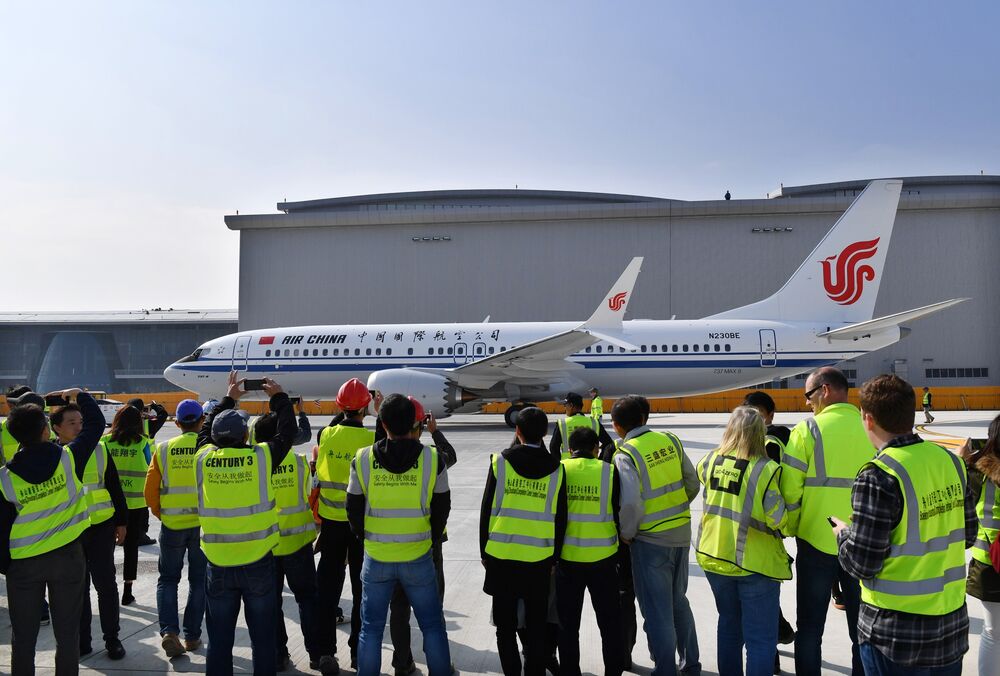 First Boeing 737 MAX concluded at Zhoushan Center

Boeing finished the general finish of the first Boeing 737-8 MAX at the Zhoushan Center Plant, China
Boeing delivers the first Boeing 737-8 MAX to Air China, which was finalized at the new 737 Completion and Delivery Center in Zhoushan, Republic of China. The new Boeing aircraft completion center located in Zhejiang Province guarantees the supply of aircraft to China.
The Boeing and COMAC (China Commercial Aircraft Corporation, Ltd.) today delivered to Air China the first Boeing 737-8 MAX aircraft that was completed in the new 737 completion and delivery center on Zhoushan Island. This delivery marks a new era in the Boeing partnership with the Chinese aviation industry.
El pase de diapositivas requiere JavaScript.
The delivery of the first Boeing 737-8 MAX, which was assembled in Renton, Washington, United States, and concluded in China, occurs 20 months after the start of construction in an area of ​​404 thousand square meters. The Completion and Delivery Center for the Boeing 737 is the first Boeing facility outside the United States. The facility was built in partnership with the Zhejiang Provincial and Zhoushan Municipal Governments and will become fully operational as the capacity of the unit expands over time.
Kevin McAllister, president and CEO of Boeing Commercial Airplanes, said: "This moment means our growing partnership with China, which is now almost half a century old, and that is why we are proud of our long relationship with the Chinese government, airlines and partners. of the sector and the confidence they place in Boeing".
The Boeing 737 MAXs for Chinese airlines will be transported from Seattle to Zhoushan, where the aircraft's interior works are carried out. These works gradually include painting. Once the completion works are completed, the aircraft go to the adjacent delivery center operated by Boeing for customer acceptance activities and delivery formalities.
"Congratulations to Boeing for making the delivery of the first 737 MAX of Zhoushan. This is an important milestone of Boeing's efforts to deepen China, as well as supporting the country's growth in China's airline industry, opening an era of collaboration between the two aircraft manufacturers", said Zhao Yuerang, president of COMAC.
The installation is designed to support the entire family of Boeing 737 MAX aircraft, from the long range MAX 7 to the high capacity MAX 10. Nearly a third of all 737 deliveries go to Chinese customers, the Zhoushan facility will allow Chinese airline customers to upgrade and expand their fleets with the technologically most advanced single-corridor Boeing aircraft so far.
China is on track to become the largest commercial aviation market in the world. Boeing predicts that China needs 7,680 new aircraft worth $ 1.2 trillion in the next 20 years. Boeing is developing an alilanza in China that is essential to add capacity and aerospace jobs in the United States.
Boeing has invested $ 33 million in 2017 for a majority stake in a joint venture with state-owned COMAC (Commercial Aircraft Corp. of China) to build the assembly completion center.
US-China tensions
Tensions between the two largest economies in the world United States and China, are in the midst of a strong tariff war, have established a period of 90 days to negotiate a trade agreement. "I'm nervous about the situation, yes, of course, it's a challenging environment", said John Bruns, President of Boeing China.
Although trade tariffs have hurt companies such as US soybean producers and Chinese manufacturers, their impact on Boeing is still unclear. The aircraft manufactured in the United States so far have escaped Beijing's tariffs. Boeing plans to achieve the goal of delivering 100 aircraft a year in Zhoushan, although Bruns has pondered how quickly he will reach that level and does not have a plan to expand the work to other types of aircraft. Boeing also expects to increase production at the Seattle, United States, factory in 2019 of the Boeing 737 line, the best-selling aircraft but with production problems. A \ W
首架波音737 MAX在舟山中心落成
波音公司在中国舟山中心工厂完成了首架波音737-8 MAX的整体表面处理
波音公司向中国国际航空公司交付首架波音737-8 MAX,并在中国中国舟山新建的737完工和交付中心完成。位于浙江省的新波音飞机完工中心保证向中国供应飞机。
波音和中国商飞今天(商用飞机有限责任公司的中国公司)交付给中国国航首架波音737-8飞机MAX这是在新中心完成了在舟山本岛竣工和交付737。此次交付标志着波音与中国航空业合作的新时代。
首架波音737-8 MAX,这是组装Renton,华盛顿,美国,以及中国缔结,交付建设的404万平方米面积开始20个月后发生。波音737的完工和交付中心是美国以外的第一家波音工厂。该设施是与浙江省和舟山市政府合作建设的,随着时间的推移,该设施的容量将逐步扩大。
凯文·麦卡利斯特,波音民用飞机集团总裁兼首席执行官,说:"这一刻标志着我们与中国不断发展的伙伴,拉伸和近半个世纪,我们是我们与中国政府,航空公司和合作伙伴长期的合作关系感到自豪该部门以及他们对波音的信心"。
中国航空公司的波音737 MAX将从西雅图运往舟山,在那里进行飞机内部工程。这些作品逐渐包括绘画。完成工程完成后,飞机将前往波音公司运营的相邻交付中心,以进行客户验收活动和交付手续。
"祝贺波音公司制造的第737 MAX舟山的交付。这是波音公司在探索中国以及在支持中国国内的经济增长板块航空公司的努力的一个重要里程碑,开启了一个时代两家飞机制造商之间的合作",中国商飞总裁赵跃进表示。
该装置旨在支持整个波音737 MAX飞机系列,从长距离MAX 7到高容量MAX 10。关于737个将中国客户的所有交付的三分之一,安装舟山让客户升级中国的航空公司扩大机队和波音飞机有一个技术先进到目前为止走廊。
中国有望成为世界上最大的商业航空市场。波音公司预测,未来20年中国需要7,680架新飞机,价值1.2万亿美元。波音公司正在中国开发一个对美国增加容量和航空航天工作至关重要的设备。
2017年,波音公司投资3300万美元,与国有企业COMAC(中国商用飞机公司)合资建立装配完工中心。
美中紧张局势
世界上两个最大的经济体之间的紧张局势美国和中国正处于强大的关税战之中,已经建立了90天的时间来谈判一项贸易协定。 "我对这种情况感到紧张,是的,当然,这是一个充满挑战的环境",波音中国总裁约翰布朗斯说。
虽然贸易关税伤害公司如豆农美国和中国的制造商,他们对波音公司的影响目前尚不清楚。到目前为止,在美国制造的飞机已经逃脱了北京的关税。波音公司计划实现交付舟山每年100架的目标,虽然布伦斯反映如何快速将达到这一水平,并有计划扩大工作,其他类型的飞机。波音公司还希望提高产量的工厂在美国西雅图,2019年波音737在线,最畅销的飞机,但生产问题。 A \ W
Ξ A I R G W A Y S Ξ
SOURCE: Airgways.com
DBk: Boeing.com / Khaleejtimes.com / Airgways.com / News.cn
AW-POST: 201812151615AR
A\W   A I R G W A Y S ®