AW | 2018 12 28 16:44 | INDUSTRY
El tercer prototipo del COMAC C919 de China completa el primer vuelo de prueba
Un tercer prototipo del COMAC C919 construido en China completó su primer vuelo de prueba el viernes, dijo su fabricante, en otro paso adelante en el esfuerzo de la nación para convertirse en un jugador mundial aeroespacial civil. El grupo chino COMAC ha volado el tercer prototipo de su cuerpo estrecho C919. Los competidores de Boeing 737 MAX y Airbus A320NEO están programados para registrarse en 2020 y se entregarán a los primeros clientes en 2021.
El C919 con la designación «Aircraft 103» y el registro B-001D se transferirán a Yanliang en la provincia de Xian en los próximos días, donde los otros dos prototipos ya están realizando sus vuelos de prueba. El tercer prototipo C919 se empleará para las pruebas de calibración del sensor de velocidad.
En un comunicado en su microblog oficial, Commercial Aircraft Corp de China Ltd (COMAC) dijo que el avión aterrizó de manera segura en el Aeropuerto Internacional de Shanghai Pudong a las 12:45 pm (0445 GMT), después de haber volado durante 1 hora y 38 minutos. El próximo avión volará a la ciudad de Xian en el centro de China para realizar más vuelos de prueba con un enfoque en el aleteo de los aviones y la calibración de la velocidad del aire, dijo la compañía. El segundo prototipo del jet C919 realizó su primer vuelo en Diciembre 2017, siete meses después del primer vuelo del primer C919.
Perspectivas
COMAC dijo que está ensamblando otros tres prototipos y que los seis serán programados para realizar pruebas de vuelo el próximo año 2019. El C919 tiene docenas de clientes que han realizado pedidos y compromisos para 815 jets. El objetivo de COMAC es obtener la certificación para el avión de los reguladores chinos para fines de 2020, así como el regulador de seguridad de la aviación de Europa, que acordó en Abril 2018 iniciar el proceso de certificación.
Mercado aéreo
El C919, que competirá con el Boeing 737 y el Airbus A320, es ampliamente considerado como un símbolo de la ambición civil aeroespacial de China y la política del Presidente Xi Jinping de mejorar las capacidades de fabricación.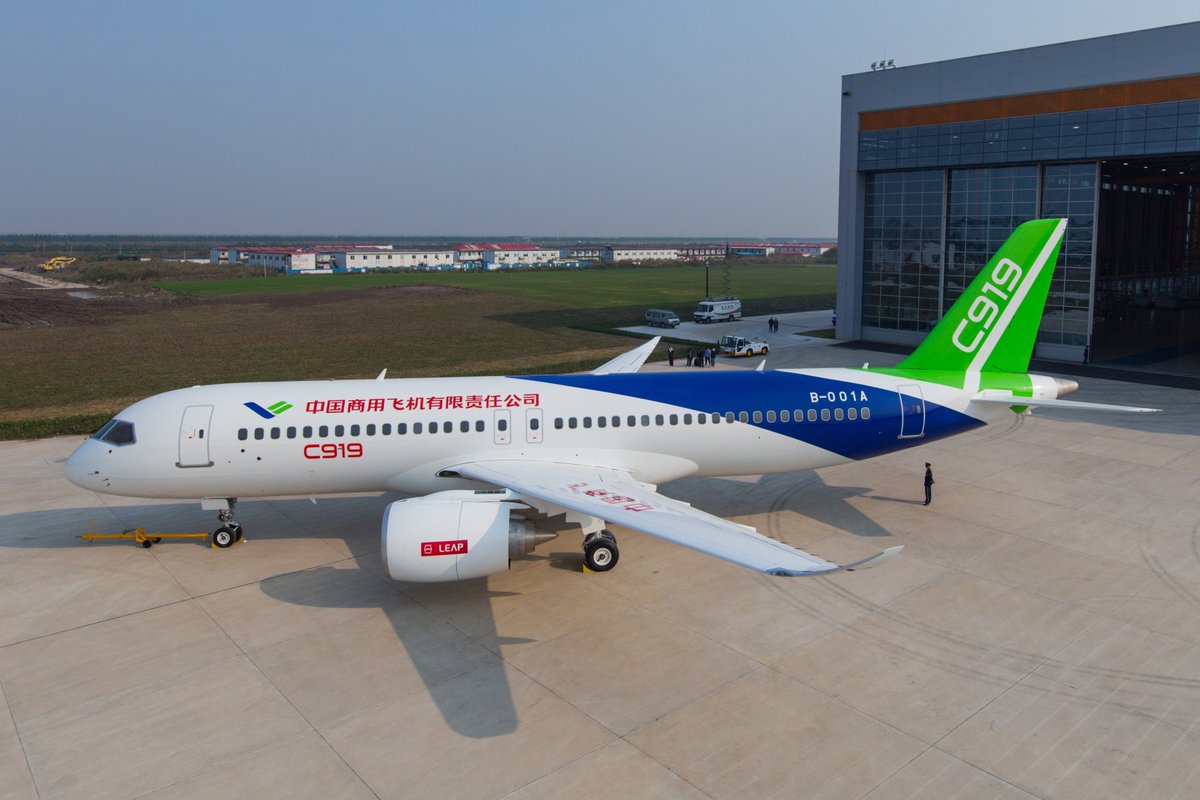 3rd C919 complete test tests
The third prototype of the COMAC C919 of China completes the first test flight
A third prototype of the COMAC C919 built in China completed its first test flight on Friday, its manufacturer said, in another step forward in the nation's effort to become a global civil aerospace player. The Chinese group COMAC has flown the third prototype of its narrow body C919. The competitors of the Boeing 737 MAX and Airbus A320neo are scheduled to register in 2020 and will be delivered to the first customers in 2021.
The C919 with the designation «Aircraft 103» and the registration B-001D will be transferred to Yanliang in the province of Xian in the coming days, where the other two prototypes are already carrying out their test flights. The third prototype C919 will be used for the calibration tests of the speed sensor.
In a statement on its official microblog, Commercial Aircraft Corp of China Ltd (COMAC) said the plane landed safely at Shanghai Pudong International Airport at 12:45 p.m. (0445 GMT), after having flown for 1 hour and 38 minutes. The next plane will fly to the city of Xian in central China to conduct more test flights with a focus on aircraft flapping and air velocity calibration, the company said. The second prototype of the C919 jet made its first flight in December 2017, seven months after the first flight of the first C919.
Perspectives
COMAC said it is assembling three other prototypes and that the six will be scheduled to perform flight tests next year 2019. The C919 has dozens of customers who have placed orders and commitments for 815 jets. The goal of COMAC is to obtain the certification for the aircraft from Chinese regulators by the end of 2020, as well as the European aviation safety regulator, which agreed in April 2018 to begin the certification process.
Air market
The C919, which will compete with the Boeing 737 and the Airbus A320, is widely regarded as a symbol of China's civil aerospace ambition and President Xi Jinping's policy of improving manufacturing capabilities. A \ W
第3次C919完成測試
中國COMAC C919的第三個原型完成了第一次試飛
建在中國商飛C919的第三架原型機完成了上週五首次試飛,表示其生產廠家,在國家的努力又向前邁進了一步,成為一個全球性的民用航空。中國商飛中央組織已經駕駛其窄體C919的第三架原型機。競爭對手波音737 MAX和空客A320neo是定於2020年註冊,並在2021年交付給第一批客戶。
未來幾天,名為"飛機103"和B-001D登記的C919將被轉移到西安省的閻良,其他兩個原型機已在進行試飛。第三個原型C919將用於速度傳感器的校準測試。
在其官方微博發表聲明,中國有限公司(COMAC)的商用飛機公司說,飛機在上海浦東國際機場安全降落在下午12:45(格林威治時間0445),飛行1小時後和38分鐘。在下飛機將飛往中國中部城市西安為重點的飛機和校準空氣速度的擺動進行更多的試飛,該公司表示。C919噴氣式飛機的第二架原型飛機首飛 2017年12月,第一架C919首飛後7個月。
觀點
中國商飛表示,它正在組裝其他三個原型機,併計劃在明年2019年進行飛行試驗.C919有數十個客戶為815架噴氣式飛機下訂單和承諾。 COMAC的目標是到2020年底獲得中國監管機構的飛機認證,以及歐洲航空安全監管機構,該機構於2018年4月同意開始認證過程。
航空市場
C919將與波音737和空客A320競爭,被廣泛認為是中國民用航空雄心和習近平主席提高製造能力政策的象徵。A \ W
Ξ A I R G W A Y S Ξ
SOURCE: Airgways.com
DBk: Comac.cc / Scoopnest.com
AW-POST: 201812281644AR
A\W   A I R G W A Y S ®