AW | 2019 07 06 12:55 | AIRLINES ROUTES
Beijing Capital Airlines lanzará ruta Beijing-Xian-Lisboa
Beijing Capital Airlines estrenará vuelo Beijing—Xian—Lisboa a partir del 30 Agosto 2019. La aerolínea con sede en Beijing tendrá una frecuencia de tres vuelos semanales Miércoles/Viernes/Domingo. El vuelo de salida es programado del Aeropuerto Internacional de Pekín Capital (PEK) a las 06:30 hs con número de vuelo JD-429 para arribar al Aeropuerto Internacional de Lisboa (LIS) entre 19:45 hs. El retorno es con número de vuelo JD-430 partiendo a las 22:55 hs. y arribando a las 00:20 hs. dos días después previa escala en Xian (XIY).
La aerolínea china una vez lanzó un servicio directo entre Hangzhou y Lisboa con escala en Beijing en Julio 2017. Este fue el primer vuelo directo entre China y Portugal. Sin embargo, la aerolínea suspendió la ruta en Octubre 2018. Beijing Capital Airlines es una subsidiaria de Hainan Airlines. Desde Junio 2019, Beijing Capital Airlines opera varios vuelos entre China y Europa, incluyendo Qingdao-Londres Heathrow , Qingdao-Moscú, Hangzhou-Moscú y Hangzhou-Chengdu-Madrid, según el mapa de vuelo oficial de la aerolínea.
Beijing Capital new route to Lisbon
Beijing Capital Airlines will launch Beijing-Xian-Lisbon route
Beijing Capital Airlines will debut flight Beijing-Xian-Lisbon from August 30, 2019. The airline based in Beijing will have a frequency of three weekly flights Wednesday/Friday/Sunday. The departure flight is scheduled from Beijing Capital International Airport (PEK) at 06:30 hs with flight number JD-429 to arrive at Lisbon International Airport (LIS) between 7:45 p.m. The return is with flight number JD-430 departing at 22:55 hs. and arriving at 00:20 hs. two days after previous stopover in Xian (XIY).
The Chinese airline once launched a direct service between Hangzhou and Lisbon with a stopover in Beijing in July 2017. This was the first direct flight between China and Portugal. However, the airline suspended the route in October 2018. Beijing Capital Airlines is a subsidiary of Hainan Airlines. Since June 2019, Beijing Capital Airlines operates several flights between China and Europe, including Qingdao-London Heathrow, Qingdao-Moscow, Hangzhou-Moscow and Hangzhou-Chengdu-Madrid, according to the airline's official flight map. A \ W
北京首都到里斯本的新路線
北京首都航空將推出北京 – 西安 – 里斯本航線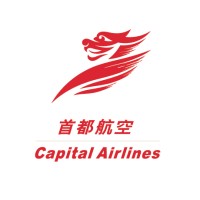 北京首都航空航班亮相北京 – 西安 – 里斯本,從2019年8月30日總部位於北京的航空公司將有三個航班頻率每週三/五/日。出站的航班在06:30下午航班號JD-429計劃的北京首都國際機場(PEK)在里斯本國際機場(LIS)19:45 HS之間抵達。返程航班號為JD-430,航班時間為22:55。到達00:20小時。在西安(XIY)上一次中途停留後兩天。
中國航空公司一經推出杭州和里斯本與北京站之間的直接服務於2017年七月這是中國和葡萄牙之間的第一次直航。但是,該航空公司於2018年10月暫停了該航線。北京首都航空是海南航空的子公司。自2019年6月北京首都航空運營中國和歐洲之間的幾個航班,其中包括倫敦的希思羅機場青島,青島 – 莫斯科,莫斯科和杭州 – 杭州 – 成都 – 馬德里,根據航空公司的航班的官方地圖。 A \ W
Ξ A I R G W A Y S Ξ
SOURCE: Airgways.com
DBk: Jdair.com / Businesstraveller.com / Wikimedia.org
AW-POST: 201907061255AR
A\W   A I R G W A Y S ®