AW | 2019 07 22 01:04 | AVIATION SAFETY
La EASA continúa evaluando la seguridad del Airbus A321NEO
La Agencia Europea de Seguridad Aérea (EASA) alertó este fin de semana a las aerolíneas operadoras del Airbus A321NEO sobre la posibilidad de una "inclinación excesiva" de nariz hacia arriba o abajo sobre el eje que corre de un ala a la otra en determinadas circunstancias. Airbus está introduciendo una revisión temporal de sus manuales de vuelo del nuevo modelo que evitarían que la aeronave alcance esas condiciones. El "tono excesivo" es el problema que afectó al 737 MAX y es lo que llevó a Boeing a instalar su Sistema MCAS en el prototipo.
Caso A321NEO
La semana pasada, el Airbus A321NEO fue objeto de una Directiva Aeronáutica (AD) emitida por la Agencia Europea de Seguridad Aérea (EASA), que tenía como objetivo advertir a los operadores sobre un posible riesgo de un cambio repentino en la incidencia. El análisis de los datos de vuelo de las computadoras A321NEO, incluidos los parámetros de la computadora del ascensor Aileron ELAC, reveló que podrían ocurrir variaciones significativas en la incidencia bajo condiciones de vuelo específicas claramente identificadas correspondientes a las fase final de aterrizaje. El centrado trasero de la aeronave o un control dinámico de los pilotos como un giro en los mínimos (nota: por debajo de 60 m de altura en relación con la zona de toma de contacto) podría inducir variaciones anormalmente altas de incidencia potencialmente propenso a los accidentes.
No hay similitud con el 737 MAX
A diferencia del Boeing 737 MAX, los pilotos podrían tomar el control inmediato de la aeronave A321NEO, ya que las automatizaciones definidas por Airbus no tienen prioridad en la acción humana. Por lo tanto, no hay peligro inmediato que requiera acciones correctivas fuertes, como la reanudación del entrenamiento o el cierre.
Airbus afirma que se ha lanzado una solución inmediata de mitigación de riesgos. Consiste principalmente en una limitación del centrado posterior del aparato. "Hasta la fecha, no hay necesidad de cambiar los procedimientos operativos y la capacitación. Los clientes han sido informados y estamos trabajando con ellos, la implementación de la directiva. En paralelo, estamos desarrollando un parche (nota: parche de software) que estará disponible en el tercer trimestre de 2020", dice el fabricante que trabajó con EASA.
Tanto el A321NEO como el A321LR tienen este problema específico. El A321NEO ha estado volando desde Mayo 2017 y nunca ha experimentado ningún incidente. Sin embargo, en vista de lo que está sucediendo con el Boeing 737 MAX, se realizaron pruebas exhaustivas para determinar si los fabricantes de aviones europeos podrían estar sujetos a problemas similares a los de su rival estadounidense, donde se han tomado principios de precaución al poner la flota 737 MAX en tierra.
Airbus expresa que las aeronaves en cuestión A321NEO/B737 MAX son de diseño totalmente diferente. La filosofía de conducción no es la misma y los problemas encontrados no tienen homología. Los pasajeros y la tripulación pueden volar con confianza en los aviones de Airbus.
Security examinations A321NEO
EASA continues to evaluate the safety of the Airbus A321NEO
The European Aviation Safety Agency (EASA) alerted the operating airlines of the Airbus A321NEO this weekend about the possibility of an "excessive inclination" of nose up or down the axis that runs from one wing to the other in certain circumstances. Airbus is introducing a temporary revision of its flight manuals of the new model that would prevent the aircraft from reaching those conditions. The "excessive tone" is the problem that affected the 737 MAX and is what led Boeing to install its MCAS System in the prototype.
Case A321NEO
Last week, the Airbus A321NEO was the subject of an Aeronautical Directive (AD) issued by the European Aviation Safety Agency (EASA), which aimed to warn operators about a possible risk of a sudden change in the incidence. The analysis of the flight data of the A321NEO computers, including the parameters of the Aileron ELAC elevator computer, revealed that significant variations in the incidence could occur under clearly identified specific flight conditions corresponding to the final landing phase. The rear centering of the aircraft or a dynamic control of the pilots as a turn in the minimum (note: below 60 m in height in relation to the touchdown zone) could induce abnormally high variations of incidence potentially prone to accidents
There is no similarity with the 737 MAX
Unlike the Boeing 737 MAX, pilots could take immediate control of the A321NEO aircraft, as the automations defined by Airbus have no priority in human action. Therefore, there is no immediate danger that requires strong corrective actions, such as resumption of training or closure.
Airbus says that an immediate risk mitigation solution has been launched. It consists mainly of a limitation of the posterior centering of the device. "To date, there is no need to change operational procedures and training, clients have been informed and we are working with them, the implementation of the directive, in parallel, we are developing a patch (note: software patch) that will be available in the third quarter of 2020", says the manufacturer who worked with EASA.
Both the A321NEO and the A321LR have this specific problem. The A321NEO has been flying since May 2017 and has never experienced any incident. However, in light of what is happening with the Boeing 737 MAX, extensive tests were conducted to determine whether European aircraft manufacturers could be subject to similar problems to their American rival, where precautionary principles have been taken the 737 MAX fleet on land.
Airbus states that the aircraft in question A321NEO/B737 MAX are totally different design. The driving philosophy is not the same and the problems encountered have no homology. Passengers and crew can fly with confidence in Airbus aircraft.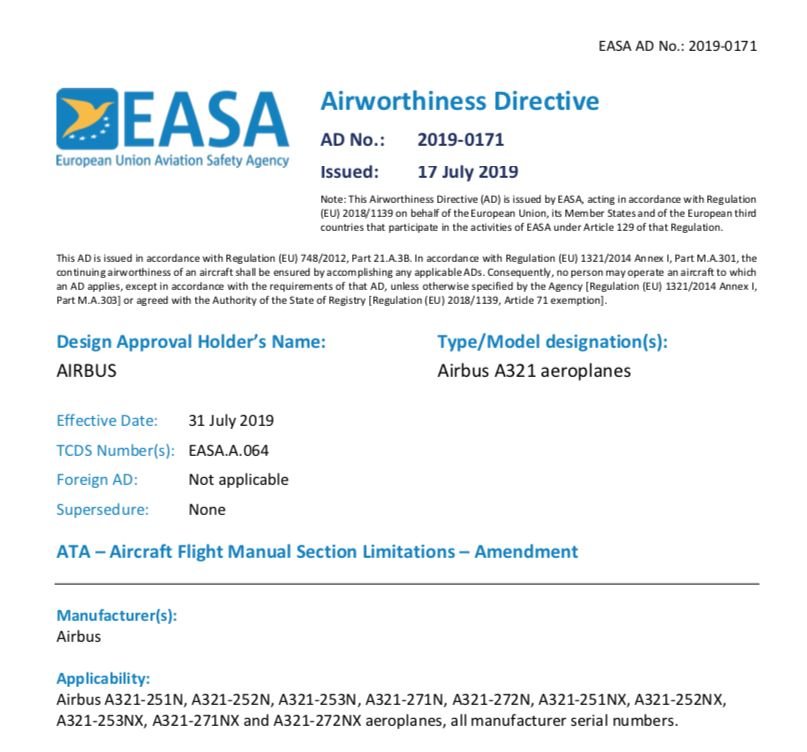 EASA analysis
The EASA has revealed that the revision follows the analysis of the elevator and the aileron computer of the redesigned type. The explanation of the situation has not been deepened, beyond stating that "excessive tilt" could occur under certain conditions and "during specific maneuvers". EASA warns that this could happen in a "reduced control" of the aircraft.
Airbus has issued temporary revisions to the aircraft flight manual that incorporates operational limitations. EASA has instructed A321NEO operators to modify their flight manuals accordingly, within 30 days after issuing the alert. In fact, the order will cover both the CFM International Leap-1A and the Pratt & Whitney PW1100G versions of the aircraft. Airbus has issued seven relevant temporary revisions to the flight manual, on June 21 and July 10. EASA says that the security measure is an interim action and could be followed by other requirements. A \ W
Ξ A I R G W A Y S Ξ
SOURCE: Airgways.com
DBk: Airbus.com / Easa.europa.eu / Airgways.com
AW-POST: 201907220104AR
A\W   A I R G W A Y S ®