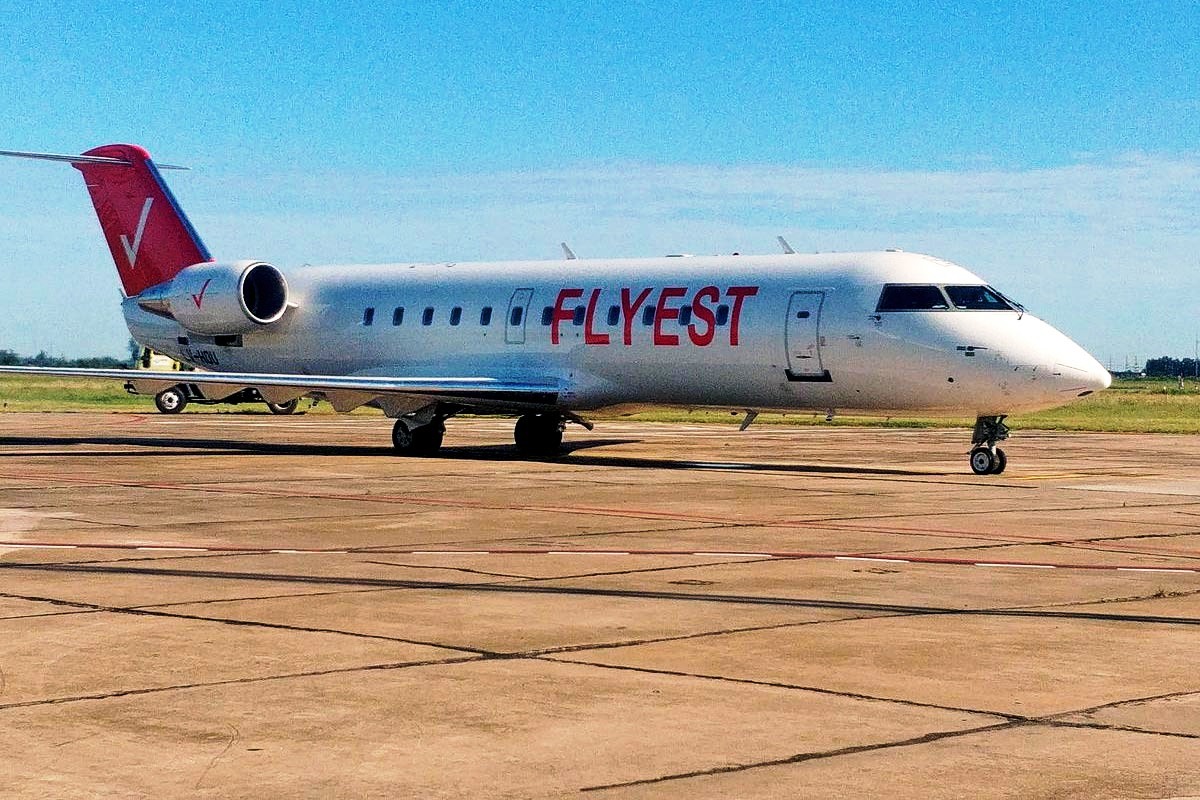 AW | 2019 08 07 21:14 | AIRLINES ROUTES
Flyest Líneas Aéreas inicia operaciones Buenos Aires—Santa Fe—Reconquista
La aerolínea regional Flyest Líneas Aéreas ha comenzado las operaciones regionales con la inauguración con el vuelo FQ-8648, la nueva ruta Buenos Aires/AEP—Santa Fe—Reconquista en la República Argentina. El Lunes 5 agosto 2019 arribó al Aeropuerto Reconquista/Teniente Daniel Jukic el primer vuelo regular de Flyest Líneas Aéreas proveniente de de Buenos Aires/AEP (Aeroparque), con escala en el Aeropuerto Metropolitano de Sauce Viejo. La aeronave aterrizó a las 20:15 hs, diez minutos antes de lo anunciado. La nueva aerolínea regional tendrá dos frecuencias semanales (2Fq/S). Los vuelos hacia Reconquista serán los Lunes/Jueves por la tarde, mientras que el retorno hacia Buenos Aires serán Martes/Viernes por la mañana.
Flyest Líneas Aéreas emplea para la nueva ruta asignada los Bombardier CRJ-200 para 50 pasajeros. Son aeronaves regionales jet que le suman un valor agregado a los servicios hacia el Norte de la Provincia de Santa Fe, después de la discontinuidad de las operaciones de la compañía Avianca Argentina con aeronaves turbohélice ATR 72-600. El vuelos proveniente de Buenos Aires pernocta en el Aeropuerto Reconquista para partir el día siguiente a primera hora hacia la Ciudad de Buenos Aires. La programación de los servicios Buenos Aires/AEP—Santa Fe—Reconquista son: Lunes/Jueves: Buenos Aires/AEP–Santa Fe 18:00–19:10 hs. Santa Fe—Reconquista 19:40–20:25 hs. Martes/Viernes: Reconquista—Santa Fe 07:00—07:45 hs. Santa Fe—Buenos Aires/AEP 08:15—09:25 hs.
El valor de los tickets aéreos del vuelo Reconquista—Buenos Aires va desde AR$ 3.990,00. Los pasajes se pueden comprar a través del sitio web www.flyest.aero. Quienes viven en la ciudad del norte, también lo pueden hacer en forma presencial en la sede de la Cámara de Comercio Exterior del Norte Santafesino, Belgrano 1025, o en el mostrador del Aeropuerto Metropolitano. Cabe aclarar que también se pueden adquirir tiques para realizar el tramo Sauce Viejo—Reconquista o Reconquista—Sauce Viejo.
Norte Santa Fe
La región del norte provincial habían quedado sin conexión aérea a finales de Febrero 2019, luego de que Avianca Argentina confirmara la decisión de dejar de operar la ruta directa Buenos Aires—Reconquista. Con el apoyo de la Secretaría de Transporte de la Provincia de Santa Fe, la Cámara de Comercio Exterior del Norte provincial comenzó a negociar con otras aerolíneas la posibilidad de recuperar la conexión. Después de meses de tratativas, se llegó a un acuerdo con Flyest, un operador aéreo argentino certificado y habilitado por la Administración Nacional de Aviación Civil de argentina (ANAC) para operar vuelos internacionales y domésticos para el transporte de pasajeros, carga y correo.
Las aeronaves jet Bombardier CRJ-200 con capacidad para 50 pasajeros están equipada con tecnología de última generación. Sus asientos, capacidad de bodega y equipaje de mano, son ideales para el traslado confortable de pasajeros, con servicio de catering variado, convirtiendo a este tipo de aviones idóneos para operaciones en un radio de 800—1.000 kilómetros.
Vuelo inaugural
En el primer vuelo, arribaron a la ciudad del norte santafesino el Gerente General de Flyest Líneas Aéreas, Jaime Cassola Gaytan, el Ministro de Infraestructura José Garibay y el Secretario de Transporte Pablo Jukic. La comitiva en Reconquista estaba conformada por el Intendente de la Ciudad de Reconquista, Enrique Vallejos, el Senador provincial por General Obligado, Orfilio Marcón, el Coordinador del Nodo Regional Norte, Raúl Medina, el Jefe de la III Brigada Aérea Comodoro Dario Quiroga, la Diputada provincial electa María Laura Corgnali y representantes de la Cámara de Comercio Exterior del Norte Santafesino.
Flyest starts ops Buenos Aires— Reconquista
Flyest Airlines starts operations Buenos Aires—Santa Fe—Reconquista
The regional airline Flyest Líneas Aéreas has begun regional operations with the inauguration with flight FQ-8648, the new route Buenos Aires/AEP—Santa Fe—Reconquista in Argentina Republic. On Monday, August 5, 2019, the first regular Flyest Airlines flight from Buenos Aires/AEP (Aeroparque) arrived at the Reconquista/Daniel Jukic Airport, with a stopover at the Sauce Viejo Metropolitan Airport. The aircraft landed at 8:15 p.m., ten minutes before the announcement. The new regional airline will have two weekly frequencies (2Fq/S). The flights to Reconquista will be Monday/Thursday in the afternoon, you mention that the return to Buenos Aires will be Tuesday/Friday in the morning.
Flyest Airlines uses the Bombardier CRJ-200 for 50 passengers for the new assigned route. They are regional jet aircraft that add value to the services to the North of the Province of Santa Fe, after the discontinuation of the operations of the Avianca Argentina company with turboprop aircraft ATR 72-600. The flights from Buenos Aires spend the night at the Reconquista Airport to depart the next day early to the City of Buenos Aires. The programming of the Buenos Aires/AEP—Santa Fe—Reconquista services are: Monday/Thursday: Buenos Aires/AEP–Santa Fe 18: 00–19: 10 hs. Santa Fe—Reconquista 19: 40—20: 25 hs. Tuesday/Friday: Reconquista—Santa Fe 07: 00—07: 45 hs. Santa Fe—Buenos Aires/AEP 08: 15—09: 25 hs.
The value of the Reconquista—Buenos Aires flight tickets goes from AR$ 3,990.00. Tickets can be purchased through the website www.flyest.aero. Those who live in the city of the north can also do so in person at the headquarters of the Chamber of Foreign Trade of North Santafesino, Belgrano 1025, or at the counter of the Metropolitan Airport. It should be clarified that tickets can also be purchased to make the section Sauce Viejo—Reconquista or Reconquista—Sauce Viejo.
North Santa Fe
The northern provincial region had no air connection at the end of February 2019, after Avianca Argentina confirmed the decision to stop operating the direct route Buenos Aires — Reconquista. With the support of the Ministry of Transportation of the Province of Santa Fe, the provincial Chamber of Foreign Trade of the North began to negotiate with other airlines the possibility of recovering the connection. After months of treatment, an agreement was reached with Flyest, an Argentine air operator certified and authorized by the National Civil Aviation Administration of Argentina (ANAC) to operate international and domestic flights for the transport of passengers, cargo and mail.
Bombardier CRJ-200 jet aircraft with capacity for 50 passengers are equipped with the latest technology. Its seats, storage capacity and carry-on luggage, are ideal for comfortable passenger transport, with varied catering service, making this type of aircraft suitable for operations within a radius of 800-1,000 kilometers.
Maiden flight
On the first flight, the General Manager of Flyest Airlines, Jaime Cassola Gaytan, the Infrastructure Minister José Garibay and the Secretary of Transportation Pablo Jukic arrived in the city of northern Santa Fe. The entourage in Reconquista was made up of the Mayor of the City of Reconquista, Enrique Vallejos, the provincial Senator for General Obligado, Orfilio Marcón, the Coordinator of the North Regional Node, Raúl Medina, the Head of the III Commodore Air Brigade Commodore Dario Quiroga, the Elected provincial deputy María Laura Corgnali and representatives of the Chamber of Foreign Trade of North Santafesino. A \ W
Ξ A I R G W A Y S Ξ
SOURCE: Airgways.com
DBk: Flyest.aero / Regionnet.com / Airgways.com
AW-POST: 201908072114AR
A\W   A I R G W A Y S ®