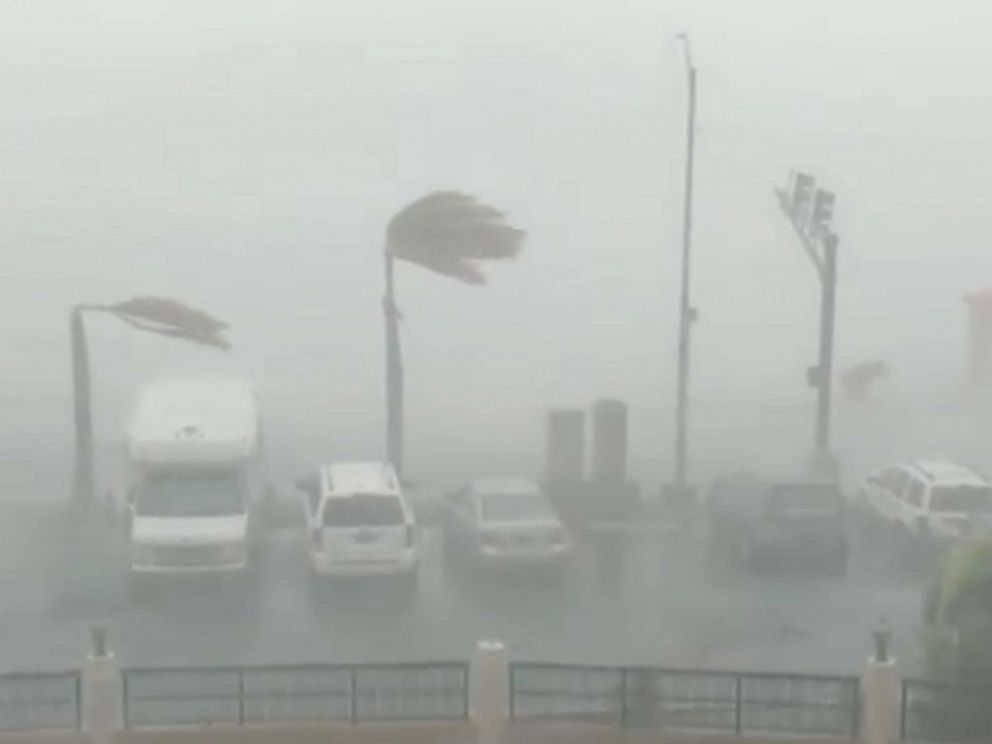 AW | 2019 08 28 22:03 | AVIATION SAFETY
La Tormenta Tropical Dorian se convertirse en huracán Categoría 1
La tormenta que amenaza al Caribe y costa sureste de los Estados Unidos se ha convertido en huracán Categoría 1 (Cat 1). El Huracán Dorian ahora se está moviendo hacia el Atlántico occidental y representa un peligro creciente para el sureste de los Estados Unidos, especialmente en el Estado de Florida, durante el fin de semana. El centro del Huracán Dorian está a unas 60 millas al norte-noroeste de San Juan, Estado de Puerto Rico, con vientos máximos sostenidos de 80 mph.
La tormenta se está moviendo actualmente hacia el noroeste a 13 mph (21 km/h) sobre las Islas Vírgenes de los Estados Unidos. Se espera que continúe en esa dirección durante los próximos días, avanzando sobre el Atlántico este de las Bahamas y posiblemente golpeando Florida. La velocidad sostenida del viento de Dorian es de 82 mph (132 km/h), lo que lo convierte en un huracán de Categoría 1. (Los huracanes de categoría 1 tienen velocidades de viento sostenidas de 74 a 95 mph, o 119 a 153 km/h).
Islas del Caribe
Las fuertes lluvias siguen azotando a St. Croix, St. John, St. Thomas y las Islas Vírgenes Británicas. Las bandas de lluvia externas también están empujando a Puerto Rico, según el radar Doppler del Servicio Meteorológico Nacional desde San Juan. Una estación meteorológica elevada al sur de St. Thomas informó un viento sostenido de 82 mph y una ráfaga de 111 mph el miércoles por la tarde, pero los vientos se están calmando en los territorios de los EE. UU.
Pronóstico del Caribe
El Huracán Dorian se está alejando de Puerto Rico y las Islas Vírgenes, y las condiciones están mejorando. Los vientos continuarán disminuyendo y las bandas de lluvia serán menos frecuentes. Se han cancelado las alertas y advertencias de huracanes y tormentas tropicales. Las inundaciones repentinas y los deslizamientos de lodo de las fuertes lluvias serán una amenaza significativa incluso después de que los vientos se calmen debido a la escorrentía.
Las Bahamas, sudeste de los Estados Unidos el pronóstico por ahora, se espera que el centro de Dorian siga hacia el este y el norte de las Islas Turcas y Caicos y el sureste de Bahamas, pero eso está sujeto a cambios.
Trayectoria Huracán Dorian
Se espera que el Huracán Dorian se desplace hacia el oeste-noroeste entre el Viernes y el Sábado. Exactamente cuándo y qué tan agudo se produce esa curva hacia la izquierda será crítico para determinar dónde golpea Dorian la costa este del Estado de Florida. El último pronóstico del Centro Nacional de Huracanes (NHC) tiene a Dorian amenazando al noroeste de Bahamas a principios de este fin de semana, y luego a partes de Florida más tarde durante el fin de semana. «Todo indica que para este fin de semana del Día del Trabajo, un poderoso huracán estará cerca o sobre la península de Florida», dijo el NHC en una discusión de pronóstico el Miércoles 28/08 por la tarde.
Entre las innumerables posibilidades de pistas hay una pista más al norte hacia la costa sureste de Georgia o una que atraviesa la península de Florida, luego emerge en el Golfo de México y amenaza partes de la costa norte del Golfo la próxima semana.
Es cada vez más probable que el Huracán Dorian se intensifique y crezca de tamaño a medida que avanza hacia el sureste de los Estados Unidos. Las proyecciones para el Huracán Dorian probablemente lleguen a Categoría 3 o más fuerte para ese momento.
Todos los intereses en las Bahamas, la costa norte del Golfo, Florida y la costa sureste deben tener listos sus planes de huracanes y monitorear de cerca el pronóstico de Dorian. Como mínimo, se espera que fuertes lluvias afecten el norte de Bahamas y Florida a principios de la próxima semana. Es probable que los impactos del viento y la marejada ciclónica a lo largo de este camino proyectado, pero simplemente sea demasiado pronto para precisar más detalles.
Dorian Hurricane | Day 28/08
Tropical Storm Dorian become a Category 1 hurricane
The storm that threatens the Caribbean and the southeastern coast of the United States has become a Category 1 hurricane (Cat 1). Hurricane Dorian is now moving towards the western Atlantic and represents a growing danger to the southeastern United States, especially in the State of Florida, over the weekend. The center of Hurricane Dorian is about 60 miles north-northwest of San Juan, Puerto Rico State, with maximum sustained winds of 80 mph.
The storm is currently moving northwest at 13 mph (21 km/h) over the U.S. Virgin Islands. It is expected to continue in that direction for the next few days, moving over the eastern Atlantic of the Bahamas and possibly hitting Florida. Dorian's sustained wind speed is 82 mph (132 km/h), which makes it a Category 1 hurricane. (Category 1 hurricanes have sustained wind speeds of 74 to 95 mph or 119 to 153 km/h).
Caribbean Islands
Heavy rains continue to plague St. Croix, St. John, St. Thomas and the British Virgin Islands. External rain bands are also pushing Puerto Rico, according to the Doppler radar of the National Meteorological Service from San Juan. An elevated weather station south of St. Thomas reported a sustained wind of 82 mph and a gust of 111 mph on Wednesday afternoon, but winds are calming in the US territories. UU.
Caribbean Forecast
Hurricane Dorian is moving away from Puerto Rico and the Virgin Islands, and conditions are improving. Winds will continue to decrease and rain bands will be less frequent. Alerts and warnings of hurricanes and tropical storms have been canceled. Flash floods and mudslides from heavy rains will be a significant threat even after the winds calm down due to runoff.
The Bahamas, southeastern United States forecast, for now, the center of Dorian is expected to continue east and north of the Turks and Caicos Islands and the southeast of the Bahamas, but that is subject to change.
Hurricane Dorian trajectory
Hurricane Dorian is expected to move west-northwest between Friday and Saturday. Exactly when and how sharp that curve to the left occurs will be critical in determining where Dorian hits the east coast of the State of Florida. The latest forecast from the National Hurricane Center (NHC) has Dorian threatening the northwest Bahamas earlier this weekend, and then to parts of Florida later this weekend. «Everything indicates that for this Labor Day weekend, a powerful hurricane will be near or over the Florida peninsula», the NHC said in a forecast discussion on Wednesday afternoon.
Among the countless possibilities of tracks there is a track further north towards the southeast coast of Georgia or one that crosses the Florida peninsula, then emerges in the Gulf of Mexico and threatens parts of the northern Gulf coast next week.
Hurricane Dorian is increasingly likely to intensify and grow in size as it moves toward the southeastern United States. Projections for Hurricane Dorian are likely to reach Category 3 or stronger by that time.
All interests in the Bahamas, the North Gulf Coast, Florida and the southeast coast should have their hurricane plans ready and closely monitor Dorian's forecast. At a minimum, heavy rains are expected to affect the northern Bahamas and Florida early next week. It is likely that the impacts of wind and storm surge along this projected path, but it is simply too early to specify more details. A \ W
Asesor Público del Huracán Dorian
000
WTNT35 KNHC 290005 CCA
TCPAT5

BOLETÍN
Huracán Dorian Número de aviso intermedio 18A ... corregido
NWS National Hurricane Center Miami FL AL052019
800 PM AST mié 28 ago 2019

Corregido de NO a NO de San Juan en la sección de resumen

... DORIAN SIGUE LEJOS DE PUERTO RICO Y LA VIRGEN
ISLAS ...


RESUMEN DE 800 PM AST ... 0000 UTC ... INFORMACIÓN
----------------------------------------------
UBICACIÓN ... 19.2N 65.7W
ACERCA DE 60 MI ... 95 KM NNE DE SAN JUAN PUERTO RICO
VIENTOS MÁXIMOS SOSTENIDOS ... 80 MPH ... 130 KM / H
MOVIMIENTO ACTUAL ... NO O 325 GRADOS A 13 MPH ... 20 KM / H
PRESIÓN CENTRAL MÍNIMA ... 990 MB ... 29.23 PULGADAS


RELOJES Y ADVERTENCIAS
--------------------
CAMBIOS CON ESTA ADVERTENCIA:

La advertencia de huracán para Vieques, Culebra y la Virgen de los EE. UU.
Islas ha sido descontinuado.

El gobierno de Antigua ha descontinuado la advertencia de huracán
para las Islas Vírgenes Británicas

La alerta de huracán y la advertencia de tormenta tropical para Puerto Rico tienen
ha sido descontinuado

RESUMEN DE RELOJES Y ADVERTENCIAS EN EFECTO:

No hay alertas costeras ni advertencias vigentes.


DISCUSIÓN Y PERSPECTIVAS
----------------------
A las 800 PM AST (0000 UTC), se localizó el ojo del huracán Dorian
por un avión de la Unidad de Reserva de la Fuerza Aérea Hurricane Hunter cerca de latitud
19.2 Norte, longitud 65.7 Oeste. Dorian se está moviendo hacia el
noroeste cerca de 13 mph (20 km / h), y se espera este movimiento general
para continuar hasta el viernes. En esta pista, Dorian debería moverse
el pozo del Atlántico al este del sureste y centro de Bahamas en
Jueves y viernes.

Los vientos máximos sostenidos son cerca de 80 mph (130 km / h) con mayor
ráfagas Se pronostica que Dorian se convertirá en un poderoso huracán
durante los próximos días sobre las aguas del Atlántico.

Los vientos huracanados se extienden hacia afuera hasta 15 millas (30 km) desde
el centro y los vientos con fuerza de tormenta tropical se extienden hacia afuera hasta 80
millas (130 km).

La presión central mínima estimada del huracán Hunter
las observaciones son 990 mb (29.23 pulgadas).


PELIGROS QUE AFECTAN LA TIERRA
----------------------
LLUVIA: Se espera que Dorian produzca la siguiente lluvia
acumulaciones:

Islas de Sotavento del Norte ... 1 a 3 pulgadas.
Centro y noroeste de Bahamas ... 2 a 4 pulgadas, aislado 6 pulgadas.
Secciones costeras del sudeste de los Estados Unidos ... 4 a 8 pulgadas,
aislado 10 pulgadas

Esta lluvia puede causar inundaciones repentinas que amenazan la vida.

SURF: Oleaje alrededor de las Islas Vírgenes de EE. UU. Y Gran Bretaña y
Puerto Rico debería disminuir gradualmente esta noche.


PRÓXIMA ADVERTENCIA
-------------
Siguiente aviso completo a las 11:00 PM AST.

$$
Pronosticador Pasch
Hurricane Dorian Public Advisory

000
WTNT35 KNHC 290005 CCA
TCPAT5

BULLETIN
Hurricane Dorian Intermediate Advisory Number 18A...Corrected
NWS National Hurricane Center Miami FL       AL052019
800 PM AST Wed Aug 28 2019

Corrected NNW to NNE of San Juan in summary section

...DORIAN CONTINUES TO MOVE AWAY FROM PUERTO RICO AND THE VIRGIN
ISLANDS...


SUMMARY OF 800 PM AST...0000 UTC...INFORMATION
----------------------------------------------
LOCATION...19.2N 65.7W
ABOUT 60 MI...95 KM NNE OF SAN JUAN PUERTO RICO
MAXIMUM SUSTAINED WINDS...80 MPH...130 KM/H
PRESENT MOVEMENT...NW OR 325 DEGREES AT 13 MPH...20 KM/H
MINIMUM CENTRAL PRESSURE...990 MB...29.23 INCHES


WATCHES AND WARNINGS
--------------------
CHANGES WITH THIS ADVISORY:

The Hurricane Warning for Vieques, Culebra, and the U.S. Virgin
Islands has been discontinued.

The government of Antigua has discontinued the Hurricane Warning
for the British Virgin Islands.

The Hurricane Watch and Tropical Storm Warning for Puerto Rico have
been discontinued.

SUMMARY OF WATCHES AND WARNINGS IN EFFECT:

There are no coastal watches or warnings in effect.


DISCUSSION AND OUTLOOK
----------------------
At 800 PM AST (0000 UTC), the eye of Hurricane Dorian was located
by an Air Force Reserve Unit Hurricane Hunter aircraft near latitude
19.2 North, longitude 65.7 West.  Dorian is moving toward the
northwest near 13 mph (20 km/h), and this general motion is expected
to continue through Friday.  On this track, Dorian should move over
the Atlantic well east of the southeastern and central Bahamas on
Thursday and Friday.

Maximum sustained winds are near 80 mph (130 km/h) with higher
gusts.  Dorian is forecast to strengthen into a powerful hurricane
during the next few days over the Atlantic waters.

Hurricane-force winds extend outward up to 15 miles (30 km) from
the center and tropical-storm-force winds extend outward up to 80
miles (130 km).

The minimum central pressure estimated from Hurricane Hunter
observations is 990 mb (29.23 inches).


HAZARDS AFFECTING LAND
----------------------
RAINFALL:  Dorian is expected to produce the following rainfall
accumulations:

Northern Leeward Islands...1 to 3 inches.
Central and northwestern Bahamas...2 to 4 inches, isolated 6 inches.
Coastal sections of the Southeast United States...4 to 8 inches,
isolated 10 inches.

This rainfall may cause life-threatening flash floods.

SURF:   Swells around the U.S. and British Virgin Islands and
Puerto Rico should gradually diminish tonight.


NEXT ADVISORY
-------------
Next complete advisory at 1100 PM AST.

$$
Forecaster Pasch
HURRICANE SAFETY CHECKLIST
https://www.redcross.org/content/dam/redcross/atg/PDF_s/Preparedness___Disaster_Recovery/Disaster_Preparedness/Hurricane/Hurricane.pdf
Ξ A I R G W A Y S Ξ
SOURCE: Airgways.com
DBk: Weather.com / Noaa.gov / Redcross.org / Abcnews.com / Heraldextra.com / Livescience.com
AW-POST: 201908282203AR
A\W   A I R G W A Y S ®