AW | 2019 08 16 18:53 | INDUSTRY
Airbus SE podría lanzar el A350-100ULR Ultra Long Range
Airbus SE posee planes de desarrollar una nueva versión del A350, considerando una versión de rango extendido de su nuevo A350-1000. La nueva versión Airbus A350-1000ULR (Ultra Long Range) propuesto por el constructor europeo podría competir con el Boeing 777X en sus versiones 777-8/777-9.
Airbus ha informado que está buscando ofrecer al mercado un rango extendido del A350-1000, denominado A350-1000ULR. La demanda de ultra larga distancia está llevando a la aviación a distancias ultra largas punto a punto. Las nuevas tecnologías compuestas y los aviones cada vez más eficientes, la distancia ultra larga se ha vuelto a poner de moda, donde tiempo atrás doce horas de vuelos representaban limitaciones y demostraban ser antieconómicas
El A350-1000ULR
El desarrollo del A350-1000ULR debería tener un alcance mayor sobre sus capacidades existentes de 8.700 nm del modelo básico. El A350-900ULR, que puede viajar 9.700 millas náuticas. La clave del éxito del 1000ULR será la capacidad de Airbus para aumentar el peso máximo de despegue del 1000. Las capacidades para transportar combustible adicional para llevar a cabo sus operaciones de ultra larga distancia tendrá equilibrarse con la cantidad pasajeros y equipaje.
Los detalles preliminares del nuevo Airbus A350-1000ULR son escasos, el desarrollo estaría enfocado para el mercado de ultra largo radio de acción en competencia directa con las nuevas versiones Boeing 777-8/9. Además estaría enfocado en parte del nicho dejado por el superjumbo A380 en cuanto a radio de acción y casi en un 80% en alcance de capacidades de pasajeros. La introducción de un A350-1000ULR puede fortalecer las ofertas competitivas del operador frente al 777X.
Desarrollo a futuro
Los retrasos del Boeing 777X podrían beneficiar a Airbus para acelerar el Programa A350-1000ULR de largo alcance. Airbus ha estado hablando durante algún tiempo sobre un nuevo avión para el rango ultralargo, que incluso debería superar el alcance del Airbus A350-900ULR anterior. El A350-900ULR puede recorrer casi 15.000 kilómetros sin detenerse. Sin embargo, Singapore Airlines, con el vuelo más largo del mundo entre Singapur y Nueva York, es el único operador de esta aeronave hasta la fecha. Sin embargo, las aerolíneas como Qantas y Qatar Airways también están muy interesadas en el rango ultra largo, pero las aerolíneas exigen un alcance aún mayor de los fabricantes de aviones para satisfacer sus necesidades de vuelos sin escalas extremadamente largos. Por ejemplo, Qantas ha estado utilizando vuelos directos desde Melbourne y Sydney a Londres y Nueva York bajo el nombre de «Proyecto Sunrise» durante bastante tiempo.
El anuncio oficial de Airbus para el concepto del A350-1000ULR es muy probable su lanzamiento. El A350-1000ULR debe cumplir con las expectativas de varias aerolíneas que busquen aeronaves con amplio rando de autonomía punto a punto sin escales. Mientras el constructor americano Boeing continúa ocupado con los problemas en la línea 737 MAX y los retrasos con las nuevas aeronaves 777-8/9, Airbus tiene en tanto mejor los cielos despejados buscando sacar ventaja para alcanzar más mercado en el mundo.

Airbus plans to launch A350-1000ULR
Airbus SE could launch the A350-100ULR Ultra Long Range
Airbus SE plans to develop a new version of the A350, considering a longer range version of its new A350-1000. The new version of the Airbus A350-1000ULR (Ultra Long Range), proposed by the European manufacturer, can compete with the Boeing 777X in the 777-8 / 777-9 versions.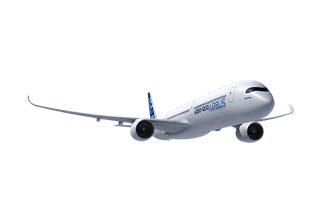 Airbus said it is looking to offer the market an extended range of the A350-1000, called the A350-1000ULR. Demand for ultra long distance is driving aviation over long distances, point to point. New composite technologies and increasingly efficient airplanes, ultra-long-haul became again fashionable, where twelve hours ago flights were constrained and uneconomical.
The A350-1000ULR
The development of the A350-1000ULR should extend beyond the existing 8,700 nm capabilities of the base model. The A350-900ULR, which can travel 9,700 nautical miles. Key to the success of the 1000ULR will be Airbus' ability to increase the maximum takeoff weight of the 1000UL. The ability to carry additional fuel to carry out its ultra-long haul operations will need to balance the number of passengers and luggage.
Preliminary details of the new Airbus A350-1000ULR are scarce, development would be focused on the ultra long range market in direct competition with the new versions of the Boeing 777-8/9. It would also be focused in part on the niche left by the A380 superjumbo in terms of range and nearly 80% in passenger capacity. The introduction of an A350-1000ULR can strengthen operator competitive offerings against the 777X.
Future development
The delays of the Boeing 777X could benefit Airbus to accelerate the long-range A350-1000ULR Program. Airbus has been talking for some time about a new aircraft for the ultra-long range, which should even exceed the reach of the previous Airbus A350-900ULR. The A350-900ULR can travel almost 15,000 kilometers without stopping. However, Singapore Airlines, with the longest flight in the world between Singapore and New York, is the only operator of this aircraft to date. However, airlines such as Qantas and Qatar Airways are also very interested in the ultra-long range, but airlines demand an even greater range of aircraft manufacturers to meet their extremely long nonstop flight needs. For example, Qantas has been using direct flights from Melbourne and Sydney to London and New York under the name of «Sunrise Project» for quite some time.
The official announcement of Airbus for the A350-1000ULR concept is very likely to be launched. The A350-1000ULR must meet the expectations of several airlines looking for aircraft with a wide range of point-to-point autonomy without stops. While the American constructor Boeing continues to be busy with the problems on the 737 MAX line and the delays with the new 777-8 / 9 aircraft, Airbus has the clear skies as much as it seeks to take advantage to reach more market in the world. A \ W
Ξ A I R G W A Y S Ξ
SOURCE: Airgways.com
DBk: Airbus.com / Airgways.com
AW-POST: 201908161853AR
A\W   A I R G W A Y S ®