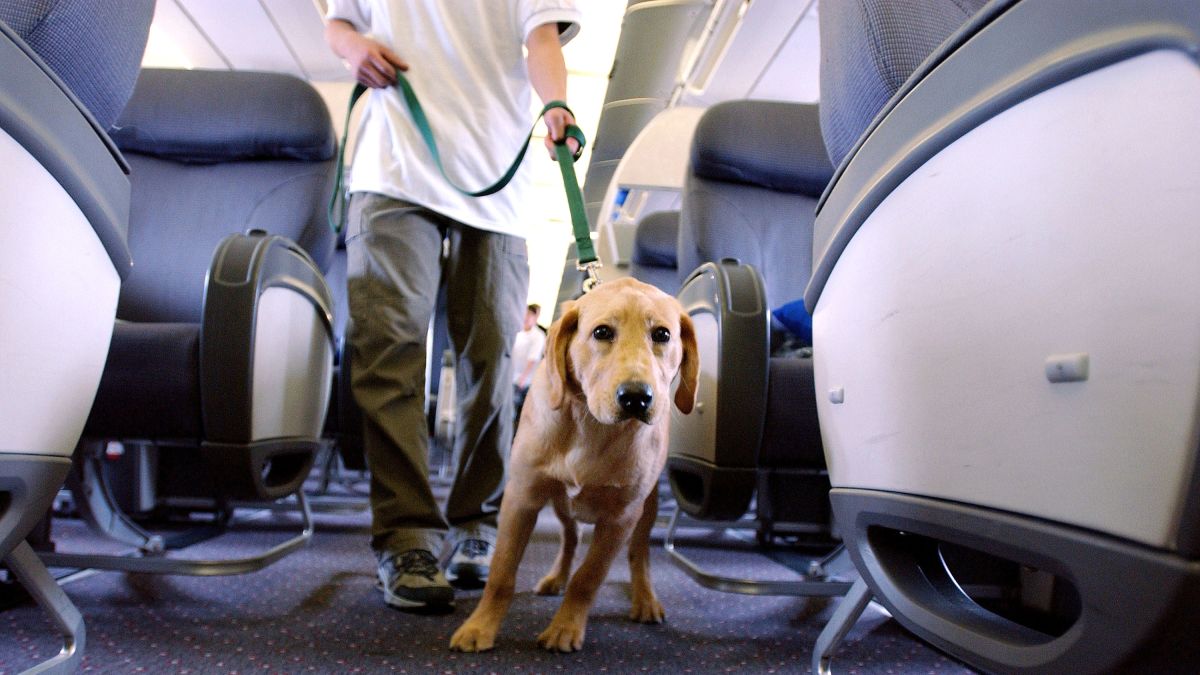 AW | 2019 08 10 14:40 | AIRLINES / AVIATION ORGANISMS / AVIATION SAFETY
DOT de Estados Unidos lanza nueva guía sobre animales de apoyo emocional
Los esfuerzos de las aerolíneas para tomar medidas enérgicas contra los viajeros que abusan de las Políticas de Animales de Apoyo Emocional (ESA) obtuvieron ayuda del gobierno federal el Jueves 8 Agosto 2019 después de que los funcionarios del Departamento de Transporte (DOT) de Estados unidos publicaron su declaración final sobre las prioridades de la ESA.
El DOT anunció que las aerolíneas no violan la ley federal de Estados Unidos si solicitan a los viajeros documentación relacionada con el entrenamiento o el comportamiento del animal, siempre y cuando "sea razonable creer que la documentación ayudaría a la aerolínea a determinar si un animal plantea una amenaza directa para la salud o la seguridad de los demás".
La industria de las aerolíneas aplaudió la decisión del DOT. "Con más de un millón de pasajeros trayendo ESA en vuelos el año pasado, las aerolíneas y los aeropuertos vieron un fuerte aumento en incidentes tales como morder y transportar animales no entrenados", dijeron en un comunicado los funcionarios de Airlines for America (A4A), una asociación comercial de aerolíneas.
En uno de los incidentes más recientes, una azafata de Envoy Air requirió cinco puntos hace dos semanas después de que un perro de apoyo emocional lo mordió durante un vuelo de American Airlines desde Dallas/Fort Worth a Piedmont Triad. La Asociación de Asistentes de Vuelo ha estado presionando al DOT para fortalecer los estándares de la ESA. "Hemos tenido un gran problema con demasiados animales en nuestros aviones. Hemos estado rogándole al DOT por esta guía y queremos ver aún más. Queremos ver esto como una regla clara para todos en la industria", dijo la presidenta de AFA, Sara Nelson, el Jueves.
Según el DOT, las aerolíneas seguirán estando sujetas a medidas de ejecución si prohíben razas específicas de perros a bordo de los vuelos. Están trabajando en un plan a más largo plazo para garantizar que "los perros como especie sean aceptados para el transporte", según el DOT. Esta guía parece ir en contra de una adición controvertida a la política de la ESA de Delta hace un año para prohibir los "perros tipo pit bull" como animales de servicio. "Delta revisa y mejora continuamente sus políticas y procedimientos para los animales a bordo como parte de su compromiso con la salud, la seguridad y la protección de los derechos de los clientes con discapacidades. En 2018, Delta aumentó sus políticas de servicio y apoyo a los animales para reforzar nuestro valor fundamental de poner la seguridad y las personas primero, siempre", dijeron los funcionarios de Delta en un comunicado.
Las aerolíneas tendrán un mes para cambiar las políticas que no cumplan con la orientación del DOT, pero los funcionarios del departamento no especificaron qué políticas de las aerolíneas tendrían que cambiar.
DOT new policies Animals Emotional Support
US DOT launches new guide on emotional support animals
The efforts of the airlines to take strong measures against travelers who abuse the Emotional Support Animal Policies (ESA) got help from the federal government on Thursday, August 8, 2019 after U.S. Department of Transportation (DOT) officials published their final statement on ESA priorities.
DOT announced that airlines do not violate U.S. federal law if they ask travelers for documentation related to animal training or behavior, as long as "it is reasonable to believe that the documentation would help the airline determine if an animal poses a direct threat to the health or safety of others".
The airline industry applauded the DOT decision. "With more than a million passengers bringing ESA on flights last year, airlines and airports saw a sharp increase in incidents such as biting and transporting untrained animals", Airlines for America (A4A) officials said in a statement. , an airline trade association.
In one of the most recent incidents, a flight attendant from Envoy Air required five points two weeks ago after an emotional support dog bit him during an American Airlines flight from Dallas/Fort Worth to Piedmont Triad. The Association of Flight Assistants has been pressing DOT to strengthen ESA standards. "We've had a big problem with too many animals on our planes. We've been begging DOT for this guide and we want to see even more. We want to see this as a clear rule for everyone in the industry", said AFA President Sara Nelson, Thursday.
According to the DOT, airlines will continue to be subject to enforcement measures if they prohibit specific breeds of dogs on board flights. They are working on a longer-term plan to ensure that "dogs as a species are accepted for transport", according to the DOT. This guide seems to go against a controversial addition to Delta's ESA policy a year ago to ban "pit bull dogs" as service animals. "Delta continuously reviews and improves its policies and procedures for animals on board as part of its commitment to the health, safety and protection of the rights of clients with disabilities. In 2018, Delta increased its service and support policies to animals to reinforce our fundamental value of putting safety and people first, always", Delta officials said in a statement.
Airlines will have a month to change policies that do not meet DOT guidance, but department officials did not specify which airline policies would have to change. A \ W
Ξ A I R G W A Y S Ξ
SOURCE: Airgways.com
DBk: Transportation.gov / Abcnews.go.com / Cnn.com / Cnbc.com
AW-POST: 201908101440AR
A\W   A I R G W A Y S ®