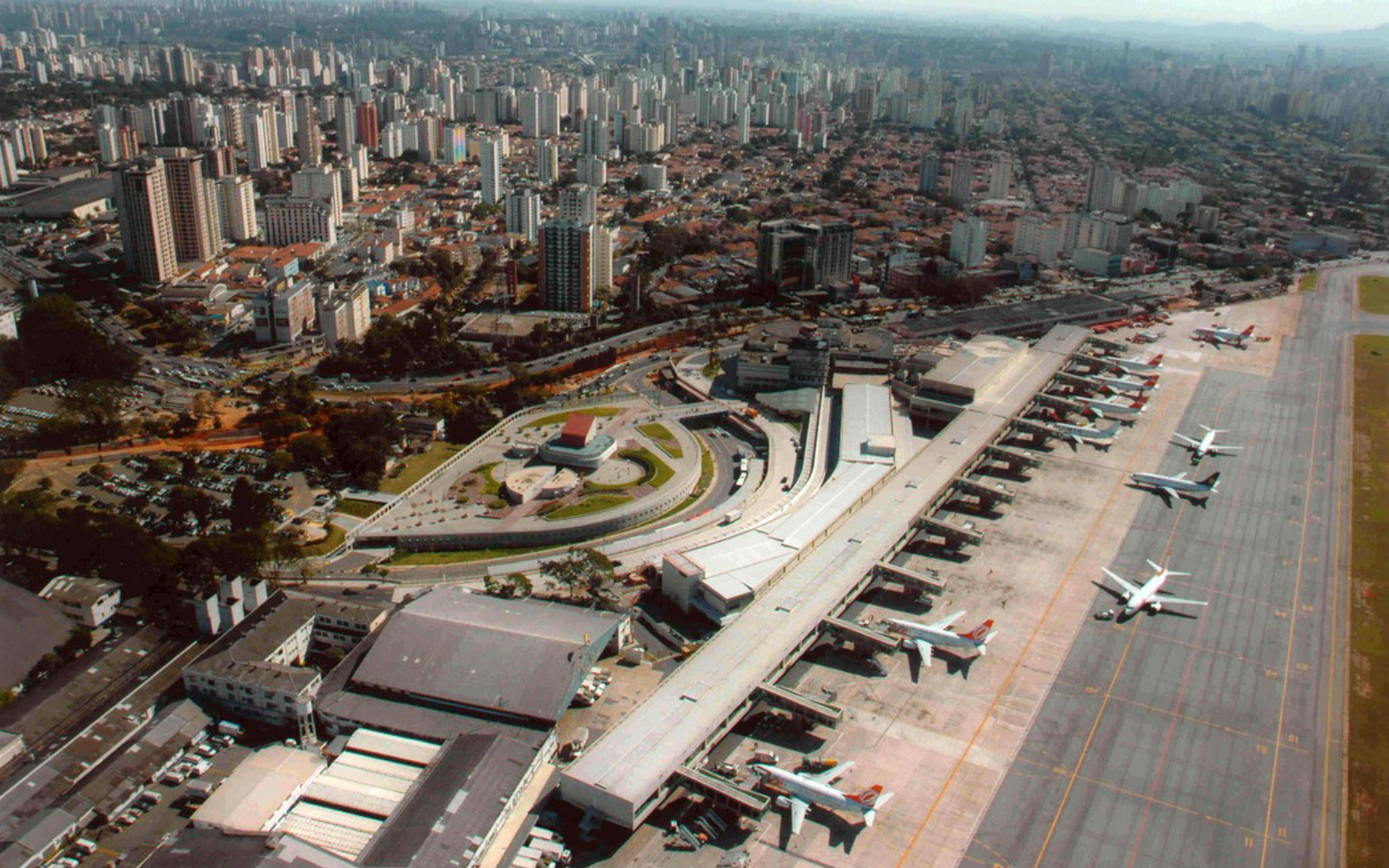 AW | 2019 08 13 16:53 | AIRLINES / AIRPORTS
Azul Linhas Aéreas intenta poseer los slots de Avianca ante ingreso de Passaredo y MAP en el Aeropuerto Congonhas
Azul Linhas Aéreas ha estado presionando a ANAC (Agencia Nacional de Aviación Civil) de Brasil para que trate de bloquear la entrada de las aerolíneas Passaredo Linhas Aéreas y MAP Linhas Aéreas en el Aeropuerto Congonhas, en São Paulo, para que obtengan los slots (franjas horarias) que dejó Avianca Brasil. Esta estrategia de Azul podría hacer heredar todos los horarios de Avianca.
Inicialmente, las líneas aéreas tenían hasta el Viernes 9 Agosto 2019 para presentar pruebas de los requisitos técnicos, pero el plazo se pospuso hasta hoy 13 Agosto 2019. La ANAC debe decidir entre hoy y mañana si prohibirá o no la operación de las dos compañías regionales en Congonhas.
Ops ATR 72 en Congonhas
Passaredo Linhas Aéreas y MAP Linhas aéreas han recibido 14 y 12 slots respectivamente de Avianca y tienen la intención de operar con aviones modelo ATR 72 turbopropulsores. Azul, que recibió 15 nuevas frecuencias (26 actualmente), afirma que el modelo de avión que los competidores quieren usar no tienen capacidad operativa y tienen pocos asientos. Azul incluso envió un estudio a ANAC que muestra que el avión no podría cumplir con ciertos requisitos operativos. La compañía dice que envió el estudio a pedido de ANAC, pero la agencia dijo que no solicitó el documento y que Azul lo envió por su cuenta. A pesar de la ofensiva contra las operaciones de aviones ATR 72-600 en Congonhas, la propio Azul ya ha operado en el aeropuerto de Sao Paulo con el turbohélice ATR 72. "Eso fue temprano en las operaciones en Congonhas sobre los fines de semana, cuando el impacto era más pequeño", dijo Marcelo Bento, Director de Relaciones Institucionales en Azul Linhas Aéreas.
Sugerencia en plataforma
El Presidente de Azul, John Rodgerson, negó que la compañía quiera evitar que Passaredo y MAP ingresen al Aeropuerto de Congonhas. Según él, Azul solo defiende que las dos compañías operan en la vía auxiliar. En la práctica, esto significa que las dos compañías no usarían los slots dejados por Avianca, dejando espacio para que Azul tenga más vuelos en Congonhas. "No tenemos miedo de MAP y Passaredo. Queremos que operen en Congonhas, pero queremos que operen en la plataforma para hacer un mejor uso de los activos de los slots. Si van a la pista, habrá más vuelos, y eso es bueno para el consumidor", dijo él.
Asignar a Passaredo y MAP vuelos para operaciones en plataforma auxiliar podría socavar el potencial crecimiento futuro de las compañías. Las operaciones en pista auxiliar no podrían crear una garantía de espacio y no podrían operar un avión más grande en el futuro, como Boeing o Airbus. Incluso antes del anuncio de la distribución de slots por parte de ANAC, Azul ya criticaba la posibilidad de que otras compañías más pequeñas obtengan espacio en Congonhas.
La compañía Azul cree que abrir el aeropuerto de la capital del estado a una serie de nuevos participantes aumenta el número de compañías presentes en Congonhas, pero no intensifica la competencia. Operar en los slots en Congonhas con aviones más pequeños y, en consecuencia, con pocos asientos, representa un uso ineficiente de estos valiosos recursos públicos, evitando que cualquier nuevo competidor ingrese efectivamente al puente aéreo Congonhas-Rio y Congonhas-Brasilia.
Velocidad en la aproximación final
La semana pasada, Azul envió a ANAC Brasil un estudio diciendo que los aviones ATR 72-600 no podrían alcanzar la velocidad mínima de aproximación final de 120 nudos (222 km/h) requerida para operar en Congonhas de 07:00 a 09:00 hs. y 18:00 a 21:00 hs. Según una fuente que tuvo acceso al documento, el problema es que el estudio de Azul calcula la velocidad con el avión vacío, alrededor de 19 toneladas. En este caso, la velocidad de aproximación final sería de 110 nudos (204 km/h). Sin embargo, más de 22 toneladas, con pasajeros, carga y combustible adicional, la velocidad se elevaría a 121 nudos (224 km/h), cumpliendo los requisitos.
El Director de Relaciones Institucionales de Azul dijo que los estudios consideraron el peso máximo de aterrizaje de 22 toneladas y que la velocidad recomendada por ATR Aircraft es de 110 kt a 112 kt. Como la velocidad mínima se requiere en unas pocas horas, la mayoría de los vuelos solicitados por Passaredo y MAP no se verán afectados por esta restricción. Un estudio que habría realizado ATR señalaría que incluso con la diferencia de velocidad de 110 nudos a 120 nudos, el impacto del tiempo total en el enfoque final del avión es de nueve segundos. Por otro lado, el turbopropulsor logra salir de la pista después de aterrizar 20 segundos más rápido que el avión más grande.
La restricción de velocidad sería racionalizar el flujo del tráfico aéreo. Actualmente, Passaredo opera el ATR 72 en el aeropuerto de Guarulhos (SP), que está más ocupado que Congonhas. En este caso, Passaredo recibió una autorización especial de Anac para operar hasta 20 nudos (37 km/h) por encima de la velocidad estándar de aproximación final, siempre que cumpla con otros requisitos operativos.
Azul tries to get more slots in Congonhas
Azul Linhas Aéreas tries to own the Avianca slots before Passaredo and MAP enter Congonhas Airport
Azul Linhas Aéreas has been pressing ANAC (National Civil Aviation Agency) of Brazil to try to block the entry of Passaredo Linhas Aéreas and MAP Linhas Aéreas airlines at Congonhas Airport, in São Paulo, to obtain the slots timetables) that Avianca Brasil left. This Blue strategy could make inherit all Avianca schedules.
Initially, the airlines had until Friday, August 9, 2019 to present evidence of the technical requirements, but the deadline was postponed until today August 13, 2019. The ANAC must decide between today and tomorrow whether or not to prohibit the operation of the two regional companies in Congonhas.
Ops ATR 72 in Congonhas
Passaredo Linhas Aéreas and MAP Linhas Aéreas have received 14 and 12 slots respectively from Avianca and intend to operate with ATR 72 turboprop model airplanes. Azul, which received 15 new frequencies (26 currently), states that the aircraft model that competitors want to use do not have operational capacity and have few seats. Azul even sent a study to ANAC showing that the plane could not meet certain operational requirements. The company says it sent the study at the request of ANAC, but the agency said it did not request the document and that Azul sent it on its own. Despite the offensive against ATR 72-600 aircraft operations in Congonhas, Azul itself has already operated at the Sao Paulo airport with the ATR 72 turboprop. "That was early in Congonhas operations over weekends, when the impact was smaller", said Marcelo Bento, Director of Institutional Relations at Azul Linhas Aéreas.
AN ATR 72-600 OF THE MAP LINHAS AÉREAS
Platform Suggestion
The President of Azul, John Rodgerson, denied that the company wants to prevent Passaredo and MAP from entering Congonhas Airport. According to him, Azul only defends that the two companies operate on the auxiliary road. In practice, this means that the two companies would not use the slots left by Avianca, leaving room for Azul to have more flights in Congonhas. "We are not afraid of MAP and Passaredo. We want them to operate in Congonhas, but we want them to operate on the platform to make better use of the assets of the slots. If they go to the track, there will be more flights, and that is good for the consumer", he said.
Assigning Passaredo and MAP flights for operations in an auxiliary platform could undermine the potential future growth of companies. Auxiliary runway operations could not create a space guarantee and could not operate a larger aircraft in the future, such as Boeing or Airbus. Even before the announcement of the distribution of slots by ANAC, Azul already criticized the possibility that other smaller companies obtain space in Congonhas.
The Blue company believes that opening the airport of the state capital to a number of new participants increases the number of companies present in Congonhas, but does not intensify competition. Operating in slots in Congonhas with smaller airplanes and, consequently, with few seats, represents an inefficient use of these valuable public resources, preventing any new competitor from effectively entering the Congonhas-Rio and Congonhas-Brasilia airlift.
Speed ​​in final approach
Last week, Azul sent ANAC Brazil a study saying that ATR 72-600 planes could not reach the minimum final approach speed of 120 knots (222 km/h) required to operate in Congonhas from 07:00 to 09:00 hs. and 6:00 p.m. to 9:00 p.m. According to a source that had access to the document, the problem is that the study of Azul calculates the speed with the empty plane, about 19 tons. In this case, the final approach speed would be 110 knots (204 km/h). However, more than 22 tons, with passengers, cargo and additional fuel, the speed would rise to 121 knots (224 km/h), meeting the requirements.
The Director of Institutional Relations at Azul said the studies considered the maximum landing weight of 22 tons and that the speed recommended by ATR Aircraft is 110 kt to 112 kt. As the minimum speed is required in a few hours, most of the flights requested by Passaredo and MAP will not be affected by this restriction. A study that ATR would have carried out would indicate that even with the speed difference of 110 knots to 120 knots, the impact of total time on the final approach of the plane is nine seconds. On the other hand, the turboprop manages to get off the runway after landing 20 seconds faster than the larger plane.
The speed restriction would rationalize the flow of air traffic. Currently, Passaredo operates ATR 72 at Guarulhos Airport (SP), which is busier than Congonhas. In this case, Passaredo received a special authorization from Anac to operate up to 20 knots (37 km/h) above the standard final approach speed, provided it meets other operational requirements. A \ W
Azul tenta conseguir mais slots em Congonhas
A Azul Linhas Aéreas tenta possuir as vagas da Avianca antes de Passaredo e MAP entrarem no Aeroporto de Congonhas
A Azul Linhas Aéreas vem pressionando a ANAC (Agência Nacional de Aviação Civil) do Brasil para tentar impedir a entrada das companhias aéreas Passaredo Linhas Aéreas e MAP Linhas Aéreas no Aeroporto de Congonhas, em São Paulo, para obter as faixas horárias horários) que a Avianca Brasil saiu. Esta estratégia Blue poderia fazer herdar todos os horários da Avianca.
Inicialmente, as companhias aéreas tinham até sexta-feira, 9 de agosto de 2019 para apresentar provas dos requisitos técnicos, mas o prazo foi adiado até hoje 13 de agosto de 2019. A ANAC deve decidir entre hoje e amanhã se proíbe ou não a operação das duas empresas regionais em Congonhas.
Ops ATR 72 em Congonhas
A Passaredo Linhas Aéreas e a MAP Linhas Aéreas receberam, respectivamente, 14 e 12 vagas da Avianca e pretendem operar com aviões modelo ATR 72 turboélice. A Azul, que recebeu 15 novas frequências (26 atualmente), afirma que o modelo de aeronave que os concorrentes querem usar não tem capacidade operacional e tem poucos assentos. A Azul até enviou um estudo para a ANAC mostrando que o avião não poderia atender a certos requisitos operacionais. A empresa diz que enviou o estudo a pedido da ANAC, mas a agência disse que não solicitou o documento e que Azul o enviou por conta própria. Apesar da ofensiva contra as operações de aeronaves ATR 72-600 em Congonhas, a própria Azul já operou no aeroporto de São Paulo com o turboélice ATR 72. "Isso foi no início das operações de Congonhas nos finais de semana, quando o impacto foi menor", afirmou Marcelo Bento, Diretor de Relações Institucionais da Azul Linhas Aéreas.
Sugestão de plataforma
O Presidente da Azul, John Rodgerson, negou que a empresa queira impedir que Passaredo e MAP entrem no Aeroporto de Congonhas. Segundo ele, a Azul só defende que as duas empresas operem na estrada auxiliar. Na prática, isso significa que as duas empresas não usariam os slots deixadas pela Avianca, deixando espaço para a Azul ter mais vôos em Congonhas. "Não temos medo do MAP e do Passaredo. Queremos que eles operem em Congonhas, mas queremos que eles operem na plataforma para aproveitar melhor os ativos dos slots. Se eles forem para a pista, haverá mais voos, e isso é bom para o consumidor", disse ele.
Atribuir os voos Passaredo e MAP para operações em uma plataforma auxiliar poderia prejudicar o potencial crescimento futuro das empresas. As operações de pista auxiliar não poderiam criar uma garantia de espaço e não poderiam operar uma aeronave maior no futuro, como a Boeing ou a Airbus. Mesmo antes do anúncio da distribuição de slots pela ANAC, a Azul já criticava a possibilidade de outras empresas menores obterem espaço em Congonhas.
A empresa Azul acredita que a abertura do aeroporto da capital do estado para uma série de novos participantes aumenta o número de empresas presentes em Congonhas, mas não intensifica a concorrência. Operar em slots em Congonhas com aviões menores e, consequentemente, com poucas poltronas, representa um uso ineficiente desses valiosos recursos públicos, impedindo que qualquer novo concorrente entre efetivamente no transporte aéreo de Congonhas-Rio e Congonhas-Brasília.
Velocidade na aproximação final
Na semana passada, a Azul enviou à ANAC Brasil um estudo dizendo que os aviões ATR 72-600 não poderiam atingir a velocidade de aproximação final mínima de 120 nós (222 km/h) necessária para operar em Congonhas das 07:00 às 09:00 hs. e das 18:00 às 21:00 hs. Segundo uma fonte que teve acesso ao documento, o problema é que o estudo da Azul calcula a velocidade com o avião vazio, cerca de 19 toneladas. Neste caso, a velocidade final de aproximação seria de 110 nós (204 km/h). No entanto, mais de 22 toneladas, com passageiros, carga e combustível adicional, a velocidade subiria para 121 nós (224 km/h), atendendo aos requisitos.
O Diretor de Relações Institucionais da Azul disse que os estudos consideraram o peso máximo de 22 toneladas e que a velocidade recomendada pela ATR Aircraft é de 110 kt a 112 kt. Como a velocidade mínima é necessária em poucas horas, a maioria dos vôos solicitados pela Passaredo e MAP não será afetada por esta restrição. Um estudo que o ATR teria realizado indicaria que, mesmo com a diferença de velocidade de 110 nós para 120 nós, o impacto do tempo total na aproximação final do avião é de nove segundos. Por outro lado, o turboélice consegue sair da pista após pousar 20 segundos mais rápido que o avião maior.
A restrição de velocidade racionalizaria o fluxo de tráfego aéreo. Atualmente, a Passaredo opera a ATR 72 no Aeroporto de Guarulhos (SP), que é mais movimentada que a Congonhas. Neste caso, a Passaredo recebeu uma autorização especial da Anac para operar até 20 nós (37 km/h) acima da velocidade de aproximação final padrão, desde que atenda a outros requisitos operacionais. A \ W
Ξ A I R G W A Y S Ξ
SOURCE: Airgways.com
DBk: Anac.gov.br / Atraircraft.com / Voeazul.com.br / Airgways.com / Melhoresdestinos.com.br / Marceloguernieri.com.br
AW-POST: 201908131653AR
A\W   A I R G W A Y S ®