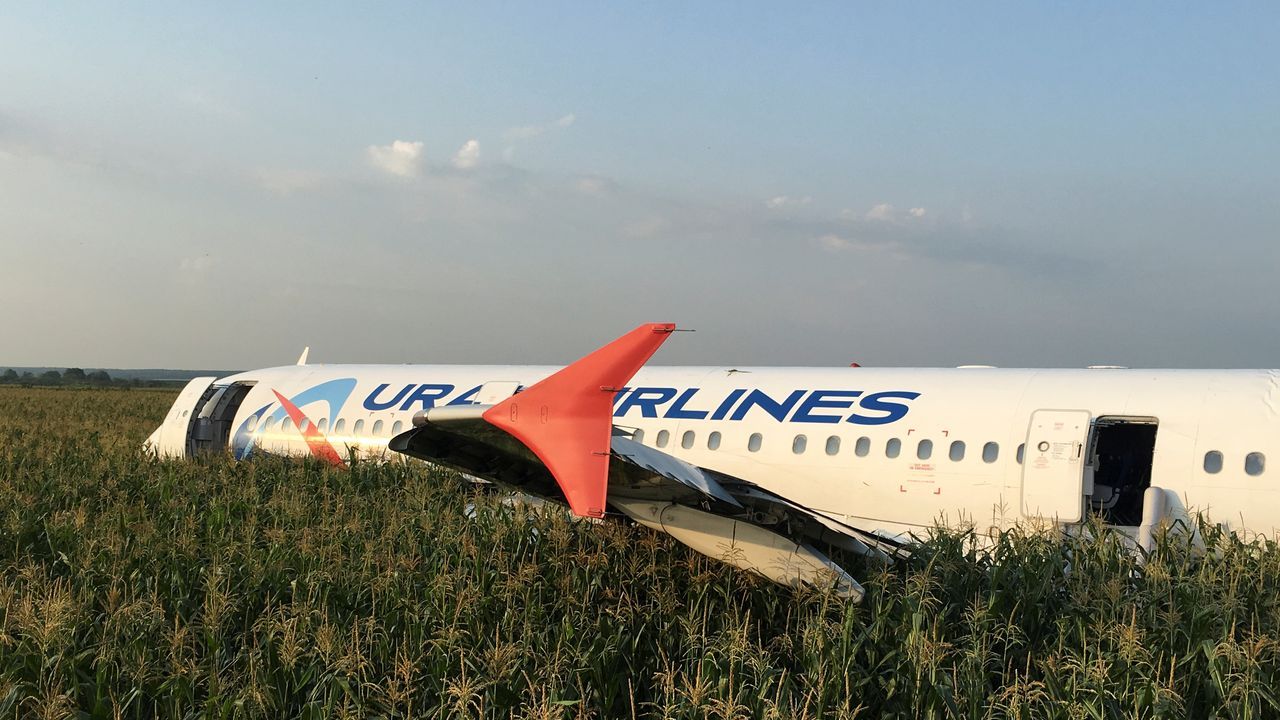 AW | 2019 08 15 12:46 | AVIATION SAFETY
Vuelo U6-178 de Ural Airlines efectúa aterrizaje forzoso
Un Airbus A321-100 de la compañía Ural Airlines tuvo un aterrizaje forzoso en Moscú el 15 Agosto 2019 producido por el choque de las aves contra ambos motores lo que ha obligado a aterrizar en el campo de maíz.
Un Airbus A321-100 de Ural Airlines con registro VQ-BOZ que realizaba el vuelo U6-178 Moscú/Zhukovsky (Rusia) a Simferopol (Ucrania) con 226 pasajeros y 7 tripulantes, estaba en la subida inicial a través de 750 pies fuera de la Pista 12 de Zkukovsky aproximadamente 06:15L (03:15Z) cuando el avión voló a través de una bandada de pájaros que fueron ingeridos en ambos motores CFM56. Ambos motores produjeron una falla, uno emitió ruidos como si el motor se balanceara hacia arriba y hacia abajo, lo que obligó a la tripulación a detener la escalada a 750 pies y aterrizar la aeronave en un campo de maíz a unos 2,77 nm más allá de la pista con el equipo retraído. La posición aproximada de la aeronave es: N55.512 E38 .252. Los ocupantes de la aeronave evacuaron a través de toboganes, contabilizando 10 heridos (incluidos tres niños). El avión sufrió daños sustanciales.
La aerolínea Ural Airlines informó que la aeronave recibió un gran impacto de bandadas de pájaros al salir del Aeropuerto Moscú/Zhukovsky e hizo un aterrizaje forzoso. El Ministerio de Emergencia de Rusia informó que 226 pasajeros, incluidos 6 niños y 7 tripulantes, estaban a bordo, todos evacuados. Diez pasajeros, incluidos 3 niños, necesitaron atención médica. El avión fue encontrado fuera del aeropuerto, el motor de la derecha humeaba pero no hubo incendios, no hubo fugas de combustible, la cabina fue inspeccionada por personas adentro, los motores fueron rociados para enfriar. Se desplegaron ocho autobuses en el lugar del accidente para devolver a los pasajeros al Aeropuerto de Zhukovsky.
El Ministerio de Transporte de Rusia informó que el avión sufrió un impacto de pájaro en ambos motores mientras volaba a través de una bandada de gaviotas y aterrizó en un campo a más de 1 km del aeropuerto. El avión aterrizó, la tripulación apagó ambos motores justo antes de aterrizar. Se creó una comisión especial para investigar el accidente. La causa del aterrizaje forzoso fue la falla del motor de la derecha, que se incendió después de un choque con un pájaro.
Rosaviatsia informó que justo después de despegar, el avión chocó con una bandada de gaviotas, su entrada en los motores causó interrupciones significativas en su trabajo. La tripulación decidió aterrizar en línea recta. El aterrizaje forzoso tuvo lugar en un campo de maíz entre el marcador medio y el exterior (del sistema de aterrizaje ILS en dirección opuesta). El avión aterrizó con el equipo retraído, ambos motores se apagaron justo antes de aterrizar. Los 226 pasajeros y 7 tripulantes fueron evacuados a través de toboganes. Los pasajeros afectados fueron trasladados de inmediato a un centro médico en Zhukovsky, los otros pasajeros fueron trasladados al Aeropuerto de Zhukovsky. La fiscalía estatal ha abierto una investigación penal.
La tripulación de vuelo dijo a los medios rusos que el problema comenzó justo después del despegue, cuando un pájaro golpeó el motor de la izquierda, lo que provocó que fallara por completo, seguido por otro golpe de pájaro en el motor de la derecha, que posteriormente proporcionó un empuje insuficiente para permanecer en el aire. El capitán tomó el control y aterrizó el avión en un campo abierto.

A321-100 Ural Airlines accident
Ural Airlines flight U6-178 makes forced landing
An Airbus A321-100 of the Ural Airlines company had a forced landing in Moscow on August 15, 2019 produced by the collision of the birds against both engines which has forced to land in the cornfield.
An Airbus A321-100 of Ural Airlines with VQ-BOZ registration that made the flight U6-178 Moscow/Zhukovsky (Russia) to Simferopol (Ukraine) with 226 passengers and 7 crewmen, was on the initial ascent through 750 feet outside Zkukovsky Runway 12 approximately 06: 15L (03:15Z) when the plane flew through a flock of birds that were ingested in both CFM56 engines. Both engines produced a failure, one emitted noises as if the engine swayed up and down, forcing the crew to stop climbing at 750 feet and landing the aircraft in a cornfield at about 2.77 nm more beyond the track with the team retracted. The approximate position of the aircraft is: N55.512 E38 .252. The occupants of the aircraft evacuated through slides, counting 10 injured (including three children). The plane suffered substantial damage.
The Ural Airlines airline reported that the aircraft received a large impact of flocks of birds when leaving Moscow/Zhukovsky Airport and made a forced landing. The Russian Ministry of Emergency reported that 226 passengers, including 6 children and 7 crew members, were on board, all evacuated. Ten passengers, including 3 children, needed medical attention. The plane was found outside the airport, the engine on the right was smoking but there were no fires, no fuel leaks, the cabin was inspected by people inside, the engines were sprayed to cool. Eight buses were deployed at the scene of the accident to return passengers to Zhukovsky Airport.
The Russian Ministry of Transport reported that the plane suffered a bird impact on both engines while flying through a flock of seagulls and landed in a field more than 1 km from the airport. The plane landed, the crew turned off both engines just before landing. A special commission was created to investigate the accident. The cause of the forced landing was the failure of the right engine, which caught fire after a collision with a bird.
Rosaviatsia reported that just after taking off, the plane collided with a flock of seagulls, its entry into the engines caused significant interruptions in its work. The crew decided to land in a straight line. The forced landing took place in a cornfield between the middle and the outer marker (of the ILS landing system in the opposite direction). The plane landed with the equipment retracted, both engines shut down just before landing. The 226 passengers and 7 crew members were evacuated through slides. The affected passengers were immediately transferred to a medical center in Zhukovsky, the other passengers were transferred to Zhukovsky Airport. The state prosecutor has opened a criminal investigation.
The flight crew told Russian media that the problem began just after takeoff, when a bird hit the engine on the left, which caused it to fail completely, followed by another bird hit on the engine on the right, which subsequently provided insufficient thrust to remain in the air. The captain took control and landed the plane in an open field. A \ W
А321 Авиакомпания Уральские авиалинии
Рейс U6-178 Уральские авиалинии совершает вынужденную посадку
Аэробус A321-100 авиакомпании Уральские авиалинии совершил вынужденную посадку в Москве 15 августа 2019 года, вызванную столкновением птиц с обоими двигателями, которые вынуждены были приземлиться на кукурузном поле.
Аэробус A321-100 авиакомпании Уральские авиалинии с регистрацией VQ-BOZ, который совершил рейс U6-178 Москва/Жуковский (Россия) в Симферополь (Украина) с 226 пассажирами и 7 членами экипажа, находился на начальном восхождении через 750 футов снаружи Взлетно-посадочная полоса Zkukovsky 12 приблизительно 06: 15L (03: 15Z), когда самолет пролетел через стаю птиц, которые проглотили оба двигателя CFM56. Оба двигателя дали сбой, один из них издавал шумы, как будто двигатель качался вверх и вниз, заставляя экипаж прекратить подниматься на 750 футов и посадить самолет на кукурузном поле на расстоянии около 2,77 нм. за трассой команда отозвана. Ориентировочное положение самолета: N55.512 E38.252. Пассажиры самолета эвакуируются через горки, насчитывая 10 раненых (в том числе трое детей). Самолет получил значительные повреждения.
Авиакомпания Уральские авиалинии сообщила, что при вылете из аэропорта Москва-Жуковский самолет получил большой удар стая птиц и совершил вынужденную посадку. МЧС России сообщило, что на борту находились 226 пассажиров, в том числе 6 детей и 7 членов экипажа, все они были эвакуированы. Десять пассажиров, в том числе трое детей, нуждались в медицинской помощи. Самолет был найден за пределами аэропорта, двигатель справа курил, но не было ни пожаров, ни утечек топлива, кабина была осмотрена людьми внутри, двигатели были разбрызганы для охлаждения. Восемь автобусов были развернуты на месте происшествия для возвращения пассажиров в аэропорт Жуковского.
Российское министерство транспорта сообщило, что самолет столкнулся с птицами на обоих двигателях во время полета через стаю чаек и приземлился на поле более чем в 1 км от аэропорта. Самолет приземлился, экипаж выключил оба двигателя непосредственно перед посадкой. Для расследования аварии была создана специальная комиссия. Причиной вынужденной посадки стала поломка правого двигателя, который загорелся после столкновения с птицей.
Росавиация сообщила, что сразу после взлета самолет столкнулся со стаей чаек, его попадание в двигатели вызвало значительные перебои в его работе. Экипаж решил приземлиться по прямой. Вынужденная посадка произошла на кукурузном поле между серединой и внешним маркером (системы посадки ILS в противоположном направлении). Самолет приземлился с убранной техникой, оба двигателя были остановлены непосредственно перед посадкой. 226 пассажиров и 7 членов экипажа были эвакуированы через слайды. Пострадавшие пассажиры были немедленно переведены в медицинский центр в Жуковском, остальные пассажиры были переведены в аэропорт Жуковского. Государственный обвинитель возбудил уголовное дело.
Летный экипаж сообщил российским СМИ, что проблема началась сразу после взлета, когда птица ударила двигатель слева, что привело к его полному выходу из строя, после чего другая птица ударила двигатель справа, что впоследствии обеспечил недостаточную тягу, чтобы оставаться в воздухе. Капитан взял под свой контроль и приземлился самолет в открытом поле. A\W
Аварія Уральські авіалінії A321
Рейс Ural Airlines U6-178 робить вимушені посадки
Аеробус A321-100 компанії Уральські авіалінії 15 серпня 2019 року здійснив вимушену посадку в Москві, спричинену зіткненням птахів проти обох двигунів, що змусило приземлитися на кукурудзяному полі.
Airbus A321-100 Уральських авіакомпаній з реєстрацією VQ-BOZ, який здійснив рейс U6-178 Москва/Жуковський (Росія) до Сімферополя (Україна) з 226 пасажирами та 7 екіпажами, був на початковому підйомі через 750 футів назовні Зкуковська злітно-посадкова смуга 12 приблизно в 06: 15 л (03: 15Z), коли літак пролетів через зграю птахів, які потрапили в обидва двигуни CFM56. Обидва двигуни вийшли з ладу, один видавав шуми, ніби двигун коливався вгору і вниз, змушуючи екіпаж перестати підніматися на відстані 750 футів і висаджувати літак на кукурудзяному полі приблизно на 2,77 нм більше поза доріжкою з відведеною командою. Орієнтовне положення літака: N55.512 E38 .252. Окупанти літака евакуювали через гірки, нарахувавши 10 поранених (з них троє дітей). Літак зазнав значної шкоди.
Авіакомпанія Уральські авіалінії повідомила, що літальний апарат отримав великий удар зграями птахів під час вильоту з аеропорту Москва/Жуковський та здійснив вимушену посадку. Міністерство надзвичайних ситуацій Росії повідомило, що 226 пасажирів, у тому числі 6 дітей та 7 членів екіпажу, перебували на борту, усіх евакуювали. Десять пасажирів, у тому числі 3 дитини, потребували медичної допомоги. Літак знайшли за межами аеропорту, двигун праворуч курив, але пожежі, витоку палива не було, салон оглядали люди всередині, двигуни розпилювали для охолодження. На місці аварії було розміщено вісім автобусів для повернення пасажирів в аеропорт Жуковського.
Міністерство транспорту Росії повідомило, що літак зазнав пташиного удару по обох двигунах під час прольоту через зграю чайок і приземлився в полі більше 1 км від аеропорту. Літак приземлився, екіпаж вимкнув обидва двигуни безпосередньо перед посадкою. Для розслідування аварії була створена спеціальна комісія. Причиною вимушеної посадки став збій правильного двигуна, який загорівся після зіткнення з птахом.
Росавіація повідомила, що одразу після зльоту літак зіткнувся з зграєю чайок, його входження в двигуни спричинило значні перебої в його роботі. Екіпаж вирішив приземлитися по прямій лінії. Вимушена посадка відбулася на кукурудзяному полі між середнім та зовнішнім маркером (системи посадки ILS у зворотному напрямку). Літак приземлився з висунутим обладнанням, обидва двигуни вимкнулися безпосередньо перед посадкою. 226 пасажирів та 7 членів екіпажу були евакуйовані через гірки. Постраждалих пасажирів негайно перевезли до медичного центру в Жуковському, інших пасажирів перевезли до аеропорту Жуковського. Державний прокурор відкрив кримінальне розслідування.
Екіпаж екіпажу повідомив російським ЗМІ, що проблема почалася одразу після зльоту, коли птах вдарив двигун зліва, що призвело до його повного виходу з ладу, після чого інший птах потрапив у двигун праворуч, який згодом забезпечили недостатню тягу, щоб залишатися у повітрі. Капітан взяв під контроль і висадив літак у відкритому полі. A\W
Ξ A I R G W A Y S Ξ
SOURCE: Airgways.com
DBk: Ruaviation.com / Favt.ru / Avherald.com / Airgways.com / Cnn.com / Aviation24.be / Washingtonpost.com / Inews.co.uk / News.sky.com / Tass.com / Baza/Telegram
AW-POST: 201908151246AR
A\W   A I R G W A Y S ®