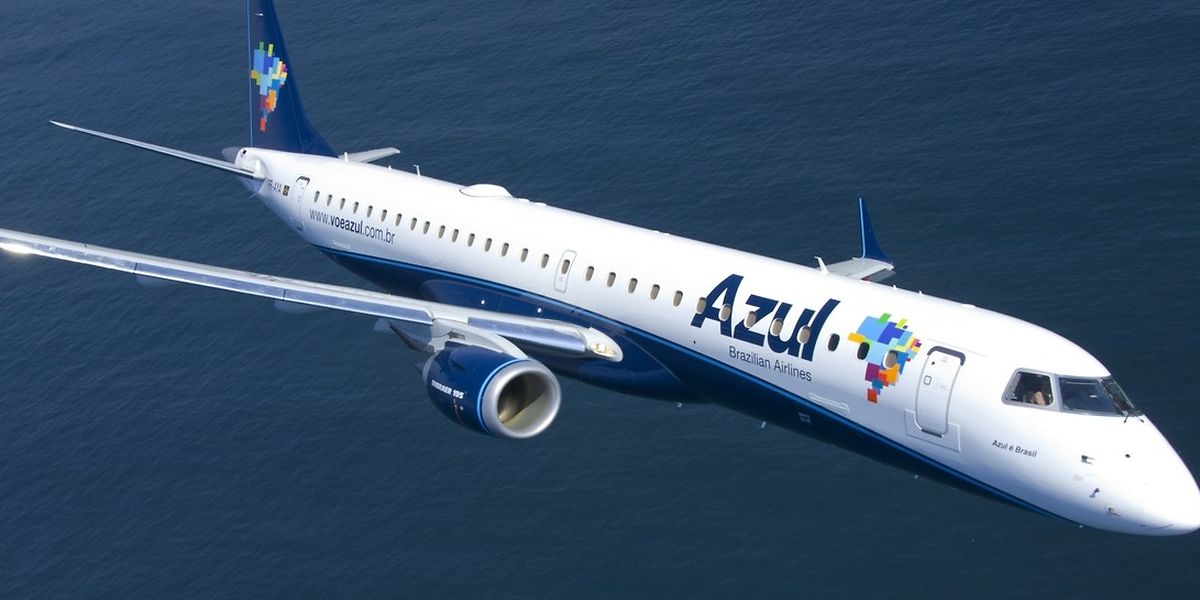 AW | 2019 08 18 14:25 | AIRLINES
Azul se consolida en el mercado brasileño con fuerte apuesta
Azul Linhas Aéreas apostará fuertemente por el puente aéreo Sao Paulo-Rio, el tramo aéreo más lucrativo del mercado aéreo de Brasil. La compañía, que ingresó a la ruta después de heredar los tragamonedas de Avianca en los aeropuertos de Congonhas y Santos Dumont, preguntó a la Agencia Nacional de Aviación Civil (ANAC) operará en el puente con el Airbus A320NEO.
Competitividad por Santos Dumont
El A320NEO posee una capacidad para 174 pasajeros de clase económica, este avión ya es operado por Azul en rutas que parten de sus tres centros: Viracopos, Confins y Recife, y es el más moderno de su flota de corto y mediano alcance. Más grande que el Embraer E-195, que tiene capacidad para 118 pasajeros y era la otra opción de Azul para la ruta, el A320NEO reduce el costo por pasajero de la operación, aumentando la rentabilidad. Para aterrizar en Santos Dumont, un aeropuerto considerado crítico por tener una pista más corta (1.323 metros de longitud), los aviones del tamaño del Airbus A320 y Boeing 737, más grandes que el Embraer, necesitan adaptaciones especiales.
Gol tuvo que pedirle a Boeing una adaptación para las aeronaves Boeing 737-800 que el constructor americano desarrolló el llamado SFP (Short Field Performance). En Mayo 2019 un A320 de Latam Airlines aterrizó en el Aeropuerto Río de Janeiro, que también instaló adaptaciones de ala y motor. Hasta entonces, Avianca Brasil operaba el A319-100, una variante de menor tamaño para las rutas en el puente aéreo. Desde que Avianca entró en bancarrota y efectivamente dejó de operar vuelos, solo Latam y Gol volaban en el puente aéreo, una concentración sin precedentes en los 60 años de la conexión entre Congonhas y Santos Dumont.
La competencia por la propiedad de Avianca ha deteriorado el clima entre las tres compañías principales restantes, lo que llevó incluso a la salida de Azul de la Asociación Brasileña de Aerolíneas (ABEAR), fundada por las cuatro en 2012. La Agencia Nacional de Aviación Civil (ANAC) completó la semana pasada la redistribución de los 41 permisos de despegue y aterrizaje, las franjas horarias, que pertenecían a Avianca en el Aeropuerto Congonhas en Sao Paulo, el más concurrido del país. Azul Linhas Aéreas, ahora cuenta con 26 frecuencias horarias (slots) en el aeropuerto y se le han adjudicado otros 15 adicionales. Las empresas más pequeñas, que actualmente no operan en el aeropuerto, también se beneficiaron. La medida es vista en el gobierno como una forma de reducir la concentración de horarios entre Latam y Gol. Para los analistas, esto podría favorecer la caída en los precios de los boletos, que se disparó con la salida de Avianca del mercado este año. Passaredo Linhas Aéreas heredó 14 slots y MAP Linhas Aéreas 12 frecuencias. El regulador también entregó 12 slots a Two Flex para operar en la plataforma auxiliar de Congonhas. Los tres operan en aeronaves más pequeñas y de menor rendimiento y tendrán que demostrar su capacidad para cumplir con los requisitos en el Aeropuerto Congonhas, que está orientado las aeronaves jet.
Siguiendo la orientación del Ministerio de Economía, ANAC decidió dejar de lado la redistribución de los slots a Gol y Latam, que dominan casi el 90% de las operaciones en Congonhas. Con este fin, el regulador cambió las reglas, como la que definió la redistribución del 100% de las frecuencias horarias para compañías con baja presencia en el aeropuerto.
Azul Linhas Aéreas fue el mayor beneficiario, pero los técnicos de ANAC admiten que el efecto sobre las tarifas podría haber sido más significativo en Congonhas, esto se debe a que las pequeñas empresas tienen un potencial limitado para modificar los precios.Según fuentes de la industria, Azul cree que su participación en Congonhas podría crecer si las pequeñas empresas no pueden cumplir con los requisitos técnicos para operar en el aeropuerto, manteniendo el ritmo de operación. Si esto sucede, los slots se redistribuirán nuevamente.
Los analistas estiman que la redistribución de franjas horarias debería beneficiar a los consumidores con precios más bajos en el puente aéreo Río-Sao Paulo y también en el tramo Sao Paulo-Brasilia. Para Francisco Lyra, presidente del Instituto Brasileño de Aviación, el centro de investigación de la industria, y socio de la compañía de aviación ejecutiva C.Fly Aviation, Congonhas es actualmente un aeropuerto súper concentrado, ya que el puente aéreo es la cuarta ruta nacional más grande frecuencia en el mundo existiendo más de 39.000 vuelos por año y el único operado por solo dos aerolíneas en la actualidad: Gol Linhas Aéreas y Latam Airlines. En la ruta entre Seúl y Jeju, las dos ciudades más grandes de Corea del Sur, por ejemplo, los pasajeros tienen siete opciones. "Defiendo al menos tres o cuatro aerolíneas que hacen el puente aéreo", dice Lyra. Cleveland Prates, un experto en competencia de mercado regulado por FGV-SP, estima que una mayor competencia en Congonhas afecta los sistemas de actualización de precios de las aerolíneas, cuyos algoritmos reaccionan a los valores de otros en la mesa giratoria.
Azul próximo arribo E195-E2
Azul Linhas Aéreas incorporará las primeras seis unidades del más moderno avión regional Embraer E195-E2 para Septiembre 2019, de un pedido total de 51 aviones al constructor brasileño. Las nuevas aeronaves representarán un ahorro de un 20% en el consumo de conbustible con respecto a la versión actual que posee en su flota.
Azul incorpora A321NEO
Azul estudia la traer su primer Airbus A321NEO, que llegará en Noviembre 2019. Estima sumar para el 4Q2019 unos 35 Airbus A320 en su flota. Azul Linhas Aéreas incorporará otro Airbus A320NEO, ex-Avianca Brasil con ex-matrícula PR-OBH localizado en el Aeropuerto de Shannon, República de Irlanda. La nueva aeronave es registrada como PR-YYI con Número Serie industrial SN7484. En los próximos días ingresará al taller de pintura para eliminar los colores de Avianca y repintar con los colores de Azul Linhas Aéreas. 
Expansion of Azul Linhas Aéreas
Azul consolidates in the Brazilian market with a strong commitment
Azul Linhas Aéreas will bet heavily on the Sao Paulo-Rio air bridge, the most lucrative air segment of the Brazilian air market. The company, which entered the route after inheriting the Avianca slot machines at Congonhas and Santos Dumont airports, asked the National Civil Aviation Agency (ANAC) to operate on the bridge with the Airbus A320NEO.
Competitiveness by Santos Dumont
The A320NEO has a capacity for 174 economy class passengers, this aircraft is already operated by Azul on routes that depart from its three centers: Viracopos, Confins and Recife, and is the most modern of its short and medium range fleet. Larger than the Embraer E-195, which has capacity for 118 passengers and was the other option for Azul for the route, the A320NEO reduces the cost per passenger of the operation, increasing profitability. To land in Santos Dumont, an airport considered critical for having a shorter runway (1,323 meters in length), airplanes the size of the Airbus A320 and Boeing 737, larger than the Embraer, need special adaptations.
Gol had to ask Boeing for an adaptation for the Boeing 737-800 aircraft that the American builder developed the so-called SFP (Short Field Performance). In May 2019 a A320 of Latam Airlines landed at the Rio de Janeiro Airport, which also installed wing and engine adaptations. Until then, Avianca Brasil operated the A319-100, a smaller variant for routes on the airlift. Since Avianca went bankrupt and effectively stopped operating flights, only Latam and Gol were flying on the airlift, an unprecedented concentration in the 60 years of the connection between Congonhas and Santos Dumont.
The competition for the ownership of Avianca has deteriorated the climate between the three remaining main companies, which led even to the departure of Azul from the Brazilian Association of Airlines (ABEAR), founded by the four in 2012. The National Civil Aviation Agency (ANAC) completed last week the redistribution of the 41 takeoff and landing permits, the time slots, which belonged to Avianca at Congonhas Airport in Sao Paulo, the busiest in the country. Azul Linhas Aéreas, now has 26 time frequencies (slots) at the airport and has been awarded an additional 15. Smaller companies, which currently do not operate at the airport, also benefited. The measure is seen in the government as a way to reduce the concentration of schedules between Latam and Gol. For analysts, this could favor the drop in ticket prices, which shot up with Avianca's exit from the market this year. Passaredo Linhas Aéreas inherited 14 slots and MAP Linhas Aéreas 12 frequencies. The regulator also delivered 12 slots to Two Flex to operate on the Congonhas auxiliary platform. All three operate in smaller and lower-performance aircraft and will have to demonstrate their ability to meet the requirements at Congonhas Airport, which is aimed at jet aircraft.
Following the guidance of the Ministry of Economy, ANAC decided to set aside the redistribution of the slots to Gol and Latam, which dominate almost 90% of the operations in Congonhas. To this end, the regulator changed the rules, such as the one that defined the redistribution of 100% of the hourly frequencies for companies with a low presence at the airport.
Azul Linhas Aéreas was the biggest beneficiary, but ANAC technicians admit that the effect on tariffs could have been more significant in Congonhas, this is because small businesses have limited potential to change prices. According to industry sources, Azul believes that its participation in Congonhas could grow if small businesses cannot meet the technical requirements to operate at the airport, maintaining the pace of operation. If this happens, the slots will be redistributed again.
Analysts estimate that redistribution of slots should benefit consumers with lower prices on the Rio-Sao Paulo air bridge and also on the Sao Paulo-Brasilia stretch. For Francisco Lyra, president of the Brazilian Aviation Institute, the industry research center, and partner of the executive aviation company C.Fly Aviation, Congonhas is currently a super concentrated airport, since the airlift is the fourth national route the largest frequency in the world with more than 39,000 flights per year and the only one currently operated by only two airlines: Gol Linhas Aéreas and Latam Airlines. On the route between Seoul and Jeju, the two largest cities in South Korea, for example, passengers have seven options. "I defend at least three or four airlines that make the airlift", says Lyra. Cleveland Prates, an expert in market competition regulated by FGV-SP, estimates that increased competition in Congonhas affects airline price update systems, whose algorithms react to the values of others on the turntable.
Azul next arrival E195-E2
Azul Linhas Aéreas will incorporate the first six units of the most modern Embraer E195-E2 regional aircraft by September 2019, out of a total order of 51 aircraft to the Brazilian manufacturer. The new aircraft will represent a 20% savings in fuel consumption compared to the current version in its fleet.
Azul incorporates A321NEO
Azul studies bringing his first Airbus A321NEO, which will arrive in November 2019. Estimates adding for the 4Q2019 about 35 Airbus A320 in its fleet. Azul Linhas Aéreas will incorporate another Airbus A320NEO, ex-Avianca Brazil with ex-registration PR-OBH located at Shannon Airport, Republic of Ireland. The new aircraft is registered as PR-YYI with Industrial Serial Number SN7484. In the next few days he will enter the paint shop to eliminate the colors of Avianca and repaint with the colors of Azul Linhas Aéreas. A \ W
Expansão da Azul Linhas Aéreas
Azul consolida-se no mercado brasileiro com forte compromisso
A Azul Linhas Aéreas vai apostar fortemente na ponte aérea São Paulo-Rio, o segmento aéreo mais lucrativo do mercado aéreo brasileiro. A empresa, que entrou na rota depois de herdar as máquinas caça-níqueis da Avianca nos aeroportos de Congonhas e Santos Dumont, pediu à Agência Nacional de Aviação Civil (ANAC) para operar na ponte com o Airbus A320NEO.
Competitividade por Santos Dumont
O A320NEO tem capacidade para 174 passageiros em classe econômica, esta aeronave já é operada pela Azul em rotas que partem de seus três centros: Viracopos, Confins e Recife, e é a mais moderna de sua frota de curto e médio alcance. Maior que o Embraer E-195, que tem capacidade para 118 passageiros e foi a outra opção da Azul para a rota, o A320NEO reduz o custo por passageiro da operação, aumentando a rentabilidade. Para pousar em Santos Dumont, um aeroporto considerado crítico por ter uma pista mais curta (1.323 metros de comprimento), aviões do porte do Airbus A320 e do Boeing 737, maiores que a Embraer, precisam de adaptações especiais.
A Gol precisou pedir à Boeing uma adaptação para a aeronave Boeing 737-800 que a construtora americana desenvolveu o chamado SFP (Short Field Performance). Em maio de 2019, um A320 da Latam Airlines pousou no Aeroporto do Rio de Janeiro, que também instalou adaptações de asa e motor. Até então, a Avianca Brasil operava o A319-100, uma variante menor para as rotas no transporte aéreo. Como a Avianca faliu e efetivamente parou de operar os vôos, apenas Latam e Gol estavam voando no transporte aéreo, uma concentração sem precedentes nos 60 anos da conexão entre Congonhas e Santos Dumont.
A disputa pela propriedade da Avianca deteriorou o clima entre as três principais empresas remanescentes, o que levou até mesmo à saída da Azul da Associação Brasileira das Empresas Aéreas (ABEAR), fundada pelos quatro em 2012. A Agência Nacional de Aviação Civil (ANAC) concluíram na semana passada a redistribuição das 41 permissões de pouso e pouso, os horários, que pertenciam à Avianca no Aeroporto de Congonhas, em São Paulo, o mais movimentado do país. A Azul Linhas Aéreas, agora tem 26 frequências de tempo (slots) no aeroporto e recebeu 15 adicionais. As empresas menores, que atualmente não operam no aeroporto, também se beneficiaram. A medida é vista no governo como forma de reduzir a concentração de horários entre Latam e Gol. Para os analistas, isso poderia favorecer a queda nos preços dos ingressos, que disparou com a saída da Avianca do mercado neste ano. A Passaredo Linhas Aéreas herdou 14 vagas e a MAP Linhas Aéreas 12 frequências. O regulador também forneceu 12 slots para o Two Flex para operar na plataforma auxiliar Congonhas. Todos os três operam em aeronaves de menor e menor desempenho e terão que demonstrar capacidade de atender aos requisitos do Aeroporto de Congonhas, voltado para aeronaves a jato.
Seguindo a orientação do Ministério da Economia, a ANAC decidiu anular a redistribuição dos slots para a Gol e a Latam, que dominam quase 90% das operações em Congonhas. Para tanto, o regulador alterou as regras, como a que definiu a redistribuição de 100% das freqüências horárias para empresas com baixa presença no aeroporto.
A Azul Linhas Aéreas foi a maior beneficiada, mas os técnicos da ANAC admitem que o efeito sobre as tarifas poderia ter sido mais significativo em Congonhas, isso porque as pequenas empresas têm potencial limitado para alterar os preços. Segundo fontes do setor, a Azul acredita que sua participação em Congonhas poderá crescer se as pequenas empresas não conseguirem atender aos requisitos técnicos para operar no aeroporto, mantendo o ritmo de operação. Se isso acontecer, os slots serão redistribuídos novamente.
Analistas estimam que a redistribuição de slots deve beneficiar os consumidores com preços mais baixos na ponte aérea Rio-São Paulo e também no trecho entre São Paulo e Brasília. Para Francisco Lyra, presidente do Instituto Brasileiro de Aviação, o centro de pesquisa do setor, e sócio da empresa de aviação executiva C.Fly Aviation, Congonhas é atualmente um aeroporto super concentrado, já que a ponte aérea é a quarta rota nacional. a maior freqüência do mundo, com mais de 39.000 vôos por ano e a única atualmente operada por apenas duas companhias aéreas: Gol Linhas Aéreas e Latam Airlines. Na rota entre Seul e Jeju, as duas maiores cidades da Coréia do Sul, por exemplo, os passageiros têm sete opções. "Defendo pelo menos três ou quatro companhias aéreas que fazem o transporte aéreo", diz Lyra. Cleveland Prates, especialista em concorrência de mercado regulamentado pela FGV-SP, estima que o aumento da concorrência em Congonhas afeta os sistemas de atualização de preços das companhias aéreas, cujos algoritmos reagem aos valores de outros no toca-discos.
Azul próximo chegada E195-E2
A Azul Linhas Aéreas incorporará as primeiras seis unidades da mais moderna aeronave regional Embraer E195-E2 até setembro de 2019, de um total de 51 aeronaves para a fabricante brasileira. A nova aeronave representará uma economia de 20% no consumo de combustível em comparação com a versão atual de sua frota.
Azul incorporará A321NEO
Azul estuda trazer seu primeiro Airbus A321NEO, que chegará em Novembro 2019. adicionar no 4T2019 cerca de 35 Airbus A320 em sua frota. A Azul Linhas Aéreas incorporará outro Airbus A320NEO, ex-Avianca Brasil com o ex-registro PR-OBH localizado no Aeroporto de Shannon, República da Irlanda. A nova aeronave é registrada como PR-YYI com número de série industrial SN7484. Nos próximos dias ele vai entrar na oficina de pintura para eliminar as cores da Avianca e repintar com as cores da Azul Linhas Aéreas. A\W
Ξ A I R G W A Y S Ξ
SOURCE: Airgways.com
DBk: Voeazul.com.br / Jornaldocomercio.com / Embraer.com / Airgways.com
AW-POST: 201908181425AR
A\W   A I R G W A Y S ®