AW | 2019 08 27 15:17 | AIRLINES
La antigua aerolínea de Estados Unidos Eastern Airlines podría volver a surcar los cielos
Eastern Airlines podría estar solicitando pista para volver a despegar. A fines de la década de 1970 y principios de la década de 1980, durante la desregulación, las disputas laborales y las altas cargas de deuda tensaron a la compañía bajo el liderazgo del ex astronauta Frank Borman. Después de continuas disputas laborales y una huelga paralizante en 1989, Eastern se quedó sin dinero y fue liquidado en 1991. Eastern Airlines era una de las cuatro grandes estadounidense prestaba servicios al Caribe, América del Sur y Asia; ahora podría estar volviendo a los cielos.
En 2011, un grupo compró la propiedad intelectual, incluidas las marcas comerciales, de Eastern Air Lines y formó el Grupo Eastern Air Lines. El grupo anunció a principios de 2014 que había presentado una solicitud ante el Departamento de Transporte (DOT) de los Estados Unidos para obtener un Certificado de Conveniencia y Necesidad Pública, a lo que seguirá una certificación con la Administración Federal de Aviación (FAA). La nueva aerolínea comenzó a prestar servicios a través de vuelos chárter y arrendamiento en mojado desde Miami International a fines de 2014 con aviones Boeing 737-800 pintados con la librea de "palo de hockey" de Eastern Air Lines. Los códigos IATA e ICAO de las líneas clásicas de Eastern Air, así como su indicativo, ahora son utilizados por la nueva iteración de Eastern Air Lines. Después de la venta a Swift Air. Las marcas registradas se pasaron a Eastern Airlines LLC, en 2018.
Ahora, el transportista está esperando la aprobación del Departamento de Transporte (DOT) de Estados Unidos. Eastern Airlines es hoy propiedad de Eastern Airlines LLC que compró los derechos de propiedad intelectual del nombre. La aerolínea se había centrado anteriormente en vuelos chárter.
Inicialmente, la nueva Eastern Airlines planea volar desde Nueva York/JFK a Guayaquil, Ecuador; Georgetown, Guyana; Anchorage, Alaska; y Jinan, China: todos los mercados más pequeños que no reciben servicios de JFK. A partir de ahora, no hay un cronograma anunciado para que la aerolínea reanude los vuelos. Sin embargo, Eastern ha relanzado su sitio web y lanzó un nuevo logotipo para comenzar a correr la voz, y recordar a la gente que el operador que era tan grande hace décadas todavía está presente. "Eastern Airlines fue lanzado por buscadores, exploradores y, sobre todo, aviadores. Nuestra pasión por la aviación no tiene parangón en el universo. Prestamos atención a cada detalle, desde el control mecánico más pequeño hasta la comida preparada localmente y servida al cliente sonriente en el asiento 17B", dijo en su sitio web.
The return of Eastern Airlines
The former United States airline Eastern Airlines could go back to the skies
Eastern Airlines could be requesting a runway to take off again. In the late 1970s and early 1980s, during deregulation, labor disputes and high debt burdens strained the company under the leadership of former astronaut Frank Borman. After continuing labor disputes and a paralyzing stroke in 1989, Eastern ran out of money and was liquidated in 1991. Eastern Airlines was one of the four major Americans serving the Caribbean, South America, and Asia; now I could be going back to heaven.
In 2011, a group bought intellectual property, including trademarks, from Eastern Air
Lines and formed the Eastern Air Lines Group. The group announced in early 2014 that it had submitted an application to the U.S. Department of Transportation (DOT) to obtain a Certificate of Convenience and Public Necessity, which will be followed by a certification with the Federal Aviation Administration (FAA). The new airline began providing services through charter flights and wet leases from Miami International at the end of 2014 with Boeing 737-800 planes painted with the Eastern Air Lines "hockey stick" livery. The IATA and ICAO codes of the classic Eastern Air lines, as well as their callsign, are now used by the new iteration of Eastern Air Lines. After-sale to Swift Air. Registered trademarks were passed to Eastern Airlines LLC in 2018.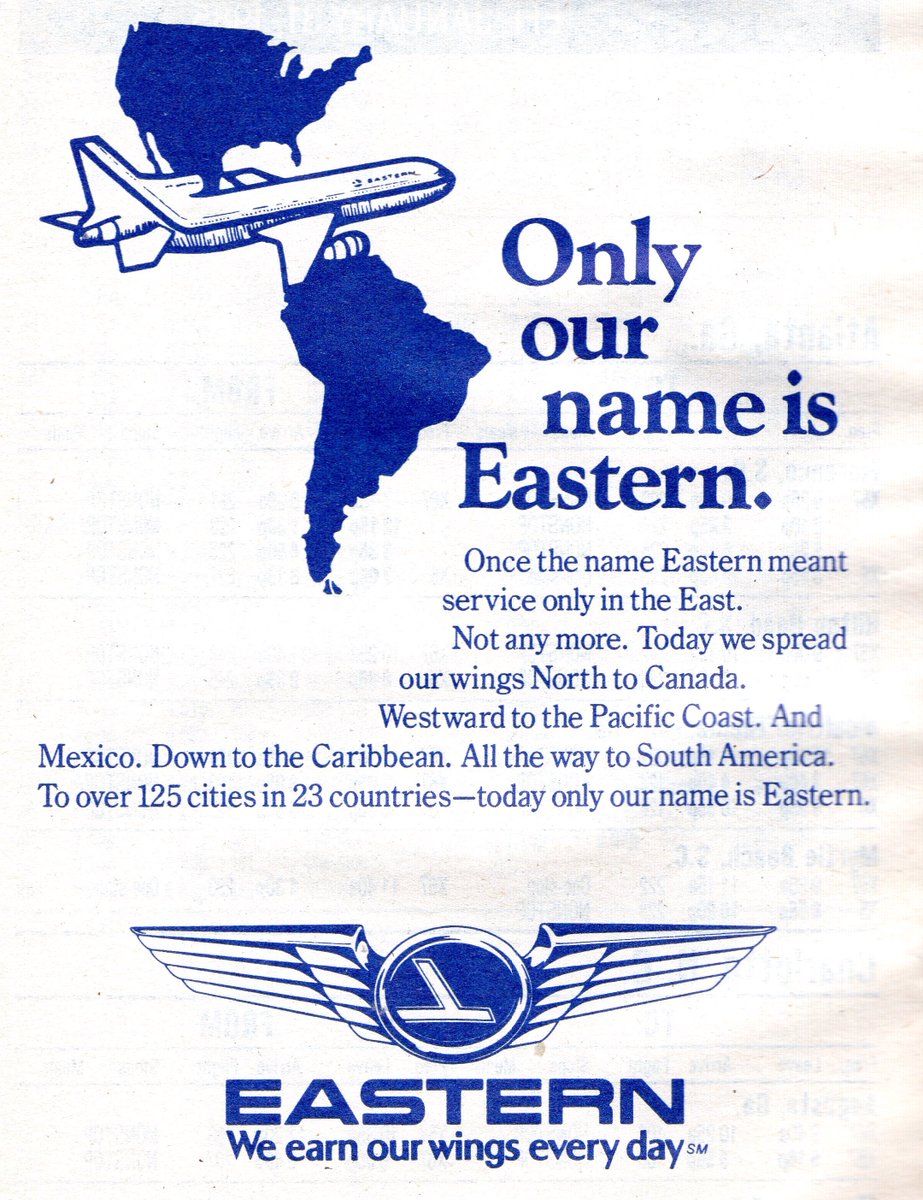 Now, the carrier is awaiting approval from the United States Department of Transportation (DOT). Eastern Airlines is today owned by Eastern Airlines LLC that bought the intellectual property rights of the name. The airline had previously focused on charter flights.
Initially, the new Eastern Airlines plans to fly from New York/JFK to Guayaquil, Ecuador; Georgetown, Guyana; Anchorage, Alaska; and Jinan, China: all smaller markets that do not receive services from JFK. As of now, there is no announced schedule for the airline to resume flights. However, Eastern has relaunched its website and launched a new logo to start spreading the word and remind people that the operator that was so large decades ago is still present. "Eastern Airlines was launched by search engines, explorers and, above all, aviators. Our passion for aviation is unparalleled in the universe. We pay attention to every detail, from the smallest mechanical control to locally prepared food served to the smiling customer in seat 17B", he said on his website. A \ W
Ξ A I R G W A Y S Ξ
SOURCE: Airgways.com
DBk: Goeasternair.com / Transportation.gov / Airgways.com / Fortune.com
AW-POST: 201908271517AR
A\W   A I R G W A Y S ®