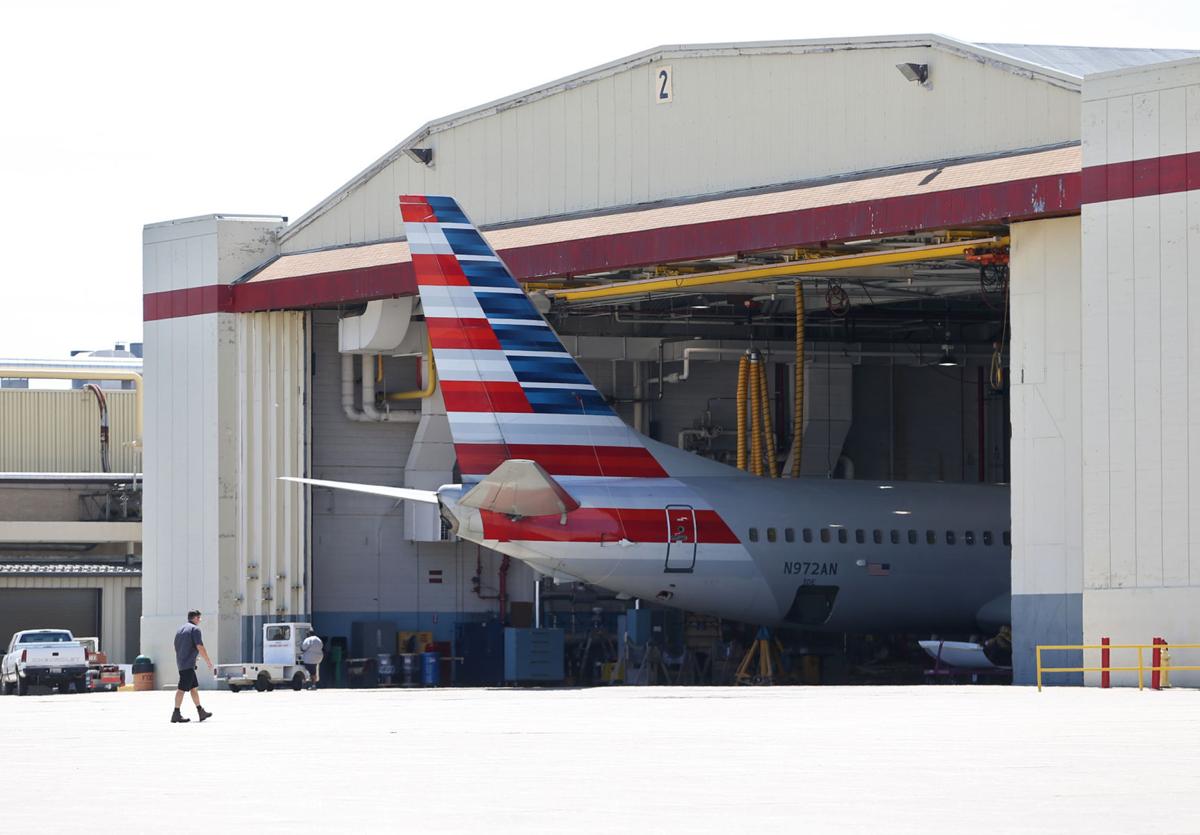 AW | 2019 08 29 11:35 | AIRLINES / MRO
American Airlines agrega 400 empleos en Tulsa
American Airlines anunció el Miércoles 28/08 que está forjando una presencia aún mayor, después de 73 años en Tulsa, incorporando 400 empleos a las instalaciones de mantenimiento de la aerolínea. El trabajo de mantenimiento adicional, incluido el mantenimiento programado en la flota de Boeing 787, requirió los nuevos puestos en Tech Ops Tulsa, que ya emplea a 5.200 personas. La contratación, principalmente para mecánicos con licencia de la Administración Federal de Aviación (FAA), continuará durante los próximos cuatro meses, dijo Erik Olund, Director Gerente de Mantenimiento de bases para American Airlines. "Es un gran día para nosotros en la base de Tulsa. Estamos haciendo crecer la organización considerablemente, y no hemos tenido un anuncio de contratación como este en más de una década. Esto allana el futuro para que estemos aquí por mucho tiempo", expresó el director.
Tulsa Ops
La nueva mecánica se centrará en áreas que incluyen la revisión de la aeronave, la revisión del tren de aterrizaje para los aviones Boeing 737 y 777 y el mantenimiento del motor CFM56 y las modificaciones interiores del Airbus A321. A finales de 2019, la base recibirá sus primeros 787 aviones para someterse a controles de mantenimiento programados. Además, la base aumentará sus trabajos de mantenimiento 777 y 787 y realizará inversiones en Landing Gear Shop, lo que permitirá una mayor producción.
El anuncio de American se produce en el contexto de una reciente decisión judicial que involucra la demanda federal de la aerolínea contra el Sindicato de Trabajadores del Transporte de América y la Asociación Internacional de Maquinistas y Trabajadores Aeroespaciales, a quien American acusó de participar en una desaceleración laboral ilegal. Un juez federal en Texas emitió una orden judicial permanente a principios de Agosto 2019, ordenando a los sindicatos que les digan a los trabajadores que tomen todas las medidas para evitar interferir con las operaciones de American. Además, las dos partes permanecen en una lucha laboral. Desde finales de 2015, la fusión de American Airlines, que tenía contratos con la Transport Workers Union of America (TWU), y US Airways, que tenía contratos con la International Association of Machinists (IAM), no se han negociado contratos conjuntos.
Tech Ops Tulsa, también conocida como Tulsa Maintenance Base, cuenta con 22 edificios en la base principal, incluidos 3,3 millones de pies cuadrados de hangar y espacio comercial en 330 acres. American realiza más tareas de mantenimiento internamente que cualquier otra aerolínea y emplea a más de 15.000 profesionales de Tech Ops en todo el mundo.
American incorporates 400 jobs in Tulsa
American Airlines adds 400 jobs in Tulsa
American Airlines announced on Wednesday 28/08 that it is forging an even greater presence, after 73 years in Tulsa, incorporating 400 jobs to the airline's maintenance facilities. Additional maintenance work, including scheduled maintenance on the Boeing 787 fleet, required new positions at Tech Ops Tulsa, which already employs 5,200 people. The hiring, primarily for mechanics licensed by the Federal Aviation Administration (FAA), will continue for the next four months, said Erik Olund, Managing Director of Base Maintenance for American Airlines. "It's a great day for us at the Tulsa base. We are growing the organization considerably, and we haven't had a hiring ad like this in more than a decade. This paves the future for us to be here for a long time", he said. director.
Tulsa Ops
The new mechanics will focus on areas that include the revision of the aircraft, the revision of the landing gear for the Boeing 737 and 777 aircraft and the maintenance of the CFM56 engine and the interior modifications of the Airbus A321. At the end of 2019, the base will receive its first 787 aircraft to undergo scheduled maintenance checks. In addition, the base will increase its maintenance work 777 and 787 and make investments in the Landing Gear Shop, which will allow for greater production.
American's announcement comes in the context of a recent court decision involving the federal lawsuit of the airline against the Union of Transportation Workers of America and the International Association of Machinists and Aerospace Workers, whom American accused of participating in a slowdown Illegal labor A federal judge in Texas issued a permanent court order in early August 2019, ordering unions to tell workers to take all measures to avoid interfering with American operations. In addition, the two sides remain in a labor struggle. Since the end of 2015, the merger of American Airlines, which had contracts with the Transport Workers Union of America (TWU), and US Airways, which had contracts with the International Association of Machinists (IAM), have not negotiated joint contracts.
Tech Ops Tulsa, also known as Tulsa Maintenance Base, has 22 buildings at the main base, including 3.3 million square feet of hangar and commercial space on 330 acres. American performs more maintenance tasks internally than any other airline and employs more than 15,000 Tech Ops professionals worldwide. A \ W
Ξ A I R G W A Y S Ξ
SOURCE: Airgways.com
DBk: Aa.com / Tulsaworld.com / Airgways.com
AW-POST: 201908291135AR
A\W   A I R G W A Y S ®