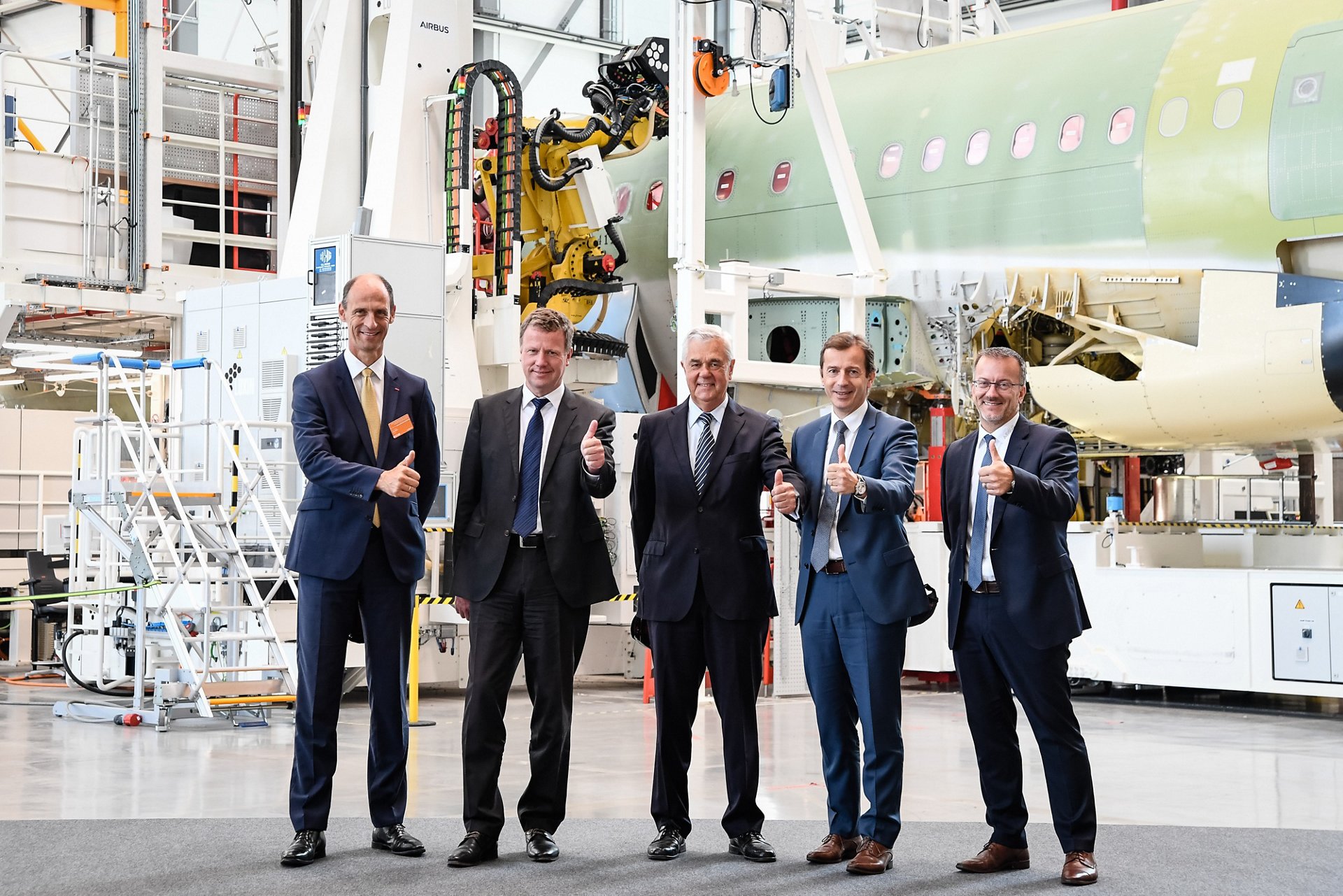 AW | 2019 10 01 11:17 | INDUSTRY
Airbus inaugura nueva línea de ensamblaje de estructuras del A320 en Hamburgo
Airbus inauguró su línea de ensamblaje de estructuras de fuselaje altamente automatizada para aviones de la Familia A320 en Hamburgo, mostrando una evolución en el sistema de producción industrial de Airbus. Presenta nuevos estándares en automatización digital.
Con un enfoque especial en la fabricación de secciones más largas para el A321LR, la nueva instalación cuenta con 20 robots, un nuevo concepto de logística, posicionamiento automatizado por medición láser y un sistema de adquisición de datos digitales. Esto respaldará aún más el impulso de Airbus para mejorar tanto la calidad como la eficiencia al tiempo que brinda un mayor nivel de digitalización a su sistema de producción industrial.
"Al adoptar algunas de las últimas tecnologías y procesos, Airbus ha comenzado su viaje para establecer nuevos estándares en la producción de la Familia A320. Esta nueva línea de ensamblaje de estructuras de fuselaje es un facilitador esencial para la aceleración de la familia A320. El aumento del nivel de automatización y robótica permite una fabricación más rápida y eficiente al tiempo que mantiene nuestro enfoque principal en la calidad. Dado el enorme éxito de la familia A320 y la cartera de pedidos, estamos tomando las medidas necesarias para garantizar que nuestro sistema de producción pueda igualar la excelencia de nuestros productos y que podamos satisfacer las necesidades de nuestros clientes para nuestro avión de pasillo único. Se ha puesto un alto nivel de confianza e inversión en nuestra gente y fábricas en Hamburgo. Ahora tenemos que cumplir con nuestros compromisos con los clientes y garantizar la competitividad general", dijo Michael Schoellhorn, Director de Operaciones de Airbus.
Para el ensamblaje de la sección inicial, Airbus está utilizando un sistema automatizado modular y liviano, llamado "Flextrack", con ocho robots perforando y hundiendo de 1.100 a 2.400 agujeros por junta longitudinal. En el siguiente paso de producción, 12 robots, cada uno de los cuales opera en siete ejes, combinan las secciones central y posterior del fuselaje con la cola para formar un componente principal, perforar, hundir, sellar e insertar 3.000 remaches por junta orbital. Además del uso de robots, Airbus también está implementando nuevos métodos y tecnologías en la logística de materiales y piezas para optimizar la producción, mejorar la ergonomía y acortar los plazos de entrega. Esto incluye la separación de los niveles de logística y producción, el reabastecimiento de material orientado a la demanda, así como el uso de vehículos autónomos guiados.
La instalación de ensamblaje de estructuras de Hamburgo es responsable de unir los depósitos de fuselaje individuales en secciones, así como el ensamblaje final de secciones individuales a los fuselajes de aeronaves. Las piezas de la aeronave están equipadas con sistemas eléctricos y mecánicos antes de ser entregadas a las líneas de ensamblaje finales en Francia, Alemania, China y los Estados Unidos.
Con la cabina de pasillo único más amplia del cielo, la eficiente familia A320NEO, que incluye el A321, incorpora las últimas tecnologías, incluidos motores de nueva generación y Sharklets, que en conjunto ofrecen más del 15% de ahorro de combustible y CO2 desde el primer día y 20%. 2020, así como una reducción de ruido del 50%. Hasta la fecha, la familia A320NEO ha capturado más de 6.500 pedidos de más de 100 clientes.
Airbus inaugurates new A320 assembly line
Airbus inaugurates new A320 structure assembly line in Hamburg
Airbus inaugurated its highly automated fuselage structure assembly line for A320 Family aircraft in Hamburg, showing an evolution in the Airbus industrial production system. Presents new standards in digital automation.
With a special focus on the manufacture of longer sections for the A321LR, the new facility has 20 robots, a new logistics concept, automated positioning by laser measurement and a digital data acquisition system. This will further support Airbus' momentum to improve both quality and efficiency while providing a higher level of digitalization to its industrial production system.
"By adopting some of the latest technologies and processes, Airbus has begun its journey to set new standards in the production of the A320 Family. This new fuselage structure assembly line is an essential facilitator for the A320 family acceleration. The increased level of automation and robotics allows faster and more efficient manufacturing while maintaining our main focus on quality. Given the enormous success of the A320 family and the order book, we are taking the necessary steps to ensure that our production system can match the excellence of our products and that we can meet the needs of our customers for our single-aisle aircraft. A high level of trust and investment has been placed in our people and factories in Hamburg. Now we have to fulfill our commitments to customers and ensure overall competitiveness", said Michael Schoellhorn, Airbus Director of Operations.
For the assembly of the initial section, Airbus is using a lightweight and modular automated system, called "Flextrack", with eight robots drilling and sinking 1,100 to 2,400 holes per longitudinal joint. In the next production step, 12 robots, each of which operates on seven axes, combine the central and rear sections of the fuselage with the tail to form the main component, drill, sink, seal and insert 3,000 rivets per orbital joint. In addition to the use of robots, Airbus is also implementing new methods and technologies in the logistics of materials and parts to optimize production, improve ergonomics and shorten delivery times. This includes the separation of logistics and production levels, the replenishment of demand-oriented material, as well as the use of autonomous guided vehicles.
The Hamburg structure assembly facility is responsible for joining individual fuselage tanks into sections, as well as the final assembly of individual sections to aircraft fuselages. The parts of the aircraft are equipped with electrical and mechanical systems before being delivered to the final assembly lines in France, Germany, China, and the United States.
With the widest single aisle cabin in the sky, the efficient A320NEO family, which includes the A321, incorporates the latest technologies, including new generation engines and Sharklets, which together offer more than 15% fuel and CO2 savings from the First day and 20%. 2020, as well as a 50% noise reduction. To date, the A320NEO family has captured more than 6,500 orders from more than 100 customers.
Airbus weiht neue A320-Montagelinie ein
Airbus weiht neue A320-Strukturmontagelinie in Hamburg ein
Airbus weihte in Hamburg seine hochautomatisierte Rumpfstruktur-Montagelinie für Flugzeuge der A320-Familie ein und zeigte damit eine Weiterentwicklung des industriellen Produktionssystems von Airbus. Präsentiert neue Standards in der digitalen Automatisierung.
Die neue Anlage mit besonderem Schwerpunkt auf der Herstellung längerer Abschnitte für den A321LR verfügt über 20 Roboter, ein neues Logistikkonzept, eine automatisierte Positionierung durch Lasermessung und ein digitales Datenerfassungssystem. Dies wird das Bestreben von Airbus, sowohl die Qualität als auch die Effizienz zu verbessern und gleichzeitig das industrielle Produktionssystem stärker zu digitalisieren, weiter unterstützen.
"Mit der Übernahme einiger der neuesten Technologien und Verfahren hat Airbus begonnen, neue Maßstäbe in der Produktion der A320-Familie zu setzen. Diese neue Montagelinie für Rumpfstrukturen ist ein wesentlicher Baustein für die Beschleunigung der A320-Familie. Der erhöhte Automatisierungs- und Robotikgrad ermöglicht eine schnellere und effizientere Fertigung, wobei unser Hauptaugenmerk auf Qualität liegt. Angesichts des enormen Erfolgs der A320-Familie und des Auftragsbestands unternehmen wir die erforderlichen Schritte, um sicherzustellen, dass unser Produktionssystem mit den Spitzenleistungen unserer Produkte mithalten kann und dass wir die Bedürfnisse unserer Kunden nach unseren Single-Aisle-Flugzeugen erfüllen können. In unsere Mitarbeiter und Werke in Hamburg wurde ein hohes Maß an Vertrauen und Investition gesteckt. Jetzt müssen wir unseren Verpflichtungen gegenüber den Kunden nachkommen und die allgemeine Wettbewerbsfähigkeit sicherstellen", sagte Michael Schöllhorn, Director of Operations von Airbus.
Für die Montage des ersten Abschnitts verwendet Airbus ein leichtes und modulares automatisiertes System namens "Flextrack", bei dem acht Roboter pro Längsfuge 1.100 bis 2.400 Löcher bohren und absenken. Im nächsten Produktionsschritt kombinieren 12 Roboter, von denen jeder auf sieben Achsen arbeitet, den mittleren und den hinteren Teil des Rumpfes mit dem Heck, um ein Hauptbauteil zu bilden, pro Orbitalgelenk 3.000 Nieten zu bohren, abzusenken, abzudichten und einzusetzen. Neben dem Einsatz von Robotern setzt Airbus auch neue Methoden und Technologien in der Logistik von Materialien und Teilen ein, um die Produktion zu optimieren, die Ergonomie zu verbessern und die Lieferzeiten zu verkürzen. Dies beinhaltet die Trennung von Logistik- und Produktionsebene, die Wiederauffüllung von nachfrageorientiertem Material sowie den Einsatz von autonom geführten Fahrzeugen.
Die Hamburger Strukturmontage ist verantwortlich für die Vereinigung der einzelnen Rumpftanks zu Sektionen sowie für die Endmontage der einzelnen Sektionen zu Flugzeugrümpfen. Die Teile des Flugzeugs werden mit elektrischen und mechanischen Systemen ausgestattet, bevor sie an die Endmontagelinien in Frankreich, Deutschland, China und den USA geliefert werden.
Mit der breitesten Single-Aisle-Kabine am Himmel vereint die effiziente A320NEO-Familie, zu der auch der A321 gehört, die neuesten Technologien, einschließlich Motoren und Sharklets der neuen Generation, die zusammen mehr als 15% Kraftstoff und CO2-Einsparungen aus der Erster Tag und 20%. 2020 sowie eine 50% ige Lärmminderung. Bis heute hat die A320NEO-Familie mehr als 6.500 Bestellungen von mehr als 100 Kunden erhalten.
Ξ A I R G W A Y S Ξ
SOURCE: Airgways.com
DBk: Airbus.com / Airgways.com
AW-POST: 201910011117AR
A\W   A I R G W A Y S ®