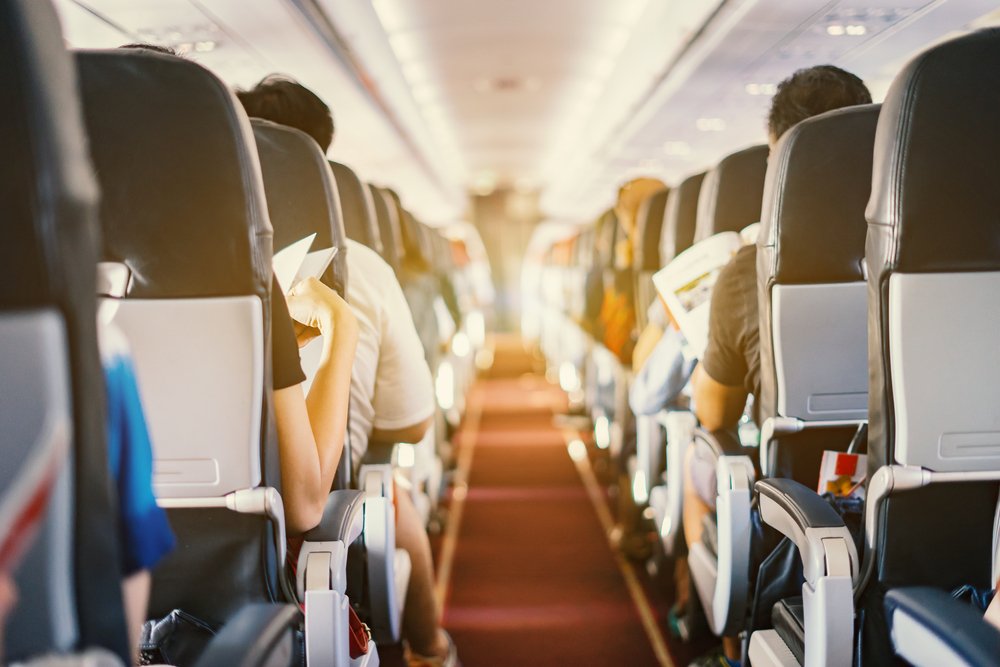 AW | 2019 10 18 14:13 | AVIATION SAFETY
La FAA de Estados Unidos investiga las nuevas tendencias distribución de los asientos
Los nuevos roles de las compañías low cost están permitiendo a la Federal Aviation Administration (FAA) nuevos estudios y análisis en el impacto de la cantidad de pasajeros de una aeronave sobre la seguridad en las evacuaciones. Los empleados de la FAA participan en una demostración de la cabina de una aeronave llena de humo, en un simulador en el Instituto Médico Aeroespacial Civil de la FAA en el Centro Aeronáutico Mike Monroney, el Jueves 17 Octubre 2019 en la ciudad de Oklahoma. Los investigadores federales, utilizando 720 voluntarios en la ciudad de Oklahoma, evaluarán si los asientos más pequeños y las filas llenas de gente retrasan las evacuaciones de emergencia de las aerolíneas.
El tamaño de su asiento y la cantidad de espacio para las piernas que tendrá en un vuelo futuro podrían decidirse en la junta de invstigaciones ppor parte de la FAA. Los viajeros frecuentes en las aerolíneas estadounidenses son muy conscientes de que las cabinas económicas estrechas son perjudiciales para la comodidad y funcionalidad. Pero los funcionarios federales que escriben las reglas de seguridad de las aerolíneas nunca han probado si los asientos más pequeños o las filas apretadas tienen algún efecto en el tiempo de evacuación.
Los investigadores compararán las pruebas para ver si los asientos más pequeños o las filas más estrechas hacen alguna diferencia. Presumiblemente, una diferencia dramática sería una razón para que la FAA establezca estándares mínimos más generosos para que las aerolíneas se ajusten a los protocolos de seguridad. Un panel de reglamentación de la FAA utilizará esos datos para ayudar a establecer estándares de asientos para las aerolíneas, con una decisión posible a fines del próximo año.
Según las cifras del Gobierno de Estados Unidos, el adulto estadounidense promedio pesa aproximadamente 10 libras (4 1/2 kilogramos) más que hace solo dos décadas, y las aerolíneas están presionando a más pasajeros en la cabina económica para hacer más espacio para los clientes que pagan mucho en clase ejecutiva. Eso significa filas más apretadas en la parte posterior del avión.
Sardine Airlines
Las aerolíneas "se apiñan en más y más y más asientos, cada vez más cerca. La gente se está volviendo más grande. No creo que podamos cumplir más con el estándar para evacuaciones rápidas", dijo el presidente del Comité de Transporte de la Cámara de Representantes, Peter DeFazio. El año pasado, el Congreso ordenó a la FAA establecer mínimos para el tamaño de los asientos y la distancia entre filas.
La distancia desde cualquier punto en un asiento, por ejemplo, la parte delantera del reposabrazos, y el mismo lugar en el asiento en la siguiente fila se llama tono, y el tono se ha reducido. Hace unos años, el estándar era de alrededor de 34 pulgadas (86 centímetros). Hoy en día, en la cabina económica de las aerolíneas estadounidenses, es más frecuente alrededor de 30 o 31 pulgadas (76 a 79 centímetros), e incluso más estricto en algunas, incluidas Spirit Airlines.
FUTUROS MODELOS DE ASIENTOS MUY CRITICADOS POR LOS USUARIOS DE LAS AEROLÍNEAS
Los aviones también están más llenos, con vuelos promedios que oscilan entre un 85%-90%. En la aerolínea Delta Air Lines durante el verno boreal tuvo un factor de ocupación del 88%, y durante las las frecuencias altas la ocupación es al 100%. Considere también que más pasajeros llevan maletas a bordo, y cientos de miles de ellos también traen un animal de apoyo emocional, y es lógico pensar que llevará más tiempo sacar a todos durante una emergencia. Hasta el año pasado, la FAA se resistió a las llamadas para establecer estándares mínimos de asiento y fila, diciendo que son cuestiones de comodidad del pasajero, no de seguridad.
Recientemente, la industria de la aviación ha encendido las alertas acerca de la distribución y cantidad de pasajeros en las aeronaves Airbus A320/321NEO por el corrimiento del centro de gravedad de los aviones al incorporar más asientos. Las aeronaves se comportan diferentes a las versiones anteriores por poseer motores con mayores dimensiones, éstas involucran con más sensibilidad la seguridad. Las aerolíneas han tenido que supimir hasta dos filas traseras para equilibrar el punto de gravedad de las aeronaves. Tras el advenimiento de más dificultades observadas a las que se enfrentan los usuarios y las aerolíneas, el regulador de seguridad se siente compometido a revisar las normas.
FAA studies emergency evacuations
The FAA of the United States investigates the new trends in seat distribution
The new roles of low-cost companies are allowing the Federal Aviation Administration (FAA) new studies and analysis on the impact of the number of passengers in an aircraft on evacuation safety. FAA employees participate in a demonstration of the cabin of a smoke-filled aircraft, in a simulator at the FAA Civil Aerospace Medical Institute at the Mike Monroney Aeronautical Center, on Thursday, October 17, 2019, in Oklahoma City. Federal investigators, using 720 volunteers in Oklahoma City, will assess whether smaller seats and crowded rows delay airline evacuations.
The size of your seat and the amount of legroom you will have on a future flight could be decided at the FAA's board of inquiries. Frequent travelers on American airlines are well aware that narrow economic cabins are detrimental to comfort and functionality. But federal officials who write airline safety rules have never tested whether smaller seats or tight rows have any effect on evacuation time.
The researchers will compare the tests to see if smaller seats or narrower rows make a difference. Presumably, a dramatic difference would be a reason for the FAA to establish more generous minimum standards for airlines to conform to security protocols. An FAA regulatory panel will use that data to help establish airline seating standards, with a possible decision at the end of next year.
According to US government figures, the average American adult weighs approximately 10 pounds (4 1/2 kilograms) more than just two decades ago, and airlines are pressing more passengers in the economy cabin to make more room for customers They pay a lot in executive class. That means tighter rows on the back of the plane.
Sardine Airlines
The airlines "huddle in more and more and more seats, getting closer. People are getting bigger. I don't think we can meet the standard for quick evacuations anymore", said the chairman of the House Transportation Committee of Representatives, Peter DeFazio. Last year, Congress ordered the FAA to set minimums for seat size and distance between rows.
The distance from any point in a seat, for example, the front part of the armrest, and the same place in the seat in the next row is called tone, and the tone has been reduced. A few years ago, the standard was around 34 inches (86 centimeters). Nowadays, in the economy cabin of the American airlines, it is more frequent around 30 or 31 inches (76 to 79 centimeters), and even more strict in some, including Spirit Airlines.
The planes are also fuller, with average flights ranging between 85% -90%. In the Delta Air Lines airline during the boreal summer, it had an occupancy factor of 88%, and during the high frequencies, the occupancy is 100%. Consider also that more passengers carry suitcases on board, and hundreds of thousands of them also bring an emotional support animal, and it is logical to think that it will take longer to get everyone out during an emergency. Until last year, the FAA resisted calls to establish minimum seat and row standards, saying they are matters of passenger comfort, not safety.
Recently, the aviation industry has turned on alerts about the distribution and number of passengers on Airbus A320/321NEO aircraft due to the center of gravity of the aircraft running by incorporating more seats. Aircraft behave differently from previous versions because they have larger engines, which involve safety with more sensitivity. Airlines have had to suppress up to two rear rows to balance the point of gravity of the aircraft. Following the advent of more observed difficulties faced by users and airlines, the security regulator feels committed to revising the rules.
Ξ A I R G W A Y S Ξ
SOURCE: Airgways.com
DBk: Faa.gov / Airgways.com / Cnn.com, Annastasia Beltyukova / Aerotime.aero
AW-POST: 201910181612AR
A\W   A I R G W A Y S ®