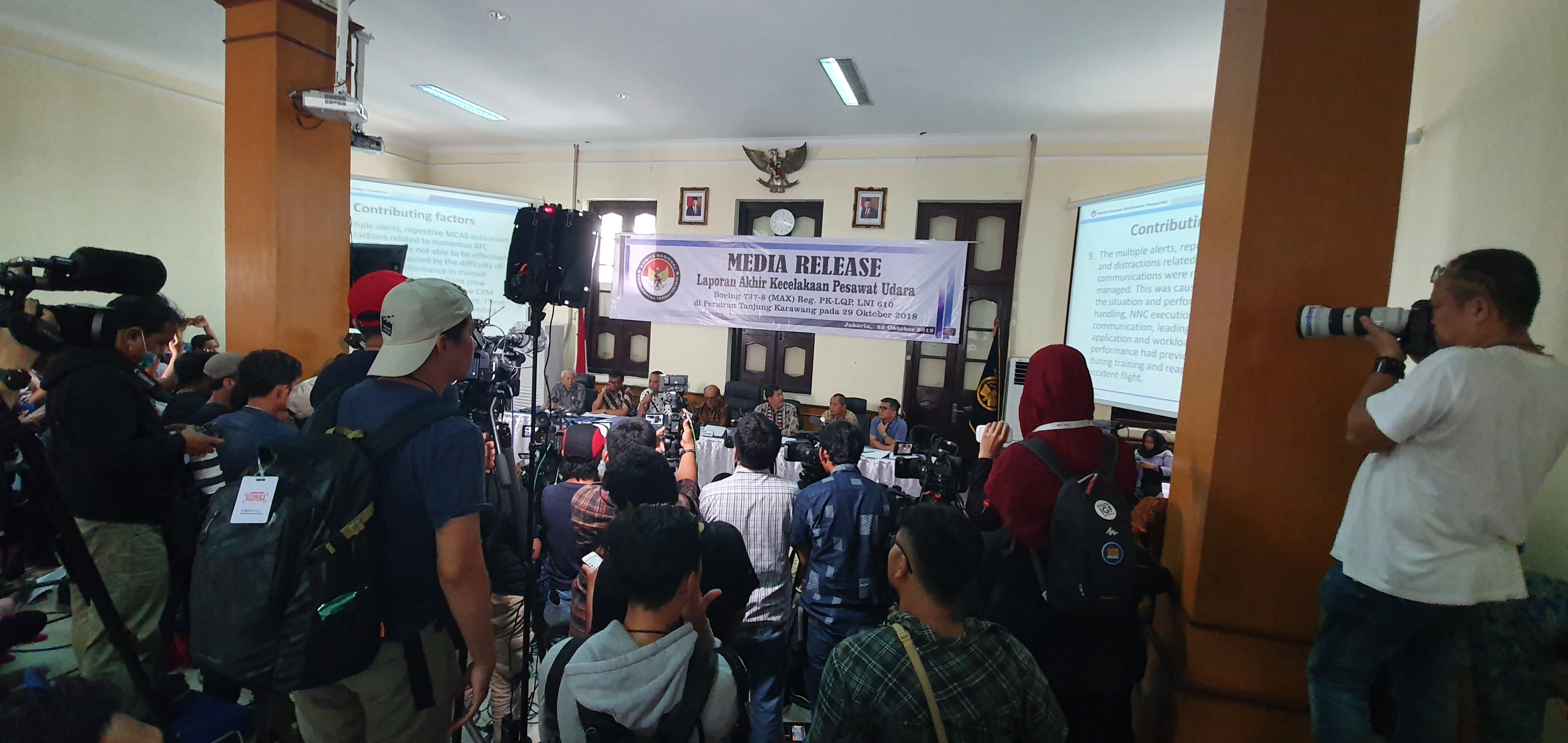 AW | 2019 10 25 14:53 | AIR INVESTIGATION / AVIATION SAFETY
La KNKT de Indonesia publica Repporte Final vuelo JT-610 de Lion Air
Los investigadores indonesios de la KNKT (Komite Nasional Keselamatan Transportasi) publicaron su Reporte Final sobre el accidente del vuelo JT-610 de Lion Air este Viernes 25 Octubre 2019, descubriendo que el diseño de Boeing del Sistema de Aumento de Características de Maniobra (MCAS), la
certificación de la FAA del sistema, el mantenimiento de la aerolínea de la aeronave y las acciones de los pilotos durante el vuelo todos contribuyeron al fatídico accidente aéreo que involocró a una aeronave Boeing 737-8 MAX.
Reporte Final JT610
El informe se divide en 5 secciones: información objetiva, análisis, conclusiones, medidas de seguridad y recomendaciones de seguridad. El Informe Final de Indonesia sobre el fatal accidente del vuelo JT-610 de Lion Air publicado el Viernes 25 Octubre 2019 detalla el estrés y la confusión en la cabina cuando el software de Control de Vuelo MCAS del Boeing 737-8 MAX, engañado por lecturas defectuosas del sensor, bajó repetidamente la nariz del avión. Los investigadores señalan múltiples fallas en el diseño y aprobación del software al tiempo que notan que el capitán estaba enfermo y que el copiloto no estaba familiarizado con los procedimientos de la cabina de emergencia.
A continuación se presentan extractos de un resumen de la grabación de voz de la cabina del 29 Octubre 2018, accidente recuperado por buzos de la marina en Enero 2019:
TRANSCRIPCIÓN VUELO JT-610 / JAKARTA > DEPATI AMIR

Mientras todavía está en tierra, el copiloto informa al capitán que este no es su horario habitual y que lo llamaron a las 4 de la mañana esa mañana y le dijeron que estaría en el vuelo.

El capitán dice que sufre de gripe y se registra tosiendo unas 15 veces durante el vuelo previo.

Un ingeniero de Lion Air llega a la cabina y le dice al capitán que estará a bordo, pero que no ha sido entrenado para el Boeing 737 MAX 8.

Los 181 pasajeros y los siete tripulantes ahora están a bordo y el avión está listo para rodar.

El capitán está en los controles y el copiloto está manejando la radio y hablando con el control de tierra. La torre de Jakarta emite autorización de despegue y el avión sale de la pista a las 06:20:33 a.m.

Dos segundos después, el agitador de palo o la alarma de pérdida comienza a vibrar en el lado izquierdo donde se sienta el capitán. Un sensor de ángulo de ataque defectuoso (AOA) está alimentando datos falsos a una computadora de vuelo, que cree que el avión está en peligro de perder el ascensor.


El capitán se registra como "exclamando sobre lo que le sucedió al avión", mientras que el copiloto le dice que también hay un problema de lecturas inconsistentes de velocidad.

El copiloto hace una exclamación similar y le pregunta al capitán, que no responde, si quiere regresar a Jakarta.

Un controlador de Tránsito Aéreo autoriza a los pilotos a subir a 27,000 pies. Ahora las lecturas de altitud de la cabina se describen como inconsistentes.

El copiloto le pide al Control de Tráfico Aéreo la lectura en la pantalla del radar y le dicen que están a 900 pies cuando el avión estaba subiendo.

El capitán le pide al copiloto que ejecute una lista de verificación de memoria, el tipo más urgente de procedimiento de resolución de problemas que los pilotos deben saber de memoria, para valores de velocidad aérea poco confiables. No hay constancia en la transcripción de él haciendo esto.

Inseguro de qué altitud solicitar a los controladores, el Capitán le dice que "solicite uuh ... proceda".

Cuando el Control de Tránsito Aéreo le pidió que describiera el problema, el Copiloto respondió que estaban experimentando "problemas de control de vuelo".

El Capitán le entrega brevemente el control al Copiloto, mientras que el control aéreo advierte que el vuelo ha descendido a "Setecientos" (1.700 pies) y le pregunta la altitud deseada.

El capitán solicita 5.000 pies, que el Copiloto acciona para controlar.

El Controlador ordena a los pilotos que suban y giren hacia el noreste. Una alerta de voz automatizada en la cabina advierte a la tripulación que vigile el banco o el ángulo de giro.

El Capitán vuelve a pedir un "elemento de memoria", pero no dice a qué lista de verificación mental se refiere. Cuando se le pide que explique, él responde "check".

Diecisiete segundos después, el Copiloto advierte "Control de Vuelo", a lo que el Capitán responde "sí".

Justo después de tres minutos de la pelea, y nuevamente más tarde, el sonido de las páginas que se pasan se recoge en la grabación de la cabina seguido del sonido de la rueda de compensación, una anulación manual vinculada al sistema de compensación controlado por MCAS.

La transcripción sugiere un estrés creciente y comunicaciones más fragmentadas, junto con la confusión sobre qué lista de verificación usar.

El Copiloto busca cada vez más frenéticamente una lista de verificación de velocidad aérea poco confiable: "¿Dónde está el ... no hay velocidad aérea", y momentos después, "Velocidad aérea, velocidad aérea" seguida de más páginas.

El Capitán le pide a una azafata que llame al ingeniero fuera de servicio que viaja en el avión. El micrófono recoge campanadas repetidas que señalan llamadas entre los asistentes de vuelo.

La puerta se abre y se escucha al Capitán pidiéndole a alguien que mire lo que está sucediendo con la computadora, cuyo software MCAS, que el informe confirma que no se incluyó en los manuales, continúa presionando hacia abajo usando el sistema de compensación del avión.

"Bien, ya estamos preparando 5.000", aconseja el Copiloto. Suena un sonido similar a una alerta de altitud. "Vuela", el Copiloto insta al capitán.

Los controladores preguntan a los pilotos si el avión está descendiendo, y el Capitán dice "tenemos algún problema". No está claro si lo dice por radio o a su colega.

El copiloto le dice a los Controladores que están volando manualmente debido al problema de Control de Vuelo.

El Control de Tránsito Aéreo instruye a los pilotos a prepararse para aterrizar en una de las pistas.

El Capitán entrega el control del avión al Copiloto y se pone en contacto con el Control Aéreo utilizando el número de vuelo incorrecto en una señal adicional del estrés acumulado en la cabina.

Advierte al Control Aéreo que la altitud no se puede determinar debido a que todos los instrumentos muestran lecturas diferentes.

Los controladores preguntan qué altitud quieren los pilotos, ya que se escucha al Primer Oficial exclamar que el avión está volando.

El Capitán responde "Cinco thou" (5,000 pies) y responde "Está bien" cuando el Copiloto nuevamente exclama que el avión está descendiendo.

Suena una advertencia de exceso de velocidad.

El Copiloto dice "volar".

Dos alertas de voz computarizadas - "Terrain, Terrain" seguidas de "Sink rate", resuenan.

Son los sonidos finales incluidos en la transcripción antes de que el Boeing 737-8 MAX impacta en el agua a gran velocidad, matando a las 189 personas a bordo.

Once minutos y 22 segundos después del despegue, la grabación se detiene.
Cronología Vuelo JT-610 Lion Air
El vuelo JT-610 de Lion Air fue un vuelo doméstico programado operado por la aerolínea indonesia Lion Air desde el aeropuerto internacional Soekarno-Hatta en Jakarta hasta el aeropuerto Depati Amir en Pangkal Pinang. El 29 Octubre 2018, el Boeing 737-8 MAX que operaba la ruta se estrelló en el Mar de Java trece minutos después del despegue, falleciendo los 189 pasajeros y la tripulación.
Fue el primer accidente importante que involucró al nuevo avión de la serie Boeing 737 MAX, presentado en 2017, y el más mortal que involucró un 737, superando el vuelo 812 de Air India Express en 2010. Es el accidente más mortal en los 18 años de historia de Lion Air, superando el accidente de 2004 en Surakarta que mató a 25 personas, y el segundo accidente aéreo más mortal en Indonesia detrás del vuelo 152 de Garuda Indonesia.
El gobierno indonesio desplegó una operación de búsqueda y rescate que encontró escombros temprano esa misma mañana y recuperó restos humanos de un área de 150 millas náuticas (280 km) de ancho. La primera víctima fue identificada dos días después del accidente. El registrador de datos de vuelo se localizó el 1 Noviembre 2018 y se recuperó para su análisis. Un miembro del equipo de rescate voluntario murió durante las operaciones de recuperación. La grabadora de voz de la cabina se encontró el 14 Enero 2019.
Las investigaciones preliminares revelaron serios problemas de control de vuelo que traumatizaron a los pasajeros y a la tripulación en el vuelo anterior de la aeronave, así como signos de sensor de ángulo de ataque (AOA) y otras fallas de instrumentos en ese y vuelos anteriores, vinculados a una falla potencial de diseño que involucra las características de maniobra. Sistema de aumento (MCAS) de la serie 737 MAX. Como resultado, la Administración Federal de Aviación de los Estados Unidos (FAA) y The Boeing Company emitieron advertencias y avisos de capacitación a todos los operadores de la serie 737 MAX para evitar que el MCAS provoque una inmersión abrupta similar al vuelo de Lion Air.
Sin embargo, estas advertencias no se implementaron completamente, y se sospecha que los problemas de diseño están involucrados en el accidente del vuelo ET-302 de Ethiopian Airlines el 10 Marzo 2019, lo que llevó a la puesta a tierra en todo el mundo de todos los aviones 737 MAX.
Final Report Lion Air JT-610
Indonesian KNKT publishes Lion Air JT-610 Final Flight Report
Indonesian KNKT investigators (Komite Nasional Keselamatan Transportasi) published their Final Report on the accident of the Lion Air JT-610 flight this Friday, October 25, 2019, discovering that the Boeing design of the Maneuvering Characteristic Augmentation System (MCAS), the FAA certification of the system, the maintenance of the aircraft airline and the actions of the pilots during the flight all contributed to the fateful plane crash that involved a Boeing 737-8 MAX aircraft.
JT610 Final Report
The report is divided into 5 sections: objective information, analysis, conclusions, security measures, and safety recommendations. The Indonesian Final Report on the fatal accident of Lion Air JT-610 published on Friday 25 October 2019 details the stress and confusion in the cabin when the MCAS flight control software of the Boeing 737-8 MAX, cheated by readings defective sensor, repeatedly lowered the nose of the plane. Investigators point out multiple flaws in the design and approval of the software while noting that the captain was ill and that the co-pilot was not familiar with the emergency cabin procedures.
Following are excerpts from a summary of the voice recording of the cabin of October 29, 2018, accident recovered by divers from the marina in January 2019:
Flight Transcript JT-610 / Jakarta> Depati Amir

While still on the ground, the co-pilot informs the captain that this is not his usual schedule and that he was called at 4 in the morning that morning and was told he would be on the flight.

The captain says he suffers from the flu and records coughing about 15 times during the previous flight.

A Lion Air engineer arrives at the cabin and tells the captain that he will be on board, but that he has not been trained for the Boeing 737-8 MAX.

The 181 passengers and the seven crew members are now on board and the plane is ready to roll.

The captain is in the controls and the co-pilot is driving the radio and talking to the ground control. The Jakarta tower issues takeoff authorization and the plane leaves the runway at 06:20:33 a.m.

Two seconds later, the stick agitator or loss alarm begins to vibrate on the left side where the captain sits. A defective angle of attack (AOA) sensor is feeding fake data to a flight computer, which believes the plane is in danger of losing the elevator.

The captain registers as "exclaiming about what happened to the plane", while the co-pilot tells him that there is also a problem of inconsistent speed readings.

The co-pilot makes a similar exclamation and asks the captain, who does not respond, if he wants to return to Jakarta.

An Air Traffic controller authorizes pilots to climb to 27,000 feet. Now cabin altitude readings are described as inconsistent.

The co-pilot asks the Air Traffic Control to read on the radar screen and is told they are 900 feet away when the plane was boarding.

The captain asks the co-pilot to run a memory checklist, the most urgent type of troubleshooting procedure that pilots should know by heart, for unreliable airspeed values. There is no record in the transcript of him doing this.

Unsure of what altitude to request from the controllers, the Captain tells him to "request uuh ... proceed".

When the Air Traffic Control asked him to describe the problem, the Copilot responded that they were experiencing "flight control problems".

The Captain briefly hands control to the Co-pilot, while the air traffic control warns that the flight has dropped to "Seven Hundred" (1,700 feet) and asks for the desired altitude.

The captain requests 5,000 feet, which the Copilot drives to control.

The Controller orders the pilots to go up and turn northeast. An automated voice alert in the cabin warns the crew to watch the bank or the angle of rotation.

The Captain asks for a "memory element" again, but does not say to which mental checklist he refers. When asked to explain, he replies "check".

Seventeen seconds later, the Co-Pilot warns "Flight Control", to which the Captain replies "yes".

Just after three minutes of the fight, and again later, the sound of the pages that are passed is collected in the cabin recording followed by the sound of the compensation wheel, a manual override linked to the MCAS-controlled compensation system.

The transcript suggests increasing stress and more fragmented communications, along with confusion about which checklist to use.

The Co-Pilot is increasingly frantically searching for an unreliable air speed checklist: "Where is the ... there is no airspeed, and moments later", airspeed, airspeed" followed by more pages.

The Captain asks a flight attendant to call the out-of-service engineer traveling on the plane. The microphone picks up repeated chimes that signal calls between flight attendants.

The door opens and the Captain is heard asking someone to look at what is happening with the computer, whose MCAS software, which the report confirms was not included in the manuals, continues to press down using the airplane compensation system.

"Well, we are already preparing 5,000", advises the Copilot. A sound similar to an altitude alert sounds. "Fly", the Copilot urges the captain.

The controllers ask the pilots if the plane is descending, and the Captain says "we have a problem". It is not clear if he says it on the radio or his colleague.

The co-pilot tells the Controllers that they are flying manually due to the Flight Control problem.

Air Traffic Control instructs pilots to prepare to land on one of the runways.

The Captain delivers control of the plane to the Copilot and contacts the Air Control using the incorrect flight number in an additional signal of the accumulated stress in the cabin.

It warns the Air Control that the altitude cannot be determined because all instruments show different readings.

The controllers ask what altitude the pilots want, since the First Officer is heard exclaiming that the plane is flying.

The Captain responds "Five thou" (5,000 feet) and responds "Okay" when the Co-Pilot again exclaims that the plane is descending.

Sounds a warning of speeding.

The co-pilot says "fly".

Two computerized voice alerts - "Terrain, Terrain" followed by "Sink rate", resonate.

They are the final sounds included in the transcript before the Boeing 737-8 MAX hits the water at high speed, killing the 189 people on board.

Eleven minutes and 22 seconds after takeoff, the recording stops.
Timeline Flight JT-610 Lion Air
Lion Air flight JT-610 was a scheduled domestic flight operated by the Indonesian airline Lion Air from Soekarno-Hatta International Airport in Jakarta to Depati Amir Airport in Pangkal Pinang. On October 29, 2018, the Boeing 737-8 MAX that operated the route crashed into the Java Sea thirteen minutes after takeoff, with 189 passengers and crew die.
It was the first major accident that involved the new Boeing 737 MAX series aircraft, presented in 2017, and the deadliest that involved a 737, surpassing Air India Express Flight 812 in 2010. It is the deadliest accident in the 18 years Lion Air history, overcoming the 2004 accident in Surakarta that killed 25 people, and the second deadliest plane crash in Indonesia behind flight 152 of Garuda Indonesia.
The Indonesian government deployed a search and rescue operation that found rubble early that morning and recovered human remains from an area of ​​150 nautical miles (280 km) wide. The first victim was identified two days after the accident. The flight data recorder was located on November 1, 2018, and recovered for analysis. A member of the volunteer rescue team died during recovery operations. The voice recorder in the cabin was found on January 14, 2019.
Preliminary investigations revealed serious flight control problems that traumatized passengers and crew on the previous flight of the aircraft, as well as signs of the Angle of Attack sensor (AOA) and other instrument failures on that and previous flights, linked to a potential design flaw that involves the maneuvering characteristics. Magnification system (MCAS) of the 737 MAX series. As a result, the United States Federal Aviation Administration (FAA) and The Boeing Company issued warnings and training notices to all 737 MAX series operators to prevent the MCAS from causing an abrupt dive similar to the Lion Air flight.
However, these warnings were not fully implemented, and design problems are suspected to be involved in the Ethiopian Airlines flight ET-302 crash on March 10, 2019, which led to everyone's worldwide grounding 737 MAX aircraft.
REPORT FINAL JT-610 LION AIR

http://knkt.dephub.go.id/knkt/ntsc_home/ntsc.htm


Ξ A I R G W A Y S Ξ
SOURCE: Airgways.com
DBk: Dephub.go.id / Reuters.com / Channelnewsasia.com / Airgways.com / Wikimedia.org / Arvin Lienardi
AW-POST: 201910251453AR
A\W   A I R G W A Y S ®