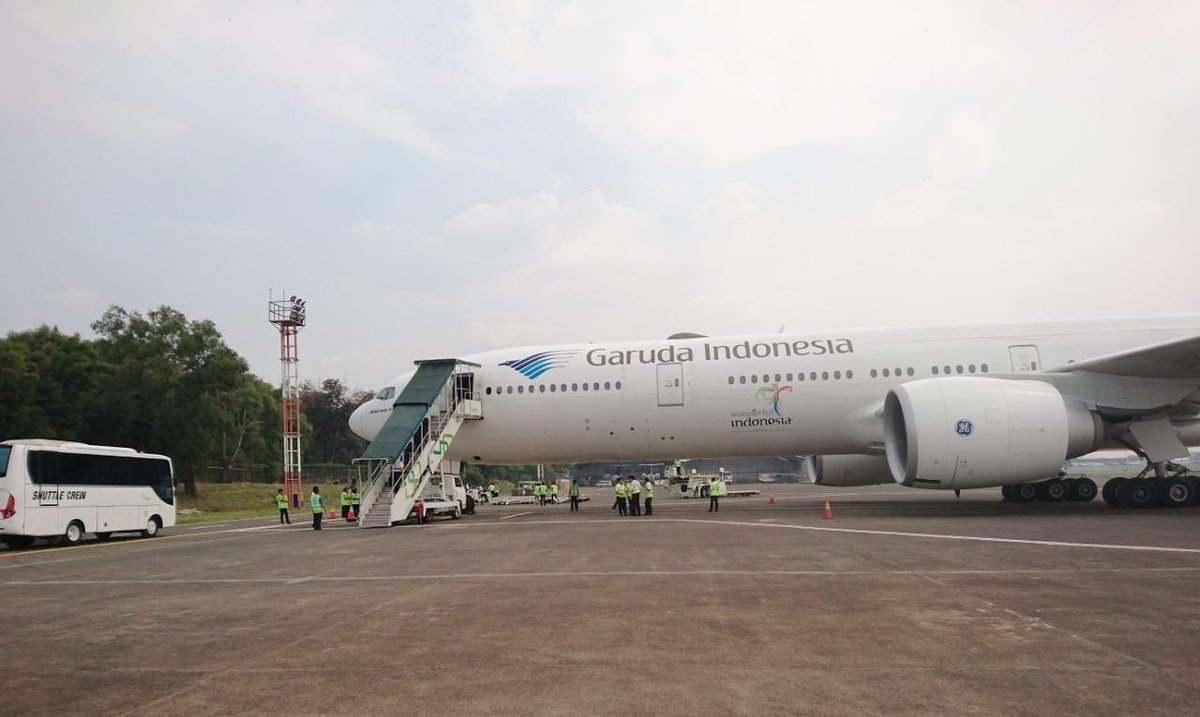 AW | 2020 01 02 07:22 | AIRPORTS / AIR TRAFFIC
Aeropuerto de Halim Perdanakusuma en Indonesia retorna normalidad después de las inundaciones masivas
Las operaciones en el Aeropuerto Halim Perdanakusuma en el este de Jakarta se reanudaron el Jueves 02/01 después de que el aeropuerto se vio obligado a cerrar el Miércoles 01/01 por la mañana debido a las inundaciones masivas en el Gran Jakarta.
El operador aeroportuario estatal Angkasa Pura II dijo que la pista ya no estaba inundada. Las inundaciones habían evitado que los aviones despegaran y aterrizaran, lo que obligó a todos los vuelos a trasladarse al Aeropuerto Internacional Soekarno-Hatta en Tangerang, Banten. "Lamentamos cualquier inconveniente causado. Las desviaciones de los vuelos fueron bien», dijo el director presidente de Angkasa Pura II, M. Awaluddin, en un comunicado el Jueves.
Jakarta experimentó el Martes 31 Diciembre 2019 por la noche sus peores precipitaciones en más de una década, con lluvias que golpearon la ciudad sin parar hasta el miércoles por la mañana. Las lluvias causaron graves inundaciones en la capital y sus ciudades satélites el primer día de 2020. La Agencia de Meteorología, Climatología y Geofísica (BMKG) registró la intensidad de la lluvia en la víspera de Año Nuevo en 377 milímetros. La tasa fue la más alta desde 2007, cuando la intensidad de lluvia alcanzó 340 mm en un día.
El Vicepresidente de Comunicación Corporativa de Angkasa Pura II, Yado Yarismano, dijo que la compañía había revisado todas las instalaciones, equipos y pistas del aeropuerto, confirmando que todos cumplían con los estándares de valor operacional. Varias aerolíneas operan desde Halim Perdanakusuma, incluidas Wings Air, Batik Air y Citilink Indonesia.
Halim Airport Resumption
Indonesia's Halim Perdanakusuma Airport returns to normal after massive flooding
Operations at Halim Perdanakusuma Airport in eastern Jakarta resumed on Thursday 02/01 after the airport was forced to close on Wednesday 01/01 in the morning due to massive flooding in Greater Jakarta.
State airport operator Angkasa Pura II said the runway was no longer flooded. The floods had prevented the planes from taking off and landing, forcing all flights to move to Soekarno-Hatta International Airport in Tangerang, Banten. "We regret any inconvenience caused. The flight deviations went well», said Angkasa Pura II president director M. Awaluddin, in a statement Thursday.
Jakarta experienced Tuesday, December 31, 2019, at night its worst rainfall in more than a decade, with rains that hit the city without stopping until Wednesday morning. The rains caused serious flooding in the capital and its satellite cities on the first day of 2020. The Agency for Meteorology, Climatology, and Geophysics (BMKG) recorded the intensity of the rain on New Year's Eve at 377 millimeters. The rate was the highest since 2007 when the intensity of rain reached 340 mm in one day.
The Vice President of Corporate Communication of Angkasa Pura II, Yado Yarismano, said the company had reviewed all the facilities, equipment and runways of the airport, confirming that they all met the operational value standards. Several airlines operate from Halim Perdanakusuma, including Wings Air, Batik Air, and Citilink Indonesia.
Dimulainya kembali Bandara Halim
Bandara Halim Perdanakusuma di Indonesia kembali normal setelah banjir besar
Operasi di Bandara Halim Perdanakusuma di Jakarta Timur dilanjutkan pada hari Kamis 02/01 setelah bandara terpaksa ditutup pada hari Rabu 01/01 di pagi hari karena banjir besar di Jabodetabek.
Operator bandara negara bagian Angkasa Pura II mengatakan landasan pacu tidak lagi banjir. Banjir telah mencegah pesawat lepas landas dan mendarat, memaksa semua penerbangan untuk pindah ke Bandara Internasional Soekarno-Hatta di Tangerang, Banten. "Kami menyesali ketidaknyamanan yang ditimbulkan. Penyimpangan penerbangan berjalan dengan baik», kata presiden direktur Angkasa Pura II M. Awaluddin, dalam sebuah pernyataan Kamis.
Jakarta mengalami Selasa, 31 Desember 2019 pada malam hari curah hujan terburuknya dalam lebih dari satu dekade, dengan hujan turun tanpa henti hingga Rabu pagi. Hujan menyebabkan banjir serius di ibu kota dan kota-kota satelitnya pada hari pertama tahun 2020. Badan Meteorologi, Klimatologi dan Geofisika (BMKG) mencatat intensitas hujan pada Malam Tahun Baru di 377 milimeter. Angka itu merupakan yang tertinggi sejak 2007, ketika intensitas hujan mencapai 340 mm dalam satu hari.
Wakil Presiden Komunikasi Korporat Angkasa Pura II, Yado Yarismano, mengatakan perusahaan telah meninjau semua fasilitas, peralatan, dan landasan pacu bandara, membenarkan bahwa mereka semua memenuhi standar nilai operasional. Beberapa maskapai beroperasi dari Halim Perdanakusuma, termasuk Wings Air, Batik Air dan Citilink Indonesia.
Ξ A I R G W A Y S Ξ
SOURCE: Airgways.com
DBk: Bmkg.go.id / Anmgkasapura2.co.id / Thejakartapost.com / Antaranews.com
AW-POST: 202001020722AR
A\W   A I R G W A Y S ®