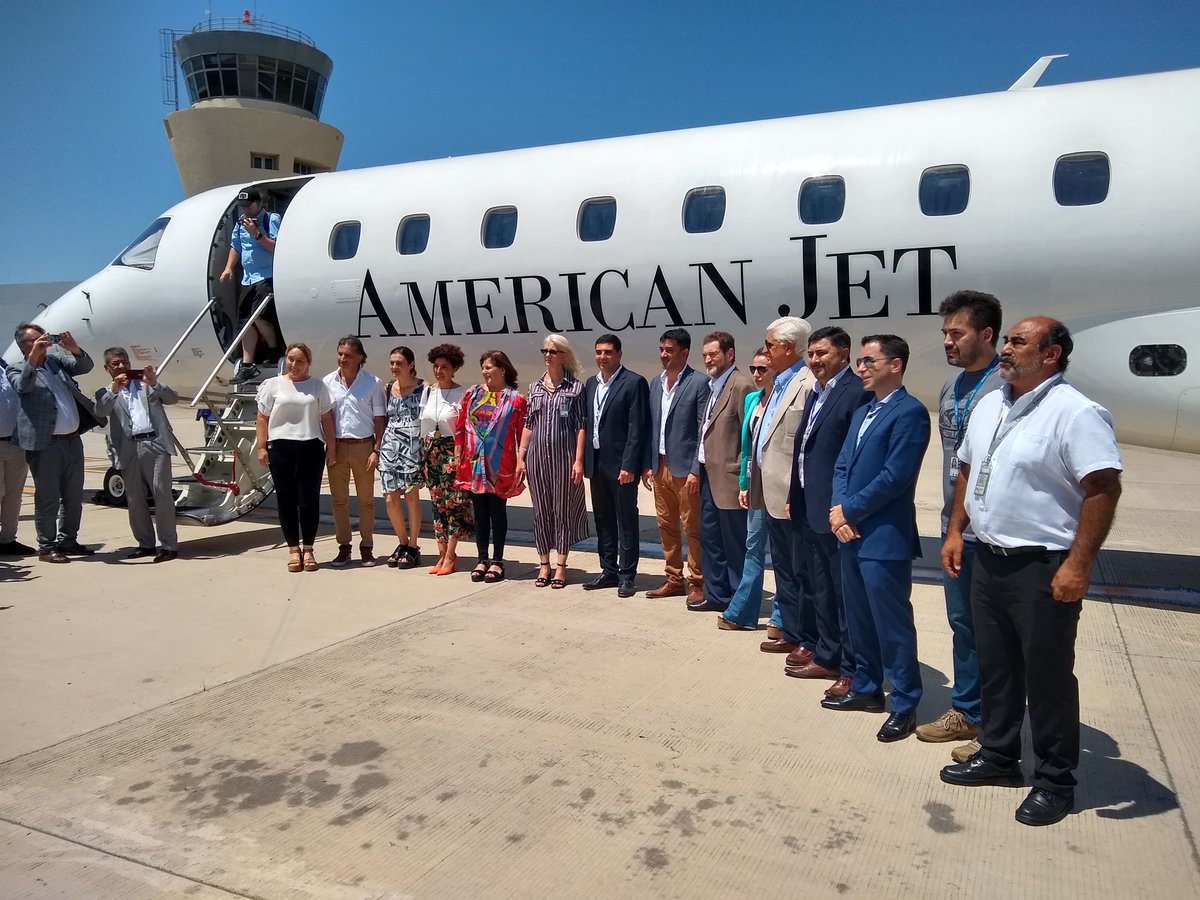 AW | 2020 01 14 16:22 | AIRLINES ROUTES
American Jet inicia ruta regular Aeroparque-Termas de Río Hondo
American Jet Líneas Aéreas ha iniciado una nueva ruta aérea a partir del 12 Enero 2020 hasta Marzo con servicios regulares estacionales en la ruta Aeroparque–Río Hondo los días Jueves y Domingos (2Frq/S) con aeronaves regionales Embraer ERJ-145 de 50 pasajeros. La aerolínea regional posee dos E-145 con registros LV-HVE y LV-IVA.
Gestiones con Santiago del Estero
Estos vuelos se inician luego de gestiones realizadas con el Gobierno de la Provincia de Santiago del Estero y American Jet. La línea aérea extiende un servicio gratuito de buses desde Santiago del Estero a Termas de Río Hondo, que trasladará pasajeros desde la capital santiagueña para luego conectar con el nuevo servicio aéreo al Aeroparque. El 10 Enero 2020, el Embraer E-145 matrícula LV-HVE efectuó un vuelo inaugural con autoridades desde el Aeropuerto Jorge Newbery hacia las Termas de Río Hondo y al regreso hizo escala en la ciudad de Santiago del Estero.
American Jet, Audiencias Públicas
Tras la primera audiencia pública de fines de 2016, American Jet Líneas Aéreas obtuvo trece rutas, pero nunca las ha explotado. Su dueño es un empresario que lleva 35 años en el negocio. Desde 1984 ha incorporado aeronaves a medida que se consolidaba como transportista de contingentes de empresas petroleras, mineras y hasta equipos de fútbol. Durante 2017, la aerolínea ha intentado comenzar a volar de manera regular entre Neuquén y Malargüe, pero dio marcha atrás luego de la devaluación de 2018.
El vuelo a Río Hondo fue previamente consensuado con un grupo de agencias de turismo, encargadas de vender paquetes all inclusive de 4 y 7 días en esta ciudad de Santiago del Estero, con un importante desarrollo hotelero. «Nos estamos manejando con el mismo esquema que se utilizan para las semanas de esquí, sólo que se trata de un destino donde se puede ir con toda la familia, con tarifas en pesos y a precios más accesibles que los paquetes al exterior», agregaron las fuentes.
La plantilla laboral alcanza los 70 empleados de los cuales 30 son pilotos y operaciones desde los aeropuertos de San Fernando, Neuquén y Mendoza, American Jet tiene una flota de 12 aeronaves que incluyen Embraer E-145 (2), ATR 42-320 (1), Fairchild Metro 23 (4) y Dornier 228-200 (1), Lear Jet 31A (1).
Historia de American Jet
Fue creada en 1984 para dedicarse a vuelos de taxi aéreo en el Aeroparque Jorge Newbery de la ciudad de Buenos Aires. American Jet es una empresa dedicaba a vuelos charters para empresas petroleras, clubes deportivos y otras organizaciones. En 1996 agregó un servicios con el fin del traslado de personal de varias empresas, fundamentalmente petroleras y mineras.
Comenzando una nueva etapa en la que permitió que American Jet instalara bases en las ciudades de Tucumán y Neuquén. En el 2008, luego de ganar la licitación para rutas aéreas, el gobierno de la Provincia de Neuquén cede los permisos para la operación de rutas aéreas en dicha provincia a American Jet que hasta ese momento solo se dedicaba a vuelos de taxi aéreo. El 2 Junio 2009 American Jet comienza a volar como línea aérea regular, siendo su primer destino la ciudad de San Martín de los Andes (Chapelco).​ El 26 Noviembre 2009, la empresa minera La Alumbrera le rescinde el contrato que tenía con American Jet para el transporte de sus trabajadores desde la ciudad de San Miguel de Tucumán hacia Campo Arenal​ (Catamarca). Por lo tanto de esta manera American Jet luego de 13 años deja de operar en su base del Aeropuerto Internacional Teniente Benjamín Matienzo de Tucumán.
En el año 2013, finaliza la construcción de su nuevo Hangar, en Aeropuerto Internacional de San Fernando, donde ofrece servicios de Taxi aéreo, charter, hangaraje, FBO, entre otros. El 18 Octubre 2016, inaugura el puente aéreo Neuquén (Argentina)—Temuco (Chile), como servicio regular de pasajeros. Actualmente la aerolínea cuenta con bases en la Ciudad de Neuquén, Mendoza y Buenos Aires (Aeroparque y San Fernando).
American Jet expands services
American Jet starts regular route Aeroparque-Termas de Río Hondo
American Jet Líneas Aéreas has started a new air route from January 12, 2020, until March with regular seasonal services on the Aeroparque – Río Hondo route on Thursdays and Sundays (2Frq/S) with 50-passenger Embraer ERJ-145 regional aircraft. The regional airline owns two E-145 with LV-HVE and LV-VAT records.
Management with Santiago del Estero
These flights begin after negotiations with the Government of the Province of Santiago del Estero and American Jet. The airline extends a free bus service from Santiago del Estero to Termas de Río Hondo, which will transfer passengers from the capital of Santiago and then connect with the new air service to the Aeroparque. On January 10, 2020, the Embraer E-145 registration LV-HVE made an inaugural flight with authorities from the Jorge Newbery Airport to the Termas de Río Hondo and on the way back made a stop in the city of Santiago del Estero.
American Jet, Public Hearings
After the first public hearing at the end of 2016, American Jet Airlines obtained thirteen routes but has never exploited them. Its owner is an entrepreneur who has been in business for 35 years. Since 1984 it has incorporated aircraft as it consolidated itself as a contingent carrier for oil companies, mining companies, and even football teams. During 2017, the airline has tried to start flying regularly between Neuquén and Malargüe but reversed after the 2018 devaluation.
The flight to Rio Hondo was previously agreed with a group of tourism agencies, in charge of selling all-inclusive packages of 4 and 7 days in this city of Santiago del Estero, with an important hotel development. «We are driving with the same scheme that is used for ski weeks, only that it is a destination where you can go with the whole family, with rates in pesos and at prices more accessible than packages abroad», added the sources.
The workforce reaches 70 employees of which 30 are pilots and operations from the airports of San Fernando, Neuquén and Mendoza, American Jet has a fleet of 12 aircraft that include Embraer E-145 (2), ATR 42-320 (1 ), Fairchild Metro 23 (4) and Dornier 228-200 (1), Lear Jet 31A (1).
American Jet History
It was created in 1984 to engage in air taxi flights at the Jorge Newbery Airpark in the city of Buenos Aires. American Jet is a company dedicated to charter flights for oil companies, sports clubs, and other organizations. In 1996, he added services for the purpose of transferring personnel from several companies, mainly oil and mining companies.
Starting a new stage in which he allowed American Jet to install bases in the cities of Tucumán and Neuquén. In 2008, after winning the tender for air routes, the government of the Province of Neuquén ceded the permits for the operation of air routes in that province to American Jet that until that moment was only dedicated to air taxi flights. On June 2, 2009, American Jet begins to fly as a regular airline, being its first destination the city of San Martín de los Andes (Chapelco) On November 26, 2009, the mining company La Alumbrera terminates the contract it had with American Jet for the transport of its workers from the city of San Miguel de Tucumán to Campo Arenal (Catamarca). Therefore, in this way, American Jet after 13 years ceases to operate at its base at the Teniente Benjamín Matienzo International Airport in Tucumán.
In 2013, the construction of its new Hangar, in San Fernando International Airport, where it offers services of air taxi, charter, hangar, FBO, among others. On October 18, 2016, the Neuquén (Argentina)—Temuco (Chile) air bridge opens like a regular passenger service. Currently, the airline has bases in the City of Neuquén, Mendoza and Buenos Aires (Aeroparque and San Fernando).
Ξ A I R G W A Y S Ξ
SOURCE: Airgways.com
DBk: Americanjet.com.ar / Airgways.com / Clarin.com / Twitter.com/diego_domi
AW-POST: 202001141622AR
A\W   A I R G W A Y S ®