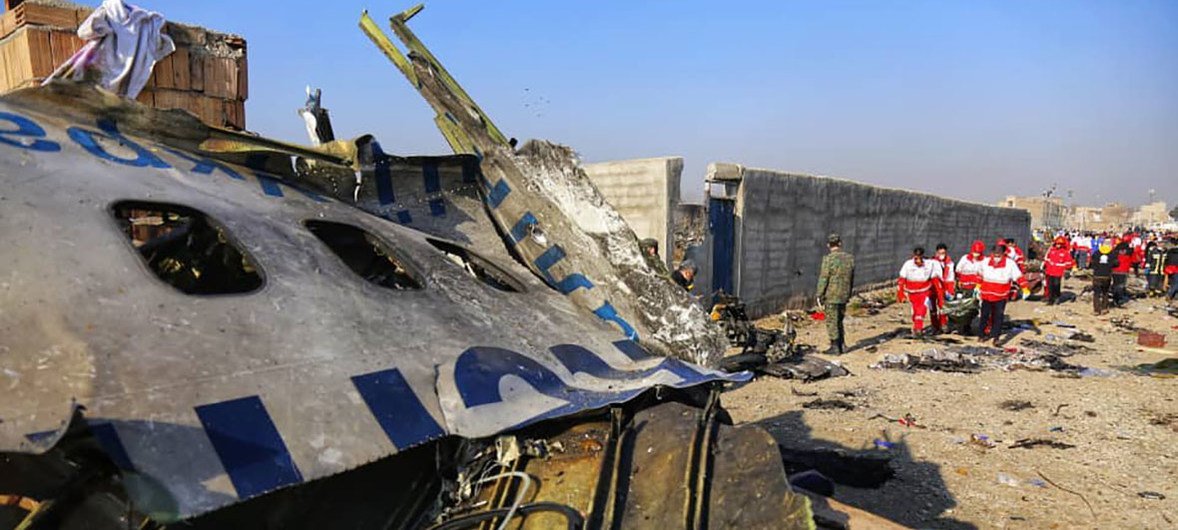 AW | 2020 01 15 12:34 | AIR INVESTIGATION / AVIATION SAFETY
Expertos en aviación de la ONU se unirán a la investigación del atentado aéreo del vuelo de Ukraine Airlines en Irán
Los expertos del organismo de control de aviación de la ONU, la Organización de Aviación Civil Internacional (OACI), apoyarán la investigación sobre el accidente de un avión de pasajeros ucraniano Boeing 737-800 de la compañía aérea Ukraine international Airlines en Irán el 8 Enero 2020 alcanzada por un misil.
Tras una invitación de las autoridades iraníes, que fue aceptada el Martes 14/01, la declaración de la OACI dijo que ha designado personal técnico superior y experto, que ahora servirá como asesores y observadores. Las autoridades han revelado pocos detalles de la investigación de Irán, pero el Presidente de Irán, Hassan Rouhani, dijo en un discurso televisado que será supervisado por varios expertos y que el poder judicial creará un tribunal especial.
El Martes 14/01, un portavoz del poder judicial de la República de Irán en una conferencia de prensa ha comunicado que la investigación analizará las causas y el impacto directo del incidente. Irán admitió que el vuelo PS-752 de Ukrainian International Airlines fue derribado por sus fuerzas armadas y anunció el Martes que varias personas fueron detenidas por el incidente que, según dice, fue accidental. Las 176 personas a bordo murieron en el accidente. El incidente tuvo lugar varias horas después de que Irán lanzó un ataque con misiles balísticos desde su territorio en las fuerzas estadounidenses estacionadas en Irak, en respuesta a la matanza por aviones no tripulados estadounidenses del principal General iraní Qassem Soleimani.
Inicialmente, Irán negó la responsabilidad por el accidente, al parecer atribuyéndolo a una falla técnica, pero finalmente admitió que el operador de un sistema de defensa antimisiles había confundido el avión con un misil y lo derribó.
UN/ICAO will investigate PS752 attack
UN aviation experts will join the investigation of the Ukraine Airlines flight air attack in Iran
Experts from the UN aviation control body, the International Civil Aviation Organization (ICAO), will support the investigation into the accident of a Ukrainian passenger aircraft Boeing 737-800 of the Ukraine international Airlines in Iran on January 8, 2020, hit by a missile.
Following an invitation from the Iranian authorities, which was accepted on Tuesday 14/01, the ICAO statement said it has appointed senior and expert technical staff, which will now serve as advisors and observers. Authorities have revealed few details of Iran's investigation, but Iran's President Hassan Rouhani said in a televised speech that he will be supervised by several experts and that the judiciary will create a special court.
On Tuesday 14/01, a spokesman for the judiciary of the Republic of Iran at a press conference said that the investigation will analyze the causes and the direct impact of the incident. Iran admitted that the PS-752 flight of Ukrainian International Airlines was shot down by its armed forces and announced Tuesday that several people were arrested for the incident, which he says was accidental. The 176 people on board died in the accident. The incident took place several hours after Iran launched an attack with ballistic missiles from its territory in US forces stationed in Iraq, in response to the killing by US drones of Iranian chief General Qassem Soleimani.
Initially, Iran denied responsibility for the accident, apparently attributing it to a technical fault, but finally admitted that the operator of a missile defense system had confused the plane with a missile and shot it down.
Ξ A I R G W A Y S Ξ
SOURCE: Airgways.com
DBk: News.un.org / Ifrc.org / Airgways.com
AW-POST: 202001151234AR
A\W   A I R G W A Y S ®