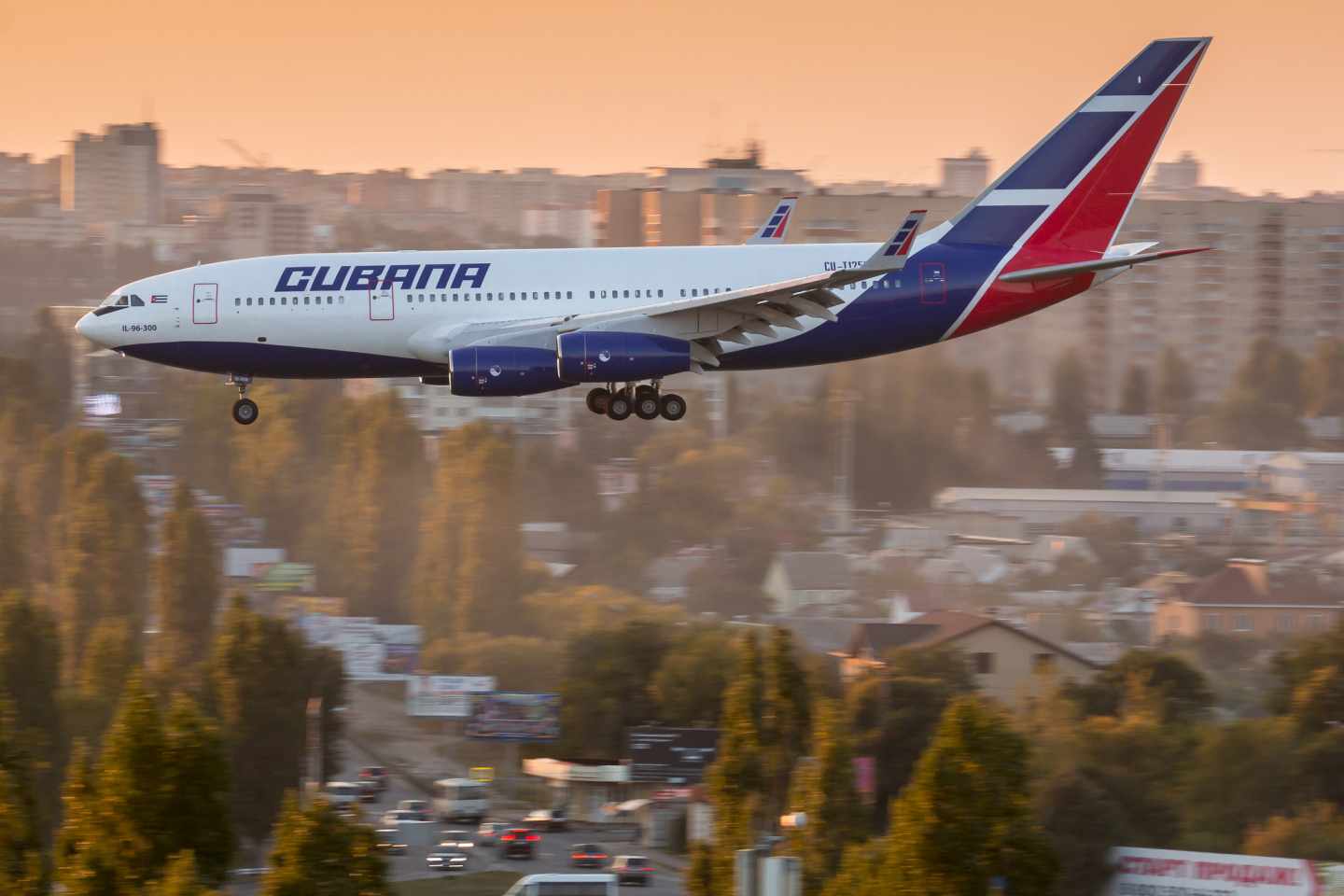 AW | 2020 10 15 12:33 | AIRPORTS / AIR TRAFFIC / GOVERNMENT
Cuba abre todos sus aeropuertos con excepción de La Habana
La Empresa Cubana de Navegación Aérea (ECNA), ha anunciado a través de su página oficial que desde este 15 de Octubre de 2020 están abiertos a los vuelos comerciales todos los aeropuertos internacionales de Cuba, con excepción de La Habana, que continuará restringida al menos hasta el 31 de Octubre de 2020.
El comunicación expresa: "Notam a 3610/20 desde el 15 de Octubre de 2020 a las 23:59 hora local, se autorizan operaciones aéreas regulares y chárter a todos los aeropuertos internacionales de Cuba, con excepción del José Martí, que mantiene la restricción hasta el 31 de Octubre de 2020, 24:00 hora local".
Aeropuerto La Habana
El Aeropuerto de La Habana/José Martí se mantendrá prestando servicios para operaciones humanitarias y de carga. Cada pasajero deberá limitar su llegada a Cuba con apenas dos piezas de acompañamiento de 32 kg cada uno. La Habana, que lo hará recién el 1 de noviembre, según el último Aviso a Navegantes (Notam) publicado por las autoridades aeronáuticas. En el nuevo paquete de medidas adoptadas en La Habana como parte del enfrentamiento a la pandemia se mantiene la prohibición de los vuelos internacionales regulares. Así trascendió en la última jornada durante la reunión del Consejo de Defensa Provincial de La Habana.
Reaperturas de aeropuertos
El Instituto de la Aeronáutica Civil de Cuba (IACC) y la Corporación de la Aviación Cubana (CACSA) ya había dado luz verde a las terminales aéreas de Santa Clara/Abel Santamaría, los de Jardines del Rey en Cayo Coco y el de Cayo Largo del Sur en la Isla de la Juventud. El Aeropuerto Varadero/Juan Gualberto Gómez de Varadero, que desde el 15/10 recibirá vuelos de la aerolínea canadiense Air Canadá, que serán los primeros turistas en arribar en varios meses desde el comienzo de la pandemia. El 31/10 además, empezarán a llegar visitantes desde Alemania con la llegada de la aerolínea alemana Condor Airlines. También está el Aeropuerto Holguín/Frank País, que está ubicado a 11 km del centro de la ciudad homónima que ya está certificado para recibir a turista. Otros aeropuertos habilitados para empezar a operar desde este 15/10 son el Sierra Maestra de la ciudad de Manzanillo en Granma, que fue reparado para esta ocasión, aunque en colaboración con el de Holguín. Además los aeropuertos Jaime González de Cienfuegos y Bayamo, la capital de Granma operarán con la reapertura y los protocolos vigentes de bioseguridad.
Desde Cancún, también se anuncian vuelos a través de Viva Aerobús para el Aeropuerto Internacional Ignacio Agramonte de Camagüey, que atiende vuelos al polo turístico de Santa Lucía y al Aeropuerto Internacional de Santiago de Cuba/Antonio Maceo y Grajales, que sirve a la segunda ciudad en importancia de la Isla.
Cuba reopens flights 10/15
Cuba opens all its airports except Havana
The Cuban Air Navigation Company (ECNA) has announced through its official website that from this October 15, 2020 all Cuba's international airports are open to commercial flights, with the exception of Havana, which will continue to be restricted at least until October 31, 2020.
The communication states: "Notam at 3610/20 from October 15, 2020 at 11:59 p.m. local time, regular and charter air operations are authorized to all international airports in Cuba, with the exception of José Martí, which maintains the restriction until October 31, 2020, 24:00 local time".
Havana airport
The Havana/José Martí Airport will continue to provide services for humanitarian and cargo operations. Each passenger must limit their arrival in Cuba with only two accompanying pieces of 32 kg each. Havana, which will only do so on November 1, according to the latest Notice to Navigators (Notam) published by the aeronautical authorities. In the new package of measures adopted in Havana as part of the fight against the pandemic, the ban on regular international flights is maintained. This was revealed on the last day during the meeting of the Provincial Defense Council of Havana.
Airport reopening
The Cuban Civil Aeronautics Institute (IACC) and the Cuban Aviation Corporation (CACSA) had already given the green light to the Santa Clara/ Abel Santamaría air terminals, the Jardines del Rey in Cayo Coco and the Cayo Largo from the South on the Isle of Youth. The Varadero/Juan Gualberto Gómez de Varadero Airport, which from 10/15 will receive flights from the Canadian airline Air Canada, which will be the first tourists to arrive in several months since the beginning of the pandemic. Furthermore, on 10/31, visitors will start arriving from Germany with the arrival of the German airline Condor Airlines. There is also the Holguín/Frank País Airport, which is located 11 km from the center of the city of the same name, which is already certified to receive tourists. Other airports authorized to start operating on 10/15 are the Sierra Maestra in the city of Manzanillo in Granma, which was repaired for this occasion, although in collaboration with the one in Holguín. In addition, the Jaime González de Cienfuegos and Bayamo airports, the capital of Granma, will operate with the reopening and the current biosecurity protocols.
From Cancun, flights are also announced through Viva Aerobús to the Ignacio Agramonte de Camagüey International Airport, which serves flights to the tourist center of Santa Lucía and to the Santiago de Cuba/Antonio Maceo y Grajales International Airport, which serves the second city ​​in importance of the Island.

PUBLISHER: Airgways.com
DBk: Aismet.avianet.cu / Directoriocubano.info / Airgways.com
AW-POST: 202010151233AR
A\W A I R G W A Y S ®