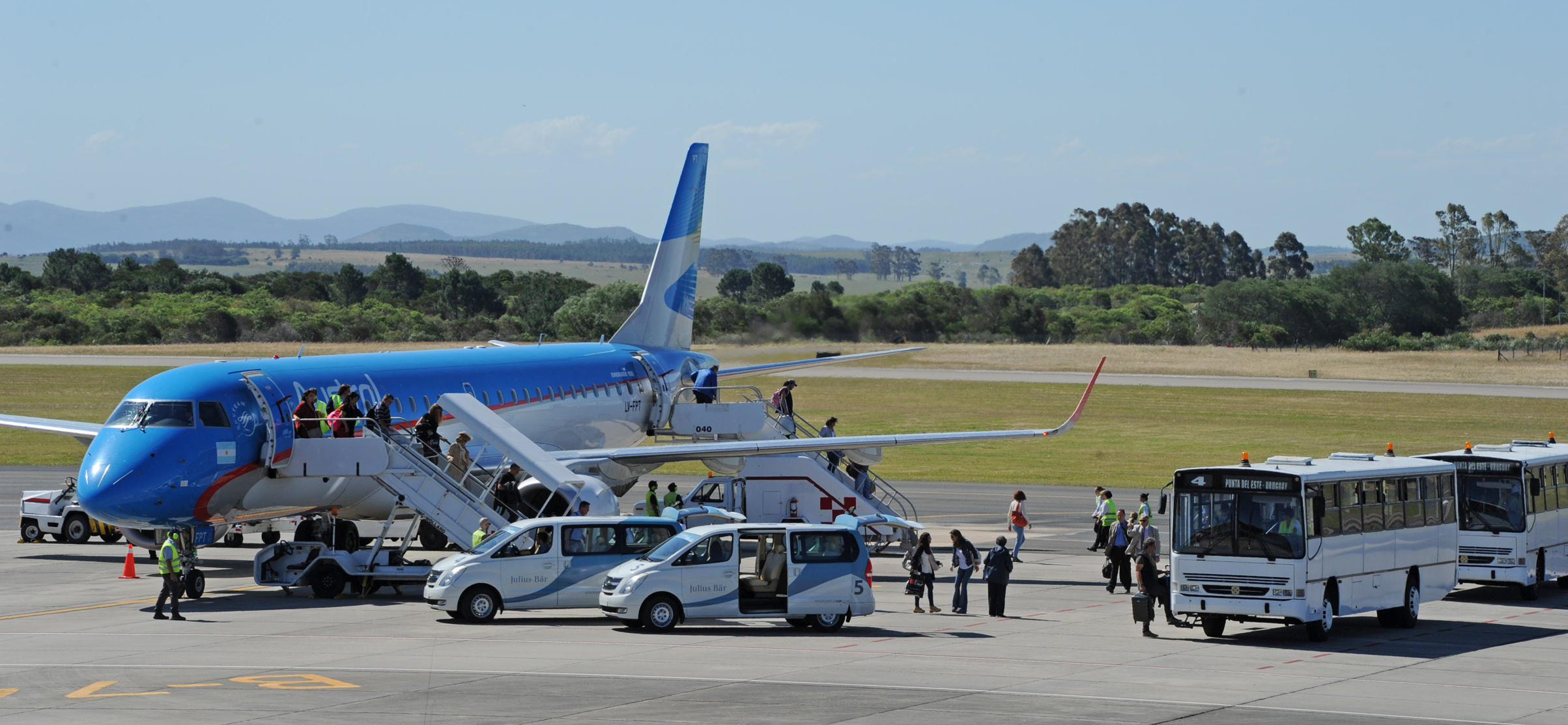 AW | 2021 12 01 08:15 | AVIATION SAFETY
Aeronave retorna por condiciones meteorológicas
Un vuelo de Aerolíneas Argentinas partía en la tarde del Domingo 28/11 desde el Aeropuerto Jorge Newbery/AEP en Buenos Aires con destino a Punta del Este en el Aeropuerto de Laguna del Sauce/PDP. Sin embargo, producto de las malas condiciones meteorológicas, el viaje ha sido accidentado. La aeronave intentó aterrizar cinco veces durante una hora, durante la cual sobrevoló el aeropuerto uruguayo de Punta del Este. Tras no lograrlo, regresó a Aeroparque en la noche del Domingo 28/11, posponiendo el vuelo para la mañana del Lunes 29/11. El vuelo despegó nuevamente a las 06:50 hs. con otra tripulación y, esta vez, el avión hizo cuatro intentos hasta que logró finalmente aterrizar en Laguna del Sauce. Los pasajeros y sus familiares denunciaron la situación porque nunca lograron conocer las razones de lo sucedido y tuvieron que pasar la noche en la aeroestación porteña.
Los pasajeros abordo afirmaron que durante el vuelo se vivieron momentos tensos y muchos nervios por la falta de información de por qué había tantos intentos fallidos para tocar tierra en Uruguay. Algunos de los pasajeros manejaron información de que se trataba de problemas de luces y de radar, pero ni la compañía, ni las autoridades a cargo del vuelo pudieron darles explicaciones sobre los inconvenientes. Los responsables del Aeropuerto de Laguna del Sauce explicaron, por su parte, que en ambos vuelos las dificultades se relacionaron con factores meteorológicos y no tuvieron que ver con limitaciones técnicas por parte de la terminal aérea.
De hecho, confirmaron que el aeropuerto está trabajando con su tecnología y equipos sin ningún problema. También agregaron que al ingresar a la terminal aérea de Laguna del Sauce, solo se contaba con una funcionaria en migraciones que no daba abasto con sus tareas, como trámites y recepción de documentación de los viajeros. Afirmaron, incluso, que varios ingresaron al país sin los controles sanitarios vigentes y que algunas documentaciones requeridas para el ingreso no fueron solicitadas a los pasajeros. El Aeropuerto de Laguna del Sauce es el más cercano a la ciudad de Punta del Este y por ello varios vuelos internacionales de la región arriban al punto turístico uruguayo.
Resulta extraño el proceder de Aerolíneas Argentinas al no brindar las explicaciones referentes al incidente aéreo que ha involucrado a vos vuelos en la ruta Buenos Aires/AEP—Punta del Este/PDP. Las condiciones meteorológicas para el área FIR EZE para el Lunes 29/11 representaban en la ciudad de Buenos Aires y alrededores con cielo nublado, una temperatura estimada en 17 grados de mínima y 26 de máxima, y vientos del sector sudeste, informó el Servicio Meteorológico Nacional (SMN) de Argentina; mientras que en Punta del Este para el mismo día Lunes 29/11 presentaban condiciones del tiempo similares, por lo que la aeronavegación no representaba ningún imprevisto debido a que varios vuelos habían aterrizado sin dificultades ese día. De todas maneras, el Instituto Uruguayo de Meteorología (Inumet) había extendido la alerta que regía por vientos fuertes y persistentes, que se encontraba vigente hasta la 01:30 de este Martes 30/11. El servicio meteorológico Inumet extendió advertencia por vientos fuertes y persistentes para el Martes 30/11. Una depresión atmosférica se profundiza sobre el Sur y Este del territorio nacional, generando vientos sostenidos componente SW de entre 40-60 km/h con rachas de 75 km/h.
El incidente deberá ser investigado y dar explicaciones acerca de las condiciones de la flota de las aeronaves de Aerolíneas Argentinas que ha encendido algunas alarmas en estos últimos tiempos y de por qué tanto hermetismo al no dar explicaciones a la prensa.
Aerolíneas plane returns to Aeroparque
Aircraft returns due to weather conditions
An Aerolíneas Argentinas flight departed on the afternoon of Sunday 11/28 from Jorge Newbery Airport/AEP in Buenos Aires bound for Punta del Este at Laguna del Sauce Airport/PDP. However, due to bad weather conditions, the trip has been bumpy. The aircraft tried to land five times during an hour, during which time it flew over the Uruguayan airport of Punta del Este. After failing to do so, he returned to Aeroparque on the night of Sunday 11/28, postponing the flight until the morning of Monday 11/29. The flight took off again at 06:50. with another crew and, this time, the plane made four attempts until it finally managed to land in Laguna del Sauce. The passengers and their families denounced the situation because they never managed to find out the reasons for what happened and had to spend the night at the Buenos Aires air station.
The passengers on board said that during the flight they experienced tense moments and many nerves due to the lack of information about why there were so many failed attempts to make landfall in Uruguay. Some of the passengers handled information that it was about light and radar problems, but neither the company nor the authorities in charge of the flight could give them explanations about the inconveniences. Those responsible for the Laguna del Sauce Airport explained, for their part, that on both flights the difficulties were related to meteorological factors and had not to do with technical limitations on the part of the air terminal.
In fact, they confirmed that the airport is working with its technology and equipment without any problem. They also added that when entering the Laguna del Sauce air terminal, there was only one immigration official who could not cope with her tasks, such as paperwork and receipt of travelers' documentation. They even affirmed that several entered the country without the current sanitary controls and that some documentation required for entry was not requested from the passengers. Laguna del Sauce Airport is the closest to the city of Punta del Este and therefore several international flights from the region arrive at the Uruguayan tourist spot.
The behavior of Aerolíneas Argentinas is strange when it does not provide explanations regarding the air incident that has involved you flights on the Buenos Aires/AEP—Punta del Este/PDP route. The meteorological conditions for the FIR EZE area for Monday 11/29 represented in the city of Buenos Aires and surroundings with cloudy skies, an estimated temperature of 17 degrees of minimum and 26 of maximum, and winds from the southeast sector, reported the Meteorological Service Nacional (SMN) of Argentina; While in Punta del Este on the same day, Monday 11/29, they had similar weather conditions, so the air navigation did not represent any unforeseen event because several flights had landed without difficulties that day. In any case, the Uruguayan Institute of Meteorology (Inumet) had extended the alert that governed for strong and persistent winds, which was in effect until 01:30 this Tuesday, 11/30. The Inumet meteorological service issued a warning for strong and persistent winds for Tuesday 11/30. An atmospheric depression deepens over the South and East of the national territory, generating sustained SW component winds of between 40-60 km/h with gusts of 75 km/h.
The incident must be investigated and explain the conditions of the Aerolíneas Argentinas aircraft fleet, which has set off some alarms in recent times and why so much secrecy by not giving explanations to the press.
PUBLISHER: Airgways.com
DBk: Smn.gov.ar / Inumet.gub.uy / Airgways.com
AW-POST: 20212010815AR
A\W A I R G W A Y S ®