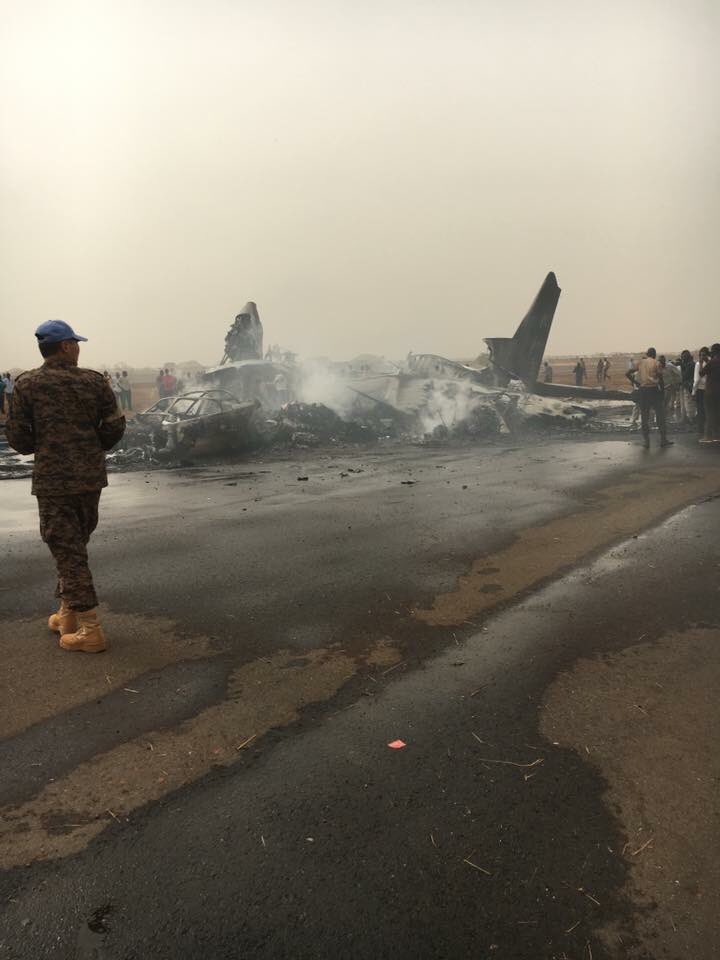 AW | 2017 03 20 17:41 | AIR INVESTIGATION
Un Antonov An-26 de South Supreme Airlines

falló el aterrizaje

en Wau el 20 de marzo de 2017




Un vuelo de Juba a Wau (Sudán del Sur) con 40 pasajeros y 5 tripulantes, sufrió un accidente de aterrizaje en el Aeropuerto de Wau (Sudán del Sur), la aeronave se detuvo cerca de la primera parte de la pista 027 y estalló en llamas. Todos los 45 ocupantes fueron rescatados vivos, 17 o 18 han sido llevados a hospitales locales con lesiones.
Los medios de comunicación en Sudán del Sur están informando que los 44 ocupantes se temen muertos, otros medios en Sudán del Sur informan que al menos 9 sobrevivientes han sido rescatados y llevados a hospitales locales.
Los trabajadores de ayuda locales en Wau informaron, que no ha habido ninguna fatalidad, los 44 ocupantes fueron rescatados vivos, 17-18 resultaron heridos y han sido llevados a los hospitales. La aerolínea reportó que había 40 pasajeros y 5 tripulantes a bordo, hasta el momento no se conocen.
Según varias bases de datos (occidentales) incluyendo ATDB, la línea aérea opera un registro de Fokker 50 C5-SSA, que tuvo otro accidente en Aweil en 2014, vea el accidente: F50 supremo del sur en Aweil el 7 de enero de 2014, excursión de pista así como un Antonov An-32A registro EK-32710.
Según las bases de datos rusas, South Supreme operaba dos Antonov 26s EK-26310 y EK-26804 (ambos en South Supreme Colors, pero en la lista de almacenamiento) y uno L-410 5Y-DAD (volando). Una fuente local informó que el número de cola del An-26 probablemente fue S9-TLW o S9-TLZ. 
Accident Antonov An-26 of South Supreme Airlines
South Supreme An-26 at Wau on Mar 20th 2017, failed landing
A South Sudan Supreme Airlines Antonov An-26, flight from Juba to Wau (South Sudan) with 40 passengers and 5 crew, suffered a landing accident at Wau Airport (South Sudan), came to a rest near the first part of runway 27 and burst into flames. All 45 occupants were rescued alive, 17 or 18 have been taken to local hospitals with injuries.
Media in South Sudan are reporting all 44 occupants are feared dead, other media in South Sudan report at least 9 survivors have been rescued and taken to local hospitals.
Local aid workers in Wau reported, that there has been no fatality, all 44 occupants were rescued alive, 17-18 were injured and have been taken to hospitals. The airline reported there were 40 passengers and 5 crew on board, no further known so far.
According to various (western) databases including ATDB the airline operates one Fokker 50 registration C5-SSA, which had another accident in Aweil in 2014, see Accident: South Supreme F50 at Aweil on Jan 7th 2014, runway excursion as well as one Antonov AN-32A registration EK-32710.
According to Russian databases South Supreme operated two Antonov 26s EK-26310 and EK-26804 (both in South Supreme Colours but listed in storage) and one L-410 5Y-DAD (flying). A local source reported the tail number of the An-26 probably was S9-TLW or S9-TLZ. A\W
Ξ A I R G W A Y S Ξ
SOURCE: Avherald.com
DBk: Avherald.com / The National Courrier
AW-POST: 201703201741AR
A\W   A I R G W A Y S ®